Abstract
Key message
First near-isogenic line collection in diploid strawberry, a tool for morphologic, phenotypic and nutritional QTL analysis.
Abstract
Diploid strawberry (Fragaria vesca), with a small genome, has a high degree of synteny with the octoploid cultivated strawberry (F. × ananassa), so can be used as a simplified model for genetic analysis of the octoploid species. Agronomically interesting traits are usually inherited quantitatively and they need to be studied in large segregating progenies well characterized with molecular markers. Near-isogenic lines (NILs) are tools to dissect quantitative characters and identify some of their components as Mendelian traits. NILs are fixed homozygous lines that share the same genetic background from a recurrent parent with a single introgression region from a donor parent. Here, we developed the first NIL collection in Fragaria, with F. vesca cv. Reine des Vallées as the recurrent parent and F. bucharica as the donor parent. A collection of 39 NILs was identified using a set of single sequence repeat markers. The NILs had an average introgression of 32 cM (6 % of genome) and were phenotyped over several years in two locations. This collection segregates for agronomic characters, such as flowering, germination, fruit size and shape, and nutritional content. At least 16 QTLs for morphological and reproductive traits, such as round fruits and vegetative propagation, and seven for nutritional traits such as sugar composition and total polyphenol content, were identified. The NIL collection of F. vesca can significantly facilitate understanding of the genetics of many traits and provide insight into the more complex F. × ananassa genome.
This is a preview of subscription content,
to check access.
Access this article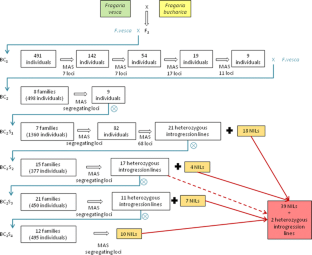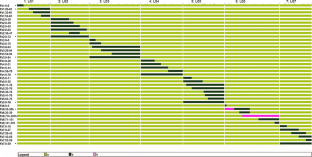 Similar content being viewed by others
References
Arulsekar S, Bringhurst RS (1981) Genetic model for the enzyme marker PGI in diploid California Fragaria vesca. Its variability and use in elucidating the mating system. J Hered 72:117–120

Bolon YT, Bindu J, Cannon SB, Grahan MA, Diers BW, Farmer AD, May GD, Muehlbauer GJ, Specht JE, Tu ZJ, Weeks N, Xu WW, Schoemaker RC, Vance CP (2010) Complementary genetic and genomic approaches help characterize the linkage group I seed protein QTL in soybean. BMC Plant Biol 10:41–62

Bošković RI, Sargent DJ, Tobutt KR (2010) Genetic evidence that two independent S-loci control RNase-based self-incompatibility in diploid strawberry. J Exp Bot 61:755–763

Boutin-Ganache I, Raposo M, Raymond M, Deschepper CF (2001) M13-tailed primers improve the readability and usability of microsatellite analyses performed with two different allele-sizing methods. Biotechniques 31:24–28

Development Core Team (2008) R: a language and environment for statistical computing. R Foundation for Statistical Computing, Vienna. ISBN 3-900051-07-0, http://www.R-project.org

Doyle JJ, Doyle JL (1990) Isolation of plant DNA from fresh tissue. Focus 12:13–15

Dubois A, Raymond O, Maene M, Baudino S, Langlade NB et al (2010) Tinkering with the C-function: a molecular frame for the selection of double flowers in cultivated roses. PLoS One 5:e9288

Dunnett CW (1955) A multiple comparison procedure for comparing several treatments with a control. J Am Stat Assoc 50:1096–1121

Eduardo I, Arús P, Monforte AJ (2005) Development of a genomic library of near isogenic lines (NILs) in melon (Cucumis melo L.) from the exotic accession PI 161375. Theor Appl Genet 112:139–148

Eshed Y, Zamir D (1994) Introgressions from Lycopersicon pennellii can improve the soluble-solids yield of tomato hybrids. Theor Appl Genet 88:891–897

Eshed Y, Zamir D (1995) An introgression line population of Lycopersicon pennellii in the cultivated tomato enables the identification and fine mapping of yield-associated QTL. Genetics 141:1147–1162

Fernández-Silva I, Moreno E, Eduardo I, Arús P, Álvarez JM, Monforte AJ (2009) On the genetic control of heterosis for fruit shape in melon (Cucumis melo L.). J Hered 100:229–235

Fernández-Silva I, Moreno E, Essafi A, Fergany M, García-Mas J, Martín-Hernández AM, Álvarez JM, Monforte AJ (2010) Shaping melons: agronomic and genetic characterization of QTLs that modify melon fruit morphology. Theor Appl Genet 121:931–940

Fletcher RS, Mullen JL, Yoder S, Bauerle WL, Reuning G, Sen S, Meyer E, Juenger TE, Mckay JK (2013) Development of a next-generation NIL library in Arabidopsis thaliana for dissecting complex traits. BMC Genomics 14:655–668

Frary A, Nesbitt TC, Frary A, Grandillo S, van der Knaap E, Cong B, Liu J, Meller J, Elber R, Alpert KB, Tanksley SD (2000) fw2.2: a quantitative trait locus key to the evolution of tomato fruit size. Science 289:85–88

Fridman E, Pleban T, Zamir D (2000) A recombination hotspot delimits a wild-species quantitative trait locus for tomato sugar content to 484 bp within an invertase gene. Proc Natl Acad Sci USA 97:4718–4723

Fujita D, Trijatmiko KR, Tagle AG, Sapasap MV, Koide Y, Sasaki K, Tsakirpaloglou N, Gannaban RB, Nishimura T, Yanagihara S (2013) NAL1 allele from a rice landrace greatly increases yield in modern indica cultivars. Proc Natl Acad Sci USA 110:20431–20436

Harris K, Subudhi PK, Borrell A, Jordan D, Rosenow D, Nguyen H, Klein P, Mullet J (2007) Sorghum stay-green QTL individually reduce post-flowering drought-induced leaf senescence. J Exp Bot 58:327–338

Hollender CA, Geretz AC, Slovin JP, Liu Z (2012) Flower and early fruit development in a diploid strawberry, Fragaria vesca. Planta 235:1123–1139

Illa E, Sargent DJ, Lopez Girona E, Bushakra J, Cestaro A, Crowhurst R, Pindo M, Cabrera A, van der Knaap E, Iezzoni A, Gardiner S, Velasco R, Arús P, Chagné D, Troggio M (2011) Comparative analysis of rosaceous genomes and the reconstruction of a putative ancestral genome for the family. BMC Evol Biol 11:9–22

Iwata H, Gaston A, Remay A, Thouroude T, Jeauffre J, Kawamura K, Oyant LHS, Araki T, Denoyes B, Foucher F (2011) The TFL1 homologue KSN is a regulator of continuous flowering in rose and strawberry. Plant J 69:116–125

Jeuken MJW, Lindhout P (2004) The development of lettuce backcross inbred lines (BILs) for exploitation of the Lactuca saligna (wild lettuce) germplasm. Theor Appl Genet 109:394–401

Jung S, Ficklin S, Lee T, Cheng CH, Blenda A, Zheng P, Yu J, Bombarely A, Cho I, Ru S, Evans K, Peace C, Abbott AG, Mueller LA, Olmstead MA, Main D (2014) The Genome Database for Rosaceae (GDR): year 10 update. Nucl Acids Res 42(1):1237–1244

Keurentjes JJB, Bentsink L, Alonso-Blanco C, Hanhart CJ, Blankestijn-De Vries H, Effgen S, Vreugdenhil D, Koornneef M (2007) Development of a near-isogenic line population of Arabidopsis thaliana and comparison of mapping power with a recombinant inbred line population. Genetics 175:891–905

Kopisch-Obuch FJ, Diers BW (2006) Segregation at the SCN resistance locus rhg1 in soybean is distorted by an association between the resistance allele and reduced field emergence. Theor Appl Genet 112:199–207

Koskela EA, Mouhu K, Albani MC, Kurokura T, Rantanen M, Sargent DJ, Battey NH, Coupland G, Elomaa P, Hytonen T (2012) Mutation in TERMINAL FLOWER1 reverses the photoperiodic requirement for flowering in the wild strawberry Fragaria vesca. Plant Physiol 159:1043–1054

Koumproglou R, Wilkes TM, Townson P, Wang XY, Beynon J, Pooni HS, Newbury HJ, Kearsey MJ (2002) STAIRS: a new genetic resource for functional genomic studies of Arabidopsis. Plant J 31:355–364

Lander ES, Green P, Abrahamson J, Barlow A, Daly MJ, Lincoln SE, Newburg L (1987) MAPMAKER: an interactive computer package for constructing primary genetic linkage maps of experimental and natural populations. Genomics 1:174–181

Lewis RS, Milla SR, Kernodle SP (2007) Analysis of an introgressed Nicotiana tomentosa genomic region affecting leaf number and correlated traits in Nicotiana tabacum. Theor Appl Genet 114:841–854

Liu J, Van Eck J, Cong B, Tanksley SD (2002) A new class of regulatory genes underlying the cause of pear-shaped tomato fruit. Proc Natl Acad Sci USA 99:13302–13306

Liu YS, Gur A, Ronen G, Causse M, Damidaux R, Buret M, Hirschberg J, Zamir D (2003) There is more to tomato fruit colour than candidate carotenoid genes. Plant Biotechnol J 1:195–207

Marcel TC, Aghnoum R, Durand J, Varshney RK, Niks RE (2007) Dissection of the barley 2L1.0 region carrying the 'Laevigatum' quantitative resistance gene to leaf rust using near isogenic lines (NIL) and sybNIL. Mol Plant Microbe Interact 20:1604–1615

Martins WS, Lucas DCS, Neves KFS, Bertioli DJ (2009) WebSat—a web software for microsatellite marker development. Bioinformation 3:282–283

Melchinger AE, Piepho HP, Utz HF, Muminović J, Wegenast T, Törjék O, Altmann T, Kusterer B (2007) Genetic basis of heterosis for growth-related traits in Arabidopsis investigated by testcross progenies of near-isogenic lines reveals a significant role of epistasis. Genetics 177:1827–1837

Monforte AJ, Friedman E, Zamir D, Tanksley SD (2001) Comparison of a set of allelic QTL-NILs for chromosome 4 of tomato: deductions about natural variation and implications for germplasm utilization. Theor Appl Genet 102:572–590

Oosumi T, Ruiz-Rojas JJ, Veilleux RE, Dickerman A, Shulaev V (2010) Implementing reverse genetics in Rosaceae: analysis of T-DNA flanking sequences of insertional mutant lines in the diploid strawberry, Fragaria vesca. Physiol Plant 140:1–9

Paterson AH, Lander ES, Hewitt JD, Peterson S, Lincoln SE, Tanksley SD (1988) Resolution of quantitative traits into Mendelian factors by using a complete linkage map of restriction fragment length polymorphisms. Nature 335:721–736

Pérez AG, Olías R, Espada J, Olías JM, Sanz C (1997) Rapid determination of sugars, nonvolatile acids, and ascorbic acid in strawberry and other fruits. J Agric Food Chem 45:3545–3549

Pestsova EG, Börner A, Röder MS (2001) Development of a set of Triticum aestivum–Aegilops tauschii introgression lines. Hereditas 135:139–143

Ramsay L, Macaulay M, degli Ivanissevich S, MacLean K, Cardle L, Fuller J, Edwards KJ, Tuvesson S, Morgante M, Massari M, Maestri E, Marmiroli N, Sjakste T, Ganal M, Powell W, Waugh W (2000) A simple sequence repeat-based linkage map of barley. Genetics 156:1997–2005

Rousseau-Gueutin M, Lerceteau-Köhler E, Barrot L, Sargent DJ, Monfort A, Simpson DW, Arús P, Guérin G, Denoyes-Rothan B (2008) Comparative genetic mapping between octoploid and diploid Fragaria species reveals a high level of colinearity between their genomes and the essentially disomic behavior of the cultivated octoploid strawberry. Genetics 179:2045–2060

Rousseau-Gueutin M, Gaston A, Aïnouche A, Aïnouche ML, Olbricht K, Staudt d G, Richard L, Denoyes-Rothan B (2009) Tracking the evolutionary history of polyploidy in Fragaria L. (strawberry): 3 new insights from phylogenetic analyses of low-copy nuclear genes. Mol Phyl Evol 51:515–530

Rozen S, Skaletsky HJ (2000) Primer3 on the WWW for general users and for biologist programmers. Methods Mol Biol 132:365–386

Ruiz-Rojas JJ, Sargent DJ, Shulaev V, Dickerman AW, Pattison J, Holt SH, Ciordia A, Veilleux RE (2010) SNP discovery and genetic mapping of T-DNA insertional mutants in Fragaria vesca L. Theor Appl Genet 121:449–463

Sargent DJ, Davis TM, Tobutt KR, Wilkinson MJ, Battey NH, Simpson DW (2004) A genetic linkage map of microsatellite, gene-specific and morphological markers in diploid Fragaria. Theor Appl Genet 109:1385–1391

Sargent DJ, Clarke J, Simpson DW, Tobutt KR, Arús P, Monfort A, Vilanova S, Denoyes-Rothan B, Rousseau M, Folta KM, Bassil NV, Battey NH (2006) An enhanced microsatellite map of diploid Fragaria. Theor Appl Genet 112:1347–1359

Sargent DJ, Cipriani G, Vilanova S, Gil-Ariza D, Arús P, Simpson DW, Tobutt KR, Monfort A (2008) The development of a bin mapping population and the selective mapping of 103 markers in the diploid Fragaria reference map. Genome 51:120–127

Sargent DJ, Fernández-Fernández F, Ruiz-Rojas JJ, Southerland BG, Passey A, Whitehouse AB, Simpson DW (2009) A genetic linkage map of the cultivated strawberry (Fragaria × ananassa) and its comparison to the diploid Fragaria reference map. Mol Breed 24:293–303

Schauer N, Semel Y, Balbo I, Steinfath M, Repsilber D, Selbig J, Pleban T, Zamir D, Fernie AR (2008) Mode of inheritance of primary metabolic traits in tomato. Plant Cell 20:509–523

Schneider CA, Rasband WS, Eliceiri KW (2012) NIH Image to ImageJ: 25 years of image analysis. Nat Methods 9:671–675

Seeram NP (2008) Berry fruits: compositional elements, biochemical activities, and the impact of their intake on human health, performance, and disease. J Agric Food Chem 56:627–629

Shulaev V, Sargent DJ, Crowhurst RN, Mockler RN, Veilleux RE, Folkerts O, Delcher AL, Jaiswal P, Liston A, Mane SP, Burns P, Mockaitis K, Davis TM, Slovin JP, Bassil N, Hellens RP, Evans C, Jensen RV, Allan AC, Michael TP, Setubal JC, Celton JM, Rees DJG, Williams K, Holt SH, Dickerman A, Ruiz Rojas JJ, Chatterjee M, Liu B, Silva H, Meisel L, Filichkin AAS, Velasco R, Troggio M, Viola R, Borodovsky M, Ashman TL, Aharoni A, Bennetzen J, Dharmawardhana P, Elser J, Raja R, Priest HD, Bryant DW, Fox SE, Givan SA, Naithani S, Christoffels A, Salama DY, Carter J, Lopez Girona E, Zdepski A, Wang W, Kerstetter RA, Salzberg SL, Schwab W, Korban SS, Davik J, Monfort A, Denoyes-Rothan B, Arus P, Mittler R, Flinn B, Folta KM (2011) The genome of woodland strawberry (Fragaria vesca). Nat Genet 43:109–116

Singleton VL, Orthofer R, Lamuela-Raventós RM (1999) Analysis of total phenols and other oxidation substrates and antioxidants by means of Folin–Ciocalteu reagent. Methods Enzymol 299:152–178

Staudt G (2006) Himalayan species of Fragaria (Rosaceae). Bot Jahrbucher fur Syst 126:483–508

Staudt G (2008) Strawberry biogeography, genetics and systematics. Acta Hortic 842:71–83

Szalma SJ, Hostert BM, LeDeaux JR, Stuber CW, Holland JB (2007) QTL mapping with near-isogenic lines in maize. Theor Appl Genet 114:1211–1228

Tadmor Y, Fridman E, Gur A, Larkov O, Lastochkin E, Ravid U, Zamir D, Lewinsohn E (2002) Identification of malodorous, a wild species allele affecting tomato aroma that was selected against during domestication. J Agric Food Chem 50:2005–2009

Tanksley SD, McCouch SR (1997) Seed banks and molecular maps: unlocking genetic potential from the wild. Science 277:1063–1066

van Berloo R (2008) GGT 2.0: versatile software for visualization and analysis of genetic data. J Hered 99:232–236

Van Ooijen JW (2006) Software for the calculation of genetic linkage maps in experimental populations. Kyazma BV, Wageningen

Vegas J, Garcia-Mas J, Monforte AJ (2013) Interaction between QTLs induces an advance in ethylene biosynthesis during melon fruit ripening. Theor Appl Genet 126:1531–1544

Vilanova S, Arús P, Sargent DJ, Monfort A (2008) Synteny conservation between two distantly-related Rosaceae genomes: Prunus (the stone fruits) and Fragaria (the strawberry). BMC Plant Biol 8:67–79

Wan XY, Wan JM, Su CC, Want CM, Shen WB, Li JM, Wang HL, Jiang L, Liu SJ, Chen LM, Yasui H, Yoshimura A (2004) QTL detection for eating quality of cooked rice in a population of chromosome segment substitution lines. Theor Appl Genet 110:71–79

Zamir D (2001) Improving plant breeding with exotic genetic libraries. Nat Rev Genet 2:983–989

Zhang C, Tanabe K, Wang S, Tamura F, Yoshida A, Matsumoto K (2006) The impact of cell division and cell enlargement on the evolution of fruit size in Pyrus pyrifolia. Ann Bot 98:537–543

Zhang Y, Luo L, Liu T, Xu C, Xing Y (2009) Four rice QTL controlling number of spikelets per panicle expressed the characteristics of single Mendelian gene in near isogenic backgrounds. Theor Appl Genet 118:1035–1044

Zhang GR, Sebolt AM, Sooriyapathirana SS, Wang DC, Bink MCAM, Olmstead JW, Iezzoni AF (2010) Fruit size QTL analysis of an F 1 population derived from a cross between a domesticated sweet cherry cultivar and a wild forest sweet cherry. Tree Genet Genomes 6:25–36

Zorrilla-Fontanesi Y, Cabeza A, Torres A, Botella MA, Valpuesta V, Monfort A, Sánchez-Sevilla JF, Amaya I (2010) Development and bin mapping of strawberry genic-SSRs in diploid Fragaria and their transferability across the Rosoideae subfamily. Mol Breed 27:137–156
Acknowledgments
The authors thank J. Ribes and A. Ortigosa for technical assistance. This work was funded by Grants RTA2007-00063 and AGL2010-21414 from the Spanish Ministry of Science. MU was supported by a fellowship FPI from the Spanish Ministry of Education and JB was supported by a fellowship FI from the Generalitat de Catalunya.
Conflict of interest
The authors declare that they have no conflict of interest.
Additional information
Communicated by A. H. Schulman.
M. Urrutia and J. Bonet contributed equally to this work.
Electronic supplementary material
Below is the link to the electronic supplementary material.
About this article
Cite this article
Urrutia, M., Bonet, J., Arús, P. et al. A near-isogenic line (NIL) collection in diploid strawberry and its use in the genetic analysis of morphologic, phenotypic and nutritional characters. Theor Appl Genet 128, 1261–1275 (2015). https://doi.org/10.1007/s00122-015-2503-3
Received:

Accepted:

Published:

Issue Date:

DOI: https://doi.org/10.1007/s00122-015-2503-3
Keywords