Abstract
Key message
We characterise the distribution of crossover and non-crossover recombination in Brassica napus and Cicer arietinum using a low-coverage genotyping by sequencing pipeline SkimGBS.
Abstract
The growth of next-generation DNA sequencing technologies has led to a rapid increase in sequence-based genotyping for applications including diversity assessment, genome structure validation and gene–trait association. We have established a skim-based genotyping by sequencing method for crop plants and applied this approach to genotype-segregating populations of Brassica napus and Cicer arietinum. Comparison of progeny genotypes with those of the parental individuals allowed the identification of crossover and non-crossover (gene conversion) events. Our results identify the positions of recombination events with high resolution, permitting the mapping and frequency assessment of recombination in segregating populations.
This is a preview of subscription content, log in to check access.
Access options
Buy single article
Instant access to the full article PDF.
US$ 39.95
Tax calculation will be finalised during checkout.
Subscribe to journal
Immediate online access to all issues from 2019. Subscription will auto renew annually.
US$ 119
Tax calculation will be finalised during checkout.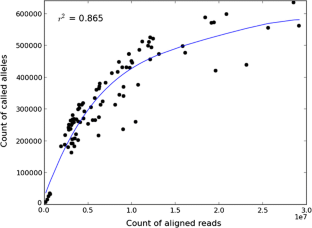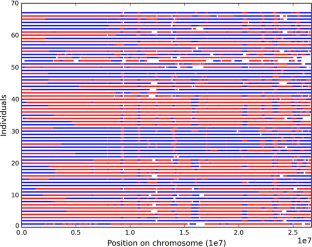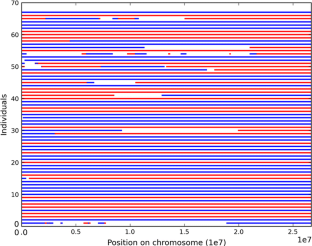 References
Bus A, Hecht J, Huettel B, Reinhardt R, Stich B (2012) High-throughput polymorphism detection and genotyping in Brassica napus using next-generation RAD sequencing. BMC Genom 13:281

Chalhoub B et al (2014) Early allopolyploid evolution in the post-Neolithic Brassica napus oilseed genome. Science 345:950–953. doi:10.1126/science.1253435

Chen JM, Cooper DN, Chuzhanova N, Ferec C, Patrinos GP (2007) Gene conversion: mechanisms, evolution and human disease. Nat Rev Genet 8:762–775. doi:10.1038/nrg2193

Cheng F, Mandakova T, Wu J, Xie Q, Lysak MA, Wang X (2013) Deciphering the diploid ancestral genome of the Mesohexaploid Brassica rapa. Plant Cell 25:1541–1554. doi:10.1105/tpc.113.110486

Drouaud J et al (2013) Contrasted patterns of crossover and non-crossover at Arabidopsis thaliana meiotic recombination hotspots. PLoS Genet 9:e1003922. doi:10.1371/journal.pgen.1003922

Edwards D, Batley J (2010) Plant genome sequencing: applications for crop improvement. Plant Biotechnol J 8:2–9. doi:10.1111/j.1467-7652.2009.00459.x

Edwards D, Batley J, Snowdon RJ (2013) Accessing complex crop genomes with next-generation sequencing. Theor Appl Genet 126:1–11. doi:10.1007/s00122-012-1964-x

Elshire RJ, Glaubitz JC, Sun Q, Poland JA, Kawamoto K, Buckler ES, Mitchell SE (2011) A robust, simple genotyping-by-sequencing (GBS) approach for high diversity species. PLoS ONE 6:e19379. doi:10.1371/journal.pone.0019379

Farkhari M, Lu Y, Shah T, Zhang S, Naghavi MR, Rong T, Xu Y (2011) Recombination frequency variation in maize as revealed by genomewide single-nucleotide polymorphisms. Plant Breed 130:533–539

Gaur R et al (2012) High-throughput SNP discovery and genotyping for constructing a saturated linkage map of chickpea (Cicer arietinum L.). DNA Res 19:357–373. doi:10.1093/dnares/dss018

Gaut BS, Wright SI, Rizzon C, Dvorak J, Anderson LK (2007) Recombination: an underappreciated factor in the evolution of plant genomes. Nat Rev Genet 8:77–84. doi:10.1038/nrg1970

Hayward A, Mason A, Dalton-Morgan J, Zander M, Edwards D, Batley J (2012a) SNP discovery and applications in Brassica napus. J Plant Biotechnol 39:1–12

Hayward A et al (2012b) Second-generation sequencing for gene discovery in the Brassicaceae. Plant Biotechnol J 10:750–759. doi:10.1111/j.1467-7652.2012.00719.x

Helms C et al (1992) Closure of a genetic linkage map of human chromosome 7q with centromere and telomere polymorphisms. Genomics 14:1041–1054

Jain M et al (2013) A draft genome sequence of the pulse crop chickpea (Cicer arietinum L.). Plant J 74:715–729. doi:10.1111/tpj.12173

Lai K et al (2014) Identification and characterization of more than 4 million intervarietal SNPs across the group 7 chromosomes of bread wheat. Plant Biotechnol J 13:97–104. doi:10.1111/pbi.12240

Li R, Yu C, Li Y, Lam TW, Yiu SM, Kristiansen K, Wang J (2009) SOAP2: an improved ultrafast tool for short read alignment. Bioinformatics 25:1966–1967. doi:10.1093/bioinformatics/btp336

Liu S et al (2014) The Brassica oleracea genome reveals the asymmetrical evolution of polyploid genomes. Nat Commun 5:3930. doi:10.1038/ncomms4930

Lorenc M et al (2012) Discovery of single nucleotide polymorphisms in complex genomes using SGSautoSNP. Biology 1:370–382. doi:10.3390/biology1020370

Mezard C, Vignard J, Drouaud J, Mercier R (2007) The road to crossovers: plants have their say. Trends Genet 23:91–99. doi:10.1016/j.tig.2006.12.007

Parkin IA et al (2014) Transcriptome and methylome profiling reveals relics of genome dominance in the mesopolyploid Brassica oleracea. Genome Biol 15:R77. doi:10.1186/gb-2014-15-6-r77

Poland JA, Brown PJ, Sorrells ME, Jannink JL (2012) Development of high-density genetic maps for barley and wheat using a novel two-enzyme genotyping-by-sequencing approach. PLoS ONE 7:e32253. doi:10.1371/journal.pone.0032253

Qi J, Chen Y, Copenhaver GP, Ma H (2014) Detection of genomic variations and DNA polymorphisms and impact on analysis of meiotic recombination and genetic mapping. Proc Natl Acad Sci USA 111:10007–10012. doi:10.1073/pnas.1321897111

Qiu D et al (2006) A comparative linkage map of oilseed rape and its use for QTL analysis of seed oil and erucic acid content. Theor Appl Genet 114:67–80. doi:10.1007/s00122-006-0411-2

Roberts PA (1965) Difference in behaviour of Eu- and Hetero-chromatin—crossing-over. Nature 205:725–726. doi:10.1038/205725b0

Ruperao P et al (2014) A chromosomal genomics approach to assess and validate the desi and kabuli draft chickpea genome assemblies. Plant Biotechnol J 12:778–786. doi:10.1111/pbi.12182

Sun Z, Wang Z, Tu J, Zhang J, Yu F, McVetty PB, Li G (2007) An ultradense genetic recombination map for Brassica napus, consisting of 13551 SRAP markers. Theor Appl Genet 114:1305–1317. doi:10.1007/s00122-006-0483-z

Varshney RK et al (2013) Draft genome sequence of chickpea (Cicer arietinum) provides a resource for trait improvement. Nat Biotechnol 31:240–246. doi:10.1038/nbt.2491

Wang X et al (2011) The genome of the mesopolyploid crop species Brassica rapa. Nat Genet 43:1035–1039. doi:10.1038/ng.919

Wijnker E et al. (2013) The genomic landscape of meiotic crossovers and gene conversions in Arabidopsis thaliana. Elife 2: e01426 doi:10.7554/eLife.01426

Yang S et al (2012) Great majority of recombination events in Arabidopsis are gene conversion events. Proc Natl Acad Sci USA 109:20992–20997. doi:10.1073/pnas.1211827110

Yao H, Zhou Q, Li J, Smith H, Yandeau M, Nikolau BJ, Schnable PS (2002) Molecular characterization of meiotic recombination across the 140-kb multigenic a1-sh2 interval of maize. Proc Natl Acad Sci USA 99:6157–6162. doi:10.1073/pnas.082562199
Acknowledgments
The authors would like to acknowledge funding support from the Australian Research Council (Projects LP0882095, LP0883462, LP110100200 and DP0985953), the Australian India Strategic Research Fund (AISRF) Grand Challenge fund (GCF010013), CGIAR Generation Challenge Programme (Theme Leader Discretionary grant), the Australian Genome Research Facility (AGRF), the Queensland Cyber Infrastructure Foundation (QCIF) and the Australian Partnership for Advanced Computing (APAC) and the Center of Excellence in Genomics (CEG) of ICRISAT. The part of this work has been undertaken as part of the CGIAR Research Program on Grain Legumes. ICRISAT is a member of the CGIAR Consortium.
Conflict of interest
The authors declare no conflict of interest.
Electronic supplementary material
Below is the link to the electronic supplementary material.
About this article
Cite this article
Bayer, P.E., Ruperao, P., Mason, A.S. et al. High-resolution skim genotyping by sequencing reveals the distribution of crossovers and gene conversions in Cicer arietinum and Brassica napus . Theor Appl Genet 128, 1039–1047 (2015). https://doi.org/10.1007/s00122-015-2488-y
Received:

Accepted:

Published:

Issue Date:
Keywords
Recombination Event

Gene Conversion

Genome Sequence Data

Cicer Arietinum

Gene Conversion Event