Abstract
Maize was first domesticated in a restricted valley in south-central Mexico. It was diffused throughout the Americas over thousands of years, and following the discovery of the New World by Columbus, was introduced into Europe. Trade and colonization introduced it further into all parts of the world to which it could adapt. Repeated introductions, local selection and adaptation, a highly diverse gene pool and outcrossing nature, and global trade in maize led to difficulty understanding exactly where the diversity of many of the local maize landraces originated. This is particularly true in Africa and Asia, where historical accounts are scarce or contradictory. Knowledge of post-domestication movements of maize around the world would assist in germplasm conservation and plant breeding efforts. To this end, we used SSR markers to genotype multiple individuals from hundreds of representative landraces from around the world. Applying a multidisciplinary approach combining genetic, linguistic, and historical data, we reconstructed possible patterns of maize diffusion throughout the world from American "contribution" centers, which we propose reflect the origins of maize worldwide. These results shed new light on introductions of maize into Africa and Asia. By providing a first globally comprehensive genetic characterization of landraces using markers appropriate to this evolutionary time frame, we explore the post-domestication evolutionary history of maize and highlight original diversity sources that may be tapped for plant improvement in different regions of the world.
Access options
Buy single article
Instant access to the full article PDF.
USD 39.95
Price excludes VAT (USA)
Tax calculation will be finalised during checkout.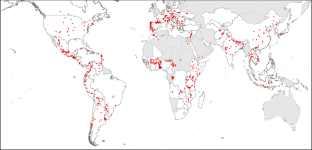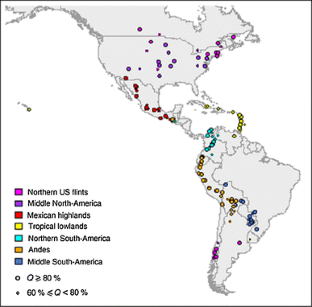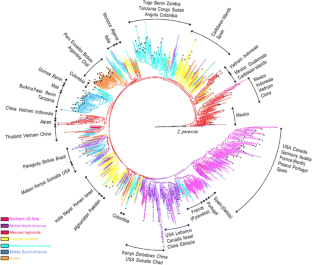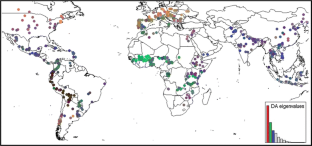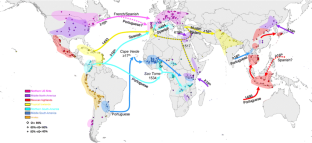 References
Anghiera P (1907) De Orbe Novo (1st complete ed. 1530). Leroux, Paris

Bryant D, Moulton V (2004) Neighbor-Net: an agglomerative method for the construction of phylogenetic networks. Mol Biol Evol 21:255–265

Campbell MC, Tishkoff SA (2008) African genetic diversity: implications for human demographic history, modern human origins, and complex disease mapping. Annu Rev Genomics Hum Genet 9:403–433

Camus-Kulandaivelu L, Veyrieras JB, Madur D, Combes V, Fourmann M, Barraud S, Dubreuil P, Gouesnard B, Manicacci D, Charcosset A (2006) Maize adaptation to temperate climate: relationship between population structure and polymorphism in the Dwarf8 gene. Genetics 172:2449–2463

Chacornac-Rault M (2004) Thesis, Museum National d'Histoire Naturelle

Chastanet M (1998) Chapter 9. In: Chastanet M (ed) Plantes et Paysages d'Afrique. Karthala et Cra, Paris, pp 251–282

Desjardins A, McCarthy E, Milho SA (2004) Makka and yu mai: early journeys of Zea mays to Asia National Agricultural Library www.nal.usda.gov/research/maize. Accessed 18 May, 2012

Dubreuil P, Warburton M, Chastanet M, Hoisington D, Charcosset A (2006) More on the introduction of temperate maize into Europe: large-scale bulk SSR genotyping and new historical elements. Maydica 51:281–291

Ducrocq S, Madur D, Veyrieras JB, Camus-Kulandaivelu L, Kloiber-Maitz M, Presterl T, Ouzunova M, Manicacci D, Charcosset A (2008) Key impact of Vgt1 on flowering time adaptation in maize: evidence from association mapping and ecogeographical information. Genetics 178:2433–2437

Duvick DN (2005) Genetic progress in yield of United States maize (Zea mays L.). Maydica 50:193–202

Ellegren H (2000) Microsatellite mutations in the germline: implications for evolutionary inference. Trends Genet 16:551–558

Felsenstein J (1985) Confidence limits on phylogenies: an approach using the bootstrap. Evolution 39:783–791

Felsenstein J (2005) PHYLIP (Phylogeny inference package). http://evolution.genetics.washington.edu/phylip.html. Accessed 18 May, 2012

Gautier M, Laloë D, Moazami-Goudarzi K (2010) Insights into the genetic history of French cattle from dense SNP data on 47 worldwide breeds. PLoS One 5:9

Goodman MM (1999) Broadening the genetic diversity in maize breeding by use of exotic germplasm. In: Coors JC, Pandey S (eds) The Genetics and Exploitation of Heterosis in Crops. WI ASSA-CSSA-SSSA, Madison, pp 139–148

Gouesnard B, Rebourg C, Welcker C, Charcosset A (2002) Analysis of photoperiod sensitivity within a collection of tropical maize populations. Gen Res Crop Evol 49:471–481

Hamblin MT, Warburton ML, Buckler ES (2007) Empirical comparison of simple sequence repeats and single nucleotide polymorphisms in assessment of maize diversity and relatedness. PLoS One 2:367. doi:10.1371/journal.pone.0001367

Harrisse H (2006) Discovery of North America: a critical, documentary and historic investigation. Martino Publishing, Eastford

Heers J (1991) La découverte de l'Amérique. Editions Complexe, Brussels

Huson DH, Bryant D (2006) Application of phylogenetic networks in evolutionary studies. Mol Biol Evol 23:254–267

Janick J, Caneva G (2005) The first images of maize in Europe. Maydica 50:71–80

Jombart T (2008) Adegenet: a R package for the multivariate analysis of genetic markers. Bioinformatics 24:1403–1405

Jombart T, Devillard S, Dufour AB, Pontier D (2008) Revealing cryptic spatial patterns in genetic variability by a new multivariate method. Heredity 101:92–103

Jombart T, Pontier D, Dufour DA (2009) Genetic markers in the playground of multivariate analysis. Heredity 102:330–341

Jombart T, Devillard S, Balloux F (2010) Discriminant analysis of principal components: a new method for the analysis of genetically structured populations. BMC Genet 11:94

Juhé-Beaulaton D (1998) Chapter 2 In: Chastanet M (ed) Plantes et Paysages d'Afrique. Karthala et Cra, Paris, pp 45–67

Lach DF, Van Kley EJ (1994) Asia in the making of Europe. University of Chicago Press, Chicago

Leff B, Ramankutty N, Foley JA (2004) Geographical distribution of the major crops across the world. Global Biogeochemical Cycles 18:GB1009. doi:10.1029/2003GB002108

Liu K, Goodman M, Muse S, Smith JS, Buckler E, Doebley J (2003) Genetic structure and diversity among maize inbred lines as inferred from DNA microsatellites. Genetics 165:2117–2128

Madeira Santos ME, Ferraz Torrão MM (1998) Chapter 3 In: Chastanet M (ed) Plantes et Paysages d'Afrique. Karthala et Cra, Paris, pp 69–83

Matsuoka Y, Vigouroux Y, Goodman MM, Sanchez GJ, Buckler E, Doebley J (2002) A single domestication for maize shown by multilocus microsatellite genotyping. Proc Natl Acad Sci USA 99:6080–6084

Menkir A, Olowolafe MO, Ingelbrecht I, Fawole I, Badu-Apraku B, Vroh BI (2006) Assessment of testcross performance and genetic diversity of yellow endosperm maize lines derived from adapted x exotic backcrosses. Theor Appl Genet 11:90–99

Monfreda C, Ramankutty N, Foley JA (2008) Farming the planet: 2. Geographic distribution of crop areas, yields, physiological types, and net primary production in the year 2000. Global Biogeochimical Cycles 22:GB1022. doi:10.1029/2007GB002947

Murgia C, Pritchard JK, Kim S, Fassati A, Weiss R (2006) Clonal origin and evolution of a transmissible cancer. Cell 126:477–487

Pons O, Chaouche K (1995) Estimation, variance and optimal sampling of gene diversity. II. Diploid locus. Theor Appl Genet 91:122–130

Portères R (1955) L'introduction du maïs en Afrique. J Agric Trop Bot Appl 2:221–231

Pray C (2006) The Asian Maize Biotechnology Network (AMBIONET): a model for strengthening national agricultural research systems. CIMMYT, Mexico

Pritchard JK, Stephens M, Donnelly P (2000) Inference of population structure using multilocus genotype data. Genetics 155:945–959

R Development Core Team (2012) R: a language and environment for statistical computing. R Foundation for Statistical Computing, Vienna. http://www.R-project.org/

Rebourg C, Chastanet M, Gouesnard B, Welcker C, Dubreuil P, Charcosset A (2003) Maize introduction into Europe: the history reviewed in the light of molecular data. Theor Appl Genet 106:895–903

Reif JC, Hamrit S, Heckenberger M, Schipprack Wm, Maurer HP, Bohn M, Melchinger AE (2005) Genetic structure and diversity of European flint maize populations determined with SSR analyses of individuals and bulks. Theor Appl Genet 111:906–913

Rosenberg NA, Pritchard JK, Weber JL, Cann HM, Kidd KK, Zhivotovsky LA, Feldman MW (2002) Genetic structure of human populations. Science 298:2381–2385

Sokal RR, Rohlf FJ (1995) Biometry. Freeman and Company, New York

Timothy DH, Peña BV, Ramirez RE, Brown WL, Anderson E (1961) The races of maize in Chile. Natl Acad Sci - Natl Res Counc publ 847, Washington, DC

van Etten J, Hijmans RJ (2010) A geospatial modelling approach integrating archaeobotany and genetics to trace the origin and dispersal of domesticated plants. PLoS One 5(8):e12060. doi:10.1371/journal.pone.0012060

van Heerwaarden J, Doebley J, Briggs WH, Glaubitz JC, Goodman MM, de Jesus Sanchez Gonzalez J, Ross-Ibarra J (2011) Genetic signals of origin, spread, and introgression in a large sample of maize landraces. Proc Natl Acad Sci USA 108:1088–1092

Vigouroux Y, Glaubitz JC, Matsuoka Y, Goodman MM, Sanchez GJ, Doebley J (2008) Population structure and genetic diversity of New World maize races assessed by DNA microsatellites. Am J Bot 95:1240–1253

Warburton ML, Reif JC, Frisch M, Bohn M, Bedoya C, Xia XC, Crossa J, Franco J, Hoisington D, Pixley K, Taba S, Melchinger AE (2008) Genetic diversity in CIMMYT nontemperate maize germplasm: landraces, open-pollinated varieties, and inbred lines. Crop Sci 48:617–624

Witcombe JR, Joshi A, Goyal SN (2003) Participatory plant breeding in maize: a case study from Gujarat, India. Euphytica 130:413–422

Zaide GF, Zaide SM (2004) Philippine History and Government. All-Nations Publishing Company, Quezon City
Acknowledgments
This work was supported by the Generation Challenge Program (grant 3005.14). We thank Drs. N. Lauter, M. Sawkins, M. Chastanet and C. Welcker for comments on manuscript; and the Banco Português de Germoplasma Vegetal for providing Portuguese material. Genetic dataset from this study is available on the Generation Challenge Program Central Registry website, at http://www.generationcp.org/gcp_central_registry.
Additional information
Communicated by T. Luebberstedt.
C. Mir and T. Zerjal contributed equally to this paper.
Electronic supplementary material
Below is the link to the electronic supplementary material.
About this article
Cite this article
Mir, C., Zerjal, T., Combes, V. et al. Out of America: tracing the genetic footprints of the global diffusion of maize. Theor Appl Genet 126, 2671–2682 (2013). https://doi.org/10.1007/s00122-013-2164-z
Received:

Accepted:

Published:

Issue Date:

DOI: https://doi.org/10.1007/s00122-013-2164-z
Keywords
Maize

Flint

Single Nucleotide Polymorphism Marker

Sixteenth Century

Phylogenetic Network