Abstract
Reciprocal recurrent selection (RRS) was proposed for simultaneously improving two populations and their cross. A modification of the classical full-sib RRS (FS-RRS) was proposed in which the performance of full-sibs and S2 families is combined in a selection index (FS-S2-RRS). The Mediterranean corn borer (MCB) is the main corn borer species in the Mediterranean and adjacent areas and produces important yield losses. We started two RRS programs (FS-RRS and FS-S2-RRS) from the same maize population in which the selection criterion was grain yield under artificial infestation with MCB eggs. Original populations, two cycles of selection derived from them by both RRS methods, and population crosses were evaluated under MCB attack and under insecticide treatment in three different environments. The objective was to compare the efficiency of the FS-RRS and the FS-S2-RRS methods for improving grain yield. We found that the FS-S2-RRS method was successful for improving the yield of the population cross under optimum conditions (the regression coefficient over cycles was b = 0.87** Mg ha−1 cycle−1) without losing yield under high pressure of MCB attack (b = 0.07). On the contrary, FS-RRS failed to improve the yield of the population cross under optimum conditions (b = 0.65) and tended to decrease the yield under high levels of MCB attack (b = −0.26). We conclude that for developing high yielding and stable varieties, FS-S2-RRS is more efficient than the classical FS-RRS method.
Access options
Buy single article
Instant access to the full article PDF.
USD 39.95
Price excludes VAT (USA)
Tax calculation will be finalised during checkout.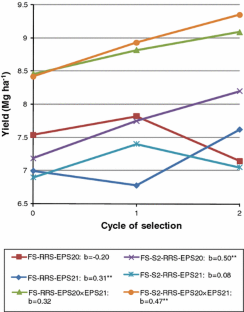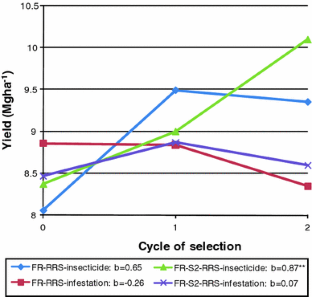 References
Avantaggiato G, Quaranta F, Desiderio E, Visconti V (2002) Fumonisin contamination of maize hybrids visibly damaged by Sesamia. J Sci Food Agric 83:13–18

Bakoume C, Galdima M, Tengoua FF (2010) Experimental modification of reciprocal recurrent selection in oil palm in Cameroon. Euphytica 171:235–240

Butron A, Malvar RA, Velasco P, Cartea ME, Ordas A (1998) Combining abilities and reciprocal effects for maize ear resistance to pink stem borer. Maydica 43:117–122

Butron A, Malvar RA, Cartea ME, Ordas A, Velasco P (1999) Resistance of maize inbreds to pink stem borer. Crop Sci 39:102–107

Butron A, Santiago R, Mansilla P, Pintos-Varela C, Ordas A, Malvar RA (2006) Maize (Zea mays L.) genetic factors for preventing fumonisin contamination. J Agric Food Chem 54:6113–6117

Butruille DV, Silva HD, Kaeppler SM, Coors JG (2004) Response to selection and genetic drift in the three populations derived from golden glow maize population. Crop Sci 44:1527–1534

Cartea ME, Malvar RA, Vales MI, Butron A, Ordas A (2001) Inheritance of resistance to ear damage caused by Sesamia nonagrioides (Lepidoptera: Noctuidae) in maize. J Econ Entomol 94:277–283

Cochran WC, Cox GM (1957) Experimental design, 2nd edn. Wiley, New York

Comstock RE, Robinson HF, Harvey PH (1949) A breeding procedure designed to make maximum use of both general and specific combining ability. Agron J 41:360–367

Eyherabide GH, Hallauer AR (1991) Reciprocal full-sib recurrent selection in maize. I. Direct and indirect responses. Crop Sci 31:952–959

Hallauer AR (1973) Hybrid development and population improvement in maize by reciprocal full-sib selection. Egypt J Genet Cytol 2:84–101

Hallauer AR, Eberhart SA (1970) Reciprocal full-sib selection. Crop Sci 10:315–316

Hallauer AR, Miranda JB (1988) Quantitative genetics in maize breeding. Iowa State University Press, Ames

Hinze LL, Kresovich S, Nason JD, Lamkey KR (2005) Population genetic diversity in a maize reciprocal recurrent selection program. Crop Sci 45:2435–2442

Institute SAS (2009) SAS OnlineDoc, version 9.1. SAS Institute, Inc, Cary, North Carolina

Jones LP, Compton WA, Gardner CO (1971) Comparison of full and half-sib reciprocal recurrent selection. Theor Appl Genet 41:36–39

Klenke JR, Russell WA, Guthrie WD (1986) Recurrent selection for resistance to European corn borer in a corn synthetic and correlated effects on agronomics traits. Crop Sci 26:864–868

Mikel MA (2011) Genetic composition of contemporary US commercial dent corn germplasm. Crop Sci 51:592–599

Montagnon C, Leroy T, Cilas C, Legnate H, Charrier A (2008) Heterozygous genotypes are efficient testers for assessing between-population combining ability in the reciprocal recurrent selection of Coffea canephora. Euphytica 160:101–110

Moreno-González J, Hallauer AR (1982) Combined S2 and crossbred family selection in full-sib reciprocal recurrent selection. Theor Appl Genet 61:353–358

Nyhus KA, Russell WA, Guthrie WD (1989) Changes in agronomic traits associated with recurrent selection in two corn synthetics. Crop Sci 29:269–275

Peiris BL, Hallauer AR (2005) Comparison of half-sib and full-sib reciprocal recurrent selection and their modifications in simulated populations. Maydica 50:25–37

Pinto LR, Vieira MLC, Souza CL Jr, Souza AP (2003) Genetic-diversity by microsatellites in tropical maize populations submitted to a high-intensity reciprocal recurrent selection. Euphytica 134:277–286

Pokou ND, N'Goran JAK, Lachenaud P, Eskes Ab, Montamayor JC, Schnell R, Kolesnikova-Allen M, Clement D, Sangare A (2009) Recurrent selection of cocoa populations in Cote d'Ivoire: comparative genetic diversity between the first and second cycles. Plant Breed 128:514–520

Popi J, Kannenberg LW (2001) Response to selection over 15 years in the HOPE maize breeding system. Maydica 46:93–103

Romay MC, Ordas B, Revilla P, Ordas A (2011) Three cycles of full-sib reciprocal recurrent selection in two Spanish maize populations. Crop Sci 51:1016–1022

Russell WA, Lawrence GD, Guthrie WD (1979) Effects of recurrent selection for European corn borer resistance on other agronomic characters in synthetic cultivars of corn. Maydica 24:33–47

Sandoya G, Butron A, Alvarez A, Ordas A, Malvar RA (2008) Direct response of a maize synthetic to recurrent selection for resistance to corn borers. Crop Sci 48:113–118

Sandoya G, Butron A, Santiago R, Alvarez A, Malvar RA (2010) Indirect response to selection for improving resistance to the Mediterranean corn borer (Sesamia nonagrioides Lef) in maize. Euphytica 176:231–237

Souza CL Jr (1999) Recurrent selection and heterosis. In: Coors JG, Pandey S (eds) The genetics and exploitation of heterosis in crops. ASA, CSSA, SSSA, Madison, pp 247–255

Troyer AF (1999) Background of US hybrid corn. Crop Sci 39:601–626

Weyhrich RA, Lamkey KR, Hallauer AR (1998) Responses to seven method of recurrent selection in the BS11 maize population. Crop Sci 38:308–321
Acknowledgments
This research was supported by the National Plan for Research and Development of Spain (Project Cod. AGL2006-13140). We would like to thank the anonymous referees for their useful suggestions that have improved the manuscript.
Additional information
Communicated by M. Frisch.
About this article
Cite this article
Ordas, B., Butron, A., Alvarez, A. et al. Comparison of two methods of reciprocal recurrent selection in maize (Zea mays L.). Theor Appl Genet 124, 1183–1191 (2012). https://doi.org/10.1007/s00122-011-1778-2
Received:

Accepted:

Published:

Issue Date:

DOI: https://doi.org/10.1007/s00122-011-1778-2
Keywords
Genetic Gain

Selection Index

Synthetic Variety

Population Cross

Testcross Performance