Abstract
The potato genotype ND4382-19 has Solanum chacoense Bitt. in its genetic background. Foliar alkaloid analysis of it and its progeny ND5873 (ND4382-19 × Chipeta) by gas chromatography–mass spectrometry (GC–MS) showed that, in addition to the expected alkaloids (solanidine, leptinidine, and acetyl-leptinidine), there was an aglycone of another rare alkaloid. Its molecular mass and some of the m/z fragment ions were similar to leptinidine, but the major fragment ion was the m/z 150 peak of solanidine. This fragmentation pattern suggested that this alkaloid is a solanidine-based compound with mass equal to leptinidine. Leptinidine differs from solanidine by an extra –OH group, but the GC–MS fragmentation pattern of the rare compound indicated hydroxylation at a different position than the C-23 of leptinidine. The exact chemical structure is still unknown, and further analysis, such as NMR will be necessary to determine the structure. Segregation analysis of ND5873 (ND4382-19 × Chipeta) showed that presence of this rare compound segregated in a 1:1 ratio, indicating that a single gene controlled its synthesis and/or accumulation in foliar tissue. Analysis with AFLP and microsatellite markers indicated that the locus-controlling presence of this alkaloid resided on potato chromosome I, with the nearest flanking AFLP markers 0.6 and 9.4 cM apart. This rare alkaloid was present in the foliage and not detected in potato tubers. Its presence in leaves did not affect resistance/susceptibility to Colorado potato beetle.
Access options
Buy single article
Instant access to the full article PDF.
USD 39.95
Price includes VAT (USA)
Tax calculation will be finalised during checkout.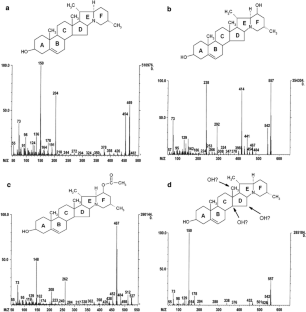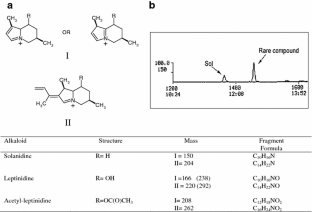 References
Balandrin MF, Klocke JA, Wurtele ES, Bollinger WH (1985) Natural plant chemicals: sources of industrial and medicinal materials. Science 228:1154–1160

Bouarte-Medina T, Fogelman E, Chani E, Miller AR, Levin I, Levy D, Veilleux RE (2002) Identification of molecular markers associated with leptine in reciprocal backcross families of diploid potato. Theor Appl Genet 105:1010–1018

Bradshaw JE, Mackay GR (1994) Breeding strategies for clonally propagated potatoes. In: Bradshaw JE, Mackay GR (eds) Potato Genetics. CAB International, Wallingford, UK, pp 3–42

Cham BE (1994) Solasodine glycosides as anti-cancer agents: pre-clinical and clinical studies. Asia Pacif J Pharmacol 9:113–118

Deahl KL, Cantelo WW, Sinden SL, Sanford LL (1991) The effect of light intensity on Colorado potato beetle resistance and foliar glycoalkaloid concentration on four Solanum chacoense clones. Am J Potato Res 68:659–666

Feingold SE, Barreiro LE, Carboni MF, Bolser DM, Martin DMA, Diambra L, Knauber D, Lorenzen JH (2010) P450 genes revisited: in the light of the potato genome sequence.In: EAPR-EUCARPIA congress: potato breeding after completion of the DNA sequence of the potato genome. June 27–30th, Wageningen, The Netherlands

Friedman M (2006) Potato glycoalkaloids and metabolites: roles in the plant and in the diet. J Agric Food Chem 54:8655–8681

Friedman M, McDonald GM (1997) Potato glycoalkaloids: chemistry, analysis, safety, and plant physiology. Crit Rev Plant Sci 16:55–132

Ginzberg I, Tokuhisa J, Veilleux R (2009) Potato steroidal glycoalkaloids: biosynthesis and genetic manipulation. Potato Res 52:1–15

Hackett CA, Bradshaw JE, Meyer RC, McNicol JW, Milbourne D, Waugh R (1998) Linkage analysis in tetraploid species: a simulation study. Genet Res 71:143–154

Hall R (1992) Toxicological burdens and the shifting burden of toxicology. Food Technol 46:109–112

Hutvágner G, Bánfalvi Z, Milánkovics I, Silhavy D, Polgár Z, Horváth S, Wolters P, Nap JP (2001) Molecular markers associated with leptinine production are located on chromosome 1 in Solanum chacoense. Theor Appl Genet 102:1065–1071

Krits P, Fogelman E, Ginzberg I (2007) Potato steroidal glycoalkaloid levels and the expression of key isoprenoid metabolic genes. Planta 227:143–150

Kuhn R, Löw I (1961) Zur Konstitution der Leptine. Chemische Berichte 94:1088–1095

Lafta AM, Lorenzen JH (2000) Influence of high temperature and reduced irradiance on glycoalkaloid levels in potato leaves. J Am Soc Hortic Sci 125:563–566

Lawson DR, Erb WA, Miller AR (1992) Analysis of solanum alkaloids using internal standardization and capillary gas chromatography. J Agric Food Chem 40:2186–2191

Lawson DR, Green TP, Haynes LW, Miller AR (1997) Nuclear magnetic resonance spectroscopy and mass spectrometry of solanidine, leptinidine, and acetylleptinidine. steroidal alkaloids from Solanum chacoense Bitter. J Agric Food Chem 45:4122–4126

Lorenzen JH, Balbyshev NF (1997) ND2858–1: a useful source of resistance to the Colorado potato beetle. Am Potato J 74:331–335

Lorenzen JH, Balbyshev NF, Lafta AM, Casper H, Tian X, Sagredo B (2001) Resistant potato selections contain leptine and inhibit development of the Colorado potato beetle (Coleoptera: Chrysomelidae). J Econ Entomol 94:1260–1267

Maga AJ (1994) Glycoalkaloids in solanaceae. Food Rev Int 10:385–418

Milbourne D, Meyer RC, Collins AJ, Ramsay LD, Gebhardt C, Waugh R (1998) Isolation, characterization and mapping of simple sequence repeat loci in potato. Mol Gen Genet 259:233–245

Plaisted RL, Bonierbale MW, Yencho GC, Pineda O, Tingey WM, Van-den Berg J, Ewing EE, Brodie BB (1994) Potato improvement by traditional breeding and opportunities for new technologies. In: Belknap WR, Vayda ME, Park WD (eds) The molecular and cellular biology of the potato. CAB International, Wallingford, Oxon, UK, pp 1–20

Ronning CM, Sanford LL, Kobayashi RS, Kowalski SP (1998) Foliar leptine production in segregating F1, inter-F1, and backcross families of Solanum chacoense Bitter. Amer J Potato Res 75:137–143

Ronning CM, Kowalski SP, Sanford LL, Stommel JR (2000) Geographical variation of solanidane aglycone glycoalkaloids in the wild potato species Solanum chacoense Bitter. Genet Resour Crop Evol 47:359–369

Sagredo B, Lafta A, Casper H, Lorenzen J (2006) Mapping of genes associated with leptine content of tetraploid potato. Theor Appl Genet 114:131–142

Sagredo B, Balbyshev N, Lafta A, Casper H, Lorenzen J (2009) A QTL that confers resistance to Colorado potato beetle (Leptinotarsa decemlineata [Say]) in tetraploid potato populations segregating for leptine. Theor Appl Genet 119:1171–1181

Shakya R, Navarre DA (2008) LC-MS analysis of solanidane glycoalkaloid diversity among tubers of four wild potato species and three cultivars (Solanum tuberosum). J Agric Food Chem 56:6949–6958

Sinden SL, Cantelo WW, Sanford LL, Deahl KL (1986a) Segregation of leptine glycoalkaloid in Solanum chacoense Bitter. J Agric Food Chem 34:372–377

Sinden SL, Sanford LL, Cantelo WW, Deahl KL (1986b) Leptine glycoalkaloids and resistance to the Colorado potato beetle (Coleoptera: Chrysomelidae) in Solanum chacoense. Environ Entomol 15:1057–1062

Sørensen K, Kirk H, Olsson K, Labouriau R, Christiansen J (2008) A major QTL and an SSR marker associated with glycoalkaloid content in potato tubers from Solanum tuberosum × S. sparsipilum located on chromosome I. Theor Appl Genet 117:1–9

Stürckow B, Löw I (1961) Effect of several Solanum glycoalkaloids on the Colorado potato beetle (Letinotarsa decemlineata, Say). Entomol Expt Appl 4:133–142

Tian X (1998) Application of RFLP subtraction in plant genetic investigation. Plant science. North Dakota State University Fargo, ND, USA, p 83

Tingey WM (1984) Glycoalkaloids as pest resistance factors. Am Potato J 61:157–167

Valkonen JPT, Keskitalo M, Vasara T, Pietilä L (1996) Potato glycoalkaloids: a burden or a blessing? Crit Rev Plant Sci 15:1–20

Yencho GC, Kowalski SP, Kobayashi RS, Sinden SL, Bonierbale MW, Deahl KL (1998) QTL mapping of foliar glycoalkaloid aglycones in Solanum tuberosum × S. berthaultii potato progenies: quantitative variation and plant secondary metabolism. Theor Appl Genet 97:563–574
Acknowledgments
The authors would like to acknowledge the skillful assistance of M. Thoresen in growing and maintaining plants and field trials. Funding for this project was provided by the McKnight Foundation Collaborative Crop Research Program and from the USDA-CSREES funding support (97-34141-4122).
Additional information
H. Casper: Deceased.
Communicated by C. Gebhardt.
About this article
Cite this article
Sagredo, B., Lorenzen, J., Casper, H. et al. Linkage analysis of a rare alkaloid present in a tetraploid potato with Solanum chacoense background. Theor Appl Genet 122, 471–478 (2011). https://doi.org/10.1007/s00122-010-1461-z
Received:

Accepted:

Published:

Issue Date:
Keywords
Alkaloid

Colorado Potato Beetle

Solanum Species

Glycoalkaloid Content

Solanidine