Abstract
Stem rust (caused by Puccinia graminis Pers.:Pers. f. sp. tritici Eriks. & E. Henn.) has re-emerged as a threat to wheat production with the evolution of new pathogen races, namely TTKSK (Ug99) and its variants, in Africa. Deployment of resistant wheat cultivars has provided long-term control of stem rust. Identification of new resistance genes will contribute to future cultivars with broad resistance to stem rust. The related Canadian cultivars Peace and AC Cadillac show resistance to Ug99 at the seedling stage and in the field. The purpose of this study was to elucidate the inheritance and genetically map resistance to Ug99 in these two cultivars. Two populations were produced, an F2:3 population from LMPG/AC Cadillac and a doubled haploid (DH) population from RL6071/Peace. Both populations showed segregation at the seedling stage for a single stem rust resistance (Sr) gene, temporarily named SrCad. SrCad was mapped to chromosome 6DS in both populations with microsatellite markers and a marker (FSD_RSA) that is tightly linked to the common bunt resistance gene Bt10. FSD_RSA was the closest marker to SrCad (≈1.6 cM). Evaluation of the RL6071/Peace DH population and a second DH population, AC Karma/87E03-S2B1, in Kenya showed that the combination of SrCad and leaf rust resistance gene Lr34 provided a high level of resistance to Ug99-type races in the field, whereas in the absence of Lr34 SrCad conferred moderate resistance. A survey confirmed that SrCad is the basis for all of the seedling resistance to Ug99 in Canadian wheat cultivars. While further study is needed to determine the relationship between SrCad and other Sr genes on chromosome 6DS, SrCad represents a valuable genetic resource for producing stem rust resistant wheat cultivars.
Access options
Buy single article
Instant access to the full article PDF.
US$ 39.95
Tax calculation will be finalised during checkout.
Subscribe to journal
Immediate online access to all issues from 2019. Subscription will auto renew annually.
US$ 119
Tax calculation will be finalised during checkout.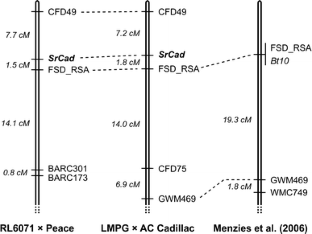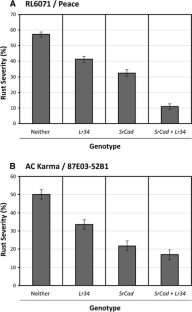 References
DePauw RM, Thomas JB, Knox RE, Clarke JM, Fernandez MR, McCaig TN, McLeod JG (1998) AC Cadillac hard red spring wheat. Can J Plant Sci 78:459–462

Dyck PL (1987) The association of a gene for leaf rust resistance with the chromosome 7D suppressor of stem rust resistance in common wheat. Genome 29:467–469

Dyck PL, Kerber ER (1977) Chromosome location of gene Sr29 for reaction to stem rust. Can J Genet Cytol 13:480–483

Dyck PL, Samborski DJ (1982) The inheritance of resistance to Puccinia recondita in a group of common wheat cultivars. Can J Genet Cytol 24:273–283

Fetch TG (2009) Races of Puccinia graminis on barely, oat, and wheat in Canada in 2005. Can J Plant Pathol 31:74–79

German SE, Kolmer JA (1992) Effect of the gene Lr34 in the enhancement of resistance to leaf rust of wheat. Theor Appl Genet 84:97–105

Jin Y (2005) Races of Puccina graminis identified in the United States during 2003. Plant Dis 89:1125–1127

Jin Y, Singh RP, Ward RW, Wanyera R, Kinyua M, Njau P, Fetch T, Pretorius ZA, Yahyaoui A (2007) Characterization of seedling infection types and adult plant infection responses of monogenic Sr gene lines to race TTKS of Puccinia graminis f. sp. tritici. Plant Dis 91:1096–1099

Jin Y, Szabo L, Pretorius Z, Singh R, Ward R, Fetch T (2008) Detection of virulence to resistance gene Sr24 within race TTKS of Puccinia graminis f. sp. tritici. Plant Dis 92:923–926

Kerber ER, Aung T (1999) Leaf rust resistance gene Lr34 associated with nonsuppression of stem rust resistance in the wheat cultivar Canthatch. Phytopathology 89:518–521

Knox RE, De Pauw RM, McCaig TN, Clarke JM, McLeod JG, Morrison RJ (1992) AC Taber red spring wheat. Can J Plant Sci 72:1241–1245

Kosambi DD (1944) The estimation of map distances from recombination values. Ann Eugen 12:172–175

Lander ES, Green P, Abrahamson J, Barlow A, Daly MJ, Lincoln SE, Newburg L (1987) Mapmaker: an interactive computer package for constructing primary genetic linkage maps of experimental and natural populations. Genomics 1:174–181

Laroche A, Demeke T, Gaudet DA, Puchalski B, Frick M, McKenzie R (2000) Development of a PCR marker for rapid identification of the Bt-10 gene for common bunt resistance in wheat. Genome 43:217–223

McCallum BD, DePauw RM (2008) A review of wheat cultivars grown in the Canadian prairies. Can J Plant Sci 88:649–677

McCallum BD, Somers DJ, Humphreys DG, Cloutier S (2008) Molecular marker analysis of Lr34 in Canada Western Red Spring wheat cultivars. In: Appels R, Eastwood R, Lagudah E, Langridge P, Mackay M, McIntyre L, Sharp P (eds) Proceedings of 11th International Wheat Genet Symposium, Sydney University Press, Sydney, Australia, pp 782–784

McCartney CA, Somers DJ, McCallum BD, Thomas J, Humphreys DG, Menzies JG, Brown PD (2005) Microsatellite tagging of the leaf rust resistance gene Lr16 on wheat chromosome 2BSc. Mol Breed 15:329–337

McIntosh RA, Wellings CR, Park RF (1995) Wheat rusts: an atlas of resistance genes. CSIRO Publications, East Melbourne, pp 85–141

Menzies JG, Knox RE, Popovic Z, Procunier JD (2006) Common bunt resistance gene Bt10 located on wheat chromosome 6D. Can J Plant Sci 86:1409–1412

Pallotta MA, Warner P, Fox RL, Kuchel H, Jefferies SJ, Langridge P (2003) Marker assisted wheat breeding in the southern region of Australia. In: Pogna NE, Romano M, Pogna EA, Galerio G (eds) Proceedings of 10th International Wheat Genet Symposium, Instituto Sperimentale per la Cerealcoltura, Rome, pp 789–791

Peterson RF, Campbell AB, Hannah AE (1948) A diagrammatic scale for estimating rust intensity on leaves and stems of cereals. Can J Res 26:496–500

Peturson B (1958) Wheat rust epidemics in western Canada in 1953, 1954, and 1955. Can J Plant Sci 38:16–28

Pretorius ZA, Singh RP, Wagoire WW, Payne TS (2000) Detection of virulence to wheat stem rust resistance gene Sr31 in Puccinia graminis f.sp. tritici in Uganda. Plant Dis 84:203

Radovanovic N, Cloutier S (2003) Gene-assisted selection for high molecular weight glutenin subunits in wheat doubled haploid breeding programs. Mol Breed 12:51–59

Röder MS, Korzun V, Wendehake K, Plaschke J, Tixier M, Leroy P, Ganal MW (1998) A microsatellite map of wheat. Genetics 149:2007–2023

Sears ER, Loegering WQ, Rodenhiser HA (1957) Identification of chromosomes carrying genes for stem rust resistance in four varieties of wheat. Agron J 49:208–212

Singh RP (1992) Genetic association of leaf rust resistance gene Lr34 with adult-plant resistance to stripe rust in bread wheat. Phytopathology 82:835–838

Somers DJ, Isaac P, Edwards K (2004) A high density microsatellite consensus map for bread wheat (Triticum aestivum L.). Theor Appl Genet 109:1105–1114

Spielmeyer W, McIntosh RA, Kolmer J, Lagudah ES (2005) Powdery mildew resistance and the Lr34/Yr18 genes for durable resistance to leaf and stripe rust cosegregate at a locus on the short arm of chromosome 7D of wheat. Theor Appl Genet 111:731–735

Spielmeyer W, Singh RP, McFadden H, Wellings CR, Huerta-Espino J, Kong X, Appels R, Lagudah ES (2008) Fine scale genetic and physical mapping using interstitial deletion mutants of Lr34/Yr18: a disease resistance locus effective against multiple pathogens in wheat. Theor Appl Genet 116:481–490

Stakman EC, Stewart DM, Loegering WQ (1962) Identification of physiologic races of Puccinia graminis var. tritici. USDA Agricultural Research Service E617

Thomas J, Chen Q, Howes N (1997) Chromosome doubling of haploids of common wheat with caffeine. Genome 40:552–558

Vanegas CDG, Garvin DF, Kolmer JA (2008) Genetics of stem rust resistance in the spring wheat cultivar Thatcher and the enhancement of stem rust resistance by Lr34. Euphytica 159:391–401
Acknowledgments
The authors thank Ken Dunsmore, Mira Popovic, Lorelle Furst and Debbie Jones for excellent technical assistance.
Additional information
D. R. Knott: deceased, 5 June 2009.
Communicated by F. Ordon.
About this article
Cite this article
Hiebert, C.W., Fetch, T.G., Zegeye, T. et al. Genetics and mapping of seedling resistance to Ug99 stem rust in Canadian wheat cultivars 'Peace' and 'AC Cadillac'. Theor Appl Genet 122, 143–149 (2011). https://doi.org/10.1007/s00122-010-1430-6
Received:

Accepted:

Published:

Issue Date:
Keywords
Doubled Haploid

Rust Resistance

Stem Rust

Doubled Haploid Line

Doubled Haploid Population