Abstract
Common bean can be grown as a grain crop (dry beans) or as a fresh vegetable (snap beans/green beans), both items being important in nutritional terms for providing essential minerals and vitamins to the diet. Snap beans are thought to be derived predominantly from dry beans of the Andean genepool and to be of a recent European origin; however, the existence of Mesoamerican genepool characteristics especially in traditional indeterminate growth habit snap beans indicates a wider origin. The objective of this study was to evaluate genetic diversity within a set of 120 indeterminate (pole type) snap beans and 7 control genotypes representing each genepool using amplified fragment length polymorphism (AFLP) and simple sequence repeat or microsatellite (SSR) markers. The genotypes were predominantly from Asia, Europe and the United States but included some varieties from Latin America and Africa. AFLP polymorphism ranged from 53.2 to 67.7% while SSR polymorphism averaged 95.3% for the 32 fluorescent and 11 non-fluorescent markers evaluated and total expected heterozygosity was higher for SSR markers (0.521) than for AFLP markers (0.209). Both marker systems grouped the genotypes into two genepools with Andean and Mesoamerican controls, respectively, with the Mesoamerican group being predominant in terms of the number of genotypes assigned to this genepool. Phaseolin alleles were not tightly associated with genepool assignment indicating that introgression of this locus had occurred between the genepools, especially with phaseolin "S" in the Andean group (23.5%) and phaseolins "T" and "C" in the Mesoamerican group (12.2 and 8.2%, respectively). The implications of these results on the origin of pole type snap beans and on breeding strategies for this horticultural crop are discussed.
Access options
Buy single article
Instant access to the full article PDF.
US$ 39.95
Tax calculation will be finalised during checkout.
Subscribe to journal
Immediate online access to all issues from 2019. Subscription will auto renew annually.
US$ 119
Tax calculation will be finalised during checkout.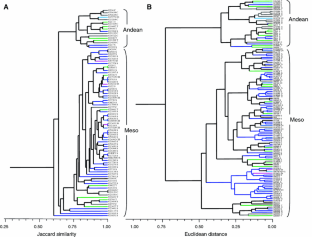 References
Afanador L, Haley S (1993) Adoption of a "mini-prep" DNA extraction method for RAPD's marker analysis in common bean Phaseolus vulgaris. Bean Imp Coop 36:10–11

Beebe S, Rengifo J, Gaitan E, Duque M, Tohme J (2001) Diversity and origin of Andean landraces of common bean. Crop Sci 41:854–862

Blair M, Hedetale V, McCouch S (2002) Fluorescent-labeled microsatellite panels useful for detecting allelic diversity in cultivated rice (Oryza sativa L.). Theor Appl Genet 105:449–457

Blair M, Giraldo M, Buendía H, Duque MC, Beebe S (2006) Microsatellite marker diversity in common bean (Phaseolus vulgaris L.). Theor Appl Genet 113:100–109

Blair MW, Díaz JM, Hidalgo R, Díaz LM, Duque MC (2007) Microsatellite characterization of Andean races of common bean (Phaseolus vulgaris L.). Theor Appl Genet 116:29–43

Blair MW, Díaz LM, Buendia HF, Duque MC (2010) Genetic diversity, seed size associations and population structure of a core collection of common beans (Phaseolus vulgaris L.) Theor Appl Genet (in press)

Brown JWS, McFerson JR, Bliss FA, Hall TC (1982) Genetic divergence among commercial classes of Phaseolus vulgaris in relation to phaseolin pattern. HortScience 17:752–754

Coburn J, Temnykh S, Paul E, McCouch S (2002) Design and application of microsatellite marker panels for semiautomated genotyping of rice (Oryza sativa L.). Crop Sci 42:2092–2099

Cunha C, Hintz T, Griffiths P (2004) Genetic diversity of snap bean cultivars determined using randomly amplified polymorphic DNA (RAPD) markers. HortScience 39(3):481–484

Diaz L, Blair M (2006) Race structure within the Mesoamerican gene pool of common bean (Phaseolus vulgaris L.) as determined by microsatellite markers. Theor Appl Genet 114:143–154

Durán LA, Blair MW, Giraldo MC, Machiavelli R, Prophete E, Nin JC, Beaver JS (2005) Morphological and molecular characterization of common bean (Phaseolus vulgaris L.) landraces from the Caribbean. Crop Sci 45:1320–1328

FAOSTAT (2007) http://faostat.fao.org/. Accessed 17 Apr 2009

Gepts P, Osborn K, Rashka K, Bliss F (1986) Phaseolin-protein variability in wild forms and landraces of the common bean (Phasolus vulgaris): evidence for multiple center of domestication. Econ Bot 40:451–468

Henry G, Janssen W (1992) Snap beans in the developing word: proceedings of an international conference held in Cali, Colombia, p 366

Kaplan L, Kaplan LN (1988) Phaseolus in archeology. In: Gepts P (ed) Genetic resources of Phaseolus Benas. Kluwer, Dordrecht, pp 125–142

Kimura M, Crow JF (1964) The number of alleles that can be maintained in a finite population. Genetics 49:725–738

Maciel FL, Echeverrigaray S, Sheng Gerald LT, Grazziotin FG (2003) Genetic relationships and diversity among Brazilian cultivars and landraces of common beans (Phaseolus vulgaris L.) revealed by AFLP markers. Gen Res Crop Evol 50:887–893

Masi P, Spagnoletti P, Donini P (2003) Development and analysis of multiplex microsatellite markers sets in common bean (Phaseolus vulgaris L.). Mol Breeding 11:303–313

Metais I, Hamon B, Jalouzot R, Peltier D (2002) Structure and level of genetic diversity in various bean types evidenced with microsatellite markers from a genomic enriched library. Theor Appl Genet 104:1346–1352

Muñoz C, Duque MC, Debouck D, Blair MW (2006) Taxonomy of tepary bean (Phaseolus acutifolius) and wild relatives as determined by amplified fragment length polymorphism (AFLP) markers. Crop Sci 46:1744–1754

Myers JR, Baggett JR (1999) Improvement of snap beans. In: Singh S (ed) Common bean improvement for the 21st century. Kluwer, Boston

Myers J, Davis J (2002) Molecular polygenetics of snap bean. Department of Horticulture, Oregon State University, Corvallis

Nei M (1973) Analysis of gene diversity in subdivided populations. Proc Nat Acad Sci 70:3321–3323

Pachico D (1987) The potencial of snap beans as a crop for small farmers in the tropics. El Mejoramiento Genético de la Habichuela en América Latina, CIAT. Cali- Colombia. pp 33–43

Rohlf F (2002) NTSYS pc: numerical taxonomy system. Exeter Publishing, Setauket

SAS Institute (1996) SAS/STAT user guide 6.11. SAS Institute, Cary

Silbernagel MJ (1986) Snap bean breeding. In: Basset MJ (ed) Breeding vegetable crops. Avi Publ. Co. Inc, West Connecticut, pp 243–282

Singh SP (1989) Patterns of variation in cultivated common bean (Phaseolus vulgaris, Fabaceae). Econ Bot 43:39–57

Skroch P, Nienhuis J (1995) Qualitative and quantitative characterization of RADP variation among snap bean (Phaseolus vulgaris) genotypes. Theor Appl Genet 91:1078–1085

Tofiño AP, Ocampo C, Toro O (2004) Determination of genetic diversity of Snap beans Phaesolus vulgaris L. cultivated at secondary centers of domestication using morphological and biochemical descriptors. Ann Rep Bean Improv Coop 47:169–170

Tohme J, Gonzales D, Beebe S, Duque MC (1996) AFLP analysis of gene pools of a wild bean core collection. Crop Sci 36:1375–1384

Voysest O (2000) Mejoramiento genetico de frijol (Phaseolus vulgaris L.) Legado de las variedades de America Latina 1930–1999. CIAT, Cali-Colombia

Yeh F, Yang R, Boyle T, Ye Z, Mao J (1997) POPGENE, the user-friendly shareware for population genetics analysis version 1.31. Molecular Biology and Biotechnology Centre, University of Alberta, Alberta

Zhang X, Blair MW, Wang S (2008) Genetic diversity of Chinese common bean (Phaseolus vulgaris L.) landraces assessed with simple sequence repeat markers. Theor Appl Genet 117:629–640
Acknowledgments
We wish to thank Pilar Marquez and Jaime Eduardo Muñoz for advice on the study; and Myriam Cristina Duque and Lucy Díaz for help with diversity analyses. We also thank César Ocampo and Daniel Debouck for help with phaseolin analysis and seed supply.
Additional information
Communicated by H. T. Nguyen.
Electronic supplementary material
Below is the link to the electronic supplementary material.
About this article
Cite this article
Blair, M.W., Chaves, A., Tofiño, A. et al. Extensive diversity and inter-genepool introgression in a world-wide collection of indeterminate snap bean accessions. Theor Appl Genet 120, 1381–1391 (2010). https://doi.org/10.1007/s00122-010-1262-4
Received:

Accepted:

Published:

Issue Date:
Keywords
Amplify Fragment Length Polymorphism

Simple Sequence Repeat Marker

Common Bean

Amplify Fragment Length Polymorphism Marker

Phaseolin