Abstract
Marker-assisted breeding is a very useful tool for breeders but still lags behind its potential because information on the effect of quantitative trait loci (QTLs) in different genetic backgrounds and ideal molecular markers are unavailable. Here, we report on some first steps toward the validation and application of the major rice QTL Phosphate uptake 1 (Pup1) that confers tolerance of phosphorus (P) deficiency in rice (Oryza sativa L.). Based on the Pup1 genomic sequence of the tolerant donor variety Kasalath that recently became available, markers were designed that target (1) putative genes that are partially conserved in the Nipponbare reference genome and (2) Kasalath-specific genes that are located in a large insertion-deletion (INDEL) region that is absent in Nipponbare. Testing these markers in 159 diverse rice accessions confirmed their diagnostic value across genotypes and showed that Pup1 is present in more than 50% of rice accessions adapted to stress-prone environments, whereas it was detected in only about 10% of the analyzed irrigated/lowland varieties. Furthermore, the Pup1 locus was detected in more than 80% of the analyzed drought-tolerant rice breeding lines, suggesting that breeders are unknowingly selecting for Pup1. A hydroponics experiment revealed genotypic differences in the response to P deficiency between upland and irrigated varieties but confirmed that root elongation is independent of Pup1. Contrasting Pup1 near-isogenic lines (NILs) were subsequently grown in two different P-deficient soils and environments. Under the applied aerobic growth conditions, NILs with the Pup1 locus maintained significantly higher grain weight plant−1 under P deprivation in comparison with intolerant sister lines without Pup1. Overall, the data provide evidence that Pup1 has the potential to improve yield in P-deficient and/or drought-prone environments and in diverse genetic backgrounds.
Access options
Buy single article
Instant access to the full article PDF.
US$ 39.95
Tax calculation will be finalised during checkout.
Subscribe to journal
Immediate online access to all issues from 2019. Subscription will auto renew annually.
US$ 119
Tax calculation will be finalised during checkout.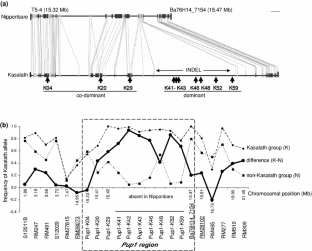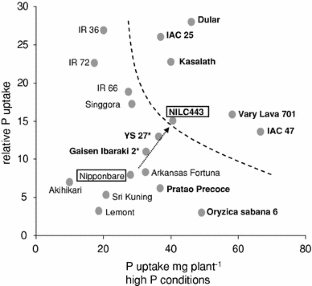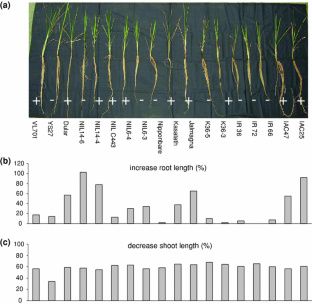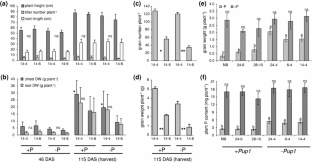 References
Bernier J, Kumar A, Venuprasad R, Spaner D, Atlin G (2007) A large-effect QTL for grain yield under reproductive-stage drought stress in upland rice. Crop Sci 47:507–516

Bernier J, Kumar A, Venuprasad R, Spaner D, Verulkar S, Mandal NP, Sinha PK, Peeraju P, Dongre PR, Mahto RN, Atlin G (2009) Characterization of the effect of a QTL for drought resistance in rice, qtl12.1, over a range of environments in the Philippines and eastern India. Euphytica 166:207–217

Collard BCY, Mackill DJ (2008) Marker-assisted selection: an approach for precision plant breeding in the twenty-first century. Phil Trans R Soc B 363:557–572

Collard BCY, Thomson MJ, Penarubia M, Lu X, Heuer S, Wissuwa M, Mackill DJ, Ismail AM (2006) SSR analysis of rice near-isogenic lines (NILs) for P-deficiency tolerance. SABRAO J Breed Genet 38(2):131–138

Collins NC, Tardieu F, Tuberosa R (2008) Quantitative trait loci and crop performance under abiotic stress: where do we stand? Plant Physiol 147:469–486

FAO (2005) Fertilizer use by crop in Indonesia. www.fao.org

Garris A, Tai TH, Coburn J, Krescovich S, McCouch S (2005) Genetic structure and diversity in Oryza sativa L. Genetics 169:1631–1638

Haefele SM, Hijmans RJ (2007) Soil quality in rice-based rainfed lowlands of Asia: characterization and distribution. In: Aggarwal PK, Ladha JK, Singh RK, Devakumar C, Hardy B (eds) Science, technology, and trade for peace and prosperity. Proceedings of the 26th international rice research conference, 9–12 October 2006, New Delhi, India. Los Baños (Philippines) and New Delhi (India): International Rice Research Institute, Indian Council of Agricultural Research, and National Academy of Agricultural Sciences, pp 297–308

Hanson WC (1950) The photometric determination of phosphorus in fertilizers using the phosphovanado–molybdate complex. J Sci Food Agric 1:172–173

Heuer S, Lu X, Chin JH, Tanaka JP, Kanamori H, Matsumoto T, De Leon T, Ulat VJ, Ismail AM, Yano M, Wissuwa M (2009) Comparative sequence analyses of the major quantitative trait locus Phosphorus uptake 1 (Pup1) reveal a complex genetic structure. Plant Biotechnol J 7:456–471

Ismail AM, Heuer S, Thomson MJ, Wisswa M (2007) Genetic and genomic approaches to develop rice germplasm for problem soils. Plant Mol Biol 65(4):547–570

Li J, Xie Y, Dai A, Liu L, Li Z (2009) Root and shoot traits responses to phosphorus deficiency and QTL analysis at seedling stage using introgression lines of rice. J Genet Genomics 36:173–183

Liu WQ, Fan YY, Chen J, Shi YF, Wu JL (2009) Avoidance of linkage drag between blast resistance gene and the QTL conditioning spikelet fertility based on genotype selection against heading date in rice. Rice Sci 16(1):21–26

Londo JP, Chiang YC, Hung KH, Chiang TY, Schaal BA (2006) Phylogeography of Asian wild rice Oryza rufipogon reveals multiple independent domestications of cultivated rice Oryza sativa. Proc Natl Acad Sci USA 103(25):9578–9583

Ma J, Bennetzen JL (2004) Rapid recent growth and divergence of rice nuclear genomes. Proc Natl Acad Sci USA 101(34):12404–12410

Mackill DJ (2008) Molecular markers and marker-assisted selection in rice. In: Varshney RK, Tuberosa R (eds) Genomics assisted crop improvement, vol 2. Genomics Applications in Crops, pp 147–168

Neeraja CN, Maghirang-Rodriguez R, Pamplona A, Heuer S, Collard BCY, Septiningsih EM, Vergara G, Sanchez D, Xu K, Ismail AM, Mackill DJ (2007) A marker-assisted backcross approach for developing submergence-tolerant rice cultivars. Theor Appl Genet 115:767–776

Ni JJ, Wu P, Senadhira D, Huang N (1998) Mapping QTLs for phosphorus deficiency tolerance in rice (Oryza sativa L.). Theor Appl Genet 97:1361–1369

Pallotta MA, Graham RD, Langridge P, Sparrow DHB, Barker SJ (2000) RFLP mapping of manganese efficiency in barley. Theor Appl Genet 101:1100–1108

Pariasca-Tanaka J, Satoh K, Rose T, Mauleon R, Wissuwa M (2009) Stress response versus stress tolerance: a transcriptome analysis of two rice lines contrasting in tolerance to phosphorus deficiency. Rice 2:167–185. doi:10.1007/s12284-009-9032-0

Reddy CS, Babu AP, Swamy PBM, Kaladhar K, Sarla N (2009) ISSR markers based on GA and AG repeats reveal genetic relationship among rice varieties tolerant to drought, flood, or salinity. J Zhejiang Univ Sci B 10(2):133–141

Ren ZH, Gao JP, Li LG, Cai XL, Huang W, Chao DY, Zhu MZ, Wang ZY, Luan S, Lin HX (2005) A rice quantitative trait locus for salt tolerance encodes a sodium transporter. Nat Genet 37:1141–1146

Rodriguez D, Goudriaan J (1995) Effect of phosphorus and drought stresses on dry matter and phosphorus allocation in wheat. J Plant Nutr 18(11):2501–2517

Septiningsih EM, Pamplona AM, Sanchez DL, Neeraja CN, Vergara GV, Heuer S, Ismail AM, Mackill DJ (2009) Development of submergence-tolerant rice cultivars: the Sub1 locus and beyond. Ann Bot 103(2):151–160

Shimizu A, Yanagihara S, Kawasaki S, Ikehashi H (2004) Phosphorus deficiency-induced root elongation and its QTL in rice (Oryza sativa L.). Theor Appl Genet 109:1361–1368

Soriano IR, Reversat G (2003) Management of Meloidogyne graminicola and yield of upland rice in South-Luzon, Philippines. Nematology 5(6):879–884

Walia H, Wilson C, Condamine P, Liu X, Ismail AM, Zeng L, Wanamaker SI, Mandal J, Xu J, Cui X, Close TJ (2005) Comparative transcriptional profiling of two contrasting rice genotypes under salinity stress during the vegetative growth stage. Plant Physiol 139:822–835

Wissuwa M (2005) Combining a modelling with a genetic approach in establishing associations between genetic and physiological effects in relation to phosphorus uptake. Plant Soil 269:57–68

Wissuwa M, Ae N (2001a) Genotypic variation for tolerance to phosphorus deficiency in rice and the potential for its exploitation in rice improvement. Plant Breed 120:43–48

Wissuwa M, Ae N (2001b) Further characterization of two QTLs that increase phosphorus uptake of rice (Oryza sativa L.) under phosphorus deficiency. Plant Soil 237:275–286

Wissuwa M, Yano M, Ae N (1998) Mapping of QTLs for phosphorus-deficiency tolerance in rice (Oryza sativa L.). Theor Appl Genet 97:777–783

Wissuwa M, Wegner J, Ae N, Yano M (2002) Substitution mapping of Pup1: a major QTL increasing phosphorus uptake of rice from a phosphorus-deficient soil. Theor Appl Genet 105:890–897

Xu Y, Crouch JH (2008) Marker-assisted selection in plant breeding: from publications to practice. Crop Sci 48:391–407

Xu K, Xu X, Fukao T, Canlas P, Maghirang-Rodriguez R, Heuer S, Ismail AM, Bailey-Serres J, Ronald PC, Mackill DJ (2006) Sub1A is an ethylene-response-factor-like gene that confers submergence tolerance to rice. Nature 442:705–708

Yoshida S, Forno DA, Cock JH, Gomez KA (1972) Laboratory manual for physiological studies of rice, 2nd edn. IRRI, Los Banos, pp 1–70

Zhao K, Wright M, Reynolds A, Tyagi W, Kimball J, Eizenga G, McClung A, Hancock T, Wood D, Ali ML, Bustamante CD, McCouch SR (2009) A genome-wide SNP panel for genetic diversity, mapping and breeding studies in rice. In: Plant and animal genomes XVII conference, San Diego, CA, 10–14 January 2009
Acknowledgments
We would like to thank Jennylyn Trinidad and Cheryl Dalid, as well as Miladie Penarubia, Manolo Balanial, and Ricardo Eugenio for their contributions to this paper and excellent technical assistance. Also, we would like to thank Susan McCouch for conducting the SNP genotyping. This project is fully supported by the Generation Challenge Program (GCP).
Electronic supplementary material
Below is the link to the electronic supplementary material.
About this article
Cite this article
Chin, J.H., Lu, X., Haefele, S.M. et al. Development and application of gene-based markers for the major rice QTL Phosphorus uptake 1 . Theor Appl Genet 120, 1073–1086 (2010). https://doi.org/10.1007/s00122-009-1235-7
Received:

Accepted:

Published:

Issue Date:
Keywords
International Rice Research Institute

Rice Accession

Hydroponic Experiment

Upland Condition

Upland Variety