Abstract
Cytoplasmic male sterility (CMS), one of the most important traits in crop breeding, is used for commercial F1-hybrid seed production in peppers (Capsicum annuum L.). A nuclear gene, Restorer-of-fertility (Rf), can induce normal pollen production in CMS plants resulting in fertility. Since the first report of fertility restoration in peppers, various inheritance modes have been suggested, including the presence of a third haplotype of the locus. The pepper Rf gene has not been cloned, and calculated genetic distances of linked markers have varied between research groups. A more precise allelic test and additional genetic mapping are needed to accurately select recombinants for use in marker-assisted backcrossing (MAB). Therefore, the reliability and application of these markers for allelic selection of the Rf gene was tested. Two different F2 populations, Buja and Tamna, were used for the construction of a linkage map. From these linkage groups, a new closely linked flanking marker of the Rf gene were identified. Previous allelic testing revealed the existence of a third haplotype, Rfls 7701, which can function as dominant (Rf) or recessive (rf). In a previous report, Rfls 7701 was considered to be linked to unstable male sterility (MS). However, our results suggest that unstable MS was induced by a gene residing at another locus rather than by Rfls 7701 haplotype-linked allele.
This is a preview of subscription content,
to check access.
Access this article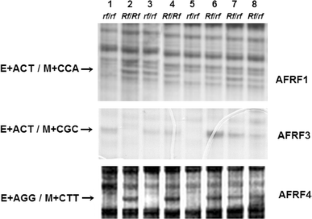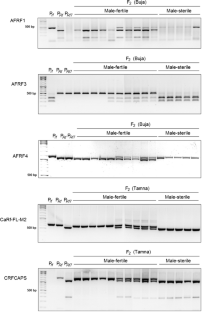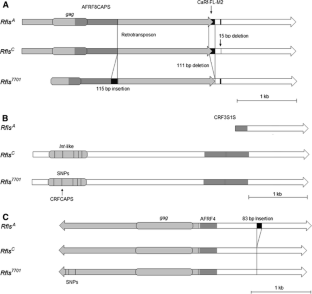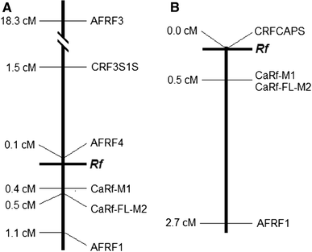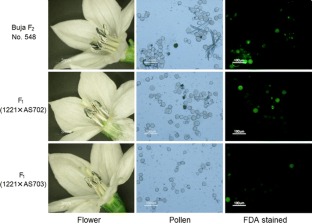 References
Bentolila S, Alfonso AA, Hanson MR (2002) A pentatricopeptide repeat containing gene restores fertility to cytoplasmic male-sterile plants. Proc Natl Acad Sci USA 99:10887–10892

Brown GG, Formanova N, Jin H, Wargachuk R, Dendy C (2003) The radish Rfo restorer gene of Ogura cytoplasmic male sterility encodes a protein with multiple pentatricopeptide repeats. Plant J 35:262–272

Budar F, Touzet P, De Paepe R (2003) The nucleo-mitochondrial conflict in cytoplasmic male sterilities revised. Genetica 117:3–16

Cui X, Wise RP, Schnable PS (1996) The rf2 nuclear restorer gene of male-sterile T-cytoplasm maize. Science 272:1334–1336

Desloire S, Gherbi H, Laloui W, Marhadour S, Clouet V, Cattolico L, Falentin C, Giancola S, Renard M, Budar F, Small I, Caboche M, Delourme R, Bendahmane A (2003) Identification of the fertility restoration locus, Rfo, in radish, as a member of the pentatricopeptide-repeat protein family. EMBO Rep 4:588–594

Gulyas G, Pakozdi K, Lee JS, Hirata Y (2006) Analysis of fertility restoration by using cytoplasmic male-sterile red pepper (Capsicum annuum L.) lines. Breed Sci 56:31–334

Hanson MR, Bentolila S (2004) Interactions of mitochondrial and nuclear genes that affect male gametophyte development. Plant Cell 16:S154–S169

Heslop-Harrison J, Heslop-Harrison Y (1970) Evaluation of pollen viability by enzymatically induced fluorescence: intracellular hydrolysis of fluorescein diacetate. Stain Technol 45:115–120

Kim DH, Kim BD (2005) Development of SCAR markers for early identification of cytoplasmic male sterility genotype in chili pepper (Capsicum annuum L.). Mol Cells 20:416–422

Kim DS, Kim DH, Yoo JH, Kim BD (2006) Cleaved amplified polymorphic sequence and amplified fragment length polymorphism markers linked to the fertility restorer gene in chili pepper (Capsicum annuum L.). Mol Cells 21:135–140

Koizuka N, Imai R, Fujimoto H, Hayakawa T, Kimura Y, Kohno-Murase J, Sakai T, Kawasaki S, Imamura J (2003) Genetic characterization of a pentatricopeptide repeat protein gene, orf687, that restores fertility in the cytoplasmic male-sterile Kosena radish. Plant J 34:407–415

Komori T, Ohta S, Murai N, Takakura Y, Kuraya Y (2004) Map-based cloning of a fertility restorer gene, Rf-1, in rice (Oryza sativa L.). Plant J 10:1046–1056

Kosambi DD (1944) The estimation of map distance from recombination value. Ann Eugen 12:172–175

Kumar A, Bennetzen JL (1999) Plant retrotransposons. Annu Rev Genet 33:479–532

Lee D (2001) Studies on unstable fertility of CGMS (cytoplasmic-genic male sterility) in Capsicum annuum L. PhD dissertation, Seoul National University, Seoul

Lee HR, Bae IH, Park SW, Kim HJ, Min WK, Han JH, Kim KT, Kim BD (2009) Construction of an integrated pepper map using RFLP, SSR, CAPS, AFLP, WRKY, rRAMP and BAC end sequences. Mol Cells 27:21–37

Min WK, Lim HR, Lee YP, Sung SK, Kim BD, Kim S (2008) Identification of a third haplotype of the sequence linked to the Restorer-of-fertility (Rf) gene and its implications for male-sterility phenotypes in peppers (Capsicum annuum L.). Mol Cells 25:20–29

Peterson PA (1958) Cytoplasmically inherited male sterility in Capsicum. Am Nat 92:111–119

Sambrook J, Russell D, Russell DW (2000) Molecular cloning, a laboratory manual, 3rd edn. Cold Spring Harbor Laboratory Press, Cold Spring Harbor

Schnabel PS, Wise RP (1998) The molecular basis of cytoplasmic male sterility and fertility restoration. Trends Plant Sci 3:175–180

Shifriss C (1997) Male-sterility in pepper (Capsicum annuum L.). Euphytica 93:83–85

Shifriss C, Guri A (1979) Variation in stability of cytoplasmic male sterility in C. annuum L. J Am Soc Hortic Sci 104:94–96

Vos P, Hogers R, Bleeker M, Reijans M, van de Lee T, Hornes M, Frijters A, Pot J, Peleman J, Kuiper M (1995) AFLP: new technique for DNA fingerprinting. Nucleic Acid Res 23:4407–4414

Wang LH, Zhang BX, Lefebvre V, Huang SW, Daubèze AM (2004) QTL analysis of fertility restoration in cytoplasmic male sterile pepper. Theor Appl Genet 109:1058–1063

Yu IW (1990) The inheritance of male sterility and its utilization for breeding in pepper (Capsicum spp.). PhD dissertation, Kyung Hee University, Seoul

Zhang BX, Huang SW, Yang GM, Guo JZ (2000) Two RAPD markers linked to a major fertility restorer gene in pepper. Euphytica 113:155–161
Acknowledgments
This work was supported by a grant (code CG1134) from the Crop Functional Genomics Center of the 21st Century Frontier Research Program funded by the Ministry of Science and Technology of the Republic of Korea. All breeding lines used in this study were kindly provided from a senior breeder, Won-Kee Kim from Dongbu HiTek, Korea.
Additional information
Communicated by Y. Xue.
W.-K. Min and S. Kim contributed equally to this work.
About this article
Cite this article
Min, WK., Kim, S., Sung, SK. et al. Allelic discrimination of the Restorer-of-fertility gene and its inheritance in peppers (Capsicum annuum L.). Theor Appl Genet 119, 1289–1299 (2009). https://doi.org/10.1007/s00122-009-1134-y
Received:

Accepted:

Published:

Issue Date:

DOI: https://doi.org/10.1007/s00122-009-1134-y
Keywords