Abstract
Genetic resistance to Colorado potato beetle (Leptinotarsa decemlineata [Say]) from Solanum chacoense has been incorporated in the tetraploid potato selection, ND4382-19, which is highly resistant and contains moderate level of foliar leptines. We recently reported using ND4382-19 progeny, population ND5873 (ND4382-19 × Chipeta), to map two genes that segregated as complementary epistatic genes that allow accumulation of leptinidine (Lep) and acetyl-leptinidine (AL) on chromosomes 2 and 8, respectively. We describe here the characterization of a second half-sib population NDG116 (ND4382-19 × N142-72). In this population, solasodine from parent N142-72, which has Solanum berthaultii in its background, was predominant over solanidine-based alkaloids. Concentrations of solanidine, leptinidine, and acetyl-leptinidine were 15-, 5-, and 14-fold lower than in the ND5873 population. Nevertheless, Lep and AL mapped to the same locations on chromosomes 2 and 8 of parent ND4382-19, respectively. The two populations were evaluated for resistance to Leptinotarsa in field assays, and by detached leaf assay for population NDG116. In both families, QTL analysis identified a major QTL from ND4382-19 on the distal end of chromosome 2, close to the Lep locus. The contribution of this QTL to resistance ranged from 11 to 34% for ND5873 at four field sites. Contribution to resistance from the linkage group that contains the gene AL for the accumulation of leptine was not detected. In family NDG116, the same chromosome 2 QTL was detected for field and detached leaf assays, explaining 26 and 12% of the variance for defoliation and larval development, respectively. These data may indicate another resistance mechanism besides leptine in the Leptinotarsa resistance observed in these populations.
Access options
Buy single article
Instant access to the full article PDF.
USD 39.95
Price includes VAT (USA)
Tax calculation will be finalised during checkout.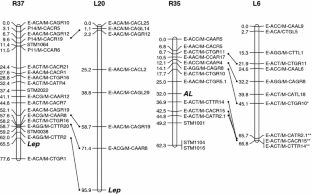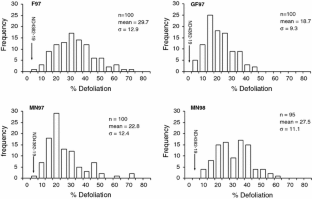 References
Boiteau G, LeBlanc JPR (1992) Colorado potato beetle life stages. Agriculture Canada Publication 1878/E, Communications Branch, Agriculture Canada, Ottawa, ON, 13 p

Bonierbale MR, Plaisted RL, Pineda O, Tanksley SD (1994) QTL analysis of trichome-mediated insect resistance in potato. Theor Appl Genet 87:973–987

Ferro DN, Logan JA, Voss RH, Elkinton JS (1985) Colorado potato beetle (Coleoptera: Chrysomelidae) temperature-dependent growth and feeding rates. Environ Entomol 14:343–348

Forgash AJ (1985) Insecticide resistance in the Colorado potato beetle. In: Ferro DN, Voss RH (eds) Proceedings of the symposium on the Colorado potato beetle, Mass Agric Exp Stn Res Bull 704, 33–52

Friedman M (2006) Potato glycoalkaloids and metabolites: roles in the plant and in the diet. J Agric Food Chem 54:8655–8681

Fulton TM, Chunwongse J, Tanksley SD (1995) Microprep protocol for extraction of DNA from tomato and other herbaceous plants. Plant Mol Biol Rep 13:207–209

Hackett CA, Luo ZW (2003) TetraploidMap: construction of linkage map in autotetraploid species. J Hered 94:358–359

Hackett CA, Bradshaw JE, Meyer RC, McNicol JW, Milbourne D, Waugh R (1998) Linkage analysis in tetraploid species: a simulation study. Genet Res 71:143–154

Haley CS, Knott SA (1992) A simple regression method for mapping quantitative trait loci in line crosses using flanking markers. Heredity 69:315–324

Hilbeck A, Kennedy GG (1996) Predators feeding on the Colorado potato beetle in insecticide-free plots and insecticide-treated commercial potato fields in Eastern North Carolina. Biol Control 6:273–282

Hough-Goldstein J, Heimpel GE, Bechmann HE, Mason CE (1993) Arthropod natural enemies of the Colorado potato beetle. Crop Prot 12:324–334

Hutvágner G, Bánfalvi Z, Milánkovics I, Silhavy D, Polgár Z, Horváth S, Wolters P, Nap JP (2001) Molecular markers associated with leptinine production are located on chromosome 1 in Solanum chacoense. Theor Appl Genet 102:1065–1071

Jolivet P (1991) The Colorado beetle menaces Asia (Leptinotarsa decemlineata Say) (Coleoptera: Chrysomelidae). L'Entomologiste 47:29–48

Kuhn R, Löw I (1961) Zur Konstitution der Leptine. Chem Ber 94:1088–1095

Lawson DR, Veilleux RE, Miller AR (1993) Biochemistry and genetics of Solanum chacoense steroidal alkaloids: natural resistance factors to the Colorado potato beetle. Curr Top Bot Res 1:335–352

Lorenzen JH, Balbyshev NF (1997) ND2858–1: a useful source of resistance to the Colorado potato beetle. Am Potato J 74:331–335

Lorenzen JH, Balbyshev NF, Lafta AM, Casper H, Tian X, Sagredo B (2001) Resistant potato selections contain leptine and inhibit development of the Colorado potato beetle (Coleoptera: Chrysomelidae). J Econ Entomol 94:1260–1267

Luo ZW, Hackett CA, Bradshaw JE, McNicol JW, Milbourne D (2001) Construction of a genetic linkage map in tetraploid species using molecular markers. Genetics 157:1369–1385

Manly KF, Cudmore H Jr, Meer JM (2001) Map Manager QTX, cross-platform software for genetic mapping. Mamm Genome 12:930–932

Medina TB, Fogelman E, Chani E, Miller AR, Levin I, Levy D, Veilleu RE (2002) Identification of molecular markers associated with leptine in reciprocal backcross families of diploid potato. Theor Appl Genet 105:1010–1018

Osman SF, Sinden SL, Deahl KL, Moreau R (1987) Metabolism of solanidine by microsomal fractions from Solanum chacoense. Phytochemistry 26:3163–3165

Plaisted RL, Bonierbale MW, Yencho GC, Pineda O, Tingey WM, Van-den Berg J, Ewing EE, Brodie BB (1994) Potato improvement by traditional breeding and opportunities for new technologies. In: Belknap WR, Vayda ME, Park WD (eds) The molecular and cellular biology of the potato. CAB International, Wallingford, Oxon, pp 1–20

Ragsdale D, Radcliffe EB (2005) Colorado potato beetle. Minnesota Extension Service, University of Minnesota. Available via http://www.vegedge.umn.edu/vegpest/cpb.htm

Ronning CM, Sanford LL, Kobayashi RS, Kowalski SP (1998) Foliar leptine production in segregating F1, inter-F1, and backcross families of Solanum chacoense Bitter. Am J Potato Res 75:137–143

Sagredo B, Lafta A, Casper H, Lorenzen J (2006) Mapping of genes associated with leptine content of tetraploid potato. Theor Appl Genet 114:131–142

Sanford LL, Cantelo WW (1989) Larval development rate and mortality of Colorado potato beetle on detached leaves of wild Solanum species. Am Potato J 66:575–582

Sanford LL, Kobayashi RS, Deahl KL, Sinden SL (1996) Segregation of leptines and other glycoalkaloids in Solanum tuberosum (4X) × Solanum chacoense (4X) crosses. Am Potato J 73:21–33

Silhavy D, Szentesi Á, Bánfalvi Z (1996) Solanum chacoense lines with different alkaloid contents-a potential source of genes involved in leptine synthesis. Acta Agron Hung 44:113–120

Sinden SL, Cantelo WW, Sanford LL, Deahl KL (1986a) Segregation of leptine glycoalkaloid in Solanum chacoense Bitter. J Agric Food Chem 34:372–377

Sinden SL, Sanford LL, Cantelo WW, Deahl KL (1986b) Leptine glycoalkaloids and resistance to the Colorado potato beetle (Coleoptera: Chrysomelidae) in Solanum chacoense. Environ Entomol 15:1057–1062

Tingey WM (1984) Glycoalkaloids as pest resistance factors. Am Potato J 61:157–167

Tingey WM (1991) Potato glandular trichomes defensive activity against insect attack. In: Hedin PA (ed) Naturally occurring pest bioregulators. ACS symposium series No. 449. American Chemical Society, Washington D.C., pp 126–135

Vos P, Hogers R, Bleeker M, Reijans M, van de Lee T, Hornes M, Frijters A, Pot J, Peleman J, Kuiper M, Zabeau M (1995) AFLP: a new technique for DNA fingerprinting. Nucl Acids Res 23:4407–4414

Yencho GC, Kowalski SP, Kobayashi RS, Sinden SL, Bonierbale MW, Deahl KL (1998) QTL mapping of foliar glycoalkaloid aglycones in Solanum tuberosum × S. berthaultii potato progenies: quantitative variation and plant secondary metabolism. Theor Appl Genet 97:563–574

Yencho GC, Kowalski SP, Kennedy GG, Sanford LL (2000) Segregation of leptine glycoalkaloids and resistance to Colorado potato beetle (Leptinitarsa decemlineata (Say)) in a F2 Solanum tuberosum (4x) × S. chacoense (4x) potato progenies. Am J Potato Res 77:167–178
Acknowledgments
The authors would like to acknowledge the skillful assistance of M. Thoresen in growing and maintaining plants and field trials. Funding for this project was provided by the McKnight Foundation Collaborative Crop Research Program and from the USDA-CSREES funding support (97-34141-4122).
Additional information
H. Casper—deceased.
Communicated by R. Waugh.
About this article
Cite this article
Sagredo, B., Balbyshev, N., Lafta, A. et al. A QTL that confers resistance to Colorado potato beetle (Leptinotarsa decemlineata [Say]) in tetraploid potato populations segregating for leptine. Theor Appl Genet 119, 1171–1181 (2009). https://doi.org/10.1007/s00122-009-1118-y
Received:

Accepted:

Published:

Issue Date:
Keywords
AFLP Marker

Glandular Trichome

Colorado Potato Beetle

Detach Leaf Assay

Leptinotarsa Decemlineata