Abstract
A male-sterile (MS) radish (Raphanus sativus L.) was found in an accession collected from Uzbekistan. Unlike Ogura MS radishes in which no pollen grain is typically visible during anthesis, a small number of pollen grains stuck together in the dehiscing anthers was observed in the newly identified MS radish. Fluorescein diacetate tests and scanning electron micrographs showed that pollen grains in the new MS radish were severely deformed and non-viable. Cytological examination of pollen development stages showed a clear difference in the defective stage from that seen in Ogura male-sterility. Reciprocal cross-pollination with diverse male-fertile lines indicated that pollen grains of the new MS radish were completely sterile, and the female organs were fully fertile. When the new MS radish and Ogura MS lines were cross-pollinated with a set of eight breeding lines, all F1 progeny originating from crosses with the new MS radish were male-sterile. In contrast, most of the F1 progeny resulting from crosses with Ogura MS lines were male-fertile. These results demonstrated that factors associated with induction of the newly identified male-sterility are different from those of Ogura male-sterility. The lack of restorer lines for the newly identified male-sterility led us to predict that it might be a complete cytoplasmic male-sterility without restorer-of-fertility genes in nuclear genomes. However, cross-pollination with more diverse radish germplasm identified one accession introduced from Russia that could completely restore fertility, proving the existence of restorer-of-fertility gene(s) for the new male-sterility. Meanwhile, the PCR amplification profile of molecular markers for the classification of radish mitochondrial genome types revealed that the new MS radish contained a novel mitotype.
This is a preview of subscription content,
to check access.
Access this article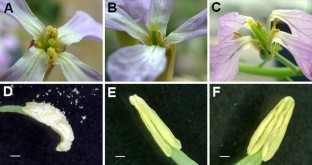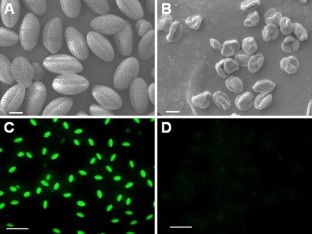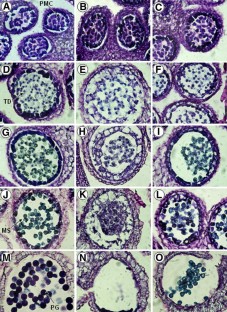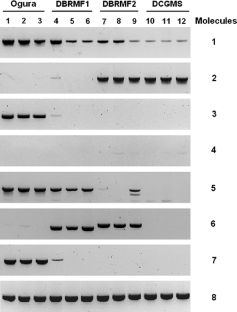 Similar content being viewed by others
References
Abdelnoor RV, Yule R, Elo A, Christensen AC, Meyer-Gauen G, Mackenzie SA (2003) Substoichiometric shifting in the plant mitochondrial genome is influenced by a gene homologous to MutS. Proc Natl Acad Sci USA 100:5968–5973

Albert B, Godelle B, Gouyon PH (1998) Evolution of the plant mitochondrial genome: dynamics of duplication and deletion of sequences. J Mol Evol 46:155–158

Arrieta-Montiel M, Lyznik A, Woloszynska M, Janska H, Tohme J, Mackenzie S (2001) Tracing evolutionary and developmental implications of mitochondrial stoichiometric shifting in the common bean. Genetics 158:851–864

Bannerot H, Loulidard L, Cauderon MY, Tempe J (1974) Transfer of cytoplasmic male sterility from Raphanus sativus to Brassica oleracea. Proc Eucarpia Meet Cruciferae:52–54

Bannerot H, Boulidard L, Chupeau Y (1977) Unexpected difficulties met with the radish cytoplasm in Brassica oleracea. Eucarpia Cruciferae Newsl:16

Bellaoui M, Martin-Canadell A, Pelletier G, Budar F (1998) Low-copy-number molecules are produced by recombination, actively maintained and can be amplified in the mitochondrial genome of Brassicaceae: relationship to reversion of the male sterile phenotype in some cybrids. Mol Gen Genet 257:177–185

Bentolila S, Alfonso AA, Hanson MR (2002) A pentatricopeptide repeat-containing gene restores fertility to cytoplasmic male-sterile plants. Proc Natl Acad Sci USA 99:10887–10892

Bonhomme S, Budar F, Ferault M, Pelletier G (1991) A 2.5 kb Nco I fragment of Ogura radish mitochondrial DNA is correlated with cytoplasmic male-sterility in Brassica cybrids. Curr Genet 19:121–127

Brown GG, Formanova N, Jin H, Wargachuk R, Dendy C, Patil P, Laforest M, Zhang J, Cheung WY, Landry BS (2003) The radish Rfo restorer gene of Ogura cytoplasmic male sterility encodes a protein with multiple pentatricopeptide repeats. Plant J 35:262–272

Budar F, Touzet P, De Paepe R (2003) The nucleo-mitochondrial conflict in cytoplasmic male sterilities revised. Genetica 117:3–16

Cui X, Wise RP, Schnable PS (1996) The rf2 nuclear restorer gene of male-sterile T-cytoplasm maize. Science 272:1334–1336

Desloire S, Gherbi H, Laloui W, Marhadour S, Clouet V, Cattolico L, Falentin C, Giancola S, Renard M, Budar F, Small I, Caboche M, Delourme R, Bendahmane A (2003) Identification of the fertility restoration locus, Rfo, in radish, as a member of the pentatricopeptide-repeat protein family. EMBO Rep 4:588–594

Dickson MH (1985) Male sterile persistent white curd cauliflower NY 7642A and its maintainer NY 7642B. HortScience 20:957

Fauron CMR, Havlik M, Brettell RIS (1990) The mitochondrial genome organization of a maize fertile cmsT revertant line is generated through recombination between two sets of repeats. Genetics 124:423–428

Gothandam KM, Kim E, Cho H, Chung Y (2005) OsPPR1, a pentatricopeptide repeat protein of rice is essential for the chloroplast biogenesis. Plant Mol Biol 58:421–433

Grelon M, Budar F, Bonhomme S, Pelletier G (1994) Ogura cytoplasmic male-sterility (CMS)-associated orf138 is translated into a mitochondrial membrane polypeptide in male-sterile Brassica cybrids. Mol Gen Genet 243:540–547

Handa H (2003) The complete nucleotide sequence and RNA editing content of the mitochondrial genome of rapeseed (Brassica napus L.): comparative analysis of the mitochondrial genomes of rapeseed and Arabidopsis thaliana. Nucleic Acids Res 31:5907–5916

Hanson MR (1991) Plant mitochondrial mutations and male sterility. Annu Rev Genet 25:461–486

Hanson MR, Bentolila S (2004) Interactions of mitochondrial and nuclear genes that affect male gametophyte development. Plant Cell 16:S154–S169

Heath DW, Earle ED, Dickson MH (1994) Introgressing cold-tolerant Ogura cytoplasm from rapeseed into Pak Choi and Chinese cabbage. HortScience 29:202–203

Heslop-Harrison J, Heslop-Harrison Y (1970) Evaluation of pollen viability by enzymatically induced fluorescence: intracellular hydrolysis of fluorescein diacetate. Stain Technol 45:115–120

Janska H, Sarria R, Woloszynska M, Arrieta-Montiel M, Mackenzie SA (1998) Stoichiometric shifts in the common bean mitochondrial genome leading to male sterility and spontaneous reversion to fertility. Plant Cell 10:1163–1180

Jarl CI, van Grinsven M, van den Mark F (1989) Correction of chlorophyll-defective male-sterile winter oilseed rape (Brassica napus) through organelle exchange: molecular analysis of the cytoplasm of parental lines and corrected progeny. Theor Appl Genet 77:135–141

Jones HA, Clarke A (1943) Inheritance of male sterility in the onion and the production of hybrid seed. Proc Am Soc Hortic Sci 43:189–194

Kim S, Lim H, Park S, Cho K, Sung S, Oh D, Kim K (2007) Identification of a novel mitochondrial genome type and development of molecular makers for cytoplasm classification in radish (Raphanus sativus L.). Theor Appl Genet 115:1137–1145

Knoop V (2004) The mitochondrial DNA of land plants: peculiarities in phylogenetic perspective. Curr Genet 46:123–139

Koizuka N, Imai R, Fujimoto H, Hayakawa T, Kimura Y, Kohno-Murase J, Sakai T, Kawasaki S, Imamura J (2003) Genetic characterization of a pentatricopeptide repeat protein gene, orf687, that restores fertility in the cytoplasmic male-sterile Kosena radish. Plant J 34:407–415

Komori T, Ohta S, Murai N, Takakura Y, Kuraya Y, Suzuki S, Hiei Y, Imaseki H, Nitta N (2004) Map-based cloning of a fertility restorer gene, Rf-1, in rice (Oryza sativa L.). Plant J 37:315–325

Kotera E, Tasaka M, Shikanai T (2005) A pentatricopeptide repeat protein is essential for RNA editing in chloroplasts. Nature 433:326–330

Kubo T, Nishizawa S, Sugawara A, Itchoda N, Estiati A, Mikami T (2000) The complete nucleotide sequence of the mitochondrial genome of sugar beet (Beta vulgaris L.) reveals a novel gene for tRNAcys(GCA). Nucleic Acids Res 28:2571–2576

Leino M, Landgren M, Glimelius K (2005) Alloplasmic effects on mitochondrial transcriptional activity and RNA turnover result in accumulated transcript of Arabidopsis orfs in cytoplasmic male-sterile Brassica napus. Plant J 42:469–480

Lurin C, Andres C, Aubourg S, Bellaoui M, Bitton F, Bruyere C, Caboche M, Debast C, Gualberto J, Hoffmann B, Lecharny A, Le Ret M, Martin-Magniette M, Mireau H, Peeters N, Renou J, Szurek B, Taconnat L, Small I (2004) Genome-wide analysis of Arabidopsis pentatricopeptide repeat proteins reveals their essential role in organelle biogenesis. Plant Cell 16:2089–2103

Mackenzie SA, Chase CD (1990) Fertility restoration is associated with loss of a portion of the mitochondrial genome in cytoplasmic male-sterile common bean. Plant Cell 2:905–912

Makaroff CA, Palmer JD (1988) Mitochondrial DNA rearrangements and transcriptional alterations in the male-sterile cytoplasm of Ogura radish. Mol Cell Biol 8:1474–1480

Menczel L, Morgan A, Brown S, Maliga P (1987) Fusion-mediated combination of Ogura-type cytoplasmic male sterility with Brassica napus plastids using X-irradiated CMS protoplasts. Plant Cell Rep 6:98–101

Nahm S, Lee H, Lee S, Joo G, Harn C, Yang S, Min B (2005) Development of a molecular marker specific to a novel CMS line in radish (Raphanus sativus L.). Theor Appl Genet 111:1191–1200

Notsu Y, Masood S, Nishikawa T, Kubo N, Akiduki G, Nakazono M, Kirai A, Kadowaki K (2002) The complete sequence of the rice (Oryza sativa L.) mitochondrial genome: frequent DNA sequence acquisition and loss during the evolution of flowering plants. Mol Genet Genomics 268:434–445

Ogura H (1968) Studies on the new male sterility in Japanese radish, with special reference to the utilization of this sterility towards the practical raising of hybrid seeds. Mem Fac Agric Kagoshima Univ 6:39–78

Oldenburg DJ, Bendich AJ (2001) Mitochondrial DNA from the Liverwort Marchantia polymorpha: circularly permuted linear molecules, head-to-tail concatemers, and a 5′ protein. J Mol Biol 310:549–562

Palmer JD (1988) Intraspecific variation and multicircularity in Brassica mitochondrial DNAs. Genetics 118:341–351

Palmer JD, Herbon LA (1987) Unicircular structure of the Brassica hirta mitochondrial genome. Curr Genet 11:565–570

Pellan-Delourme R, Renard M (1988) Cytoplasmic male sterility in rapeseed (Brassica napus L.): female fertility of restored rapeseed with "Ogura" and cybrids cytoplasms. Genome 30:234–238

Pelletier G, Primard C, Vedel F, Chetrit P, Remy R, Rousselle P, Renard M (1983) Intergeneric cytoplasmic hybridization in Cruciferae by protoplast fusion. Mol Gen Genet 191:244–250

Primard-Brisset C, Poupard JP, Horvais R, Eber F, Pelletier G, Renard M, Delourme R (2005) A new combined double low restorer line for the Ogu-INRA cms in rapeseed (Brassica napus L.). Theor Appl Genet 111:736–746

Sakai T, Imamura J (1993) Evidence for a mitochondrial sub-genome containing radish atpA in a Brassica napus cybrid. Plant Sci 90:95–103

Sakai T, Liu HJ, Iwabuchi M, Kohno-Murase J, Imamura J (1996) Introduction of a gene from fertility restored radish (Raphanus sativus) into Brassica napus by fusion of X-irradiated protoplasts from a radish restorer line and iodacetoamide-treated protoplasts from a cytoplasmic male-sterile cybrid of B. napus. Theor Appl Genet 93:373–379

Schnable PS, Wise RP (1998) The molecular basis of cytoplasmic male sterility and fertility restoration. Trends Plant Sci 3:175–180

Shinada T, Kikuchi Y, Fujimoto R, Kishitani S (2006) An alloplasmic male-sterile line of Brassica oleracea haboring the mitochondria from Diplotaxis muralis expresses a novel chimeric open reading frame, orf72. Plant Cell Physiol 47:549–553

Small ID, Peeters N (2000) The PPR motif- a TPR-related motif prevalent in plant organellar proteins. Trends Biochem Sci 25:45–47

Small I, Suffolk R, Leaver CJ (1989) Evolution of plant mitochondrial genomes via substoichiometric intermediates. Cell 58:69–76

Su Y, Zhao S, He Q, Shi H, An Z, Lang F, Zhang Y (1995) Study on morphology of microsporogenesis in male sterile line of radish (Raphanus sativus L.). Acta Hort 402:173–178

Ullrich H, Lättig K, Brennicke A, Knoop V (1997) Mitochondrial DNA variations and nuclear RFLPs reflect different genetic similarities among 23 Arabidopsis thaliana ecotypes. Plant Mol Biol 33:37–45

Unseld M, Marienfeld JR, Brandt P, Brennicke A (1997) The mitochondrial genome of Arabidopsis thaliana contains 57 genes in 366, 924 nucleotides. Nat genet 15:57–61

Ward BL, Anderson RS, Bendich AJ (1981) The mitochondrial genome is large and variable in a family of plants (Cucurbitaceae). Cell 25:793–803
Acknowledgments
This work was supported by a grant (Code#20080401034012) from BioGreen 21 Program, Rural Development Administration, and a grant (307001-05-02-SB010) from Technology Development Program for Agriculture and Forestry, Ministry of Agriculture and Forestry, Republic of Korea.
Additional information
Communicated by I. L. Goldman.
About this article
Cite this article
Lee, YP., Park, S., Lim, C. et al. Discovery of a novel cytoplasmic male-sterility and its restorer lines in radish (Raphanus sativus L.). Theor Appl Genet 117, 905–913 (2008). https://doi.org/10.1007/s00122-008-0830-3
Received:

Accepted:

Published:

Issue Date:

DOI: https://doi.org/10.1007/s00122-008-0830-3
Keywords