Abstract
Using an established genetic map, a single gene conditioning covered smut resistance, Ruh.7H, was mapped to the telomere region of chromosome 7HS in an Alexis/Sloop doubled haploid barley population. The closest marker to Ruh.7H, abg704 was 7.5 cM away. Thirteen loci on the distal end of 7HS with potential to contain single nucleotide polymorphisms (SNPs) were identified by applying a comparative genomics approach using rice sequence data. Of these, one locus produced polymorphic co-dominant bands of different size while two further loci contained SNPs that were identified using the recently developed high resolution melting (HRM) technique. Two of these markers flanked Ruh.7H with the proximal marker located 3.8 cM and the distal marker 2.7 cM away. This is the first report on the application of the HRM technique to SNP detection and to rapid scoring of known cleaved amplified polymorphic sequence (CAPS) markers in plants. This simple, precise post-PCR technique should find widespread use in the fine-mapping of genetic regions of interest in complex cereal and other plant genomes.
This is a preview of subscription content,
to check access.
Access this article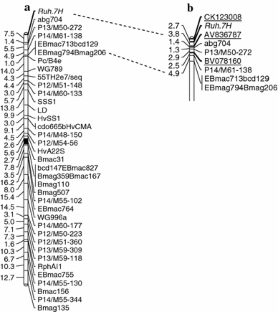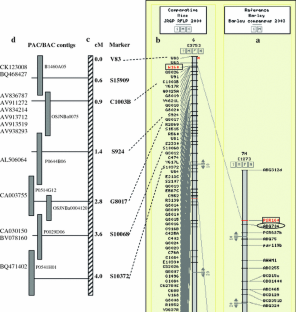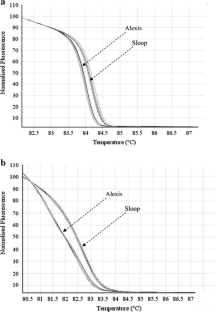 References
Ardiel GS, Grewal TS, Deberdt P, Rossnagel BG, Scoles GJ (2002) Inheritance of resistance to covered smut in barley and development of a tightly linked SCAR marker. Theor Appl Genet 104:457–464

Ayliffe MA, Collins NC, Ellis JG, Pryor A (2000) The maize rp1 rust resistance gene identifies homologues in barley that have been subjected to diversifying selection. Theor Appl Genet 100:1144–1154

Barr AR, Jefferies SP, Broughton S, Chalmers KJ, Kretschmer JM, Boyd WJR, Collins HM, Roumeliotis S, Logue SL, Coventry SJ, Moody DB, Read BJ, Poulsen D, Lance RCM, Platz GJ, Park RF, Panozzo JF, Karakousis A, Lim P, Verbyla AP, Eckermann PJ (2003) Mapping and QTL analysis of the barley population Alexis × Sloop. Aust J Agric Res 54:1117–1123

Brueggeman R, Drader T, Kleinhofs A (2006) The barley serine/threonine kinase gene Rpg1 providing resistance to stem rust belongs to a gene family with the five other members encoding kinase domains. Theor Appl Genet 113:1147–1158

Brueggeman R, Rostoks N, Kudrna D, Kilian A, Han F, Chen J, Druka A, Steffenson B, Kleinhofs A (2002) The barley stem rust-resistance gene Rpg1 is a novel disease-resistance gene with homology to receptor kinases. Proc Natl Acad Sci USA 99:9328–9333

Bulgarelli D, Collins NC, Tacconi G, Dellaglio E, Brueggeman R, Kleinhofs A, Stanca AM, Vale G (2004) High-resolution genetic mapping of the leaf stripe resistance gene Rdg2a in barley. Theor Appl Genet 108:1401–1408

Bundock PC, Cross MJ, Shapter FM, Henry RJ (2006) Robust allele-specific polymerase chain reaction markers developed for single nucleotide polymorphisms in expressed barley sequences. Theor Appl Genet 112:358–365

Friedt W, Werner K, Ordon F (2000) Genetic progress as reflected in highly successful and productive modern barley cultivars. In: Proceedings of the 8th international barley genetics symposium, Adelaide, ISBN 0-086396-677v.1

Grewal TS, Rossnagel BG, Scoles GJ (2008) Validation of molecular markers for covered smut resistance and marker-assisted introgression of loose and covered smut resistance into hulless barley. Mol Breed 21:37–48

Gundry CN, Vandersteen JG, Reed GH, Pryor RJ, Chen J, Wittwer CT (2003) Amplicon melting analysis with labeled primers: A closed-tube method for differentiating homozygotes and heterozygotes. Clin Chem 49:396–406

Herrmann MG, Durtschi JD, Wittwer CT, Voelkerding KV (2007) Melting analysis for mutation scanning and genotyping. Clin Chem 53:1544–1548

Huang X-Q, Röder MS (2005) Development of SNP assays for genotyping the puroindoline b gene for grain hardness in wheat using pyrosequencing. J Agric Food Chem 53:2070–2075

Kota R, Wolf M, Michalek W, Graner A (2001) Application of denaturing high-performance liquid chromatography for mapping of single nucleotide polymorphisms in barley (Hordeum vulgare L.). Genome 44:523–528

Krypuy M, Ahmed AA, Etemadmoghadam D, Hyland SJ, de Fazio A, Fox SB, Brenton JD, Bowtell DD, Dobrovic A (2007) High resolution melting for mutation scanning of TP53 exons 5–8—art. no. 168. Bmc Cancer 7:168

Langdon RFN, Kollmorgen JF, Walker J (1976) The Nomenclature of the smuts of wheat, barley, oats, rye and certain grasses. Aust Plant Pathol Newslett 5:52–54

Lehmensiek A, Eckermann PJ, Verbyla AP, Sutherland MW, Appels R, Daggard GE (2005) Curation of wheat maps to improve map accuracy and QTL detection. Aust J Agric Res 56:1347–1354

Lehmensiek A, Platz J, Mace E, Poulsen D, Sutherland MW (2007) Mapping of adult plant resistance to net form of net blotch in three Australian barley populations. Aust J Agric Res 58:1191–1197

Liew M, Pryor R, Palais R, Meadows C, Erali M, Lyon E, Wittwer C (2004) Genotyping of single-nucleotide polymorphisms by high-resolution melting of small amplicons. Clin Chem 50:1156–1164

Manly KF, Cudmore RH Jr, Meer JM (2001) Map Manager QTX, cross-platform software for genetic mapping. Mamm Genome 12:930–932

Montgomery J, Wittwer CT, Palais R, Luming Z (2007) Simultaneous mutation scanning and genotyping by high-resolution DNA melting analysis. Nature 2:59–66

Reed GH, Wittwer CT (2004) Sensitivity and specificity of single-nucleotide polymorphism scanning by high-resolution melting analysis. Clin Chem 50:1748–1754

Stein N, Prasad M, Scholz U, Thiel T, Zhang H, Wolf M, Kota R, Varshney R, Perovic D, Grosse I, Graner A (2007) A 1, 000-loci transcript map of the barley genome: new anchoring points for integrative grass genomics. Theor Appl Genet 114:823–839

Tapke VF, Bever WM (1942) Effective method of inoculating seed barley with covered smut (Ustilago hordei). Phytopathology 32:1015–1021

Tapke VF (1945) New physiologic races of Ustilago hordei. Phytopathology 35:970–976

White H, Potts G (2006) Mutation scanning by high resolution melt analysis. Evaluation of rotor-gene 6000 (Corbett Life Science), HR-1 and 384-well lightscanner (Idaho Technology). National Genetics Reference Laboratory (Wessex 2006)

Wildermuth GB (1988) Seed dressings for the control of smuts. Farm note. Queensland Department of Primary Industries. Brisbane, Australia.

Willits DA, Sherwood JE (1999) Polymerase chain reaction detection of Ustilago hordei in leaves of susceptible and resistant barley varieties. Phytopathology 89:212–217

Willsmore K, Eckermann P, Varshney RK, Graner A, Langridge P, Pallotta M, Cheong J, Williams KJ (2006) New eSSR and gSSR markers added to Australian barley maps. Aust J Agric Res 57:953–959

Wittwer CT, Reed GH, Gundry CN, Vandersteen JG, Pryor RJ (2003) High-resolution genotyping by amplicon melting analysis using LCGreen. Clin Chem 49:853–860
Acknowledgments
This project was funded by the Grains Research & Development Corporation's Australian Winter Cereals Molecular Marker Program. We would like to thank Dr Emma Mace and Noel Knight for valuable discussions, Dr Graham Wildermuth and Greg Platz for their advice on phenotyping, and Dr Christine McDonald and Dr Ashley Plank for assistance with statistical analysis. Maria Harris assisted RBM with the covered smut phenotyping.
Additional information
Communicated by F. Ordon.
About this article
Cite this article
Lehmensiek, A., Sutherland, M.W. & McNamara, R.B. The use of high resolution melting (HRM) to map single nucleotide polymorphism markers linked to a covered smut resistance gene in barley. Theor Appl Genet 117, 721–728 (2008). https://doi.org/10.1007/s00122-008-0813-4
Received:

Accepted:

Published:

Issue Date:

DOI: https://doi.org/10.1007/s00122-008-0813-4
Keywords