Abstract
The pepper chlorophyll retainer (cl) mutation is characterized by inhibition of chlorophyll degradation during fruit ripening. Ripe fruit of cl pepper containing chlorophyll and red carotenoids is brown, while ripe fruit containing chlorophyll and yellow carotenoids is green. In addition to the inhibitory effect during fruit ripening caused by cl, we show that chlorophyll degradation is inhibited during natural and dark-induced leaf senescence. Therefore, the cl mutation has the characteristics of the stay-green (sgr) mutants described in many other species. Upon the recent discovery of the SGR gene in various plant species, we isolated pepper SGR (CaSGR) and found that it genetically cosegregates with cl in a BC1 mapping population. Furthermore, sequencing the wild-type and mutant alleles revealed an amino-acid substitution of tryptophan (aromatic amino acid) to arginine (basic amino acid) at position 114 in the protein sequence. The single-nucleotide polymorphism (SNP) that differentiates the wild-type and mutant alleles was exploited to develop a PCR marker useful for marker-assisted selection. Expression of CaSGR as measured by semiquantitative RT-PCR was mostly induced upon fruit ripening and to a lesser extent upon leaf senescence. Taking together, our genetic, sequence and expression data all indicate that CaSGR is a candidate for controlling the cl mutation in pepper.
Access options
Buy single article
Instant access to the full article PDF.
US$ 39.95
Tax calculation will be finalised during checkout.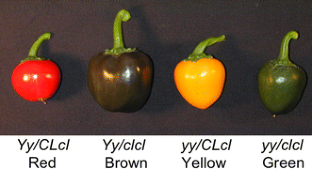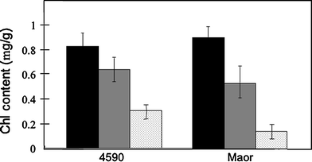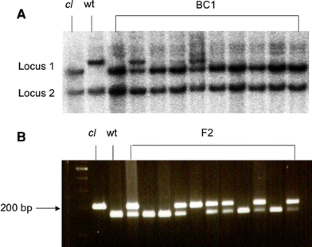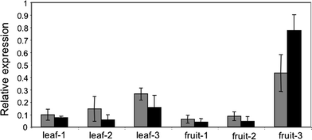 References
Akhtar MS, Goldschmidt EE, John I, Rodoni S, Matile P, Grierson D (1999) Altered patterns of senescence and ripening in gf, a stay-green mutant of tomato (Lycopersicon esculentum Mill.). J Exp Bot 50:1115–1122

Armstead I, Donnison I, Aubry S, Harper J, Hörtensteiner S, James C, Mani J, Moffet M, Ougham H, Roberts L, Thomas A, Weeden N, Thomas H, King I (2006) From crop to model to crop: identifying the genetic basis of the staygreen mutation in the Lolium/Festuca forage and amenity grasses. New Phytol 172:592–597

Armstead I, Donnison I, Aubry S, Harper J, Hörtensteiner S, James C, Mani J, Moffet M, Ougham H, Roberts L, Thomas A, Weeden N, Thomas H, King I (2007) Cross species identification of Mendel'sIlocus. Science 315:73

Asim Siddique M, Grossmann J, Gruissem W, Baginsky S (2006) Proteome analysis of bell pepper (Capsicum annuum L.) chromoplasts. Plant Cell Physiol 47:1663–1673

Bachmann A, Fernandez-Lopez J, Ginsburg S, Thomas H, Bouwcamp JC, Solomos T, Matile P (1994) Stay-green genotypes of Phaseolus vulgaris L.: chloroplast proteins and chlorophyll catabolites during foliar senescence. New Phytol 126:593–600

Cha KW, Lee YJ, Koh HJ, Lee BM, Nam YW, Paek NC (2002) Isolation, characterization and mapping of the stay green mutant in rice. Theor Appl Genet 104:526–532

Cheung AY, McNellis T, Piekos B (1993) Maintenance of chloroplast components during chromoplast differentiation in the tomato mutant green flesh. Plant Physiol 101:1223–1229

Drury R, Hörtensteiner S, Donnison I, Bird CR, Seymour GB (1999) Chlorophyll catabolism and gene expression in the peel of ripening banana fruit. Physiol Plant 107:32–38

Efrati A, Blum E, Paran I (2005) Molecular mapping of the chlorophyll retainer (cl) mutation in pepper (Capsicum spp.) and screening for candidate genes using tomato ESTs homologous to structural genes of the chlorophyll catabolism pathway. Genome 48:347–351

Frydman A, Weisshaus O, Bar-Peled M, Huhman DV, Sumner LW, Marin FR, Lewinsohn E, Fluhr R, Gressel J, Eyal Y (2004) Citrus fruit bitter flavors: isolation and functional characterization of the gene Cm1, 2RhaT encoding a 1, 2 rhamnosyltransferase, a key enzyme in the biosynthesis of the bitter flavonoids of citrus. Plant J 40:88–100

Hörtensteiner S (2006) Chlorophyll degradation during senescence. Annu Rev Plant Biol 57:55–77

Kerr EA (1957) Linkage relations of gf. Tomato Genet Coop Rep no. 8

Kusaba M, Ito H, Morita R, Iida S, Sato Y, Fujimoto M, Kawasaki S, Tanaka M, Hirochika H, Nishimura M, Tanaka A (2007) The rice NON-YELLOW COLORING1 is involved in light-harvesting complex II and grana degradation during leaf senescence. Plant Cell 19:1362–1375

Luquez VM, Guiamet JJ (2002) The stay green mutations d1 and d2 increase water stress susceptibility in soybeans. J Exp Bot 53:1421–1428

Michaels SD, Amasino RM (1998) A robust method for detecting single-nucleotide changes as polymorphic markers by PCR. Plant J 14:381–385

Moser D, Matile P (1997) Chlorophyll breakdown in ripening fruits of Capsicum annuum. J Plant Physiol 150:759–761

Park SY, Yu JW, Park JS, Li J, Yoo SC, Lee NY, Lee SK, Jeong SW, Seo HS, Koh HJ, Jeon JS, Park YI, Paek NC (2007) The senescence-induced staygreen protein regulates chlorophyll degradation. Plant Cell 19:1649–1664

Pruzinska A, Tanner G, Anders I, Roca M, Hörtensteiner S (2003) Chlorophyll breakdown: pheophorbide a oxygenase is a Rieske-type iron-sulfur protein, encoded by the accelerated cell death 1 gene. Proc Natl Acad Sci USA 100:15259–15264

Rao GU, Ben Chaim A, Borovsky E, Paran I (2003) Mapping of yield related QTLs in pepper in an inter-specific cross of Capsicum annuum and C. frutescens. Theor Appl Genet 106:1457–1466

Ren G, An K, Liao Y, Zhou X, Cao Y, Zhao H, Ge X, Kuai B (2007) Identification of a novel chloroplast protein AtNYE1 regulating chlorophyll degradation during leaf senescence in Arabidopsis. Plant Physiol 144:1429–1441

Roca M, Minguez-Mosquera MI (2006) Chlorophyll catabolism pathway in fruits of Capsicum annuum (L.): stay green versus red fruits. J Agric Food Chem 54:4035–4040

Sato Y, Morita R, Nishimura M, Yamaguchi H, Kusaba M (2007) Mendel's green cotyledon gene encodes a positive regulator of the chlorophyll-degrading pathway. Proc Natl Acad Sci USA 104:14169–14174

Smith PG (1948) Brown, mature-fruit color in pepper (Capsicum frutescens). Science 107:345–346

Thomas H, Smart CM (1993) Crops that stay green. Ann Appl Biol 123:193–219

Thomas H, Schellenberg M, Vicentini F, Matili P (1996) Gregor Mendel's green and yellow pea seeds. Bot Acta 109:3–4

Vicentini F, Hörtensteiner S, Schellenberg M, Thomas H, Matile P (1995) Chlorophyll breakdown in senescent leaves: identification of the biochemical lesion on a stay-green genotype of Festuca pratensis. New Phytol 129:247–252
Acknowledgments
We thank Dr. Yoram Eyal and Dr. Amnon Lers for useful discussions on chlorophyll catabolism related to fruit ripening and leaf senescence.
Additional information
Communicated by I. L. Goldman.
About this article
Cite this article
Borovsky, Y., Paran, I. Chlorophyll breakdown during pepper fruit ripening in the chlorophyll retainer mutation is impaired at the homolog of the senescence-inducible stay-green gene. Theor Appl Genet 117, 235–240 (2008). https://doi.org/10.1007/s00122-008-0768-5
Received:

Accepted:

Published:

Issue Date:
Keywords
Chlorophyll

Leaf Senescence

Ripe Fruit

Senescent Leaf

Chlorophyll Degradation