Abstract
Genic microsatellites or EST–SSRs derived from expressed sequence tags (ESTs) are desired because these are inexpensive to develop, represent transcribed genes, and often a putative function can be assigned to them. In this study we investigated 2,553 coffee ESTs (461 from the public domain and 2,092 in-house generated ESTs) for identification and development of genic microsatellite markers. Of these, 2,458 ESTs (all >100 bp in size) were searched for SSRs using MISA—search module followed by stackPACK clustering that revealed a total of 425 microsatellites in 331 (13.5%) non-redundant ESTs/consensus sequences suggesting an approximate frequency of 1 SSR/2.16 kb of the analysed coffee transcriptome. Identified microsatellites mainly comprised of di-/tri-nucleotide repeats, of which repeat motifs AG and AAG were the most abundant. A total of 224 primer pairs could be designed from the non-redundant SSR-positive ESTs (excluding those with only mononucleotide repeats) for possible use as potential genic markers. Of this set, a total of 24 (10%) primer pairs were tested and 18 could be validated as usable markers. Sixteen of these markers revealed moderate to high polymorphism information content (PIC) across 23 genotypes of C. arabica and C. canephora, while 2 markers were found to be monomorphic. All the markers also showed robust cross-species amplifications across 14 Coffea and 4 Psilanthus species. The apparent broad cross-species/genera transferability was further confirmed by cloning and sequencing of the amplified alleles. Thus, the study provides an insight about the frequency and distribution of SSRs in coffee transcriptome, and also demonstrates the successful development of genic-SSRs. It is expected that the potential markers described here would add to the repertoire of DNA markers needed for genetic studies in cultivated coffee and also related taxa that constitute the important secondary genepool for coffee improvement.
Access options
Buy single article
Instant access to the full article PDF.
USD 39.95
Price excludes VAT (USA)
Tax calculation will be finalised during checkout.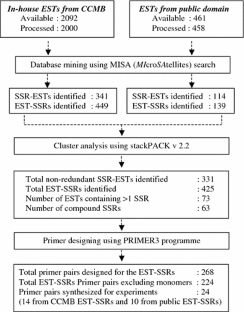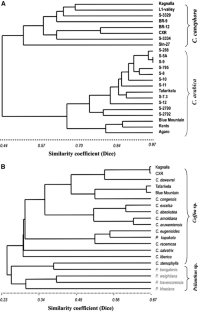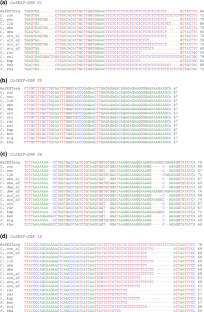 References
Aggarwal RK, Shenoy VV, Ramadevi J, Rajkumar R, Singh L (2002) Molecular characterization of some Indian Basmati and other elite rice genotypes using fluorescence-AFLP. Theor Appl Genet 105:680–690

Altschul S, Madden TL, Schaffer AA, Zhang J, Zhang Z, Miller W, Lipman DJ (1997) Gapped BLAST and PSI-BLAST: a new generation of protein database search programs. Nucleic Acids Res 25:3389–3402

Anderson JA, Churchill GA, Autrique JE, Tanksley SD, Sorrells ME (1993) Optimizing parental selection for genetic linkage maps. Genome 36:181–186

Anderson JR, Luebberstedt T (2003) Functional markers in plants. Trends Plant Sci 8:554–560

Baruah A, Naik V, Hendre PS, Rajkumar R, Rajendrakumar P, Aggarwal RK (2003) Isolation and characterization of nine microsatellite markers from Coffea arabica L., showing wide cross-species amplifications. Mol Ecol Notes 3:647–650

Bhat PR, Krishnakumar V, Hendre PS, Rajendrakumar P, Varshney RK, Aggarwal RK (2005) Identification and characterization of gene-derived EST–SSR markers from robusta coffee variety 'CxR' (an interspecific hybrid of Coffea canephora × Coffea congensis). Mol Ecol Notes 5:80–83

Cardle L, Ramsay L, Milbourne D, Macaulay M, Marshall D, Waugh R (2000) Computational and experimental characterization of physically clustered simple sequence repeats in plants. Genetics 156:847–854

Chevalier A (1947) Les Cafeiers du Globe. Paul Lechevalier, Paris, p 356

Combes MC, Andrzejewski S, Anthony F, Bertrand B, Rovelli P, Graziosi G, Lashermes P (2000) Characterization of microsatellite loci in Coffea arabica and related coffee species. Mol Ecol 9:1171–1193

Cordeiro GM, Casu R, McIntyre CL, Manners JM, Henry RJ (2001) Microsatellite markers from sugarcane (Saccharum spp.) ESTs cross transferable to erianthus and sorghum. Plant Sci 160:1115–1123

Fraser LG Harvey CF, Crowhurst RN, De Silva HN (2004) EST-derived microsatellites from Actinidia species and their potential for mapping. Theor Appl Genet 108:1010–1016

Gao LF, Tang J, Li H, Jia J (2003) Analysis of microsatellites in major crops assessed by computational and experimental approaches. Mol Breed 12:245–261

Gupta PK, Varshney RK (2000) The development and use of microsatellite markers for genetic analysis and plant breeding with emphasis on bread wheat. Euphytica 113:163–185

Ju Z, Wells MC, Martinez A, Hazlewood L, Walter RB (2005) An in silico mining for simple sequence repeats from expressed sequence tags of zebrafish, medaka, Fundulus, and Xiphophorus. In Silico Biol 5:439–463

Kantety RV, Rota ML, Matthews DE, Sorrells ME (2002) Data mining for simple sequence repeats in expressed sequence tags from barley, maize, rice, sorghum and wheat. Plant Mol Biol 48:501–510

Kashi Y, Soller M (1999) Functional roles of microsatellites and minisatellites. In: Goldstein DB, Schlotterer C (eds) Microsatellites: evolution and applications. Oxford University Press, Oxford, pp 10–23

Lashermes P, Combes MC, Trouslot P, Anthony F, Charrier A (1996) Molecular analysis of the origin and genetic diversity of Coffea arabica L.: implications for coffee improvement. In: Proceedings of EUCARPIA meeting on tropical plants, Montpellier, pp 23–29

Lashermes P, Combes MC, Trouslot P, Charrier A (1997) Phylogenetic relationships of coffee-tree species (Coffea L.) as inferred from ITS sequences of nuclear ribosomal DNA. Theor Appl Genet 94:947–955

Lashermes P, Andrzejewski S, Bertrand B, Combes MC, Dusseri S, Graziosi G, Trouslot P, Anthony F (2000) Molecular analysis of introgression breeding in coffee (Coffea arabica L.). Theor Appl Genet 100:139–146

Li YC, Korol AB, Fahima T, Nevo E (2004) Microsatellites within genes: Structure, function, and evolution. Mol Biol Evol 21:991–1007

Miller RT, Christoffels AG, Gopalakrishnan C, Burke J, Ptitsyn AA, Broveak TR, Hide WA (1999) A comprehenssive approach to clustering of expressed human gene sequence: the sequence tag alignment and consensus knowledge base. Genome Res 9:1143–1155

Moncada P, McCouch S (2004) Simple sequence repeat diversity in diploid and tetraploid Coffea species. Genome 47:501–509

Nicot N, Chiquet V, Gandon B, Amilhat L, Legeai F, Leroy P, Bernard M, Sourdille P (2004) Study of simple sequence repeat (SSR) markers from wheat expressed sequence tags (ESTs). Theor Appl Genet 109:800–805

Orozco-Castillo C, Chalmers KJ, Powell W, Waugh R (1996) RAPD and organellar specific PCR re-affirms taxonomic relationship within the genus Coffea. Plant Cell Rep 15:337–341

Pauli S, Rothnie H M, Chen G, He X, Hohn T (2004) The cauliflower mosaic virus 35 S promoter extends into the transcribed region. J Virol 78:12120–12128

Peakall R, Gilmore S, Keys W, Morgante M, Rafalski A (1998) Cross species amplification of soybean (Glycine max) simple sequence repeats (SSRs) within the genus and other legume genera: implications for the transferability of SSRs in plants. Mol Biol Evol 15:1275–1287

Poncet V, Hamon P, Minier J, Carasco C, Hamon S, Noirot M (2004) SSR cross-amplification and variation within coffee trees (Coffea spp.). Genome 47:1071–1081

Rovelli P, Mettulio R, Anthony F (2000) Microsatellites in Coffea arabica L. In: Sera T, Soccol CR, Pandey A, Roussos S (eds) Coffee biotechnology and quality. Kluwer, Dordrecht, pp 123–133

Ruas PM, Ruas CF, Rampim L, Carvaljo VP, Ruas EA, Sera T (2003) Genetic relationship in Coffea species and parentage determination of interspecific hybrids using ISSR (inter-simple sequence repeat) markers. Genet Mol Biol 26:319–327

Rungis D, Bérubé Y, Zhang J, Ralph S, Ritland CE, Ellis BE, Douglas C, Bohlmann J, Ritland K (2004) Robust simple sequence repeat markers for spruce (Picea spp.) from expressed sequence tags. Theor Appl Genet 109:1283–1294

Sangwan I, O'Brian MR (2002) Identification of a soybean protein that interacts with GAGA element dinucleotide repeat DNA. Plant Physiol 129:1788–1794

Scott KD, Eggler P, Seaton G, Rossetto M, Ablett EM, Lee LS, Henry RJ (2000) Analysis of SSRs derived from grape ESTs. Theor Appl Genet 100:723–726

Sethy NK, Choudhary S, Shokeen B, Bhatia S (2006) Identification of microsatellite markers from Cicer reticulatum: molecular variation and phylogenetic analysis. Theor Appl Genet 112:347–357

Shepherd LD, Lambert DM (2005) Mutational bias in penguin microsatellite DNA. J Hered 96:566–571

Thiel T, Michalek W, Varshney RK, Graner A (2003) Exploiting EST databases for the development and characterization of gene-derived SSR-markers in barley (Hordeum vulgare L.). Theor Appl Genet 106:411–422

Varshney RK, Graner A, Sorrells ME (2005) Genic microsatellite markers in plants: features and applications. Trends Biotech 23:48–55

Varshney RK, Thiel T, Stein N, Langridge P, Graner A (2002) In silico analysis on frequency and distribution of microsatellites in ESTs of some cereal species. Cell Mol Biol Lett 7:537–546

Wang ML, Barkley NA, Yu JK, Dean RE, Newman ML, Sorrels ME, Pederson GA (2005) Transfer of simple sequence repeat (SSR) markers from major cereal crops to minor grass species for germplasm characterization and evaluation. Plant Genet Res 3:45–57

Yap IV, Nelson RJ (1996) WinBoot: a program for performing bootstrap analysis of binary data to determine the confidence limits of UPGMA-based dendrograms. IRRI Discussion Paper Series 14, International Rice Research Institute, Manila, Philippines
Acknowledgments
The authors thank the Department of Biotechnology, Government of India, New Delhi, India for the financial support to RKA, Director, CCMB, Hyderabad for the facilities to undertake the study, Dr R Naidu, Director Research, Coffee Board, Bangalore and Dr M. Udayakumar of University of Agricultural Sciences, Bangalore for the drought-stressed coffee leaf materials. PSH was supported by Senior Research Fellowship of Council of Scientific and Industrial Research, New Delhi.
Additional information
Communicated by H. Nybom.
Electronic supplementary material
About this article
Cite this article
Aggarwal, R.K., Hendre, P.S., Varshney, R.K. et al. Identification, characterization and utilization of EST-derived genic microsatellite markers for genome analyses of coffee and related species. Theor Appl Genet 114, 359–372 (2007). https://doi.org/10.1007/s00122-006-0440-x
Received:

Accepted:

Published:

Issue Date:

DOI: https://doi.org/10.1007/s00122-006-0440-x
Keywords
Simple Sequence Repeat Marker

Polymorphism Information Content

Genomic SSRs

Simple Sequence Repeat Motif

Coffea Species