Abstract
Wheat expressed sequence tags (wESTs) were identified in a genomic interval predicted to span the Lr34/Yr18 slow rusting region on chromosome 7DS and that corresponded to genes located in the syntenic region of rice chromosome 6 (between 2.02 and 2.38 Mb). A subset of the wESTs was also used to identify corresponding bacterial artificial chromosome (BAC) clones from the diploid D genome of wheat (Aegilops tauschii). Conservation and deviation of micro-colinearity within blocks of genes were found in the D genome BACs relative to the orthologous sequences in rice. Extensive RFLP analysis using the wEST derived clones as probes on a panel of wheat genetic stocks with or without Lr34/Yr18 revealed monomorphic patterns as the norm in this region of the wheat genome. A similar pattern was observed with single nucleotide polymorphism analysis on a subset of the wEST derived clones and subclones from corresponding D genome BACs. One exception was a wEST derived clone that produced a consistent RFLP pattern that distinguished the Lr34/Yr18 genetic stocks and well-established cultivars known either to possess or lack Lr34/Yr18. Conversion of the RFLP to a codominant sequence tagged site (csLV34) revealed a bi-allelic locus, where a variant size of 79 bp insertion in an intron sequence was associated with lines or cultivars that lacked Lr34/Yr18. This association with Lr34/Yr18 was validated in wheat cultivars from diverse backgrounds. Genetic linkage between csLV34 and Lr34/Yr18 was estimated at 0.4 cM
Access options
Buy single article
Instant access to the full article PDF.
USD 39.95
Price includes VAT (USA)
Tax calculation will be finalised during checkout.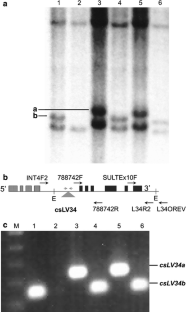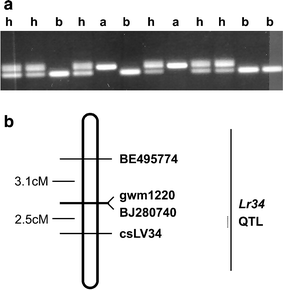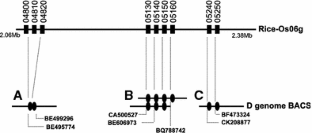 References
Bariana HS, Hayden MJ, Ahmed NU, Bell JA, Sharp PJ, McIntosh RA (2001) Mapping of durable adult plant and seedling resistances to stripe rust and stem rust diseases in wheat. Aust J Agric Res 52:1247–1255

Bennetzen JL, Ramakrishna W (2002) Numerous small rearrangements of gene content, order and orientation differentiate grass genomes. Plant Mol Biol 48:821–827

Bossolini E, Krattinger SG, Keller B (2006) Development of simple sequence repeat markers specific for the Lr34 resistance region of wheat using sequence information from rice and Aegilops tauschii. Theor Appl Genet (in press)

Cadalen T, Boeuf C, Bernard S, Bernard M (1997) An intervarietal molecular marker map in Triticum aestivum L. Em. Thell. and comparison with a map from wide cross. Theor Appl Genet 94:367–377

Caldwell RM (1968) Breeding for general and/or specific plant disease resistance. In: Finlay KW, Shephard KW (eds) Proceedings of 3rd international wheat genetics symposium. Australian Academy of Sciences, Canberra, pp 263–272

Drijepondt SC, Pretorius ZA (1989) Greenhouse evaluation of adult-plant resistance conferred by the gene Lr34 to leaf rust of wheat. Plant Dis 73:669–671

Dyck PL (1977) Genetics of leaf rust reaction in three introductions of common wheat. Can J Genet Cytol 19:711–716

Dyck PL (1979) Identification of the gene for adult-plant leaf rust resistance in Thatcher. Can J Plant Sci 59:499–501

Dyck PL (1987) The association of a gene for leaf rust resistance with the chromosome 7D suppressor of stem rust resistance in common wheat. Genome 29:467–469

Dyck PL (1991) Genetics of adult-plant leaf rust resistance in Chinese Spring and Sturdy wheats. Crop Sci 31:309–311

Dyck PL, Samborski DJ (1982) The inheritance of resistance to Puccinia recondita in a group of common wheat cultivars. Can J Genet Cytol 24:273–283

German SE, Kolmer JA (1992) Effect of gene Lr34 on the enhancement of resistance to leaf rust of wheat. Theor Appl Genet 84:97–105

Keller B, Feuillet C (2000) Colinearity and gene density in grass genomes. Trends Plant Sci 5:246–251

Kolmer JA (1996) Genetics of resistance to wheat leaf rust. Annu Rev Phytopathol 34:435–455

Kudrna DA, Kleinhofs A, Johnson K, Brueggeman R, Druka A (2000) Saturation mapping in barley using triticeae ESTs identified via synteny to rice. In: Plant, animal and microbe genomes X conference, San Diego, California, p 392

Lagudah ES, Appels R, McNeil D (1991a) The Nor-D3 locus of Triticum tauschii: natural variation and linkage to chromosome 5 markers. Genome 34:387–395

Lagudah ES, Appels R, Brown AHD, McNeil D (1991b) The molecular-genetic analysis of Triticum tauschii—the D genome donor to hexaploid wheat. Genome 34:375–386

Lander ES, Green P, Abrahamson J, Barlow A, Daly MJ, Lincoln SE, Newberg L (1987) MAPMAKER: an interactive computer package for constructing primary genetic linkage maps of experimental and natural populations. Genomics 1:174–181

McIntosh RA (1992) Close genetic linkage of genes conferring adult-plant resistance to leaf rust and stripe rust in wheat. Plant Pathol 41:523–527

Moullet O, Zhang HB, Lagudah ES (1999) Construction and characterisation of a large DNA insert library from the D genome of wheat. Theor Appl Genet 99:305–313

Nelson JC, Singh RP, Autrique JE, Sorrells ME (1997) Mapping genes conferring and suppressing leaf rust resistance in wheat. Crop Sci 37:1928–1935

Ogbonnaya FC, Halloran GM, Lagudah ES (2005) D genome of wheat—60 years on from Kihara, Sears and McFadden. In: Tsunewaki K (ed) Frontiers of wheat bioscience. Kihara memorial foundation for the advancement of life sciences, Yokohama, pp 205–220

Rosewarne GM, Singh RP, Huerta-Espino J, William HM, Bouchet S, Cloutier S, McFadden H, Lagudah ES (2006) Leaf tip necrosis, molecular markers and β1-proteasome subunits associated with the slow rusting resistance genes Lr46/Yr29. Theor Appl Genet 112:500–508

Rubiales D, Niks RE (1995) Characterization of Lr34, a major gene conferring non-hypersensitive resistance to wheat leaf rust. Plant Dis 79:1208–1212

Schnurbusch T, Paillard S, Schori A, Messmer M, Schachermayr G, Winzeler M, Keller B (2004a) Dissection of quantitative and durable leaf rust resistance in Swiss winter wheat reveals a major resistance QTL in the Lr34 chromosomal region. Theor Appl Genet 108:477–484

Schnurbusch T, Bossolini E, Messmer M, Keller B (2004b) Tagging and validation of a major quantitative trait locus for leaf rust resistance and leaf tip necrosis in winter wheat cultivar Forno. Phytopathology 94:1036–1041

Seah S, Sivasithamparam K, Karakousis A, Lagudah ES (1998) Cloning and characterisation of a family of disease resistance gene analogs from wheat and barley. Theor Appl Genet 97:937–945

Singh RP (1992a) Association between gene Lr34 for leaf rust resistance and leaf tip necrosis in wheat. Crop Sci 32:874–878

Singh RP (1992b) Genetic association of leaf rust resistance gene Lr34 with adult plant resistance to stripe rust in bread wheat. Phytopathology 82:835–838

Singh RP (1993) Resistance to leaf rust in 26 Mexican wheat cultivars. Crop Sci 33:633–637

Singh RP, Rajaram S (1994) Genetics of adult plant resistance to stripe rust in ten spring bread wheats. Euphytica 72:1–7

Singh RP, Huerta-Espino J, Rajaram S (2000a) Achieving near-immunity to leaf and stripe rusts in wheat by combining slow rusting resistance genes. Acta Phytopathologica et Entomologica Hungarica 35:133–139

Singh RP, Nelson JC, Sorrells ME (2000b) Mapping Yr28 and other genes for resistance to stripe rust in wheat. Crop Sci 40:1148–1155

Song R, Llaca V, Messing J (2002) Mosaic organization of orthologous sequences in grass genomes. Genome Res 12:1549–1555

Spielmeyer W, McIntosh RA, Kolmer J, Lagudah ES (2005) Powdery mildew resistance and Lr34/Yr18 genes for durable resistance to leaf and stripe rust cosegregate at a locus on the short arm of chromosome 7D of wheat. Theor Appl Genet 111:731–735

Suenaga K, Singh RP, Huerta-Espino J, William HM (2003) Microsatellite markers for genes Lr34/Yr18 and other quantitative trait loci for leaf rust and stripe rust resistance in bread wheat. Phytopathology 93:881–890
Acknowledgments
We are indebted to the skilled technical support provided by Libby Viccars and additional support from Sutha Chandramohan and Kylie Groom. This work was funded by the Grains Research and Development Corporation as a component project of the Australian Winter Cereal Molecular marker Program (grant no. CSP00063) to CSIRO and Project CIM13 to CIMMYT.
Additional information
Communicated by Beat Keller.
About this article
Cite this article
Lagudah, E.S., McFadden, H., Singh, R.P. et al. Molecular genetic characterization of the Lr34/Yr18 slow rusting resistance gene region in wheat. Theor Appl Genet 114, 21–30 (2006). https://doi.org/10.1007/s00122-006-0406-z
Received:

Accepted:

Published:

Issue Date:
Keywords
Bacterial Artificial Chromosome

Leaf Rust

Rust Resistance

Bacterial Artificial Chromosome Clone

Stripe Rust