Abstract
Quantitative trait loci (QTLs) for downy mildew resistance in maize were identified based on co-segregation with linked restriction fragment length polymorphisms or simple sequence repeats in 220 F2 progeny from a cross between susceptible and resistant parents. Disease response was assessed on F3 families in nurseries in Egypt, Thailand, and South Texas and after inoculation in a controlled greenhouse test. Heritability of the disease reaction was high (around 93% in Thailand). One hundred and thirty polymorphic markers were assigned to the ten chromosomes of maize with LOD scores exceeding 4.9 and covering about 1,265 cM with an average interval length between markers of 9.5 cM. About 90% of the genome is located within 10 cM of the nearest marker. Three putative QTLs were detected in association with resistance to downy mildew in different environments using composite interval mapping. Despite environmental and symptom differences, one locus on chromosome 2 had a major effect and explained up to 70% of the phenotypic variation in Thailand where disease pressure was the highest. The other two QTLs on chromosome 3 and chromosome 9 had minor effects; each explained no more than 4% of the phenotypic variation. The three QTLs appeared to have additive effects on resistance, identifying one major gene and two minor genes that contribute to downy mildew resistance.
Access options
Buy single article
Instant access to the full article PDF.
USD 39.95
Price includes VAT (USA)
Tax calculation will be finalised during checkout.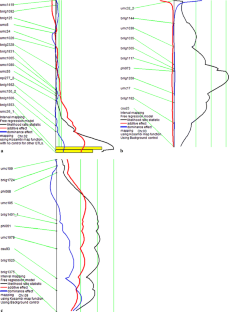 References
Agrama HA, Moussa ME, Naser ME, Tarek MA, Ibrahim AH (1999) Mapping of QTL for downy mildew resistance in maize. Theor Appl Genet 99:519–523

Bohn M, Khairallah MM, Jiang C, Gonzalez-De-Leon D, Hoisington DA, Utz HF, Deutsch JA, Jewell DC, Mihm JA, Melchinger AE (1996) QTL mapping in tropical maize: I. Genomic regions affecting leaf feeding resistance to sugarcane borer, other traits. Crop Sci 36:1352–1361

Borges OL (1987) Diallel analysis of maize resistance to sorghum downy mildew. Crop Sci 27:178–180

Cardwell KF, Bock C, Akinnioye OF, Onukwa D, Adenle V, Adetoro AO (1994) Improving screening methods for resistance to downy mildew of maize in Nigeria. Plant Health Manage Res Monogr 22:22–25

Churchill GA, Doerge RW (1994) Empirical threshold values for quantitative trait mapping. Genetics 138:963–971

Craig J (2000) Sorghum downy mildew. In: Frederiksen RA, Odvody GN (eds) Compendium of sorghum diseases, 2nd edn. APS, St Paul, pp 25–27

Craig J, Odvody GN (1992) Current status of sorghum downy mildew control. In: de Milliano WAJ, Frederiksen RA, Bengston GD (eds) Sorghum and millets diseases: a second world review. ICRISAT, Patancheru, Andhra Pradesh, pp 213–217

Davis GL, McMullen MD, Baysdorfer C, Musket T, Grant D, Staebell M, Xua G, Polacco M, Koster L, Melia-Hancock S, Houchins K, Chao S, Coe EH Jr (1999) A maize map standard with sequenced core markers, grass genome reference points and 932 expressed sequence tagged sites (ESTs) in a 1736-locus map. Genetics 152:1137–1172

Frederiksen RA, Renfro BL (1977) Global status of maize downy mildew. Annu Rev Phytopathol 15:249–275

George ML, Prasanna BM, Rathore RS, Setty TA, Kasim F, Azrai M, Vasal S, Balla O, Hautea D, Canama A, Regalado E, Vargas M, Khairallah M, Jeffers D, Hoisington D (2003) Identification of QTLs conferring resistance to downy mildews of maize in Asia. Theor Appl Genet 107:544–551

Gomes AA, Aquilizan FA, Payson RM, Galub AG (1963) Preliminary studies on the inheritance of corn to downy mildew disease. Philipp Agric 47:113–117

Gomez KA, Gomez AA (1984) Statistical procedures for agricultural research. Wiley, New York

Haley CS, Knott SA (1992) A simple regression method for mapping quantitative trait loci in line crosses using flanking markers. Heredity 69:315–324

Hallauer AR, Miranda JB (1981) Quantitative genetics in maize breeding. Iowa State University Press, Ames

Handoo MI, Renfro BL, Payak MM (1970) On the inheritance of resistance to Sclerophthora rayssiae var. zeae in maize. Indian Phytopathol 23:231–249

Hoisington D, Khairallah M, Gonzalez-de-Leon D (1994) Laboratory protocols: CIMMYT applied molecular genetics laboratory. CIMMYT, Mexico

Isakeit T, Odvody G, Jahn R, Decanini L (2003) Peronosclerospora sorghi resistant to metalaxyl treatment of sorghum seed in Texas. Phytopathology 93:S39

Kosambi DD (1944) The estimation of map distances from recombination values. Ann Eugen 12:172–175

Lander E, Kruglyak L (1995) Genetic dissection of complex traits: guidelines for interpreting and reporting linkage results. Nat Genet 11:241–247

Little TM, Hills FJ (1978) Agricultural experimentation design and analysis. Wiley, New York

Manly KF, Cudmore JRH, Meer JM (2001) Map Manager QTX, cross-platform software for genetic mapping. Mamm Genome 12:930–932

Martinez O, Curnow RN (1992) Estimating the locations and the sizes of the effects of quantitative trait loci using flanking markers. Theor Appl Genet 85:480–488

Nair SK, Prasanna BM, Garg A, Rathore RS, Setty TAS, Sing NN (2005) Identification and validation of QTLs conferring resistance to sorghum downy mildew (Peronosclerospora sorghi) and Rajasthan downy mildew (P. heteropogoni) in maize. Theor Appl Genet 110:1384–1392

Nazim M, Khalifa EZ, El-Mersawy EM, Sadoma MT (1995) Downy mildew on maize in Egypt. Egypt J Phytopathol 23:53–67

Sabry AM-B (2003) QT mapping of resistance to sorghum downy mildew in maize. Plant pathology and microbiology. A&M University, College Station, 118 pp

Searle SR (1971) Linear models. Wiley, New York

Singburaudom N, Renfro BL (1982) Heritability of resistance in maize to sorghum downy mildew (Peronosclerospora sorghi (Weston and Uppal) C.G. Shaw). Crop Prot 1:323–332

Steel RGD, Torrie JH (1960) Principles and procedures of statistics. McGraw-Hill, New York

Williams RJ (1984) Downy mildews of tropical cereals. Adv Plant Pathol 2:1–103

Yao C (1991) Classification and detection of Peronosclerospora species on the basis of DNA southern hybridization and the polymerase chain reaction. Plant pathology and microbiology. Dissertation, Texas A&M University, 94 pp

Zeng ZB (1993) Theoretical basis for separation of multiple linked gene effects in mapping quantitative trait loci. Proc Natl Acad Sci USA 90:10972–10976

Zeng ZB (1994) Precision mapping of quantitative trait loci. Genetics 136:1457–1468
Additional information
Communicated by D. A. Hoisington
About this article
Cite this article
Sabry, A., Jeffers, D., Vasal, S.K. et al. A region of maize chromosome 2 affects response to downy mildew pathogens. Theor Appl Genet 113, 321–330 (2006). https://doi.org/10.1007/s00122-006-0298-y
Received:

Accepted:

Published:

Issue Date:
Keywords
Downy Mildew

Composite Interval Mapping

Likelihood Ratio Statistic

Downy Mildew Resistance

Greenhouse Trial