Abstract
Molecular mapping of genes for crop resistance to the greenbug, Schizaphis graminum Rondani, will facilitate selection of greenbug resistance in breeding through marker-assisted selection and provide information for map-based gene cloning. In the present study, microsatellite marker and deletion line analyses were used to map greenbug resistance genes in five newly identified wheat germplasms derived from Aegilops tauschii. Our results indicate that the Gb genes in these germplasms are inherited as single dominant traits. Microsatellite markers Xwmc157 and Xgdm150 flank Gbx1 at 2.7 and 3.3 cM, respectively. Xwmc671 is proximately linked to Gba, Gbb, Gbc and Gbd at 34.3, 5.4, 13.7, 7.9 cM, respectively. Xbarc53 is linked distally to Gba and Gbb at 20.7 and 20.2 cM, respectively. Xgdm150 is distal to Gbc at 17.9 cM, and Xwmc157 is distal to Gbd at 1.9 cM. Gbx1, Gba, Gbb, Gbc, Gbd and the previously characterized Gbz are located in the distal 18% region of wheat chromosome 7DL. Gbd appears to be a new greenbug resistance gene different from Gbx1 or Gbz. Gbx1, Gbz Gba, Gbb, Gbc and Gbd are either allelic or linked to Gb3.
Access options
Buy single article
Instant access to the full article PDF.
USD 39.95
Price excludes VAT (USA)
Tax calculation will be finalised during checkout.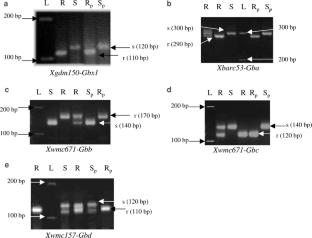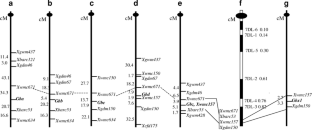 References
U.S. Department of Agriculture (1996) Agricultural statistics 1995–1996. Wheat, National Agricultural Statistics Service, US Department of Agriculture, Washington, DC

Allard RW (1956) Formulas and tables to facilitate the calculation of recombination values in heredity. Hilgardia 24:235–278

Boina D, Prabhakar S, Smith CM, Starkey S, Zhu L, Boyko E, Reese JC (2005) Categories of resistance to biotype I greenbug (Homoptera: Aphididae) in wheat lines containing the genes Gbx and Gby. J Kan Entomology Soc 78:(in press)

Cox TS (1998) Deepening the wheat gene pool. J Crop Prod 1:1–25

Dubcovsky J, Lukaszewski AJ, Echaide M, Antonelli EF, Porter DR (1998) Molecular characterization of two Triticum speltoides interstitial translocations carrying leaf rust and greenbug resistance genes. Crop Sci 38:1655–1660

Dvorak J, Luo MC, Yang ZL and Zhang HB (1998) The structure of the Aegilops tauschii genepool and the evolution of hexaploid wheat. Theor Appl Genet 97:657–670

Flinn MB, Smith CM, Reese JC, Gill B (2001) Categories of resistance to greenbug (Homoptera: Aphididae) biotype I in Aegilops tauschii germplasm. J Econ Entomol 94:558–563

Gill BS, Raupp WJ (1987) Direct genetic transfers from Aegilops squarrosa L. to hexaploid wheat. Crop Sci 27:445–450

Gill KS, Lubbers EL, Gill BS, Raupp WJ, Cox TS (1991) A genetic linkage map of Triticum tauschii (DD) and its relationship to the D genome of bread wheat (AABBDD). Genome 34:362–374

Gupta PK, Balyan HS, Edwards KJ, Isaac P, Korzun V, Roder M, Gautier MF, Joudrier P, Schlatter AR, Dubcovsky J, De la Pena RC, Khairallah M, Penner G, Hayden MJ, Sharp P, Keller B, Wang RCC, Hardouin JP, Jack P, Leroy P (2002) Genetic mapping of 66 new microsatellite (SSR) loci in bread wheat. Theor Appl Genet 105:413–422

Hollenhorst MM, Joppa LR (1983) Chromosomal location of genes for resistance to greenbug in 'Largo' and 'Amigo' wheats. Crop Sci 23:91–93

Honrao BK, Misra SC, Bhagwat MD, Dixit RN, Surve VD, Khade VM, Rao VS (2003) Potential of synthetic wheats as new sources of leaf rust resistance. Cereal Rusts and Powdery Mildews Bulletin (http://www.crpmb.org/) 2003/0317honrao

Kihara H (1944) Die Entdeckung des DD-Analysators beim Weizen. Agric Hortic 19:889–890

Kosambi DD (1944) The estimation of map distances from recombination values. Ann Eugen 12:172–175

Lander ES, Green P, Abrahamson J, Barlow A, Daly MJ, Lincoln SE, Newberg L (1987) MAPMAKER: an interactive computer package for constructing primary genetic linkage maps of experimental and natural populations. Genomics 1:174–181

Martin TJ, Harvey TL, Hatchett JH (1982) Registration of greenbug and Hessian fly resistant wheat grermplasm. Crop Sci 22:1089

Mujeeb-Kazi A, Rosas V, Roldan S (1996) Conservation of the genetic variation of Triticum tauschii (Coss.) Schmalh. (Aegilops squarrosa auct. Non. L.) in synthetic hexaploid wheats (T. turgidum L. s. lat. X T. tauschii; 2n=6x=42, AABBDD) and its potential utilization for wheat improvement. Genet Res Crop Evol 43:129–134

Mujeeb-Kazi A, Gilchrist LI, Fuentes-Davila G, Velazquez C, Delgado R (1998) Fusarium graminearum resistance in alien germplasm and in a bread wheat/alien species derivative with multiple biotic stress resistances. Annu Wheat Newslett 45

Pestsova E, Ganal MW, Roder MS (2000) Isolation and mapping of microsatellite markers specific for the D genome of bread wheat. Genome 43:689–697

Porter KB, Peterson GL, Vise O (1982) A new greenbug biotype. Crop Sci 22:847–850

Porter DR, Webster JA, Burton RL, Puterka GL, Smith EL (1991) New sources of resistance to greenbug in wheat. Crop Sci 31:1502–1504

Rao PV (1998) Statistical research methods in the life sciences. Duxbury Press, New York, pp 889

Roder MS, Plaschke J, Konig SU, Borner A, Sorrells ME, Tanksley SD, Ganal MW(1995) Abundance, variability and chromosomal location of microsatellites in wheat. Mol Gen Genet 246:327–333

Roder MS, Korzun V, Wendehake K, Plaschke J, Tixier MH, Leroy P, Ganal MW (1998) A microsatellite map of wheat. Genetics 149:2007–2023

Singh SS, Sharma DN, Mehta H (1998) Resistance to Puccinia recandita tritici in synthetic hexaploid wheats. Indian J Genet 58:263–269

Smith CM, Starkey S (2003) Resistance to greenbug (Homoptera: Aphididae) biotype I in Aegilops tauschii synthetic wheats. J Econ Entomol 96:1571–1576

Webster J, Treat R, Morgan L, Elliot N (2000) Economic impacts of the Russian wheat aphid and greenbug in the western United States 1993–94, 1994–95, and 1997–98. US Department of Agriculture. ARS Service Report PSWCRL Rep 00–001

Weng Y, Lazar MD (2002) Amplified fragment length polymorphism- and simple sequence repeat-based molecular tagging and mapping of greenbug resistance gene Gb3 in wheat. Plant Breed 121:218–223

Weng Y, Li W, Devkota RN, Rudd JC (2005) Microsatellite markers associated with two Aegilops tauschii-derived greenbug resistance loci in wheat. Theor Appl Genet 110:462–469

Zhu LC, Smith CM, Fritz A, Boyko EV, Flinn MB (2004) Genetic analysis and molecular mapping of a wheat gene conferring tolerance to the greenbug (Schizaphis graminum Rondani). Theor Appl Genet 109:289–293
Acknowledgements
This work was financially supported by the Kansas Crop Improvement Association, the Kansas Agricultural Experiment Station and the Kansas Wheat Commission. We thank Dr. Tom Harvey and Dr. John Reese for supplying greenbug biotype I; Drs. George Liang, Guihua Bai and Mitch Tuinstra for their excellent review of this manuscript. We appreciate Dr. Scot Hulbert for his suggestions to improve the manuscript, and John Raupp and Sharon Starkey for their support and help. Kansas Agric. Exp. Stn. Contribution No: 05–174-J.
Additional information
Communicated by T. Lübberstedt
About this article
Cite this article
Zhu, L.C., Smith, C.M., Fritz, A. et al. Inheritance and molecular mapping of new greenbug resistance genes in wheat germplasms derived from Aegilops tauschii . Theor Appl Genet 111, 831–837 (2005). https://doi.org/10.1007/s00122-005-0003-6
Received:

Accepted:

Published:

Issue Date:

DOI: https://doi.org/10.1007/s00122-005-0003-6
Keywords
Chinese Spring

Wheat Chromosome

Single Dominant Gene

Deletion Line

Russian Wheat Aphid