Abstract
A set of 118 simple sequence repeat (SSR) markers has been developed in melon from two different sources: genomic libraries (gSSR) and expressed sequence-tag (EST) databases (EST-SSR). Forty-nine percent of the markers showed polymorphism between the 'Piel de Sapo' (PS) and PI161375 melon genotypes used as parents for the mapping populations. Similar polymorphism levels were found in gSSR (51.2%) and EST-SSR (45.5%). Two populations, F2 and a set of double haploid lines (DHLs), developed from the same parent genotypes were used for map construction. Twenty-three SSRs and 79 restriction fragment length polymorphisms (RFLPs), evenly distributed through the melon genome, were used to anchor the maps of both populations. Ten cucumber SSRs, 41 gSSRs, 16 EST-SSR, three single nucleotide polymorphism (SNP) markers, and the Nsv locus were added in the DHL population. The maps developed in the F2 and DHL populations were co-linear, with similar lengths, except in linkage groups G1, G9, and G10. There was segregation distortion in a higher proportion of markers in the DHL population compared with the F2, probably caused by selection during the construction of DHLs through in vitro culture. After map merging, a composite genetic map was obtained including 327 transferable markers: 226 RFLPs, 97 SSRs, three SNPs, and the Nsv locus. The map length is 1,021 cM, distributed in 12 linkage groups, and map density is 3.11 cM/marker. SSR markers alone cover nearly 80% of the map length. This map is proposed as a basis for a framework melon map to be merged with other maps and as an anchor point for map comparison between species of the Cucurbitaceae family.
Access options
Buy single article
Instant access to the full article PDF.
US$ 39.95
Tax calculation will be finalised during checkout.
Subscribe to journal
Immediate online access to all issues from 2019. Subscription will auto renew annually.
US$ 119
Tax calculation will be finalised during checkout.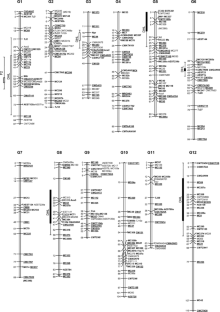 References
Akashi Y, Fukunda N, Wako T, Masuda M, Kato K (2002) Genetic variation and phylogenetic relationships in East and South Asian melons, Cucumis melo L., based on the analysis of five isozymes. Euphytica 125:385–396

Aranzana MJ, Pineda A, Cosson P, Dirlewanger E, Ascasibar J, Cipriani G, Ryder CD, Testolin R, Abbott A, King GJ, Iezzoni AF, Arús P (2003) A set of simple-sequence repeat (SSR) markers covering the Prunus genome. Theor Appl Genet 106:819–825

Areshchenkova T, Ganal MW (1999) Long tomato microsatellites are predominantly associated with centromeric regions. Genome 42:536–544

Baudracco-Arnas S, Pitrat M (1996) A genetic map of melon (Cucumis melo L.) with RFLP, RAPD, isozyme, disease resistance and morphological markers. Theor Appl Genet 93:57–64

Bryan GJ, Collins AJ, Stephenson P, Orry A, Smith JB, Gale MD (1997) Isolation and characterisation of microsatellites from hexaploid bread wheat. Theor Appl Genet 94:557–563

Chani E, Ashkenazi V, Hillel J, Veilleux E (2002) Microsatellite marker analysis of an anther-derived potato family: skewed segregation and gene-centromere mapping. Genome 45:236–242

Chiba N, Suwabe K, Nunome T, Hirai M (2003) Development of microsatellite markers in melon (Cucumis melo L.) and their application to major cucurbit crops. Breed Sci 53:21–27

Chin ECL (1996) Maize simple repetitive DNA sequences: abundance and allele variation. Genome 39:866–873

Cho YG, Ishii T, Temnykh S, Chen X, Lipovich L, McCouch SR, Parl WD, Ayres N, Cartinhour S (2000) Diversity of microsatellites derived from genomic libraries and GenBank sequences in rice (Oryza sativa L.). Theor Appl Genet 100:713–722

Danin-Poleg Y, Reis N, Baudracco-Arnas S, Pitrat M, Staub JE, Oliver M, Arús P, de Vicente CM, Katzir N (2000) Simple sequence repeats in Cucumis mapping and map merging. Genome 43:963–974

Danin-Poleg Y, Reis N, Tzuri G, Katzir N (2001) Development and characterisation of microsatellite markers in Cucumis. Theor Appl Genet 102:61–72

Danin-Poleg Y, Tadmor Y, Tzuri G, Reis N, Hirschberg J, Katzir N (2002) Construction of a genetic map of melon with molecular markers and horticultural traits, and localization of genes associated with ZYMV resistance. Euphytica 125:373–384

Dolcet-Sanjuan R, Claveria E, Llauradó M, Ortigosa A, Arús P (2001) Carnation (Dianthus caryophyllus L.) dihaploid lines resistant to Fusarium oxysporum f. sp. Dianthi. Acta Hortic 560:141–144

Doyle JJ, Doyle JL (1990) Isolation of plant DNA from fresh tissue. Focus 12:13–15

Dufour P, Johnsson C, Antoine-Michard S, Cheng R, Murigneux A, Beckert M (2001) Segregation distortion at marker loci: variation during microspore embryogenesis in maize. Theor Appl Genet 102:993–1001

Eujayl I, Sorrells ME, Baum M, Wolters P, Powell W (2002) Isolation of EST-derived microsatellite markers for genotyping the A and B genomes of wheat Theor Appl Genet 104:399–407

Fazio G, Staub JE, Chung SM (2002) Development and characterization of PCR markers in cucumber (Cucumis sativus L.). J Am Soc Hortic Sci 127:545–557

Garcia-Mas J, Monforte AJ, Arús P (2004) Phylogenetic relationships among Cucumis species based on the ribosomal internal transcribed spacer sequence and microsatellite markers. Plant Syst Evol 248:191–204

Gonzalo MJ (2003) Generación, caracterización molecular y evaluación morfológica de una población de líneas dihaploides en melón (Cucumis melo L.). PhD Dissertation, Universiad de Lleida

Guzy-Wróbelska J, Szarejko I (2003) Molecular and agronomic evaluation of wheat doubled haploid lines obtained through maize pollination and anther culture methods. Plant Breed 122:305–313

Katzir N, Danin-Poleg Y, Tzuri G, Karchi A, Lavi U, Cregan PB (1996) Length polymorphisms and homologies of microsatellites in several Cucurbitaceae species. Theor Appl Genet 93:1282–1290

Kirkbride JH (1993) Biosystematic monograph of the genus Cucumis (Cucurbitaceae). Parkway, Boone

Kosambi DD (1944) The estimation of map distances from recombination values. Ann Eugen 12:172–175

Lander ES, Green P, Abrahamson J, Barlow A, Daley M, Lincoln S, Newburg L (1987) MAPMAKER: An interactive computer package for constructing primary genetic linkage maps of experimental and natural populations. Genomics 1:174–181

Liebhard R, Koller B, Gianfranceschi L, Gessler C (2003) Creating a saturated reference map for the apple (Malus × domestica Borkh.) genome. Theor Appl Genet 106:1497–1508

Liu L, Kakihara F, Kato M (2004) Characterization of six varieties of Cucumis melo L. based on morphological and physiological characters, including shelf-life of fruit. Euphytica 135:305–313

Manninen OM (2000). Associations between anther-culture response and molecular markers on chromosomes 2H, 3H and 4H of barley (Hordeum vulgare L.). Theor Appl Genet 100:57–62

Metzgar D, Bytof J, Wills C (2000) Selection against frameshift mutations limits microsatellite expansion in coding DNA. Genome Res 10:72–80

Mliki A, Staub JE, Zhangyong S, Ghorbel A (2001) Genetic diversity in melon (Cucumis melo L.): an evaluation of African germplasm. Genet Res Crop Evol 48:587–597

Monforte AJ, Garcia-Mas J, Arús P (2003) Genetic variability in melon based on microsatellite variation. Plant Breed 122:153–157

Monforte AJ, Eduardo I, Abad S, Arús P (2004a) Inheritance mode of fruit traits in melon. Heterosis for fruit shape and its correlation with genetic distance. Euphytica (in press)

Monforte AJ, Oliver M, Gonzalo MJ, Álvarez JM, Dolçet-Sanjuan R, Arús P (2004b) Identification of quantitative trait loci involved in fruit quality traits in melon. Theor Appl Genet 108:750–758

Morales M, Luís-Arteaga M, María Álvarez J, Dolcet-Sanjuan R, Monfort A, Arús P, Garcia-Mas J (2002) Marker saturation of the region flanking the gene NSV conferring resistance to the melon necrotic spot carmovirus (MNSV) in melon. J Am Soc Hortic Sci 127:540–544

Morales M, Roig E, Monforte AJ, Arús P, Garcia-Mas J (2004) Single-nucleotide polymorphisms detected in expressed sequence tags of melon (Cucumis melo L.). Genome 47:352–360

Oliver M, Garcia-Mas J, Cardús M, Pueyo N, López-Sesé AI, Arroyo M, Gómez-Paniagua H, Arús P, De Vicente MC (2001) Construction of a reference linkage map for melon. Genome 44:836–845

Ooijen JW van, Voorrips RE (2001) JoinMap 3.0, software for the calculation of genetic linkage maps. Plant Research International, Wageningen

Paris HS, Yonash N, Portnoy V, Mozes-Daube N, Tzuri G, Katzir N (2003) Assessment of genetic relationships in Cucurbita pepo (Cucurbitaceae) using DNA markers. Theor Appl Genet 106:971–978

Paterson AH, Lan TH, Reischmann KP, Chang C, Lin SC, Burow MD, Kowalski SP, Katsar CS, DelMonte TA, Feldmann KA, Schertz KF, Wendel JF (1996) Toward a unified genetic map of higher plants, transcending the monocot–dicot divergence. Nat Genet 14:380–382

Périn C, Hagen LS, de Conto V, Katzir N, Danin-Poleg Y, Portnoy V, Baudracco-Arnas S, Chadoeuf J, Dogimont C, Pitrat M (2002a) A reference map for Cucumis melo based on two recombinant inbred line populations. Theor Appl Genet 104:1017–1034

Périn C, Hagen LS, Giovinazzo N, Besombes, D, Dogimont C, Pitrat M (2002b) Genetic control of fruit shape acts prior to anthesis in melon (Cucumis melo L.). Mol Gen Genomics 266:933–941

Pitrat M (2002) 2002 melon gene list. http://www.umresearch.umd.edu/CGC/genes.htm

Plomion C, O'Malley DM (1996) Recombination rate differences for pollen parents and seed parents in Pinus pinaster. Heredity 77:341–350

Ritschel PS, Lins TCL, Tristan RL, Buso GSC, Buso JA, Ferreira ME (2004) Development of microsatellite markers from an enriched genomic library for genetic analysis of melon (Cucumis melo L.). BMC Plant Biol 4:9

Rozen A, Skaletsky HJ (2000) Primer3 on the WWW for general users and for biologist programmers. In: Krawetz S, Misener S (eds) Bioinformatics methods and protocols: methods in molecular biology. Humana, Totowa, pp 365–386

Scott KD, Eggler P, Seaton G, Rossetto M, Ablett EM, Lee LS, Henry RJ (2000) Analysis of SSRs derived from grape ESTs. Theor Appl Genet 100:723–726

Silberstein L, Kovalski I, Brotman Y, Perin C, Dogimont C, Pitrat M, Klingler J, Thompson G, Portnoy V, Katzir N, Perl-Treves R (2003) Linkage map of Cucumis melo including phenotypic traits and sequence-characterized genes. Genome 46:761–773

Stam P (1993) Construction of integrated genetic linkage maps by means of a new computer package: JoinMap. Plant J 3:739–744

Stepansky A, Kovalski I, Perl-Treves R (1999) Intraspecific classification of melons (Cucumis melo L.) in view of their phenotypic and molecular variation. Plant Syst Evol 217:313–332

Temnykh S, Park WD, Ayres N, Cartinhour S, Hauck N, Lipovich L, Cho YG, Ishii T, McCouch SR (2000) Mapping and genome organization of microsatellite sequences in rice (Oryza sativa L.). Theor Appl Genet 100:697–712

Thiel T, Michalek W, Varshney RK, Graner A (2003) Exploiting EST databases for the development and characterization of gene-derived SSR markers in barley (Hordeum vulgare L.). Theor Appl Genet 106:411–422

Voorrips RE (2002) MapChart: software for the graphical presentation of linkage maps and QTLs. J Hered 93:77–78

Wang G, Hyne V, Chao S, Henry Y, Buyser J, Gale MD, Snape JW (1995) A comparison of male and female recombination frequency in wheat using RFLP maps of homoeologous group 6 and 7 chromosomes. Theor Appl Genet 91:744–746

Wang YH, Thomas CE, Dean RA (1997) A genetic map of melon (Cucumis melo L.) based on amplified fragment length polymorphism (AFLP) markers. Theor Appl Genet 95:791–798
Acknowledgements
The authors thank V. Alfaro and N. Galofré for technical assistance. This work was funded in part by grants for projects AGL2000-0360 and AGL2003-09175-C02-01 from The Spanish Ministry of Science and Technology and by the Semillas Fitó-Institut de Recerca i Tecnologia Agroalimentàries (IRTA) joint programme. A.J.M. was supported by a contract from Instituto Nacional de Investigaciones Agrarias (INIA). M.J.G. was supported by a fellowship from Institut de Recerca I Tecnologia Agroalimentàries (IRTA). The experiments presented here comply with current Spanish law.
Electronic Supplementary Material
About this article
Cite this article
Gonzalo, M.J., Oliver, M., Garcia-Mas, J. et al. Simple-sequence repeat markers used in merging linkage maps of melon (Cucumis melo L.). Theor Appl Genet 110, 802–811 (2005). https://doi.org/10.1007/s00122-004-1814-6
Received:

Accepted:

Published:

Issue Date:
Keywords
Linkage Group

Melon

Simple Sequence Repeat Marker

Segregation Distortion

Double Haploid Line