Abstract
The genetic mechanism underlying six palatability properties of cooked rice and three physico-chemical traits was dissected in 66 BC3F2 chromosome segment substitution lines (CSSLs), using a complete linkage map in three successive years. The CSSLs showed transgressive segregation for all traits studied. Significant correlation was detected among most palatability traits. A total of 25 QTLs for the nine traits were identified on nine chromosomes, and many QTLs affecting different quality traits were mapped in the same regions. Six QTLs—qLT-8 for luster, qTD-6 and qTD-8 for tenderness, qIVOE-6 and qIVOE-8 for integrated value of organoleptic evaluation, and qAC-8 for amylose content—were repeatedly detected across the 3 years. Phenotypic values were significantly different between the recurrent parent, cultivar Asominori, and the CSSLs harboring any of the six QTL alleles across the three environments, indicating that these six QTLs were non-environment-specific and could be used for marker-assisted selection in rice quality improvement.
Access options
Buy single article
Instant access to the full article PDF.
USD 39.95
Price excludes VAT (USA)
Tax calculation will be finalised during checkout.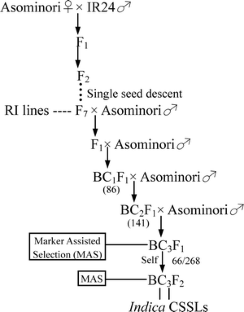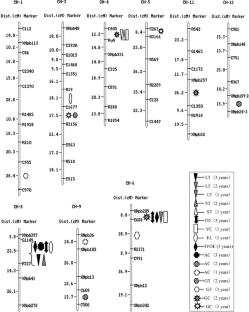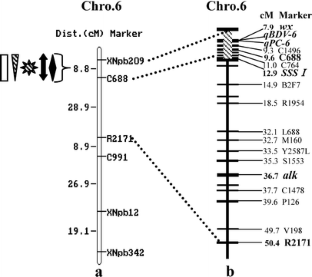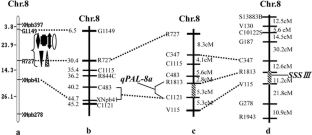 References
Ayres NM, McClung AM, Larkin PD, Bligh HF, Jones CA, Park WD (1997) Microsatellites and a single-nucleotide polymorphism differentiate apparent amylose classes in an extended pedigree of US rice germplasm. Theor Appl Genet 94:773–781

Ball SG, Wal MH, Visser RG (1998) Progress in understanding the biosynthesis of amylose. Trends Plant Sci 3(12):462–467

Bao JS, Zheng XW, Xia YW, He P, Shu QY, Lu X, Chen Y, Zhu LH (2000) QTL mapping for the paste viscosity characteristics in rice (Oryza Sativa L.). Theor Appl Genet 100:280–284

Bett-Garber KL, Champagne ET, McClung AM, Moldenhauer KA, Linscombe SD, McKenzie KS (2001) Categorizing rice cultivars based on cluster analysis of amylose content, protein content and sensory attributes. Cereal Chem 78(5):551–558

Brennan RM, Hunter EA, Muir DD (1997) Genotypic effects on sensory quality of blackcurrant juice using descriptive sensory profiling. Food Res Int 30:381–390

Cagampang GB, Perez CM, Juliano BO (1973) A gel consistency test for the eating quality of rice. J Sci Food Agric 24:1589–1594

Causse M, Saliba-Colombani V, Lesschaeve I, Buret M (2001) Genetic analysis of organoleptic quality in fresh market tomato. 2. Mapping QTLs for sensory attributes. Theor Appl Genet 102:273–283

Champagne ET, Bett-Garber KL, Vinyard BT, McClung AM, Barton FE, Moldenhauer KA, Linscombe SD, McKenzie KS (1999) Correlation between cooked rice texture and rapid visco analyzer measurements. Cereal Chem 76:764–771

Churchill GA, Doerge RW (1994) Empirical threshold values for quantitative trait mapping. Genetics 138:963–971

Eshed Y, Zamir D (1995) An introgression line population of Lycopersicon pennellii in the cultivated tomato enables the identification and fine mapping of yield-associated QTL. Genetics 141:1147–1162

Esti M, Messia MC, Sinesio F, Nicotra A, Conte L, La Notte E, Palleschi G (1997) Quality evaluation of peaches and nectarines by electrochemical and multivariate analyses: relationships between analytical measurements and sensory attributes. Food Chem 60:659–666

Falconer DS (1981) Introduction to quantitative genetics, 2nd edn. Longman, London

Frary AN, Nesbitt TC, Frary AM, Grandillo S, Knaap EVD, Cong B, Liu JP, Meller J, Elber R, Alpert KB, Tanksley SD (2000) fw2.2: a quantitative trait locus key to the evolution of tomato fruit size. Science 289:85–88

Harushima Y, Yano M, Shomura A, Sato M, Shimano T, Kuboki Y, Yamamoto T, Lin SY, Antonio BA, Parco A, Kajiya H, Huang N, Yamamoto K, Nagamura Y, Kurata N, Khush GS, Sasaki T (1998) A high-density rice genetic linkage map with 2,275 markers using a single F2 population. Genetics 148:479–494

He P, Li SG, Qian Q, Ma YQ, Li JZ, Wang WM, Chen Y, Zhu LH (1999) Genetic analysis of rice grain quality. Theor Appl Genet 98:502–508

Howell PM, Marshall DF, Lydiate DJ (1996) Towards developing intervarietal substitution lines in Brassica napus using marker-assisted selection. Genome 39:348–358

Hu PS (2002) Studies on the evaluation and improvement of quality in rice (Oryza sativa L.). A dissertation submitted to Nanjing Agricultural University, pp 47–51

Huang FS, Sun ZX, Hu PS, Tang SQ (1998) Present situations and prospects for the research on rice grain quality forming. Chinese J Rice Sci 12(3):172–176

Jiang HW (2002) The cloning and characterization of the gene for starch synthesis in rice endosperms and studies on the molecular physiological effects of high temperature on rice grain quality forming. A dissertation submitted to Zhejiang University, pp 67–76

Juliano BO (1971) A simplified assay for milled rice amylose. Cereal Sci Today 16:334–336

Juliano BO (1985) Criteria and test for rice grain quality. In: Juliano BO (ed) Rice chemistry and technology. American Association of Cereal Chemists, Saint Paul, pp 443–513

Kubo T, Nakamura K, Yoshimura A (1999) Development of a series of indica chromosome segment substitution lines in japonica background of rice. Rice Genet Newsl 16:104–106

Lanceras JC, Huang ZL, Naivikul O, Vanavichit A, Ruanjaichon V, Tragoonrung S (2000) Mapping of genes for cooking and eating qualities in Thai Jasmine rice (KDML105). DNA Res 7:93–101

Lander ES, Green P, Abrahamson J, Barlow A, Daly MJ, Lincoln SE, Newburg L (1987) MAPMAKER: an interactive computer package for constructing primary genetic linkage maps of experimental and natural populations. Genomics 1:174–181

Li ZK (2001) QTL mapping in rice: a few critical considerations. Rice genetics IV. In: Khush GS, Brar DS, Hrady B (eds) Proceeding of the fourth international rice genetics symposium, 22–27 October 2000, Los Banos, Philippines, pp 153–171

Lin HX, Yamamoto T, Sasaki T, Yano M (2000) Characterization and detection of epistatic interactions of 3 QTLs, Hd-1, Hd-2 and Hd-3, controlling heading date of rice using nearly isogenic lines. Theor Appl Genet 101:1021–1028

Little RR, Hilder GB, Dawson EH (1958) Differential effect of dilute alkali on 25 varieties of milled white rice. Cereal Chem 35:111–126

Murray MG, Thompson WF (1980) Rapid isolation of high molecular weight plant DNA. Nucleic Acids Res 8:4321–4325

NSPRC (National Standard of People's Republic of China) (1999) High quality paddy, GB/T17891–1999. Standards Press of China, China

Sano Y (1984) Differential regulation of waxy gene expression in rice endosperm. Theor Appl Genet 68:467–473

Sano Y, Katsumata M, Okuno K (1986) Genetic studies of speciation in cultivated rice. 5. Inter- and intra-specific differentiation in the waxy gene expression in rice. Euphytica 35:1–9

SAS Institute (1994) JMP statistics and graphics guide: version 3. SAS Institute, Cary

Takahashi Y, Shomura A, Sasaki T, Yano M (2001) Hd-6, a rice quantitative trait locus involved in photoperiod sensitivity, encodes the α subunit of protein kinase CK2. PNAS USA 98:7922–7927

Tan YF, Li JX, Yu SB, Xing YZ, Xu CG, Zhang Q (1999) The three important traits for cooking and eating quality of rice grains are controlled by a single locus in an elite rice hybrid, Shanyou 63. Theor Appl Genet 99:642–648

Tan YF, Sun M, Xing YZ, Hua JP, Sun XL, Zhang QF, Corke H (2001) Mapping quantitative trait loci for milling quality, protein content and color characteristics of rice using a recombinant inbred line population derived from an elite rice hybrid. Theor Appl Genet 103:1037–1045

Tanaka KI, Ohnishi S, Kishimoto N, Kawasaki T, Baba T (1995) Structure, organization, and chromosomal location of the gene encoding a form of rice soluble starch synthase. Plant Physiol 108:677–683

Tsunematsu H, Yoshimura A, Harushima Y, Nagamura Y, Kurata N, Yano M, Sasaki T, Iwata N (1996) RFLP framework map using recombinant inbred lines in rice. Breed Sci 46:279–284

Villareal CP, Hizukuri S, Juliano BO (1997) Amylopectin staling of cooked milled rice and properties of amylopectin and amylose. Cereal Chem 74(2):163–167

Wang ZY, Zheng FQ, Shen GZ, Gao JP, Snustad DP, Li MG, Zhang JL, Meng MH (1995) The amylose content in rice endosperm is related to the post-transcriptional regulation of the waxy gene. Plant J 7:613–622

Wang DL, Zhu J, Li ZK, Paterson AH (1999) Mapping QTLs with epistatic effects and QTLs environment interactions by mixed linear model approaches. Theor Appl Genet 99:1255–1264

Wu CM, Sun CQ, Chen L, Li ZC, Wang XK (2000) Study on QTL underlying amylose and Indica–Japonica differentiation using recombinant inbred lines in rice. J China Agric Univ 5(5):6–11

Xing YZ, Tan YF, Hua JP, Sun XL, Xu CG, Zhang Q (2002) Characterization of the main effects, epistatic effects and their environmental interactions of QTLs on the genetic basis of yield traits in rice. Theor Appl Genet 105:248–257

Yamamoto R, Horisue N, Ikeda R (1995) Rice breeding manual. Miscellaneous publication of the National Agriculture Research Centre in Japan, vol 30

Yamamoto T, Lin HX, Sasaki T, Yano M (2000) Identification of heading date quantitative trait locus Hd-6 and characterization of its epistatic interactions with Hd-2 in rice using advanced backcross progeny. Genetics 154:885–891

Yano M (2001) Naturally occurring allelic variations as a new resource for functional genomics in rice. Rice genetics IV. In: Khush GS, Brar DS, Hrady B (eds) Proceeding of the fourth international rice genetics symposium, 22–27 October 2000, Los Banos, pp 227–238

Yano M, Katayose Y, Ashikari M, Yamanouchi U, Monna Lisa, Fuse T, Baba T, Yamamoto K, Umehara Y, Nagamura Y, Sasaki T (2000) Hd-1, a major photoperiod sensitivity quantitative trait locus in rice, is closely related to the Arabidopsis flowering time gene CONSTANS. Plant cell 12:2473–2483

Zeng ZB (1994) Precision mapping of quantitative trait loci. Genetics 136:1457–1468

Zhang XM, Shi CH, Katsura T (2002) Correlation analysis between starch characteristics and taste quality in Japonica rice (in Chinese with English abstract). Chinese J Rice Sci 16(2):157–161

Zhu QS, Du Y, Wang ZQ, Lang YZ, Tang SZ, Yang JC, Zhang ZJ (2001) Relationship between amylose content and edible stickiness and softness of cooked rice of hybrids. Acta Agronomica Sinica 27(3):377–382 (in Chinese with English abstract)
Acknowledgements
We are very grateful for comments and suggestions on the manuscript from Professor Lihong Zhu and two anonymous reviewers. We acknowledge 24 panelists for degusting cooked rice for 3 years and Dr. Fulin Gu for helping field management. This research is supported by the grants from the National High Technology Research and Development Program of China ("863" Program, No. 2001AA241024; 2003AA222131>>2003AA207020), the National Natural Science Foundation of China (No.30270811), "948" project, the Ministry of Agriculture of PR China (No.201002 A), National Science and Technology Achievements Spreading Program (02EFN21 3200232), Jiangsu Science and Technology Development Program (BE 2001305).
Additional information
Communicated by D.J. Mackill
About this article
Cite this article
Wan, X.Y., Wan, J.M., Su, C.C. et al. QTL detection for eating quality of cooked rice in a population of chromosome segment substitution lines. Theor Appl Genet 110, 71–79 (2004). https://doi.org/10.1007/s00122-004-1744-3
Received:

Accepted:

Published:

Issue Date:

DOI: https://doi.org/10.1007/s00122-004-1744-3
Keywords