Abstract
Shoot tips of the diploid rose Thérèse Bugnet were treated in vitro to oryzalin at concentrations of 5 and 15 μM. Tetraploid shoots were obtained in highest frequencies (40%) after exposure to 5 μM oryzalin for 14 days. Thin (1 mm) nodal sections were treated with 5 μM oryzalin and the highest frequency of tetraploids (66%) was obtained after exposure for only 1 day. The shorter exposure times required to induce chromosome doubling in thin nodal sections is attributed to the more efficient delivery of oryzalin to the meristem. Tetraploids were obtained from four diploid roses and hexaploids from two triploid roses. Chromosome doubling was accompanied by increases in thickness and a darker green colouration of the leaves and, in all diploid to tetraploid and one triploid to hexaploid conversion, the breadth/length ratio of leaflets was significantly increased. Internodes were longer in tetraploids than diploids but significantly shorter in hexaploids than triploids. The number of petals per flower in the tetraploid form of Thérèse Bugnet was double that of the diploid. Significant increases in pollen viability accompanied chromosome doubling of all four diploids and one of the two triploids.
Access options
Buy single article
Instant access to the full article PDF.
USD 39.95
Price excludes VAT (USA)
Tax calculation will be finalised during checkout.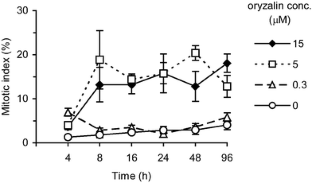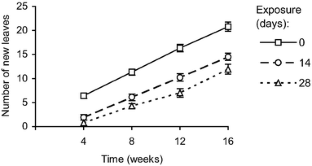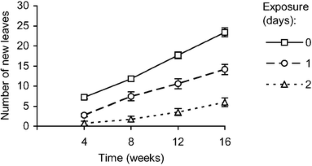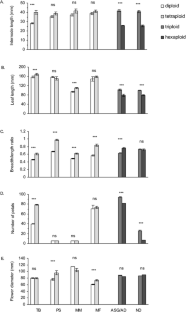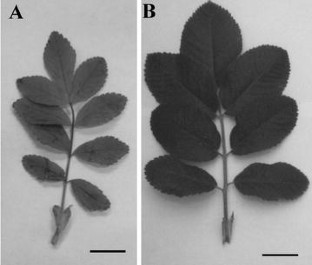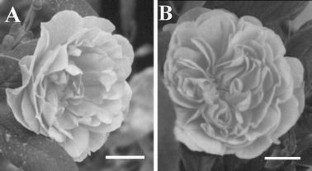 References
Basye R (1992) The future of the rose. Am Rose Annu 31:62–63

Cairns T (ed) (2000) Modern roses XI. Academic Press, London

Darlington CD, Wylie AP (1955) Chromosome atlas of flowering plants, 2nd edn Allen and Unwin, London

Dubois LAM, de Vries DP (1996) The direct regeneration of adventitious buds on leaf explants of glasshouse-grown cut rose cultivars. Acta Hortic 424:327–329

Fagerlind F (1958) Hip and seed formation in newly formed Rosa polyploids. Acta Hortic Berg 17:229–256

Horan I, Walker S, Roberts AV, Mottley J, Simpkins I (1995) Micropropagation of roses: the benefits of pruned mother-plantlets at Stage II and a greenhouse environment at Stage III. J Hortic Sci 70:799–806

Hugdahl JD, Morejohn LC (1993) Rapid and reversible high-affinity binding of the dinitroaniline herbicide oryzalin to tubulin from Zea mays L. Plant Physiol 102:725–740

Leitch IJ, Bennett MD, (1997) Polyploidy in angiosperms. Trends Plant Sci 2:470–476

Luckett DJ (1989) Colchicine mutagenesis is associated with substantial heritable variation in cotton. Euphytica 42:177–182

Ma Y, Byrne DH, Chen J (1997) Amphidiploid induction from diploid rose interspecific hybrids. Hortscience 32:292–295

Morejohn LC, Bureau TE, Molè-Bajer J, Bajer AS, Fosket DE (1987) Oryzalin, a dinitroaniline herbicide, binds to plant tubulin and inhibits microtubule polymerization in vitro. Planta 172:252–264

Roberts AV, Lloyd D, Short KC (1990) In vitro procedures for the induction of tetraploidy in a diploid rose. Euphytica 49:33–38

Semeniuk P, Arisumi T (1968) Colchicine-induced tetraploid and cytochimeral roses. Bot Gaz 129:190–193

Ueda Y (1994) Systematic studies in the genus Rosa. Techn Bull Fac Hortic, Chiba University, Japan 48:241–328

Yokoya K, Roberts AV, Lewis R, Mottley J, Brandham PE (2000) Nuclear DNA amounts in roses. Ann Bot 85:557–561
Acknowledgements
The authors acknowledge financial support from the Department of the Environment, Food and Rural Affairs, UK and David Austin Roses Ltd and thank Dr. Sara Walker for her help.
About this article
Cite this article
Kermani, M.J., Sarasan, V., Roberts, A.V. et al. Oryzalin-induced chromosome doubling in Rosa and its effect on plant morphology and pollen viability. Theor Appl Genet 107, 1195–1200 (2003). https://doi.org/10.1007/s00122-003-1374-1
Received:

Accepted:

Published:

Issue Date:

DOI: https://doi.org/10.1007/s00122-003-1374-1
Keywords
Colchicine

Root Meristem

Pollen Viability

Chromosome Doubling

Oryzalin