Abstract.
Cucurbita pepo (pumpkin, squash, gourd), an economically important species of the Cucurbitaceae, is extremely variable in fruit characteristics. The objective of the present study was to clarify genetic relationships across a broad spectrum of the C. pepo gene pool, with emphasis on domesticates, using AFLP, ISSR and SSR markers. Forty-five accessions were compared for presence or absence of 448 AFLP, 147 ISSR, and 20 SSR bands, their genetic distances (GDs) were estimated and UPGMA cluster analysis was conducted. The results obtained from these three marker systems were highly correlated (P ≪ 0.001). Clustering was in accordance with the division of C. pepo into three subspecies, fraterna, texana and pepo, with the first two less distant to one another than to the last one. Within the clusters, sub-clustering occurred in accordance with fruit shape and size. The subsp. texana cluster consisted of six sub-clusters, one each for the representatives of its five cultivar-groups (Acorn, Crookneck, Scallop, Straightneck and Ovifera Gourd) and wild gourds. Within the subsp. pepo cluster, the representatives of two cultivar-groups (Zucchini and Orange Gourd) formed distinct sub-clusters and the representatives of two other groups (Cocozelle and Vegetable Marrow) tended to sub-cluster separately from one another but formed an assemblage with the representatives of the remaining group (Pumpkin). Within-group GDs were less than corresponding between-group GDs in nearly all comparisons. The smallest-fruited accession, 'Miniature Ball', appears to occupy a genetically central position within C. pepo.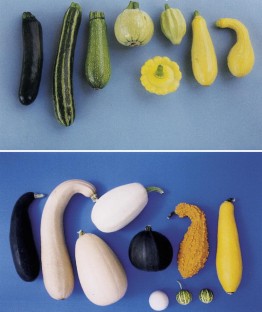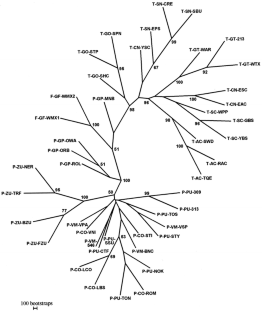 References
Andres TC (1987) Cucurbita fraterna, the closest wild relative and progenitor of C. pepo. Cucurbit Genet Coop Rep 10:69–71

Baranek M, Stift G, Vollmann J, Lelley T (2000) Genetic diversity within and between the species Cucurbita pepo, C. moschata and C. maxima as revealed by RAPD markers. Cucurbit Genet Coop Rep 23:73–77

Bradeen JM, Staub JE, Wye C, Antonise R, Peleman J (2001) Towards an expanded and integrated linkage map of cucumber (Cucumis sativus L.). Genome 44:111–119

Brown RN, Myers JR (2000) Searching for molecular markers linked to ZYMV resistance in squash. Cucurbit Genet Coop Rep 23:69–70

Buntjer JB (2000) Phylogenetic computer tools, version 1.2. Wageningen University, The Netherlands

Danin-Poleg Y, Tzuri G, Reis N, Katzir N (1998) Application of inter-SSR markers in melon (Cucumis melo L.). Cucurbit Genet Coop Rep 21:25–28

Danin-Poleg Y, Reis N, Tzuri G, Katzir N (2001) Development and characterization of microsatellite markers in Cucumis. Theor Appl Genet 102:61–72

Decker DS (1988) Origin(s), evolution, and systematics of Cucurbita pepo (Cucurbitaceae). Econ Bot 42:4–15

Decker DS, Wilson HD (1987) Allozyme variation in the Cucurbita pepo complex: C. pepo var. ovifera vs C. texana. Syst Bot 12:263–273

Decker-Walters DS, Staub JE, Chung SM, Nakata E, Quemada HD (2002) Diversity in free-living populations of Cucurbita pepo (Cucurbitaceae) as assessed by random amplified polymorphic DNA. Syst Bot 27:19–28

Duchesne AN (1786) Essai sur l'histoire naturelle des courges. Panckoucke, Paris

Felsenstein J (1993) PHYLIP (Phylogeny Inference Package), version 3.5c. Department of Genetics, University of Washington, Seattle

Ferriol M, Picó B, Nuez F (2001) Genetic variability in pumpkin (Cucurbita maxima) using RAPD markers. Cucurbit Genet Coop Rep 24:94–96

Garcia-Mas J, Oliver M, Gomez-Paniagua H, Vicente MC de (2000) Comparing AFLP, RAPD and RFLP markers for measuring genetic diversity in melon. Theor Appl Genet 101:860–864

Gwanama C, Labuschagne MT, Botha AM (2000) Analysis of genetic variation in Cucurbita moschata by random amplified polymorphic DNA (RAPD) markers. Euphytica 113:19–24

Ignart F, Weeden NF (1984) Allozyme variation in cultivars of Cucurbita pepo L. Euphytica 33:779–785

Katzir N, Danin-Poleg Y, Tzuri G, Karchi Z, Lavi U, Cregan PB (1996) Length polymorphism and homologies of microsatellites in several Cucurbitaceae species. Theor Appl Genet 93:1282–1290

Katzir N, Leshzeshen E, Tzuri G, Reis N, Danin-Poleg Y, Paris HS (1998) Relationships among accessions of Cucurbita pepo based on ISSR analysis. In: McCreight JD (ed) Proc Cucurbitaceae '98, ASHS, Alexandria, Virginia, pp 331–335

Katzir N, Tadmor Y, Tzuri G, Leshzeshen E, Mozes-Daube N, Danin-Poleg Y, Paris HS (2000) Further ISSR and preliminary SSR analysis of relationships among accessions of Cucurbita pepo. In: Katzir N, Paris HS (eds) Proc Cucurbitaceae 2000. Acta Hort 510:433–439

Mantel N (1967) The detection of disease clustering and a generalized regression approach. Cancer Res 27:209–220

Naudin C (1856) Nouvelles recherches sur les caractères spécifiques et les variétés des plantes du genre Cucurbita. Ann Sci Natur Bot IV 6:5–73

Nee M (1990) The domestication of Cucurbita (Cucurbitaceae). Econ Bot 44 (supplement):56–68

Nei M, Li WH (1979) Mathematical model for studying genetic variation in terms of restriction endonucleases. Proc Natl Acad Sci USA 76:5269–5273

Page RDM (1996) TREEVIEW: an application to display phylogenetic trees on personal computers. Comput Appl Biosci 12:357–358

Paris HS (1986) A proposed subspecific classification for Cucurbita pepo. Phytologia 61:133–138

Paris HS (1989) Historical records, origins, and development of the edible cultivar groups of Cucurbita pepo (Cucurbitaceae). Econ Bot 43:423–443

Paris HS (2000) History of the cultivar-groups of Cucurbita pepo. In: J. Janick (ed) Hort Rev 25 (2001):71–170. John Wiley, New York

Paris HS (2001) Characterization of the Cucurbita pepo collection at the Newe Ya'ar Research Center, Israel. Plant Genet Res Newslett 126:41–45

Paris HS, Nerson H (1986) Genes for intense fruit pigmentation of squash. J Hered 77:403–409

Périn C, Hagen L, Dogimont C, Conto V de, Lecomte L, Pitrat M (2000) Construction of a reference genetic map of melon. In: Katzir N, Paris HS (eds) Proc Cucurbitaceae 2000. Acta Hort 510:367–374

Powell W, Morgante M, Andre C, Hanafey M, Vogel J, Tingey S, Rafalaski A (1996) The comparison of RFLP, RAPD, AFLP and SSR (microsatellite) markers for germplasm analysis. Mol Breed 3:225–238

Sanjur OI, Piperno DR, Andres TC, Wessel-Beaver L (2002) Phylogenetic relationships among domesticated and wild species of Cucurbita (Cucurbitaceae) inferred from a mitochondrical gene: implications for crop plant evolution and areas of origin. Proc Natl Acad Sci USA 99:535–540

Schneider S, Roessli D, Excoffier L (2000) Arlequin: a software for population genetics data analysis. Ver 2.000. Genetics and Biometry Lab, Dept Anthropology, University of Geneva

Sneath PHA, Sokal RR (1973) Numerical taxonomy: the principles and practice of numerical classification. W.H. Freeman Co., San Francisco, California

Stachel M, Csanádi G, Vollmann J, Lelley T (1998) Genetic diversity in pumpkins (Cucurbita pepo L.) as revealed in inbred lines using RAPD markers. Cucurbit Genet Coop Rep 21:48–50

Staub JE, Serquen FC, Gupta M (1996) Genetic markers, map construction, and their application in plant breeding. HortScience 31:729–741

Staub JE, Danin-Poleg Y, Fazio G, Horejsi T, Reis N, Katzir N (2000) Comparative analysis of cultivated melon groups (Cucumis melo L.) using random amplified polymorphic DNA and simple sequence repeat markers. Euphytica 115:225–241

Torres Ruiz RA, Hemleben V (1991) Use of ribosomal DNA spacer probes to distinguish cultivars of Cucurbita pepo L. and other Cucurbitaceae. Euphytica 53:11–17

Vos P, Hogers R, Bleeker M, Reijans M, Lee T van de, Hornes M, Frijters A, Pot J, Peleman J, Kuiper M, Zabeau M (1995) AFLP: a new technique for DNA fingerprinting. Nucleic Acids Res 23:4407–4414

Whitaker TW, Bemis WP (1964) Evolution in the genus Cucurbita. Evolution 18:553–559

Wilson HD, Doebley J, Duvall M (1992) Chloroplast DNA diversity among wild and cultivated members of Cucurbita (Cucurbitaceae). Theor Appl Genet 84:859–865

Zietkiewicz E, Rafalski A, Labuda D (1994) Genome fingerprinting by simple sequence repeat (SSR)-anchored polymerase chain reaction amplification. Genomics 20:176–183
Acknowledgements.
For providing seed samples gratis, we thank M. Manoah, A.R.O. Volcani Center, Bet Dagan, Israel; the United States North Central Regional Plant Introduction Station, Ames, Iowa; G. Santini, S.A.I.S., Cesena, Italy; G. P. Silvestri, C.C.S.A., Fidenza, Italy; Y. Asherov, Institute of Vegetable Seed Quality, Samarqand, Uzbekistan; H. D. Wilson, Texas A& M University, College Station; L. R. Oliver, University of Arkansas, Fayetteville; T. C. Andres, Bronx, New York; and P. S. Lichtenecker, Vienna, Austria. The financial support of M. E. Seeds of Qiryat Nordau, Netanya, Israel, is gratefully acknowledged. Contribution No. 141/01 from the Institute of Field and Garden Crops, Agricultural Research Organization, Bet Dagan, Israel.
About this article
Cite this article
Paris, H.S., Yonash, N., Portnoy, V. et al. Assessment of genetic relationships in Cucurbita pepo (Cucurbitaceae) using DNA markers. Theor Appl Genet 106, 971–978 (2003). https://doi.org/10.1007/s00122-002-1157-0
Received:

Accepted:

Published:

Issue Date:
Keywords.
Pumpkin

Squash

Gourd

Diversity

Taxonomy

Genetic distance

AFLP

ISSR

SSR