Zusammenfassung
Hintergrund
Das Low- bis Intermediate-risk-NMIBC (nicht-muskelinvasives Harnblasenkarzinom) zeigt ein hohes Rezidivrisiko bei geringem bis moderatem Progressionsrisiko. Um dieses Risiko zu senken, haben sich verschiedene adjuvante Therapiemaßnahmen etabliert.
Fragestellung
Ziel der Arbeit ist es, einen Überblick zum aktuellen Stand perioperativer und adjuvanter Instillationstherapieformen beim NMIBC von niedrigem und intermediärem Risikoprofil zu geben.
Material und Methoden
Eine PubMed-basierte Recherche für den Zeitraum 2000–2021 wurde mit folgenden Schlüsselwörtern durchgeführt: "BCG, EORTC, early instillation, intermediate-risk, low-risk, mitomycin, NMIBC, recurrence". Die entsprechend Publikationen wurden weiter auf ihre klinische Relevanz hinsichtlich der Fragestellung und ihres pro-/retrospektiven Ansatzes weiter bewertet.
Ergebnisse
Der EORTC-Score (European Organization for Research and Treatment of Cancer) stellt den am häufigsten verwendeten Risikokalkulator beim NMIBC dar. Eine TURB ("transurethral resection of bladder tumor") gefolgt von einer Frühinstillation stellt den Therapiestandard für das Low-risk-NMIBC dar. Beim Intermediate-risk-NMIBC ist nach der TURB eine adjuvante Instillationstherapie über ein Jahr mit Bacillus Calmette-Guérin (BCG) oder einem Chemotherapeutikum empfohlen. Intermediate-risk-Patienten mit Rezidiv nach Chemoinstillation sollten mittels BCG im Induktions- und Erhaltungsmodus weiterbehandelt werden.
Schlussfolgerungen
Eine konsequente Rezidivprophylaxe stellt eine wesentliche Voraussetzung für eine Verringerung der Rezidivrate von Patienten mit NMIBC in der niedrigen und intermediären Risikokonstellation dar. Neue Ansätze und Wirkmechanismen, die sich derzeit in der klinischen Erprobung befinden, haben das Potenzial, dieses Risiko weiter zu reduzieren.
Abstract
Background
Low- and intermediate-risk non-muscle invasive bladder cancer (NMIBC) is characterized by a relatively high risk of recurrence and adjuvant instillation therapy is considered standard of treatment for the majority of patients.
Objectives
To provide a current and in-depth review on the role of adjuvant therapy in low-to-intermediate risk NMIBC.
Methods
A PubMed-based search focusing on specific keywords (BCG, EORTC, early instillation, intermediate-risk, low-risk, mitomycin, NMIBC, recurrence) was conducted to identify studies published between 2000 and 2021. The corresponding publications were assessed based on their clinical relevance to the question at hand and their pro/retrospective approach.
Results
The EORTC risk tables are most frequently used to determine the risk of recurrence. In low-risk NMIBC, transurethral bladder tumor resection (TURBT) followed by early instillation is considered standard of treatment. In intermediate-risk NMIBC, TUR-BT is followed by adjuvant instillations with either chemoinstillation or BCG.
Conclusions
Consequent use of adjuvant instillation therapy is necessary to reduce the risk of recurrence. New agents and modes of drug delivery (i.e. chemoablation) on the horizon have the potential to further improve outcomes.
Access options
Buy single article
Instant access to the full article PDF.
USD 39.95
Price includes VAT (USA)
Tax calculation will be finalised during checkout.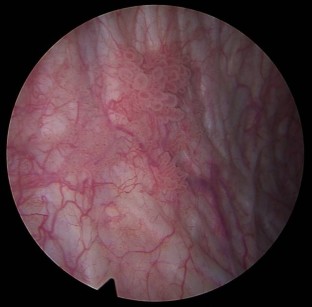 Literatur
1.

Sylvester RJ, Rodriguez O, Hernandez V, Turturica D, Bauerova L, Bruins HM et al (2021) European association of urology (EAU) prognostic factor risk groups for non-muscle-invasive bladder cancer (NMIBC) incorporating the WHO 2004/2016 and WHO 1973 classification systems for grade: an update from the EAU NMIBC guidelines panel. Eur Urol 79(4):480–488

2.

Gakis G, Kruck S, Stenzl A (2010) Can the burden of follow-up in low-grade noninvasive bladder cancer be reduced by photodynamic diagnosis, perioperative instillations, imaging, and urine markers? Curr Opin Urol 20(5):388–392

3.

Robert-Koch-Institut (2016) Krebs in Deutschland 2015/2016

4.

Sylvester RJ, van der Meijden AP, Oosterlinck W, Witjes JA, Bouffioux C, Denis L et al (2006) Predicting recurrence and progression in individual patients with stage Ta T1 bladder cancer using EORTC risk tables: a combined analysis of 2596 patients from seven EORTC trials. Eur Urol 49(3):466–465 (discussion 75–7)

5.

Gakis G, Fahmy O (2016) Systematic review and meta-analysis on the impact of hexaminolevulinate- versus white-light guided transurethral bladder tumor resection on progression in non-muscle invasive bladder cancer. Bladder Cancer 2(3):293–300

6.

Naito S, Algaba F, Babjuk M, Bryan RT, Sun YH, Valiquette L et al (2016) The clinical research office of the endourological society (CROES) multicentre randomised trial of narrow band imaging-assisted transurethral resection of bladder tumour (TURBT) versus conventional white light imaging-assisted TURBT in primary non-muscle-invasive bladder cancer patients: trial protocol and 1‑year results. Eur Urol 70(3):506–515

7.

Deutsche Krebgesellschaft (2016) S3-Leitlinie Harnblasenkarzinom (Langversion). https://www.leitlinienprogramm-onkologiede/fileadmin/user_upload/Downloads/Leitlinien/Blasenkarzinom/Version_20/LL_Harnblasenkarzinom_Langversion_20pdf. Zugegriffen: 2016

8.

Kohada Y, Hayashi T, Hsi RS, Yukihiro K, Sentani K, Goto K et al (2021) Recurrence- and progression-free survival in intermediate-risk non-muscle-invasive bladder cancer: the impact of conditional evaluation and subclassification. BJU Int 127(4):473–485

9.

Gudjonsson S, Adell L, Merdasa F, Olsson R, Larsson B, Davidsson T et al (2009) Should all patients with non-muscle-invasive bladder cancer receive early intravesical chemotherapy after transurethral resection? The results of a prospective randomised multicentre study. Eur Urol 55(4):773–780

10.

Babjuk M, Bohle A, Burger M, Capoun O, Cohen D, Comperat EM et al (2017) EAU guidelines on non-muscle-invasive urothelial carcinoma of the bladder: update 2016. Eur Urol 71(3):447–461

11.

De Nunzio C, Carbone A, Albisinni S, Alpi G, Cantiani A, Liberti M et al (2011) Long-term experience with early single mitomycin C instillations in patients with low-risk non-muscle-invasive bladder cancer: prospective, single-centre randomised trial. World J Urol 29(4):517–521

12.

Ersoy H, Yaytokgil M, Karakoyunlu AN, Topaloglu H, Sagnak L, Ozok HU (2013) Single early instillation of mitomycin C and urinary alkalinization in low-risk non-muscle-invasive bladder cancer: a preliminary study. Drug Des Devel Ther 7:1–6

13.

Tanimoto R, Saika T, Ebara S, Kobayashi Y, Nasu R, Yamada D et al (2018) Prospective randomized controlled trial of postoperative early intravesical chemotherapy with pirarubicin (THP) for solitary non-muscle invasive bladder cancer comparing single and two-time instillation. World J Urol 36(6):889–895

14.

Bohle A, Leyh H, Frei C, Kuhn M, Tschada R, Pottek T et al (2009) Single postoperative instillation of gemcitabine in patients with non-muscle-invasive transitional cell carcinoma of the bladder: a randomised, double-blind, placebo-controlled phase III multicentre study. Eur Urol 56(3):495–503

15.

Onishi T, Sugino Y, Shibahara T, Masui S, Yabana T, Sasaki T (2017) Randomized controlled study of the efficacy and safety of continuous saline bladder irrigation after transurethral resection for the treatment of non-muscle-invasive bladder cancer. BJU Int 119(2):276–282

16.

Bijalwan P, Pooleri GK, Thomas A (2017) Comparison of sterile water irrigation versus intravesical mitomycin C in preventing recurrence of nonmuscle invasive bladder cancer after transurethral resection. Indian J Urol 33(2):144–148

17.

Bosschieter J, Nieuwenhuijzen JA, van Ginkel T, Vis AN, Witte B, Newling D et al (2018) Value of an immediate intravesical instillation of mitomycin C in patients with non-muscle-invasive bladder cancer: a prospective multicentre randomised study in 2243 patients. Eur Urol 73(2):226–232

18.

Malmstrom PU, Sylvester RJ, Crawford DE, Friedrich M, Krege S, Rintala E et al (2009) An individual patient data meta-analysis of the long-term outcome of randomised studies comparing intravesical mitomycin C versus bacillus Calmette-Guerin for non-muscle-invasive bladder cancer. Eur Urol 56(2):247–256

19.

Miyata Y, Tsurusaki T, Hayashida Y, Imasato Y, Takehara K, Aoki D et al (2021) Intravesical mitomycin C (MMC) and MMC + cytosine arabinoside for non-muscle-invasive bladder cancer: a randomised clinical trial. BJU Int. https://doi.org/10.1111/bju.15571

20.

Sousa A, Inman BA, Pineiro I, Monserrat V, Perez A, Aparici V et al (2014) A clinical trial of neoadjuvant hyperthermic intravesical chemotherapy (HIVEC) for treating intermediate and high-risk non-muscle invasive bladder cancer. Int J Hyperthermia 30(3):166–170

21.

Chiancone F, Fabiano M, Carrino M, Fedelini M, Meccariello C, Fedelini P (2021) Impact of systemic inflammatory markers on the response to hyperthermic intraVEsical chemotherapy (HIVEC) in patients with non-muscle-invasive bladder cancer after bacillus Calmette-Guerin failure. Arab J Urol 19(1):86–91

22.

Mostafid AH, Porta N, Cresswell J, Griffiths TRL, Kelly JD, Penegar SR et al (2020) CALIBER: a phase II randomized feasibility trial of chemoablation with mitomycin‑C vs surgical management in low-risk non-muscle-invasive bladder cancer. BJU Int 125(6):817–826
Ethics declarations
Interessenkonflikt
G. Gakis gibt an (vergangene drei Jahre): Tätigkeiten im Advisory Board (MSD, Merck, Leo Pharma, Bayer, Astellas, Roche, BMS) und Honorartätigkeiten/Vorträge (medac, Ipsen Pharma, Erbe Elektromedizin, Roche, MSD).
Für diesen Beitrag wurden von den Autoren keine Studien an Menschen oder Tieren durchgeführt. Für die aufgeführten Studien gelten die jeweils dort angegebenen ethischen Richtlinien.
Additional information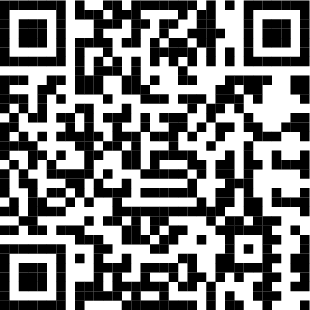 QR-Code scannen & Beitrag online lesen
About this article
Cite this article
Gakis, G. Nicht-muskelinvasives Harnblasenkarzinom (NMIBC) – Rezidivprophylaxe bei geringem und intermediärem Risiko. Urologe 60, 1391–1399 (2021). https://doi.org/10.1007/s00120-021-01680-9
Accepted:

Published:

Issue Date:
Schlüsselwörter
BCG

EORTC

Mitomycin

Instillation

Rezidiv
Keywords
BCG

EORTC

Mitomycin

Instillation

Recurrence