Zusammenfassung
In der Versorgung von Patienten mit urologischen Erkrankungen sichert die ambulante Urologie eine meist wohnortnahe Behandlung durch urologische Fachärzte und steht damit zwischen Hausarzt und urologischer Klinik. Trotz dieser wichtigen Aufgabe ist vergleichsweise wenig über Struktur und Tätigkeitsfeld dieses Sektors dokumentiert. Eine Befragung der EAU Section of Outpatient and Office Urology (ESUO; https://uroweb.org/section/esuo/) zeigt die inhaltliche und organisatorische Vielfalt dieses Sektors in Europa, in dem immerhin über 16.500 ambulante Urologen und damit etwa die Hälfte aller berufstätigen Urologen hauptberuflich arbeiten. Diese Vielfalt bezieht sich auf die diagnostischen und therapeutischen Methoden in der ambulanten Urologie und auf ihre Arbeitsbedingungen. Den Informationen aus europäischen Ländern werden Daten aus der deutschen Praxisurologie als einer Spielart der ambulanten Urologie zum Vergleich gegenübergestellt.
Abstract
In the care for patients with urological diseases, outpatient urology secures a near-to-home treatment by specialists in urology and is located between general practitioner and urological clinic. Comparably little is known about the structure and fields of work in this area of urology. A survey of the EAU Section ESUO of outpatient and office urology (https://uroweb.org/section/esuo/) shows the diversity in terms of content and organisation of this sector in Europe, in which more than 16,500 outpatient urologists and thus about half of all professional urologists work full-time. This diversity is related to the diagnostic and therapeutic methods in outpatient urology and to the working conditions of outpatient urologists. For comparison, this information about European countries is contrasted with data from the German office urology as one type of outpatient urology.
Access options
Buy single article
Instant access to the full article PDF.
USD 39.95
Price includes VAT (USA)
Tax calculation will be finalised during checkout.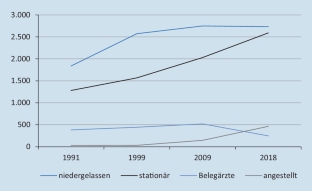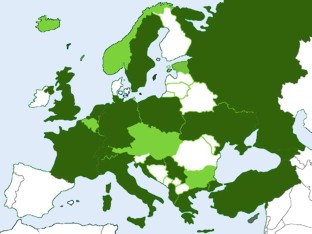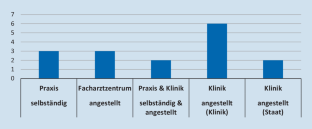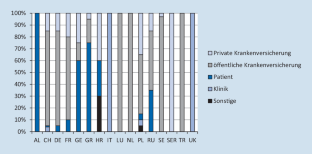 Notes
1.

Moll FH: persönliche Mitteilung
Literatur
1.

Schalkhäuser K (2009) Die belegärztliche Versorgung in Deutschland. Stellungnahme für das Institut des Bewertungsausschusses

2.

Moll F, Rathert P (2015) Neuordnung des Gesundheitswesens in beiden deutschen Staaten. In: Halling T, Moll F, Fangerau H (Hrsg) Urologie 1945–1990. Springer, Berlin, Heidelberg, S 48 https://doi.org/10.1007/978-3-662-48178-3_3

3.

Bundesärztekammer Ärztestatistik. https://www.gbebund.de/gbe/pkg_isgbe5.prc_menu_olap?p_uid=gast&p_aid=68040043&p_sprache=D&p_help=4&p_indnr=656&p_indsp=&p_ityp=H&p_fid=. Zugegriffen: 18 Apr 2021

4.

Bundesärztekammer (2019) Ärztestatistik zum 31. Dezember 2019, Bundesgebiet gesamt

5.

Zi-Praxis-Panel (2019) Jahresbericht 2018 Bd. 9. ZiPP, Berlin

6.

Gerolf H (2021) MVZ, Teilzulassung, Jobsharing: Für wen eignet sich welches Modell? Urologe A 60(3):374–376

7.

Schneider AW (2019) Das Belegarztwesen in Deutschland: Ende einer sektorenverbindenden Versorgungsform? Urologe 58:858–863. https://doi.org/10.1007/s00120-019-0971-9

8.

Haas H (2017) Recognising the potentials of office urology. Eur Urol Today 29(2):10

9.

Kiely EA (2000) The European Board of Urology survey of current urological manpower, training and practice in Europe. BJU Int 85:8–13

10.

Kiely EA (2005) An EBU manpower survey—how European urology is evolving. Eur Urol Today 17(5):23

11.

Cek M, Kiely EA (2007) Results of the EBU manpower survey on office urology. Eur Urol Today 19(5):18

12.

AUA (2019) The state of the urology workforce and practice in the United States. https://www.auanet.org/research/research-resources/aua-census/census-results. Zugegriffen: 4 Mai 2021
Danksagung
Die Autoren danken Herrn PD Dr. Friedrich H. Moll für die kritische Durchsicht des historischen Teils des Manuskripts.
Ethics declarations
Interessenkonflikt
H. Haas, J. Rassweiler, M. Wirth und M.S. Michel geben an, dass kein Interessenkonflikt besteht.
Für diesen Beitrag wurden von den Autoren keine Studien an Menschen oder Tieren durchgeführt. Für die aufgeführten Studien gelten die jeweils dort angegebenen ethischen Richtlinien.
Additional information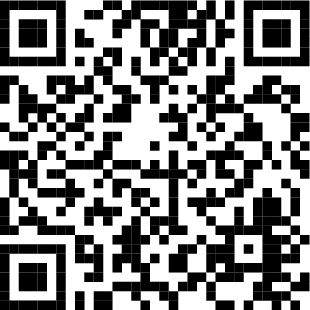 QR-Code scannen & Beitrag online lesen
About this article
Cite this article
Haas, H., Rassweiler, J., Wirth, M. et al. Ambulante Urologie in Europa. Urologe (2021). https://doi.org/10.1007/s00120-021-01658-7
Schlüsselwörter
Ambulante Urologie

Praxisurologie

Europa

Deutschland

EAU Section ESUO of outpatient and office urology

Medizinische Tätigkeiten

Arbeitsbedingungen
Keywords
Outpatient urology

Office/practice urology

Europe

Germany

EAU Section ESUO of outpatient and office urology

Medical procedures

Working conditions