Zusammenfassung
Hintergrund
Mit der Einführung des MDK-Reformgesetzes (Medizinischer Dienst des Spitzenverbands Bund der Krankenkassen) haben sich vielfache, z. T. miteinander interagierende Neuregelungen für Krankenhäuser ergeben. Ein wesentlicher Fokus der gesetzlichen Änderungen liegt dabei auf einer Erweiterung der ambulanten Leistungserbringung.
Fragestellung
Es ist davon auszugehen, dass in der Folge der Neufassung der Rahmenbedingungen und des AOP(Ambulantes Operieren)-Katalogs (ambulante Operationen) eine Ausweitung der relevanten OPS-Auflistung (Operationen- und Prozedurenschlüssel) stattfinden wird. Damit kumuliert die Zunahme von Fällen des ambulanten Potenzials mit der Überarbeitung des AOP-Katalogs und die Auswirkungen des MDK-Reformgesetzes. Lassen sich Auswirkungen und Herausforderungen für die Kliniken und insbesondere die Urologie ableiten?
Material und Methode
Amtliche Statistiken der stationären und ambulanten Leistungserbringung werden ausgewertet. Die Problematik wird anhand eines fiktiven Praxisbeispiels aus der Urologie erläutert.
Ergebnisse
Es wird eine Strategieentwicklung im Umgang mit der Verschiebung von Fällen mit ambulantem Potenzial aus dem stationären Leistungsbereich und die Erstellung unterschiedlicher Wege der Kompensation dargestellt.
Schlussfolgerungen
Die Wahl der Form der Leistungserbringung stellt sich zunehmend nicht mehr, und die kurzstationäre Abwicklung vieler urologischer Fälle gerät erheblich unter Druck. Die Reduktion unterschiedlicher Teile der stationären Erlöse für spezielle Patientengruppen muss antizipiert werden. Individuell notwendige Lösungsstrategien reichen vom schlichten Verzicht auf die Erbringung von ambulanten Leistungen bis hin zu komplexen Modellen der Kooperation. Diese Veränderung bedeutet für Krankenhäuser auch Chancen!
Abstract
Background
With the introduction of the MDK (Medizinischer Dienst der Krankenversicherung) Reform Act, there have been multiple new regulations for hospitals, some of which are confusing and interact with one another. A major focus of the legal changes is directly or indirectly on expanding the provision of outpatient services.
Objectives
It can be assumed that—as a result of the new version of the framework conditions and the AOP catalog—the relevant OPS list will be expanded in the future. With the revision of the AOP catalog and the effects of the MDK Reform Act, the number of cases with outpatient potential will increase. Can the effects and challenges for hospitals and especially urology be identified?
Methods
Evaluation of official statistics of inpatient and outpatient treatments. Focusing on the problem based on a fictitious practical example from urology.
Results
A strategy is developed for dealing with cases with outpatient potential and identification of different solutions to compensate for this shift in services and enabling an increase in performance or a deliberate reduction in the provision of services.
Conclusions
The choice of the type of service provision is increasingly no longer an issue, and the short-term inpatient treatment of many urological cases is coming under considerable pressure due to political measures such as the MDK Reform Act and the demands of health insurance companies. The reduction of different parts of the inpatient reimbursement for special patient groups must be anticipated. Individual strategies will range from simply not providing outpatient services to complex models of cooperation. This change also means opportunities for hospitals!
Access options
Buy single article
Instant access to the full article PDF.
USD 39.95
Price includes VAT (USA)
Tax calculation will be finalised during checkout.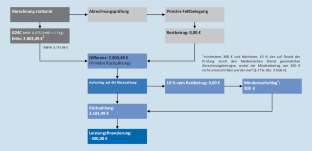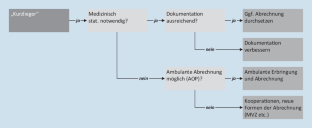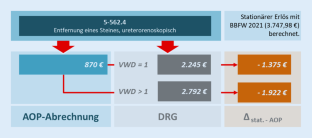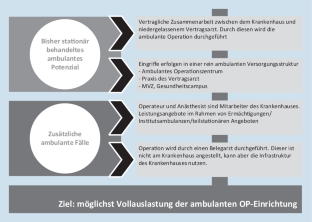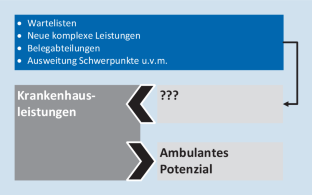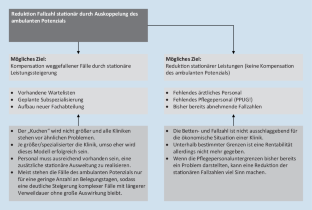 Ethics declarations
Interessenkonflikt
A. Wenke, G. Pühse, U. Tessarek und D. Franz geben an, dass kein Interessenkonflikt besteht. Der korrespondierende Autor versichert, dass keine Verbindungen mit einer Firma, deren Produkt in dem Artikel genannt ist, oder einer Firma, die ein Konkurrenzprodukt vertreibt, bestehen. Die Präsentation des Themas ist unabhängig und die Darstellung der Inhalte produktneutral.
Für diesen Beitrag wurden von den Autoren keine Studien an Menschen oder Tieren durchgeführt. Für die aufgeführten Studien gelten die jeweils dort angegebenen ethischen Richtlinien.
Additional information
QR-Code scannen & Beitrag online lesen
About this article
Cite this article
Wenke, A., Pühse, G., Tessarek, U. et al. Das MDK-Reformgesetz und seine Auswirkungen auf das ambulante Potenzial. Urologe 60, 1277–1290 (2021). https://doi.org/10.1007/s00120-021-01624-3
Accepted:

Published:

Issue Date:
Schlüsselwörter
Ambulantes Operieren

Leistungskatalog

Erkrankungsschwere

Vergütung

Ambulante Versorgung
Keywords
Outpatient surgery

Service catalog

Disease severity

Remuneration

Outpatient care