Zusammenfassung
Wir präsentieren den Fall eines 57-jährigen Patienten, bei dem sich nach transurethraler Resektion eines papillären, nicht-invasiven Urothelkarzinoms und anschließender BCG-Instillationstherapie (Bacillus Calmette-Guérin) eine Blasenfistel zum Peritoneum mit BCG-induzierter intraabdomineller Granulomatose ausgebildet hat. Die Blasenfistel konnte operativ erfolgreich saniert werden. Aufgrund des Nachweises von Mycobacterium tuberculosis-Komplex-DNA in intraoperativen Probeentnahmen sowie des histologischen Nachweises von BCG-Granulomen erfolgten eine spezifische Therapie und die Meldung an das zuständige Gesundheitsamt.
Abstract
We present the case of a 57-year-old man who developed an intraperitoneal bladder fistula with BCG-induced (bacillus Calmette–Guérin) abdominal granulomatosis after transurethral resection of a papillary non-muscle invasive bladder cancer and subsequent BCG-instillation therapy. The bladder fistula was eliminated surgically. The detection of Mycobacterium tuberculosis in the operative sample drawings as well as the histological detection of BCG-granuloma led to specific treatment and a report to the responsible health department.
Access options
Buy single article
Instant access to the full article PDF.
US$ 39.95
Tax calculation will be finalised during checkout.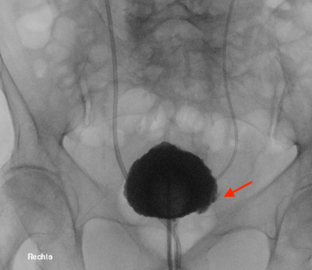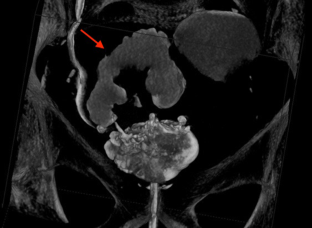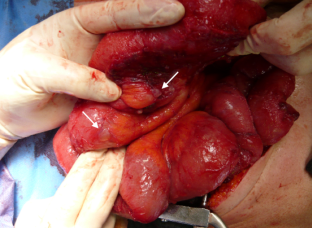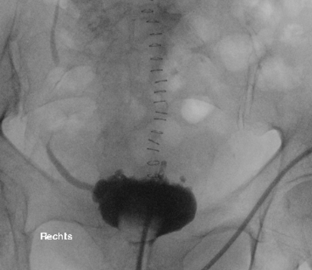 Literatur
1.

S3-Leitlinie Früherkennung, Diagnose, Therapie und Nachsorge des Harnblasenkarzinoms, Langversion 2.01, September 2019, AWMF-Registernummer: 032/038OL

2.

Kaufmann S et al (2015) Bacillus-Calmette-Guérin-Infektion (BCGitis) nach intravesikaler BCG-Instillationstherapie bei Urothelkarzinom der Harnblase. RöFo 187:623–626

3.

Koya MP et al (2006) Complications of Intravesical therapy for urothelial cancer of the bladder. J Urol 6:2004–2010

4.

Soylu A et al (2009) Peritoneal tuberculosis and granulomatous hepatitis secondary to treatment of bladder cancer with Bacillus Calmette-Guérin. Ann Clin Microbiol Antimicrob 8(12). https://doi.org/10.1186/1476-0711-8-12

5.

Shapiro A et al (2005) Diffuse granulomatous mesenteric disease caused by intravesical bacillus Calmette-Guérin instillation masquerading as peritoneal carcinomatosis. Urol Oncol Seminars Orig Investig 23:352–353

6.

Falldefinitionen des Robert-Koch-Instituts zur Übermittlung von Erkrankungs- oder Todesfällen und Nachweisen von Krankheitserregern (Ausgabe 2015)

7.

Todenhöfer T, Boegemann M (2020) Immunonkologische Therapie des Harnblasenkarzinoms – quo vadis? Update zu aktuellen Studien und weiteren Entwicklungen. Urologe 59:810–816

8.

Kramer MW, Gakis G (2020) Immunonkologische Therapieoptionen des nicht-muskelinvasiven Urothelkarzinoms. Urologe 59:784–789
Ethics declarations
Interessenkonflikt
L. Lawaczeck, A. K. Fischer, V. Norz, S. Rausch, J. Bedke, A. Stenzl und B. Amend geben an, dass kein Interessenkonflikt besteht.
Für diesen Beitrag wurden von den Autoren keine Studien an Menschen oder Tieren durchgeführt. Für die aufgeführten Studien gelten die jeweils dort angegebenen ethischen Richtlinien. Für Bildmaterial oder anderweitige Angaben innerhalb des Manuskripts, über die Patienten zu identifizieren sind, liegt von ihnen und/oder ihren gesetzlichen Vertretern eine schriftliche Einwilligung vor.
About this article
Cite this article
Lawaczeck, L., Fischer, A.K., Norz, V. et al. Intraabdominelle BCG-Granulomatose (Bacillus Calmette-Guérin) nach okkulter Blasenperforation. Urologe (2021). https://doi.org/10.1007/s00120-021-01552-2
Schlüsselwörter
Urothelkarzinom

Transurethrale Resektion der Blase

BCG-Instillationstherapie

BCGitis

Zystographie
Keywords
Urothelial carcinoma

Transurethral resection of bladder tumor

BCG-instillation

BCGitis

Cystography