Zusammenfassung
Hintergrund
Die primäre Enuresis nocturna (PNE) betrifft einen relevanten Anteil von Kindern (10–15 % bei Einschulung). Es wird ein großer Einfluss auf das psychologische Wohlbefinden und Selbstbewusstsein der betroffenen Kinder beschrieben, die Auswirkungen auf die HRQoL ("health related quality of life") sind jedoch bisher wenig untersucht. Ziel dieser Untersuchung ist es, die Lebensqualität unter Therapie mittels eines etablierten Fragebogens zu untersuchen.
Methode
Der KINDL‑R als HRQoL-Fragebogen mit 24 Items in 6 Dimensionen wurde an alle Patienten der Enuresissprechstunde (Alter 7–17 Jahre, mindestens 3 Monate Therapie, keine Trockenheit) versandt. Aus den Ambulanzdaten wurden aktuelle Einnässfrequenz und evtl. Begleiterkrankungen ermittelt.
Ergebnisse
Von 57 versandten Fragebögen kam es zu einem Rücklauf von 47 Kinder- und Elternbögen (82,5 %). Die Befragungen der Patienten zeigten keine Korrelation zwischen HRQoL und Alter, lediglich eine negative Korrelation des körperlichen Wohlbefindens mit zunehmendem Alter (r = −0,259, p < 0,05). Eine deutliche negative Korrelation (r = −0,372, p < 0,05) ergab sich zwischen Einnässfrequenz und Gesamt-HRQoL, insbesondere in den Dimensionen "Selbstwert" (r = −0,399, p < 0,005) und "chronisch-generisch" (r = −0,383, p < 0,05).
Diskussion
Die Patienten im Therapieprozess ihrer PNE ohne erreichte Trockenheit zeigten keine systematische Einschränkung der HRQoL im Vergleich zu Referenzkollektiven. Dies steht im Kontrast zu berichteten Einschränkungen von Selbstwertgefühl und HRQoL vor Therapie, wird jedoch möglicherweise durch die Korrelation dieser Dimensionen mit der Einnässfrequenz in dieser Studie und die in anderen Studien berichtete Besserung unter Therapie erklärt. Beides unterstützt die Notwendigkeit und Bedeutung einer adäquaten Therapie der PNE.
Abstract
Background
Primary nocturnal enuresis (PNE) affects a relevant proportion of children (10–15% at school entrance). While a significant impact on psychological well-being and self-esteem of children has been reported, the consequences for Health-Related Quality of Life (HRQoL) have been less addressed. The aim of this investigation is the analysis of HRQoL of PNE under therapy with an established questionnaire.
Methods
The KINDL‑R questionnaire for HRQoL with 24 items in 6 dimensions was sent to all patients of the enuresis outpatient clinic (ages 7–17 years, minimum 3 months of therapy, no achieved dryness). Actual number of wet nights and eventual comorbidities were extracted from the clinical data.
Results
Of 57 questionnaires sent by mail, 47 were returned from patients and parents (82.5%). The patient results did not show a correlation between HRQoL and age, but there was a negative correlation of physical well-being and increasing age (r = −0.259, p < 0.05). A marked negative correlation was seen between bed-wetting frequency and HRQoL (r = −0.372, p < 0.05), especially in the dimensions "self-worthiness" (r = −0.399, p < 0.005) and "chronic-generic" (r = −0.383, p < 0.05).
Discussion
During enuresis treatment without achieved dryness, the patients did not show systematic limitation in HRQoL compared to reference populations. This is in contrast to limitations in HRQoL and self-esteem before therapy, but may possibly be explained by the correlation of this dimension with bed-wetting frequency in this study and the reported improvement through treatment in other studies. Both factors support the need and importance of adequate PNE therapy.
Access options
Buy single article
Instant access to the full article PDF.
US$ 39.95
Tax calculation will be finalised during checkout.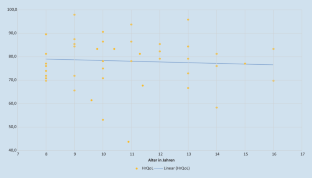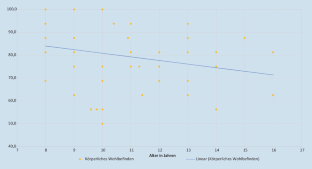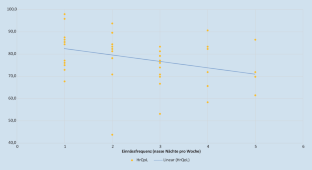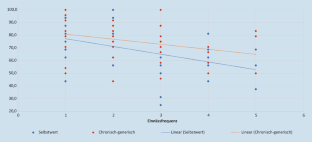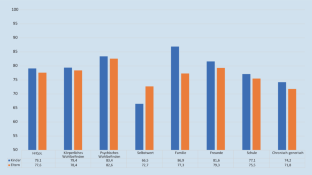 Literatur
1.

Butler RJ, Golding J, Northstone K, ALSPAC Study Team (2005) Nocturnal enuresis at 7.5 years old: prevalence and analysis of clinical signs. BJU Int 96:404–410

2.

Kajiwara M, Inoue K, Kato M, Usui A, Kurihara M, Usui T (2006) Nocturnal enuresis and overactive bladder in children: an epidemiological study. Int J Urol 13:36–41

3.

Forsythe WI, Redmond A (1974) Enuresis and spontaneous cure rate, study of 1129 enuretics. Arch Dis Child 49:259–263

4.

Neveus T (2017) Pathogenesis of enuresis: towards a new understanding. Int J Urol 24:174–182

5.

Kuwertz-Bröking E, von Gontard A (2015) Enuresis und nicht-organische (funktionelle) Harninkontinenz bei Kindern und Jugendlichen. S2k-Leitlinie 028/026 (Stand: 12/2015)

6.

Butler RJ (2001) Impact of nocturnal enuresis on children and young people. Scand J Urol Nephrol 35:169–176

7.

Moffatt MEK (1989) Nocturnal enuresis: psychologic implications of treatment and nontreatment. J Pediatr 114:697–704

8.

Butler R, Heron J (2008) An exploration of children's views on bedwetting at 9 years. Child Care Health Dev 34:65–70

9.

Moffatt MEK, Kato C, Pless IV (1987) Improvement in self-concept after treatment of nocturnal enuresis: randomized controlled trial. J Pediatr 110:647–652

10.

Hägglöf B, Andren O, Bergström E, Marklund L, Wendelius M (1997) Self-esteem before and after treatment in children with nocturnal enuresis and urinary incontinence. Scand J Urol Nephrol Suppl 183:79–82

11.

Longstaffe S, Moffatt MEK, Whalen JC (2000) Behavioural and self-concept changes after six months of enuresis treatment: a randomized controlled trial. Paediatrics 105:935–940

12.

Theunis M, Van Hoecke E, Paesbrugge S, Hoebeke P, Walle JV (2002) Self-image and performance in children with nocturnal enuresis. Eur Urol 41(6):660–667

13.

Kilicoglu AG, Mutlu C, Bahali MK, Adaletli H, Gunes H, Duman HM, Toz HI, Uneri OS (2014) Impact of enuresis nocturna on health-related quality of life in children and their mothers. J Pediatr Urol 10:1261–1266

14.

Naitoh Y, Kawauchi A, Soh J, Kamoi K, Miki T (2012) Health related quality of life for monosymptomatic enuretic children and their mothers. J Urol 188:1910–1914

15.

Ravens-Sieberer U, Görtler E, Bullinger M (2000) Subjektive Gesundheit und Gesundheitsverhalten von Kinder und Jugendlichen – Eine Befragung Hamburger Schüler im Rahmen der schulärztlichen Untersuchung. Gesundheitswesen 62:148–155

16.

Ravens-Sieberer U, Kurth B‑M, KiGGS study group, BELLA study group (2008) The mental health module (BELLA study) within the German Health Interview and Examination Survey of Children and Adolescents (KiGGS): study design and methods. Eur Child Adolesc Psychiatry 17(Suppl1):10–21

17.

Grootenhuis MA, Koopman HM, Verrips EG, Vogels AG, Last BF (2007) Health-related quality of life problems of children aged 8–11 years with a chronic disease. Dev Neurorehabil. https://doi.org/10.1080/13682820600691017

18.

Varni JW, Limbers CA, Burwinkle TM (2007) Impaired health-related quality of life in children and adolescents with chronic conditions: a comparative analysis of 10 disease clusters and 33 disease categories/severities utilizing the PedsQL™ 4.0 generic core scales. Health Qual Life Outcomes. https://doi.org/10.1186/1477-7525-5-43

19.

Ravens-Sieberer U, Gosch A, Rajmil L, Erhart M, Bruil J, Duer W, Auquier P, Power M, Abel T, Czemy L, Mazur J, Czimbalmos A, Tountas Y, Hagquist C, Kilroe J, European KIDSCREEN Group (2005) KIDSCREEN-52 quality-of-life measure for children and adolescents. Expert Rev Pharmacoecon Outcomes Res 5:353–364

20.

Silva N, Pereira M, Otto C, Ravens-Sieberer U, Canavarro MC, Bullinger M (2019) Do 8‑ to 18-year-old children/adolescents with chronic physical health conditions have worse health-related quality of life than their healthy peers? a meta-analysis of studies using the KIDSCREEN questionnaires. Qual Life Res 28:1725–1750

21.

Ravens-Sieberer U, Ellert U, Erhart M (2007) Gesundheitsbezogene Lebensqualität von Kindern und Jugendlichen in Deutschland. Bundesgesundheitsblatt Gesundheitsforschung Gesundheitsschutz 50:810–818

22.

Jönson Ring I, Nevéus T, Markström A, Arnrup K, Bazargani F (2017) Nocturnal enuresis impaired children's quality of life and friendships. Acta Paediatr 106(5):806–811
Ethics declarations
Interessenkonflikt
M.O. Klein, A. Thews und S. Schulz-Jürgensen geben an, dass kein Interessenkonflikt besteht.
Für diesen Beitrag wurden von den Autoren keine Studien an Menschen oder Tieren durchgeführt. Für die aufgeführten Studien gelten die jeweils dort angegebenen ethischen Richtlinien.
About this article
Cite this article
Klein, M.O., Thews, A. & Schulz-Jürgensen, S. Gesundheitsbezogene Lebensqualität von Kindern und Jugendlichen mit primärer Enuresis nocturna unter Therapie. Urologe (2021). https://doi.org/10.1007/s00120-021-01549-x
Schlüsselwörter
KINDL‑R

PNE

Eltern

Einnässfrequenz

Selbstwert
Keywords
KINDL‑R

PNE

Parents

Bed-wetting frequency

HRQoL