Zusammenfassung
Hintergrund
Durch wachsende gesellschaftliche Präsenz der Geschlechtsnichtkonformität und zunehmende Prävalenz des Frau-zu-Mann-(FzM-)Transsexualismus steigt auch die Notwendigkeit der Konstruktion eines optisch und funktionell befriedigenden äußeren Genitale für den Transmann.
Fragestellung
Der folgende Artikel bietet einen Überblick über Prothesentypen, operative Techniken und Outcome der prothetischen Versorgung im Rahmen der Phalloplastik beim Transmann.
Material und Methoden
Aktuelle internationale Handlungsempfehlungen, Reviews und Publikationen der letzten Jahre wurden ausgewertet und eigene Erfahrungen an über 400 FzM-Transidenten an 2 interdisziplinären Schwerpunktzentren in Frankfurt, Deutschland und London, UK, beschrieben.
Ergebnisse
Unter einer Vielzahl verwendeter Phalloplastiktechniken und Penisprothesentypen hat sich die Implantation von hydraulischen Mehrkomponentenprothesen in den Neopenis aus freiem Radialislappen als die am häufigsten angewandte Technik durchgesetzt. Unklarheit herrscht weiter bezüglich der Anzahl der beim Transmann zu implantierenden Zylinder, den Einsatz von maßgeschneiderten Prothesenumhüllungen im Sinne einer Korporoplastik und dem Implantationsort des Reservoirs. Es existiert bis dato lediglich eine speziell für den Transmann designte Penisprothese, deren Langzeitdaten noch ausstehen.
Schlussfolgerung
Es existiert noch immer keine auf die Besonderheiten der Phalloplastik zugeschnittene "Idealprothese". Auch lassen sich aus der aktuellen Literatur keine evidenzbasierten Behandlungsalgorithmen ableiten, was auch einem Mangel an prospektiven randomisierten Studien und validierten Messmethoden zum postoperativen Outcome geschuldet ist. Erste Daten einer neuen, für den Einsatz in der Phalloplastik designten Prothese und zunehmende Studien können dazu beitragen, die Behandlungs- und Lebensqualität der betroffenen Transmänner zu verbessern.
Abstract
Background
Growing awareness of gender identity issues and a rising prevalence of female-to-male transsexualism is increasing demand for surgical solutions that deliver both aesthetically and functionally satisfying outer genitalia for transmen.
Objective
This article summarizes the available prosthetic options, describes different surgical approaches and reviews the outcome of prosthetics for transmen with a focus on penile prosthesis in phalloplasty.
Methods
Current international standards of care, reviews and original publications are critically reviewed and correlated with our own experience with more than 400 transmen at two interdisciplinary referral centres in Frankfurt, Germany and London, UK.
Results
Despite of a wide range of different phalloplasty techniques and prosthetic types, the currently most used technique is implantation of a three-piece, inflatable penile prosthesis in a radial-free-flap phalloplasty. There is still an ongoing debate about the number of implanted penile prosthesis cylinders, the use of customised corporoplasty-windsocks for the cylinder(s), and the location for the placement of the reservoir. At present there is only one penile prosthesis design for use in phalloplasties and long-term results are still pending.
Conclusion
There is still no ideal implant available for the use in phalloplasties. The current literature does not provide evidence-based treatment algorithms, which is also due to a lack of prospective randomised studies and validated measurement tools for the postoperative outcome. Initial data for the first transmen-specific penile prosthesis as well as an increase of transgender studies might lead to an improvement of treatment and the quality-of-life of the affected transmen.
Access options
Buy single article
Instant access to the full article PDF.
US$ 39.95
Tax calculation will be finalised during checkout.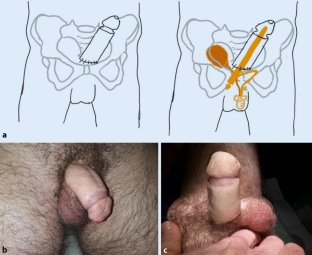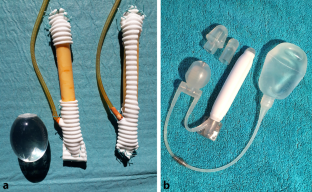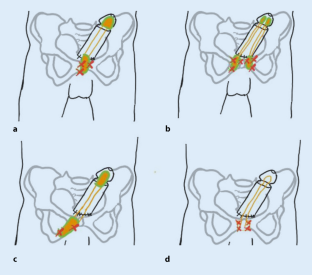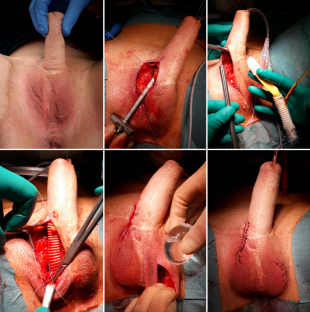 Literatur
1.

Wiepjes CM, Nota NM, de Blok CJM et al (2018) The Amsterdam cohort of gender dysphoria study (1972–2015): trends in prevalence, treatment, and regrets. J Sex Med 15:582–590

2.

Rooker SA, Vyas KS, DiFilippo E et al (2019) The rise of the neophallus: a systematic review of penile prosthetic outcomes and complications in gender—affirming surgery. J Sex Med 16:661–672

3.

Falcone M, Garaffa G, Gillo A et al (2017) Outcomes of inflatable penile prosthesis insertion in 247 patients completing female-to-male gender reassignment surgery. BJU Int 121:139–144

4.

Blecher GA, Christopher N, Ralph DJ (2019) Prosthetic placement after phalloplasty. Urol Clin North Am 46(4):591–603

5.

Jacobsson J, Andreasson M, Kölby L et al (2017) Patients priorities regarding female-to-male gender affirmation surgery of the genitalia - a pilot study of 47 patients in Sweden. J Sex Med 14:857–864

6.

Sohn M, Rieger U, Morgenstern S (2021) Operative Verfahren der Angleichung von Frau zu Mann. In: Michel MS, Thüroff JW, Janetschek G, Wirth M (Hrsg) Die Urologie, 2. Aufl. Springer, Berlin Heidelberg

7.

Hoebeke PB, Decaestecker K, Beysens M et al (2010) Erectile implants in female-to-male transsexuals: our experience in 129 patients. Eur Urol 57:334–341

8.

Kocjancic E, Jaunarena JH, Schechter L, Acar Ö (2020) Inflatable penile prosthesis implantation after gender affirming phalloplasty with radial forearm free flap. Int J Impot Res 32(1):99–106

9.

de Graaf NM, Carmichael P, Steensma D et al (2018) Evidence for a change in the sex ratio of children referred for gender dysphoria: data from the gender identity development service in London (2000–2017). J Sex Med 15:1381–1383

10.

Meyer G, Mayer M, Mondorf A, Herrmann E, Bojunga J (2020) Increasing normality-persisting barriers: current socio-demographic characteristics of 350 individuals diagnosed with gender dysphoria. Clin Endocrinol 92(3):241–246

11.

Coleman E, Bocking W, Botzer M et al (2012) Standards of care for the health of transsexual, transgender and gender-nonconfirming people, 7. Aufl. World Professional Association for Transgender Health (WPATH), , S 1–112

12.

AWMF online (2018) S3-Leitlinie "Geschlechtsinkongruenz; Geschlechtsdysphorie und Trans*Gesundheit" (AWMF-Registernummer: 138/ 001)

13.

Schechter LS, D'Arpa S, Cohen MN et al (2017) Gender confirmation surgery: guiding principles. J Sex Med 14:852–856

14.

Djordjevic ML, Stojanovic B, Biziz M (2019) Metoidoioplasty: techniques and outcomes. Transl Androl Urol 8:248–253

15.

Colebunders B, D'Arpa S, Weyers S et al (2016) Female-to-male gender reassignment surgery. In: Ettner W, Monstrey S, Coleman E (Hrsg) Principles of transgender medical and surgery. Routledge, New York, S 279–317

16.

Bogoras N (1936) Über die volle plastische Wiederherstellung eines zum Koitus fähigen Penis (Penis plastica totalis). Zentralbl Chir 63:1271–1276

17.

Exner K (1992) Penile reconstruction in female-to-male transsexualism: a new method of phalloplasty. Xth International Congress on Plastic and Reconstructive Surgery, Madrid. Plastic Surgery, S 347–351

18.

Bettocchi C, Ralph DJ, Pryor JP (2005) Pedicled pubic phalloplasty in females with gender dysphoria. BJU Int 95:120–124

19.

Terrier JE, Courtois F, Ruffion A et al (2013) Surgical outcomes and patient's satisfaction with suprapubic phalloplasty. J Sex Med 11:288–298

20.

Chang TS, Hwang WY (1984) Forearm flap in one-stage reconstruction of the penis. Plast Reconstr Surg 74:251–258

21.

Monstrey S, Hoebeke P, Selvaggi G et al (2009) Penile reconstruction: is the radial forearm flap really the standard technique? Plast Reconstr Surg 124:510–518

22.

Morrison SD, Shakir A, Vyas KS et al (2016) Phalloplasty: a review of techniques and outcomes. Plast Reconstr Surg 138:510–518

23.

Garaffa G, Ralph DJ (2016) Free flap phalloplasty for female-to-male gender dysphoria. J Sex Med 13:1942–1947

24.

Schlosshauer T, Kühn S, Djedovic G et al (2018) Geschlechtsangleichende Operationen bei Transidentität. J Ästhet Chir. https://doi.org/10.1007/s12631-018-0162-3

25.

Weyers S, Selvaggi G, Monstrey S et al (2006) Two-stage versus one-stage sex reassignment surgery in female-to-male transsexual individuals. Gynecol Surg 3:190–194

26.

Stojanovic B, Bizic M, Bencic M et al (2017) One-stage gender-confirmation surgery as a viable surgical procedure for female-to-male transsexuals. J Sex Med 14:741–746

27.

Sohn M, Rieger UM, Heß J (2017) Genitalangleichende Operation. Urologe 10:1247–1254

28.

Kocjancic E, Jaunarena JH, Schechter L et al (2020) Inflatable penile prosthesis implantation after gender affirming phalloplasty with radial forearm free flap. Int J Impot Res 32:99–106

29.

Verla W, Goedertier W, Lumen N, Spinoit AF, Waterloos M, Waterschoot M, Buncamper M, Monstrey S, Hoebeke P (2020) Implantation of the ZSI 475 FTM erectile device after phalloplasty: a prospective analysis of surgical outcomes. J Sex Med. https://doi.org/10.1016/j.jsxm.2020.11.008

30.

Neuville P, Morel-Journel N, Cabelguenne D, Ruffion A, Paparel P, Terrier JE (2019) First outcomes of the ZSI 475 FtM, a specific prosthesis designed for phalloplasty. J Sex Med 16(2):316–322

31.

Girdansky J, Newman HF (1941) Use of a vitallium testicular implant. Am J Surg 52:514

32.

Alter GJ, Gilbert DA, Schlossberg SM et al (1995) Prosthetic implantation after phallic construction. Microsurgery 16(5):322–324

33.

Brantley Scott F, Bradley WE, Timm GW (1973) Management of erectile impotence use of implantable inflatable prosthesis. Urology 2(1):80–82. https://doi.org/10.1016/0090-4295(73)90224-0

34.

Puckett CL, Montie JE (1978) Construction of male genitalia in the transsexual, using a tubed groin flap for the penis and a hydraulic inflation device. Plast Reconstr Surg 61:523–530

35.

Levine LA, Becher EF, Bella AJ, Brant WO, Kohler TS, Martinez-Salamanca JI et al (2016) Penile prosthesis surgery: current recommendations from the international consultation on sexual medicine. J Sex Med 13:489–518

36.

Hoebeke P, de Cuypere G, Ceulemans P, Monstrey S (2003) Obtaining rigidity in total phalloplasty: experience with 35 patients. J Urol 169(1):221–223

37.

Preto M, Blecher G, Timpano M, Gontero P, Falcone M (2021) The frontier of penile implants in phalloplasty: is the ZSI 475 FTM what we have been waiting for? Int J Impot Res. https://doi.org/10.1038/s41443-020-00396-2

38.

Hage JJ, Bloem JJ, Bouman FG (1993) Obtaining rigidity in the neophallus of female-to-male transsexuals: a review of the literature. Ann Plast Surg 30(4):327–333

39.

Jordan GH, Alter GJ, Gilbert DA, Horton CE, Devine CJ Jr (1994) Penile prosthesis implantation in total phalloplasty. J Urol 152(2):410–414

40.

van der Sluis W, Pigot G, Al-Tamimi M et al (2019) A retrospective cohort study on surgical outcomes of penile prosthesis Implantaion surgery in transgender men after phalloplasty. Urology 132:195–201
Ethics declarations
Interessenkonflikt
S. C. Morgenstern und M. Sohn geben an, dass kein Interessenkonflikt besteht.
Für diesen Beitrag wurden von den Autoren keine Studien an Menschen oder Tieren durchgeführt. Für die aufgeführten Studien gelten die jeweils dort angegebenen ethischen Richtlinien.
About this article
Cite this article
Morgenstern, S.C., Sohn, M. Prothetik nach Genitalaufbau bei Transmännern. Urologe (2021). https://doi.org/10.1007/s00120-021-01532-6
Schlüsselwörter
Penile Prothetik

Transsexualität

Transidentität

Geschlechtsangleichende Operation

Prothesenversagen
Keywords
Penile prosthesis

Transsexualism

Gender identity disorders

Gender reassignment surgeries

Prosthesis malfunction