Zusammenfassung
Hintergrund
Die Active Surveillance (AS) hat sich bei den dafür geeigneten Prostatakarzinomen (PCa) im Gegensatz zu Nordamerika oder Schweden bei uns noch nicht durchgesetzt. Die von der Leitlinie vorgegebenen strengen Eingangskriterien werden an den niedrigen Versorgungszahlen nichts ändern. Es gibt verschiedene Ursachen dafür, die Radikaloperation weiterhin zu präferieren. In der Konsequenz führt die PSA-Bestimmung bei der Früherkennung so zu einer hohen Zahl von Überbehandlungen.
Ziel der Arbeit
Es gilt zu prüfen, ob die heterogene Gruppe mit einem intermediären Risiko Tumoren enthält, die für eine AS in Frage kommen.
Material und Methoden
In der HAROW-Studie wurden 52 PCa-Patienten mit einem nach unterschiedlichen Kriterien definierten intermediären Risiko im Median über 85,6 Monate aktiv beobachtet. Über die onkologischen Ergebnisse wird berichtet.
Ergebnisse
Sechzehn (30 %) Patienten hatten einen Tumor der Kategorie cT2b, 21 (40 %) einen Gleason-Score 3 + 4, 7 (14 %) ≥ 3 positive Stanzbiopsien, 21 (40 %) einen PSA-Wert > 10 ng/ml und 22 (42 %) eine PSA-Dichte > 0,2 ng/ml2. Das karzinomspezifische- sowie das metastasenfreie Überleben betrugen 100 % bzw. 96 %. 34 Patienten beendeten die AS zugunsten einer invasiven Behandlung, weitere 8 Männer behielten ein nichtinvasives Vorgehen bei, indem sie in ein Watchful Waiting wechselten.
Schlussfolgerung
In der Literatur gibt es Bemühungen, die Kriterien für Patienten der intermediären Gruppe dahingehend zu prüfen, ob diese aktiv überwacht werden können. Die cT2-Kategorie könnte zusammengefasst werden. Den Gleason-4-Anteil gilt es zu quantifizieren, weil er über die Prognose entscheidet.
Abstract
Background
In contrast to North America or Sweden, active surveillance (AS) has not yet become established in our country for suitable prostate carcinomas (PCa). The strict entry criteria specified by the guideline are not likely to improve the acceptance in the near future. In early detection, prostate-specific antigen (PSA) testing leads to high numbers of overtreatment. There are various reasons for the continued preference for radical surgery.
Objectives
The goal is to examine whether the heterogeneous group with intermediate-risk PCa contains tumors that may be eligible for AS.
Materials and methods
In the HAROW trial, 52 AS patients with differently defined intermediate-risk PCa were followed for a median of 85.6 months. Oncologic outcomes are reported.
Results
Sixteen (30%) patients had a tumor of cT2b category, 21 (40%) had a Gleason score 3 + 4, 7 (14%) had ≥3 positive biopsy cores, 21 (40%) had a PSA >10 ng/ml, and 22 (42%) had a PSA density >0.2 ng/ml2. Carcinoma-specific and metastasis-free survival were 100% and 96%, respectively. Thirty four patients discontinued AS in favor of invasive treatment, and an additional eight men maintained a noninvasive approach by switching to watchful waiting.
Conclusions
Efforts are under way to specify the criteria for patients with intermediate-risk PCa who may be eligible for AS. Tumors of cT2 category could be grouped together. The Gleason 4 fraction needs to be quantified because it determines the prognosis.
Access options
Buy single article
Instant access to the full article PDF.
US$ 39.95
Tax calculation will be finalised during checkout.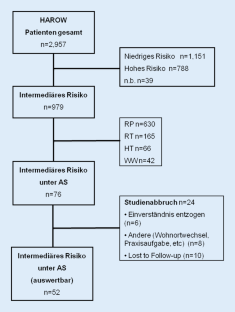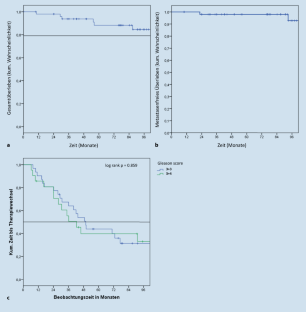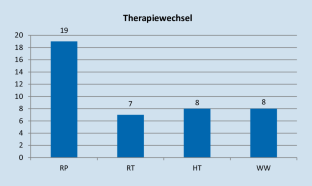 Literatur
1.

Choo R, Klotz L, Danjoux C et al (2002) Feasibility study: watchful waiting for localized low to intermediate grade prostate carcinoma with selective delayed intervention based on prostate specific antigen, histological and/or clinical progression. J Urol 167(4):1664–1669

2.

DKG Kennzahlenauswertung (2020) Jahresbericht der zertifizierten Prostatakrebszentren Auditjahr 2019/Kennzahlenjahr 2018

3.

Dall'Era MA, Albertsen PC, Bangma C et al (2012) Active surveillance for prostate cancer: a systematic review of the literature. Eur Urol 62(6):976–983

4.

Thomsen FB, Brasso K, Klotz LH et al (2014) Active surveillance for clinically localized prostate cancer—A systematic review. J Surg Oncol 109(8):830–835

5.

Loeb S, Folkvaljon Y, Curnyn C et al (2017) Uptake of active surveillance for very-low-risk prostate cancer in Sweden. JAMA Oncol 3(10):1393–1398

6.

Cooperberg MR, Carroll PR (2015) Trends in management for patients with localized prostate cancer, 1990-2013. JAMA 314(1):80–82. https://doi.org/10.1001/jama.2015.6036/j.eururo.2014.08.024

7.

Womble PR, Montie JE, Ye Z et al (2015) Contemporary use of initial active surveillance among men in Michigan with low-risk prostate cancer. Eur Urol 67(1):44–50

8.

Guy D, Ghanem G, Loblaw A et al (2016) Diagnosis, referral, and primary treatment decisions in newly diagnosed prostate cancer patients in a multidisciplinary diagnostic assessment program. Can Urol Assoc J 10(3-4):120–125

9.

Vickers AJ, Cronin AM, Roobol MJ et al (2010) The relationship between prostate-specific antigen and prostate cancer risk: the prostate biopsy collaborative group. Clin Cancer Res 16(17):4374–4381

10.

Overland MR, Washington SL 3rd, Carroll PR et al (2019) Active surveillance for intermediate-risk prostate cancer: yes, but for whom? Curr Opin Urol 29(6):605–611

11.

Enikeev D, Morozov A, Taratkin M et al (2020) Active surveillance for intermediate-risk prostate cancer: Systematic review and meta-analysis of current protocols and outcomes. Clin Genitourin Cancer 18(6):e739–e753

12.

Godtman RA, Holmberg E, Khatami A et al (2016) Long-term results of active surveillance in the Göteborg randomized, population-based prostate cancer screening trial. Eur Urol 70(5):760–766

13.

Musunuru HB, Yamamoto T, Klotz L et al (2016) Active surveillance for intermediate risk prostate cancer: survival outcomes in the sunnybrook experience. J Urol 196(6):1651–1658

14.

Heidenreich A, Aus G, Bolla M et al (2008) EAU guidelines on prostate cancer. Eur Urol 53:68–80

15.

Van den Bergh RC, Roemeling S, Roobol MJ et al (2007) Prospective validation of active surveillance in prostate cancer: the PRIAS study. Eur Urol 52:1560–1563

16.

Charlson ME, Pompei P, Ales KL et al (1987) A new method of classifying prognostic comorbidity in longitudinal studies: development and validation. J Chronic Dis 40:373–383

17.

Herden J, Ansmann L, Ernstmann N et al (2016) The treatment of localized prostate cancer in everyday practice in Germany. Dtsch Arztebl Int 113:329–336

18.

DESTATIS (2020) Fallpauschalenbezogene Krankenhausstatistik Operationen und Prozeduren 2019. https://www.destatis.de/DE/Themen/Gesellschaft-Umwelt/Gesundheit/Krankenhaeuser/Publikationen/Downloads-Krankenhaeuser/operationen-prozeduren-5231401197014.pdf?__blob=publicationFile. Zugegriffen: 10. Jan. 2021

19.

Kendel F, Otto I, Engler J, Schrader M, Holmberg C (2018) Leben mit einem lokal begrenzten Prostatakarzinom – Entscheidungsfindung und Krankheitsverarbeitung. Psychother Psychosom Med Psychol 68(11):462–469

20.

Kendel F, Helbig L, Neumann K et al (2016) Patients' perceptions of mortality risk for localized prostate cancer vary markedly depending on their treatment strategy. Int J Cancer 139(4):749–753

21.

Leitlinienprogramm Onkologie (2019) Leitlinie Prostatakarzinom. http://www.leitlinienprogramm-onkologie.de/leitlinien/prostatakarzinom/.Zugegriffen. Zugegriffen: 10. Jan. 2021

22.

https://www.prias-project.org/uploads/pdfs/20201026_C1.ProtocolVersie6.0.pdf. Zugegriffen: 10. März 2021

23.

Nyame YA, Almassi N, Haywood SC et al (2017) Intermediate-term outcomes of men with very low/low and intermediate/high risk prostate cancer managed by active surveillance. J Urol 198(3):591–599

24.

Herden J, Heidenreich A, Weißbach L (2016) TNM-Klassifikation des lokalisierten Prostatakarzinoms: Die cT-Kategorie entspricht nicht ihren klinischen Erfordernissen. Urologe A 55(12):1564–1572

25.

Mohler JL, Antonarakis ES, Armstrong AJ et al (2019) Prostate cancer, version 2.2019, NCCN clinical practice guidelines in oncology. J Natl Compr Canc Netw 17:479–505

26.

Masic S, Janet E, Cowan JE, Samuel L, Washington SL et al (2018) Effects of initial Gleason grade on outcomes during active surveillance for prostate cancer. Eur Urol Oncol 1(5):386–394

27.

Sauter G, Steurer S, Clauditz TS et al (2015) Clinical utility of quantitative Gleason grading in prostate biopsies and prostatectomy specimens. Eur Urol 69(4):592–598

28.

Maggi M, Cowan JE, Fasulo V et al (2020) The long-term risks of metastases in men on active surveillance for early stage prostate cancer. J Urol 204:1222–1228

29.

Klotz L (2020) Active surveillance in intermediate-risk prostate cancer. BJU Int 125(3):346–354

30.

Mottet N, Bellmunt J, Bolla M et al (2017) EAU-ESTRO-SIOG guidelines on prostate cancer. Part 1: screening, diagnosis, and local treatment with curative intent. Eur Urol 71:618–629

31.

Verbeek JFM, Roobol MJ, Steyerberg EW (2020) Risk-based selection for active surveillance. In: Klotz L (Hrsg) Active surveillance for localized prostate cancer—a new paradigm for clinical management. Humana Press, , S 53–64

32.

Jones C, Fam MM, Davies BJ (2018) Expanded criteria for active surveillance in prostate cancer: a review of the current data. Transl Androl Urol 7(2):221–227

33.

Baunacke M, Schmidt ML, Groeben C et al (2020) Decision regret after radical prostatectomy does not depend on surgical approach: 6‑year follow up of a large German cohort undergoing routine care. J Urol 203:554–561

34.

Hamdy FC, Donovan JL, Lane JA et al (2016) 10-year outcomes after monitoring, surgery, or radiotherapy for localized prostate cancer. N Engl J Med 375:1415–1424

35.

Bokhorst LP, Valdagni R, Rannikko A et al (2016) A decade of active surveillance in the PRIAS study: an update and evaluation of the criteria used to recommend a switch to active treatment. Eur Urol 70:954–960

36.

Savdie R, Aning J, So AI, et al (2017) Identifying intermediate-risk candidates foractive surveillance of prostate cancer. Urol Oncol 35:605.e1–605.e8

37.

Thomsen FB, Jakobsen H, Langkilde NC, et al (2019) Active surveillance for localizedprostate cancer: nationwide observational study. J Urol 201:520–527
Förderung
Die HAROW-Studie wurde von der Stiftung Männergesundheit initiiert und durchgeführt; sie wurde von Gazprom Germania finanziell unterstützt.
Ethics declarations
Interessenkonflikt
L. Weißbach wurde eine Studienunterstützung (Drittmittel) von der Firma Gazprom Germania zuteil. E.A. Boedefeld undJ. Herden geben an, dass kein Interessenkonflikt besteht.
Alle beschriebenen Untersuchungen am Menschen oder an menschlichem Gewebe wurden mit Zustimmung der Ethik-Kommission der Bayrischen Landesärztekammer, im Einklang mit nationalem Recht sowie gemäß der Deklaration von Helsinki von 1975 (in der aktuellen, überarbeiteten Fassung) durchgeführt. Von allen beteiligten Patienten liegt eine Einverständniserklärung vor.
About this article
Cite this article
Weißbach, L., Boedefeld, E.A. & Herden, J. Active Surveillance – viel Sicherheit, wenig Rekrutierung. Urologe (2021). https://doi.org/10.1007/s00120-021-01525-5
Schlüsselwörter
Prostatakarzinom

Versorgungsforschung

PSA-Bestimmung

HAROW-Studie

Übertherapie
Keywords
Prostate cancer

Health service research

Prostate-specific antigen detection

HAROW trial

Overtreatment