Zusammenfassung
Hintergrund
Die Zunahme der Prävalenz an Geschlechtsinkongruenz erfordert eine Standortbestimmung zur Phallusplastik bei Frau-zu-Mann(FzM)-Transidenten.
Fragestellung
Der folgende Artikel bietet einen Überblick über die aktuellen Verfahren der Phallusplastik und Urethraplastik, der Prothetik sowie deren Komplikationsmöglichkeiten.
Material und Methode
Aktuelle internationale Reviews sowie Publikationen der letzten 10 Jahre wurden ausgewertet und eigene Erfahrungen an einem interdisziplinären Schwerpunktzentrum der letzten 25 Jahre an ca. 350 FzM-Transidenten beschrieben.
Ergebnisse
Freie Radialisunterarmlappen stellen die häufigste Lappentechnik zur Phallusplastik dar, gefolgt von anterolateralen Oberschenkellappen (ALT-Flaps), gestielt oder mikrochirurgisch transplantiert. Bevorzugt werden hydraulische Mehrkomponentenprothesen, ergänzend können Zusatzeingriffe wie Skrotum- oder Glansplastiken sinnvoll und/oder erforderlich werden. Die Komplikationsmöglichkeiten nach Phallusplastik und späterer prothetischer Versorgung sind erheblich. Trotzdem liegen die Zufriedenheitsraten nach Phallusplastik häufig bei >80 %.
Schlussfolgerung
Aufgrund der Prävalenzzunahme besteht aktuell ein Bedarf an interdisziplinären Zentren zur operativen Therapie der Geschlechtsinkongruenz. Eine gewisse Standardisierung der operativen Techniken und des Timing wäre wünschenswert, ist jedoch aus dem Stand der gegenwärtigen Fachliteratur nicht abzuleiten. Die jüngst unter der Schirmherrschaft der deutschen Gesellschaft für Urologie und der Gesellschaft für Plastische- und Wiederherstellungschirurgie gegründete S2K-Leitlinienkommission zur operativen Therapie der Geschlechtsinkongruenz lässt eine erste Sammlung von Empfehlungen für das Jahr 2021 erhoffen.
Abstract
Background
The increasing prevalence of gender dysphoria necessitates an evaluation of the literature of phalloplasty techniques for female to male transgender individuals.
Objective
The following article provides an overview of the current surgical concepts and complications of phalloplasty, associated urethrogenitoplasty and the implantation of prostheses in phalloplasty.
Material and methods
Current international reviews and original publications from 2010 to 2020 were reviewed and correlated with our referral center experience with more than 350 female to male transgender patients over the last 25 years.
Results
Free radial forearm flap phalloplasty is the most widely used technique, followed by an anterolateral thigh flap (ALT flap) and pedicled or microsurgical transplantation. Hydraulic multicomponent prostheses are given preference and supplementary surgical techniques, such as scrotoplasty and glans sculpturing can make sense or be necessary. The complication rates after phalloplasty and after insertion of penile prostheses are substantial. Nevertheless, the overall patient reported satisfaction rate in the majority of studies is often over 80%.
Conclusion
Due to the increasing prevalence of gender dysphoria there is currently a need for interdisciplinary referral centers for gender reassignment surgery. A certain standardization of surgical techniques and timing would be desirable but a review of the current literature shows a high heterogeneity so that this cannot be derived from the currently available literature. It is hoped that the recently founded S2K guideline committee on operative treatment of gender dysphoria under the auspices of the German Society for Urology and the Society for Plastic and Reconstructive Surgery can report an initial collection of experiences in 2021.
This is a preview of subscription content, log in to check access.
Access options
Buy single article
Instant access to the full article PDF.
US$ 39.95
Price includes VAT for USA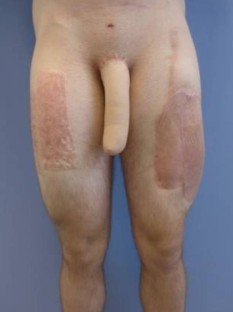 Literatur
1.

Al-Tamimi M, Pigot GL, Roukes B et al (2020) The first experience of using the pedicled labia minora flap for urethral lengthening in transgender men undergoing anterolateral thigh and superficial circumflex Iliac artery perforator flap Phalloplasty: a multicenter study on clinical outcomes. Urology 138:179–187

2.

Ascha M, Massie J, Morrison SD et al (2018) Outcomes of single stage phalloplasty by pedicled anterolateral thigh flap versus radial forearm free flap in gender confirming surgery. J Urol 199:206–213

3.

Bettocchi C, Ralph DJ, Pryor JP (2005) Pedicled pubic phalloplasty in females with gender dysphoria. BJU Int 95:120–124

4.

Bogliolo S, Cassani C, Babilouti L et al (2014) Robotic single-site surgery for female-to-male transsexuals: preliminary experience. Sci World J. https://doi.org/10.1155/2014/674579

5.

Bogoras N (1936) Über die volle plastische Wiederherstellung eines zum Koitus fähigen Penis (Penis plastica totalis). Zentralbl Chir 63:1271–1276

6.

Chang TS, Hwang Wy (1984) Forearm flap in one-stage reconstruction of the penis. Plast Reconstr Surg 74:251–258

7.

Colebunders B, D'Arpa S, Weyers S et al (2016) Female-to-male gender reassignment surgery. In: Ettner W, Monstrey S, Coleman E (Hrsg) Principles of transgender medical and surgery. Routledge, New York, S 279–317

8.

Dabernig J, Chan L, Schaff J (2006) Phalloplasty with free fibular flap sine fibula. J Urol 176:2085–2088

9.

Dabernig J, Schumacher O, Lenz C et al (2007) Modernes Behandlungskonzept bei Frau-zu Mann Transsexualismus. Urologe 6:656–661

10.

D'Arpa S, Claes K, Lumen N et al (2019) Urethral reconstruction in anterolateral thigh flap phalloplasty: a 93-case experience. Plast Reconstr Surgery 143:382–392

11.

Doornaert M, Hoebeke P, Ceulemans P et al (2011) Penile reconstruction with the radial forearm flap: an update. Handchir Mikrochir Plast Chir 43:208–2014

12.

Exner K (1992) Penile reconstruction in female-to-male transsexualism: a new method of phalloplasty. Xth International Congress on Plastic and Reconstructive Surgery, Madrid

13.

Falcone M, Garaffa G, Gillo A et al (2017) Outcomes of inflatable penile prosthesis insertion in 247 patients completing female-to-male gender reassignment surgery. BJU Int 121:139–144

14.

Garaffa G, Christopher N, Ralph DJ (2010) Total phallic reconstruction in female-to-male transsexuals. Eur Urol 57:715–722

15.

Garaffa G, Raheem AA, Ralph DJ (2011) An update on penile reconstruction. Asian J Androl 13:391–394

16.

Garaffa G, Ralph DJ (2016) Free flap phalloplasty for female-to-Male gender dysphoria. J Sex Med 13:1942–1947

17.

Garcia M, Christopher N, De Luca F et al (2014) Overall satisfaction, sexual function and the durability of neophallus dimensions following staged female-to-male genital gender confirming surgery: the institute of urology, London UK experience. Transl Androl Urol 3:156–162

18.

Gottlieb LJ, Levine LA (1993) A new design for the radial forearm free-flap phallic construcion. Plast Reconstr Surg 92:276–283

19.

Hoebeke PB, Decaestecker K, Beysens M et al (2010) Erectile implants in female-to-male transsexuals: our experience in 129 patients. Eur Urol 57:334–341

20.

Küntscher MV, Hartmann B (2011) Die Radialisphalloplastik mit präformierter Harnröhre- ein Erfahrungsbericht der letzten 6 Jahre. Handchir Mikrochir Plast Chir 43:222–226

21.

Küenzlen L, Nasim S, van Neerven S et al (2020) Multimodal evaluation of functional nerve regeneration in transgender individuals after phalloplasty with a free radial forearm flap. J Sex Med 17:1012–1024

22.

Massie JP, Morrison SD, Wilson SG et al (2017) Phalloplasty with urethral lengthening: addition of a vascularized bulbospongiosus flap from vaginectomy reduces postoperative urethral complications. Plast Reconstr Surg 140:551–558

23.

Monstrey S, Hoebeke P, Salvaggi G et al (2009) Penile reconstruction: is the radial forearm flap really the standard technique? Plast Reconstr Surg 124:510–518

24.

Morrison SD, Shakir A, Vyas et al (2016) Phalloplasty: a review of techniques and outcomes. Plast Reconstr Surg 138:510–518

25.

Nassiri N, Maas M, Basin M et al (2020) Urethral complications after gender reassignment surgery: a systematic review. IJIR Sex Med J. https://doi.org/10.1038/s41443-020-0304-y

26.

Neuville P, Morel-Journel N, Cabelgueme D et al (2019) First outcomes of the ZSI 475 F+M, a specific prosthesis designed for phalloplasty. J Sex Med 16:316–322

27.

Neuville P, Morel-Journel N, Maucourt-Boulch et al (2016) Surgical outcomes of erectile implants after phalloplasty retrospective analysis of 95 procedures. J Sex Med 13:1758–1764

28.

Ngaage LM, Elegbede A, Sugarucu J et al (2019) The baltimore criteria for an ethical approach to penile transplantation. Transpl Int. https://doi.org/10.1111/tri.13545

29.

Nikkels C, van Trotsenberg M, Huirne J et al (2019) Vaginal colpectomy in transgender men: a retrospective cohort study on surgical procedure and outcomes. J Sex Med 16:924–933

30.

Namba Y, Watanabe T, Kuniata Y (2019) Flap combination phalloplasty in female-to-male transsexuals. J Sex Med 16:934–341

31.

Rammo R, Vesely J, Hyza P et al (2007) Neo-phalloplasty with re-innervated latissimus dorsi free flap: a functional study of a novel technique. Acta Chir Plast 49:3–7

32.

Redett RJ 3rd, Etra JW, Brandacher G et al (2019) Total penis, scrotum and lower abdominal wall transplantation. N Engl J Med 381:1976–1878

33.

Rooker SA, Vyas KS, Di Filippo E et al (2019) The rise of the neophallus: a systematic review of penile prosthetic outcomes and complications in gender—affirming surgery. J Sex Med 16:661–672

34.

Sadove RC, Sengezer M, Mc RJW et al (1993) One-stage total penile reconstruction with a free sensate osteocutaneous fibula flap. Plast Reconstr Surg 92:1314–1325

35.

Schechter LS, D'Arpa S, Cohen MN et al (2017) Gender confirmation surgery: guiding principles. J Sex Med 14:852–856

36.

Schlosshauer T, Kühn S, Djedovic G et al (2018) Geschlechtsangleichende Operationen bei Transidentität. J Ästht Chir. https://doi.org/10.1007/s12631-018-0162-3

37.

Scholten MM, Grundenthaler R, Küntscher MV (2013) Variety of the radial forearm phalloplasty with respect to urethral construction—a review. Handchir Mikrochir Plast Chir 45:211–216

38.

Selvaggi G, Hoebeke P, Ceulemans P et al (2009) Scrotal reconstruction in female-to-male transsexuals: a novel scrotoplasty. Plast Reconstr Surg 123:1710–1718

39.

Sinove Y, Kyriopoulos E, Ceulemans P et al (2013) Preoperative planning of a pedicled anterolateral thigh (ALT) flap for penile reconstruction with the multidetector CT scan. Handchir Mikrochir Plast Chir 45:217–222

40.

Sohn M, Rieger UM, Heß J (2017) Genitalangleichende Operation. Urologe 10:1247–1254

41.

Stojanovic B, Bizic M, Bencic M et al (2017) One-stage gender-confirmation surgery as a viable surgical procedure for female-to-male transsexuals. J Sex Med 14:741–746

42.

Terrier JE, Courtois F, Ruffion A et al (2013) Surgical outcomes and patient's satisfaction with suprapubic phalloplasty. J Sex Med 11:288–298

43.

Van der Sluis W, Pigot G, Al-Tamimi M et al (2019) A retrospective cohort study on surgical outcomes of penile prosthesis Implantaion surgery in transgender men after phalloplasty. Urology 132:195–201

44.

Veerman H, de Rooig FP, al Tamimi M et al (2020) Functional outcomes and urological complications after genital gender affirming surgery with urethral lengthening in transgender men. J Urol 204:104–109

45.

Weyers S, Selvaggi G, Monstrey S et al (2006) Two-stage versus one-stage sex reassignment surgery in female-to-male transsexual individuals. Gynecol Surg 3:190–194

46.

Wiepjes CM, Nota NM, deBlok CJM et al (2018) The Amsterdam cohort of gender dysphoria study (1972–2015): trends in prevalence, treatment and regrets. J Sex Med 15:582–590

47.

Yao A, Ingargiola MJ, Lopez CD et al (2018) Total penile reconstruction: a systematic review. J Plast Reconstr Surg. https://doi.org/10.1016/j.bjps.2018.02.002
Ethics declarations
Interessenkonflikt
M. Sohn, U. Rieger und S. Morgenstern geben an, dass kein Interessenkonflikt besteht.
Für diesen Beitrag wurden von den Autoren keine Studien an Menschen oder Tieren durchgeführt.
About this article
Cite this article
Sohn, M., Rieger, U. & Morgenstern, S. Geschlechtsangleichung von Frau zu Mann. Urologe (2020). https://doi.org/10.1007/s00120-020-01328-0
Schlüsselwörter
Harnröhrenrekonstruktion

Penile Prothetik

Geschlechtsangleichende Operation

Lappenplastiken

Hysterektomie
Keywords
Urethral reconstruction

Penile prosthesis

Sex reassignment surgery

Free flaps

Hysterectomy