Zusammenfassung
Hintergrund
Die "Post-Ureteroscopic Lesion Scale" (PULS) wurde als eine Klassifikation zur Standardisierung der iatrogenen Harnleiterläsionen während der Ureterorenoskopie (URS) vorgestellt. Mit der vorliegenden Studie sollen die praktische Anwendung und der mögliche klinische Nutzen des PULS-Scores an einem repräsentativen Patientenkollektiv überprüft werden.
Material und Methode
Im Rahmen der prospektiven BUSTER-Studie (Bewertung der ureterorenoskopischen Steintherapie – Ergebnisse hinsichtlich Komplikationen, Lebensqualität und Steinfreiheitsrate) konnten Daten von 307 Patienten aus 14 deutschen Kliniken aufgezeichnet werden. Für die hier vorgestellte Arbeit wurden drei Studienhypothesen (H) überprüft: Es besteht eine hohe Übereinstimmung der unabhängig zu einander erfolgten PULS-Graduierungen von Operateur und Pflegeassistenzpersonal (H1), es gibt eine positive Korrelation der PULS-Grade mit der postoperativen Komplikationsdichte während des stationären Aufenthalts (H2), es liegt eine signifikante Übereinstimmung des postinterventionellen Harnleiterstentings mit den verursachten PULS-Graden vor (H3).
Ergebnisse
Das mediane Alter der Studienpatienten lag bei 54,4 ("interquartile range" [IQR] 44,4–65,84) Jahren; 65,5 % der Patienten waren männlichen Geschlechts. Die mediane Steingröße des Indexkonkrements betrug 6 (IQR, 4–8) mm, wobei 117 (38,4 %) und 188 (61,6 %) der Indexkonkremente in der Niere bzw. im Harnleiter lagen. 70 und 82,4 % erhielten ein präoperatives bzw. postoperatives Harnleiterstenting. 68,7 % der Studienpatienten waren nach einer URS komplett steinfrei, die Komplikationsrate betrug 10,8 % (dominant Grad 1 oder 2 nach Clavien-Dindo). Die PULS-Grade 0, 1, 2 und 3 nach Einschätzung des Operateurs lagen bei 40 %, 52,1 %, 6,9 % bzw. 1 %. Es bestand eine hohe Interobserver-Übereinstimmung der erfolgten Pulsgraduierungen zwischen Operateur und Pflegeassistenzpersonal (κ = 0,883, p < 0,001; H1+). Eine signifikante Korrelation zwischen dem PULS-Grad und den aufgezeichneten Komplikationen konnte nicht gefunden werden (ρ = 0,09, p = 0,881; H2−). Es bestand hingegen eine signifikante positive Korrelation zwischen dem PULS-Grad und der postoperativen Einlage eines Harnleiterstents (ρ = 0,287, p < 0,001; H3+), wobei hier beispielsweise ein PULS-Grad 1 (im Vergleich zu PULS-Grad 0) die Wahrscheinlichkeit um den Faktor 3,24 erhöhte (95 %-Konfidenzintervall 1,43–7,34, p = 0,005).
Schlussfolgerung
Die URS ist in der täglichen Routine ein sicheres und effektives Verfahren zur Behandlung von Konkrementen des oberen Harntrakts. Die vorliegenden "Real-world-Daten" bestätigen die hohe Interrater-Reliabilität des PULS-Scores und dessen potentiellen Anwendernutzen hinsichtlich der Indikationsstellung zur postoperativen Harnleiterschienung. Auf der Basis des PULS-Scores sollte jetzt eine prospektiv-randomisierte Studie prüfen, inwieweit die Standardisierung einer postoperativen Harnleiterstenteinlage erfolgen kann.
Abstract
Background
The Post-ureteroscopic Lesion Scale (PULS) was designed as a standardized classification system for ureteral lesions after uretero(reno)scopy (URS). This study evaluates its routine use and a possible clinical impact based on a representative patient cohort.
Materials and methods
Data of 307 patients in 14 German centers within the BUSTER project were used to test 3 hypotheses (H): PULS score shows a high interrater reliability (IRR) after independent assessment by urologic surgeon and assistance personnel (H1); PULS score is correlated with the frequency of postoperative complications during hospital stay (H2); post-URS stenting of the ureter is associated with higher PULS scores (H3).
Results
Median age of patients was 54.4 years (interquartile range [IQR] 44.4–65.8; 65.5% male). Median diameter of index stones was 6 mm (IQR 4–8) with 117 (38.4%) pyelo-caliceal and 188 (61.6%) ureteral stones. Overall, 70 and 82.4% of patients had pre-stenting and post-URS stenting, respectively. Stone-free status was achieved in 68.7% after one URS procedure with a complication rate of 10.8% (mostly grade 1–2 according to Clavien–Dindo). PULS scores 0, 1, 2 and 3 were assessed in 40%, 52.1%, 6.9% and 1% of patients, respectively, when estimated by urologic surgeons. PULS score showed a high IRR between the urologic surgeon and assistance personnel (κ = 0.883, p < 0.001), but was not significantly correlated with complications (ρ = 0.09, p = 0.881). In contrast, a significant positive correlation was found between PULS score and post-URS stenting (ρ = 0.287, p < 0.001). A PULS score of 1 multiplied the likelihood of post-URS stenting by 3.24 (95% confidence interval 1.43–7.34; p = 0.005) as opposed to PULS score 0.
Conclusions
Removal of upper urinary tract stones using URS is safe and efficacious. Real-world data provided by this study confirm a high IRR of the PULS score and its clinical impact on the indication for post-URS stenting. A future prospective randomized trial should evaluate a possible standardization of post-URS stenting based on PULS score assessment.
Access options
Buy single article
Instant access to the full article PDF.
USD 39.95
Price excludes VAT (USA)
Tax calculation will be finalised during checkout.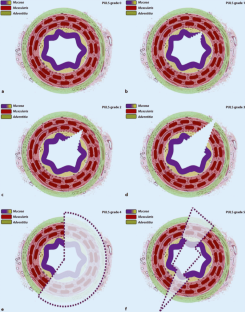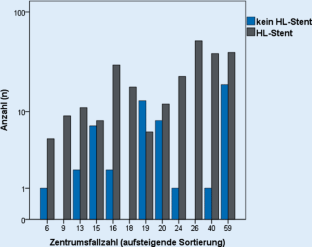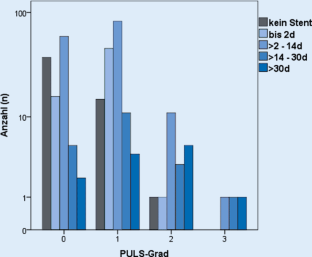 Literatur
Knoll T, Bach T, Humke U et al (2016) S2k guidelines on diagnostics, therapy and metaphylaxis of urolithiasis (AWMF 043/025): compendium. Urologe A 55(7):904–922

Drake T, Grivas N, Dabestani S et al (2017) What are the benefits and harms of ureteroscopy compared with shock-wave lthotripsy in the treatment of upper ureteral stones? A systematic review. Eur Urol 72(5):772–786. https://doi.org/10.1016/j.eururo.2017.04.016

Gross AJ, Rassweiler J, Sievert KD et al (2017) Ureterorenoscopy. Urologe A 56(3):395–404

Schoenthaler M, Wilhelm K, Kuehhas FE et al (2012) Postureteroscopic lesion scale: a new management modified organ injury scale—evaluation in 435 ureteroscopic patients. J Endourol 26(11):1425–1430

Schoenthaler M, Buchholz N, Farin E et al (2014) The Post-Ureteroscopic Lesion Scale (PULS): a multicenter video-based evaluation of inter-rater reliability. World J Urol 32(4):1033–1040

Lildal SK, Sørensen FB, Andreassen KH et al (2017) Histopathological correlations to ureteral lesions visualized during ureteroscopy. World J Urol 35(10):1489–1496. https://doi.org/10.1007/s00345-017-2035-3

Muslumanoglu AY, Fuglsig S, Frattini A et al (2017) Risks and benefits of postoperative double-J stent placement after ureteroscopy: results from the Clinical Research Office of Endourological Society Ureteroscopy Global Study. J Endourol 31(5):446–451. https://doi.org/10.1089/end.2016.0827

Abt D, Dötzer K, Honek P et al (2017) The German linguistic validation of the Ureteral Stent Symptoms Questionnaire (USSQ). World J Urol 35(3):443–447

Pais VM Jr, Smith RE, Stedina EA, Rissman CM (2016) Does omission of ureteral stents increase risk of unplanned return visit? A systematic review and meta-analysis. J Urol 196(5):1458–1466

Dellis AE, Papatsoris AG, Keeley FX Jr, Bamias A, Deliveliotis C, Skolarikos AA (2017) Tamsulosin, solifenacin, and their combination for the treatment of stent-related symptoms: a randomized controlled study. J Endourol 31(1):100–109

https://www.drks.de/drks_web/AttachmentDownstreamServlet?ID=c80de9b7-4940-4d0c-8ea5-3362acaa723b&LOCALE=de&FILENAME=Buster_Studiensynopsis_191114.pdf

https://drks-neu.uniklinik-freiburg.de/drks_web/navigate.do?navigationId=trial.HTML&TRIAL_ID=DRKS00007668&MANDANT=DGU. Zugegriffen: 17. Mai 2017

Dindo D, Demartines N, Clavien PA (2004) Classification of surgical complications: a new proposal with evaluation in a cohort of 6336 patients and results of a survey. Ann Surg 240(2):205–213

Guzelburc V, Guven S, Boz MY et al (2016) Intraoperative evaluation of ureteral access sheath-related injuries using post-ureteroscopic lesion scale. J Laparoendosc Adv Surg Tech A 26(1):23–26

Somani BK, Giusti G, Sun Y et al (2017) Complications associated with ureterorenoscopy (URS) related to treatment of urolithiasis: the Clinical Research Office of Endourological Society URS Global study. World J Urol 35(4):675–681

Ibrahim AK (2015) Reporting ureteroscopy complications using the modified clavien classification system. Urol Ann 7(1):53–57
Danksagung
Wir möchten den Kolleginnen und Kollegen nachfolgender Kliniken für ihre aktive Teilnahme an der BUSTER-Studie danken: Helios Klinikum Bad Saarow; Vivantes Humboldt Klinikum Berlin; Städtisches Klinikum Brandenburg GmbH, Hochschulklinikum der MHB; Bethanien Krankenhaus Chemnitz gGmbH; Carl-Thiem-Klinikum Cottbus gGmbH; Klinikum Frankfurt (Oder) GmbH; Universitätsklinikum Freiburg; Klinikum Niederlausitz GmbH, Klinikbereich Lauchhammer; Universitätsklinikum Magdeburg A.ö.R.; Havelland Kliniken GmbH, Klinik Nauen; Ruppiner Kliniken GmbH, Hochschulklinikum der MHB; Universitätsklinikum Regensburg, Caritas-Krankenhaus St. Josef; Klinikum St. Elisabeth Straubing GmbH; MediClin GmbH & Co. KG, Zweigniederlassung Waren (Müritz).
Mitglieder der BUSTER-Arbeitsgruppe
Andreas Baars; Ulf Balsmeyer; Maximilian Burger; Matthias Claas de Boer; Gerhard Danzer; Thorsten Ecke; Thomas Enzmann; Dirk Fahlenkamp; Sebastian Filter; Hans-Martin Fritsche; Christian Gilfrich; Steffen Hallmann; Joachim Hebert; Bernd Hoschke; Toni Huber; Steffen Lebentrau; Mike Lehsnau; Matthias May; Arkadiusz Miernik; Philippe-Fabian Mueller; Julia Peter; Markus Porsch; Soeren Promnitz; Markus Rodat; Wolfgang Schmidt; Frank Schoeneich; Martin Schoenthaler; Martin Schostak; Steffen Weikert; Peter Werthemann; Ingmar Wolff; Heiko Ziegler
Ethics declarations
Interessenkonflikt
M. May, M. Schönthaler, C. Gilfrich, I. Wolff, J. Peter, A. Miernik, H.-M. Fritsche, M. Burger, M. Schostak und S. Lebentrau geben an, dass kein Interessenkonflikt besteht.
Dieser Beitrag beinhaltet keine von den Autoren durchgeführten Studien an Menschen oder Tieren.
Additional information
Die Mitglieder der BUSTER Arbeitsgruppe werden am Beitragsende gelistet.
About this article
Cite this article
May, M., Schönthaler, M., Gilfrich, C. et al. Interrater-Übereinstimmung und klinischer Nutzen der "Post-Ureteroscopic Lesion Scale" (PULS) zur Graduierung von intraoperativen Harnleiterverletzungen einer Ureterorenoskopie. Urologe 57, 172–180 (2018). https://doi.org/10.1007/s00120-017-0565-3
Published:

Issue Date:

DOI: https://doi.org/10.1007/s00120-017-0565-3
Schlüsselwörter
Steinfreiheitsrate

Komplikationen

Interobserver

Stents

Harnleitersteine
Keywords
Stone-free rate

Complications

Interobserver

Stents

Stone, urinary tract