Zusammenfassung
Die OAB (überaktive Blase/"overactive bladder") stellt einen klinischen Symptomenkomplex dar. Die initiale Therapie sollte daher auf den klinischen Symptomen und einer Basisdiagnostik beruhen. Bei der Wahl der Ersttherapie spielt die Patientenpräferenz eine entscheidende Rolle. Neben verhaltenstherapeutischen Ansätzen stehen Elektrostimulation und medikamentöse Therapien zur Verfügung. Bei nicht ausreichendem Ansprechen sollte vor einer Therapieeskalation mit minimal-invasiven Behandlungen, wie Onabotulinumtoxin-Injektionen in den Detrusor oder sakrale Neuromodulation, eine erweiterte Diagnostik erfolgen. Chirurgische Maßnahmen wie z. B. Blasenaugmentation sind nur in Ausnahmefällen erforderlich.
Abstract
The term OAB (overactive bladder) describes a symptom complex. Therefore, initial treatment should be based on clinical symptoms and the results of basic diagnostics. Patient preference is essential for the choice of the initial treatment. Behavioural therapy, electrostimulation and medical treatment are available treatment options. If these are not effective, extended diagnostic examinations should be performed prior to minimally invasive treatments, like onabotulinumtoxin injections in the detrusor or sacral neuromodulation. Surgical interventions like augmentation cystoplasty are rarely required today.
Access options
Buy single article
Instant access to the full article PDF.
USD 39.95
Price excludes VAT (USA)
Tax calculation will be finalised during checkout.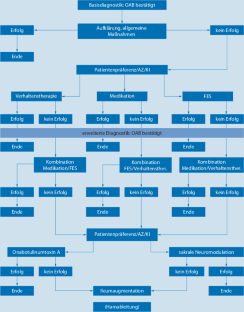 Literatur
Abrams P, Cardozo L, Fall M, Griffiths D, Rosier P, Ulmsten U, van Kerrebroeck P, Victor A, Wein A, Standardisation Sub-committee of the International Continence Society (2002) The standardisation of terminology of lower urinary tract function: report from the Standardisation Sub-committee of the International Continence Society. Neurourol Urodyn 21:167–178

Azuri J, Kafri R, Ziv-Baran T, Stav K (2017) Outcomes of different protocols of pelvic floor physical therapy and anti-cholinergics in women with wet over-active bladder: a 4‑year follow-up. Neurourol Urodyn 36:755–758

Biers SM, Venn SN, Greenwell TJ (2012) The past, present and future of augmentation cystoplasty. BJU Int 109:1280–1293

Burgio KL, Goode PS, Locher JL, Umlauf MG, Roth DL, Richter HE, Varner RE, Lloyd LK (2002) Behavioral training with and without biofeedback in the treatment of urge incontinence in older women: a randomized controlled trial. JAMA 288:2293–2299

Burgio KL, Goode PS, Johnson TM, Hammontree L, Ouslander JG, Markland AD, Colli J, Vaughan CP, Redden DT (2011) Behavioral versus drug treatment for overactive bladder in men: the Male Overactive Bladder Treatment in Veterans (MOTIVE) trial. J Am Geriatr Soc 59:2209–2216

Buser N, Ivic S, Kessler TM, Kessels AG, Bachmann LM (2012) Efficacy and adverse events of antimuscarinics for treating overactive bladder: network meta-analyses. Eur Urol 62:1040–1060

Charach G, Greenstein A, Rabinovich P, Groskopf I, Weintraub M (2001) Alleviating constipation in the elderly improves lower urinary tract symptoms. Gerontology 47:72–76

Chen H, Wang F, Yu Z, Zhang Y, Liu C, Dai S, Chen B, Lv J (2017) Efficacy of daily low-dose tadalafil for treating overactive bladder: results of a randomized, double-blind, placebo-controlled trial. Urology 100:59–64

Cheng CL, Li JR, Lin CH, de Groat WC (2016) Positive association of female overactive bladder symptoms and estrogen deprivation: a nationwide population-based cohort study in Taiwan. Medicine (Baltimore) 95:e4107

Chua ME, See MC 4th, Esmeňa EB, Balingit JC, Morales ML Jr (2017) Efficacy and safety of Gabapentin in comparison to solifenacin succinate in adult overactive bladder treatment. Low Urin Tract Symptoms. https://doi.org/10.1111/luts.12152

Cui Y, Zong H, Yang C, Yan H, Zhang Y (2014) The efficacy and safety of mirabegron in treating OAB: a systematic review and meta-analysis of phase III trials. Int Urol Nephrol 46:275–284

Del Río-Gonzalez S, Aragon IM, Castillo E, Milla-España F, Galacho A, Machuca J, Lara MF, Herrera-Imbroda B (2017) Percutaneous tibial nerve stimulation therapy for overactive bladder syndrome: clinical effectiveness, urodynamic and durability evaluation. Urology. https://doi.org/10.1016/j.urology.2017.04.059

Drake MJ, Nitti VW, Ginsberg DA, Brucker BM, Hepp Z, McCool R, Glanville JM, Fleetwood K, James D, Chapple CR (2017) Comparative assessment of efficacy of onabotulinumtoxin A and oral therapies (anticholinergics and mirabegron) for overactive bladder: a systematic review and network meta-analysis. BJU Int. https://doi.org/10.1111/bju.13945

Eldred-Evans D, Sahai A (2017) Medium- to long-term outcomes of botulinum toxin A for idiopathic overactive bladder. Ther Adv Urol 9:3–10

Forde JC, Davila JL, Marks BK, Epstein M, Tsui JF, Weiss JP, Blaivas JG (2017) Urogynecological conditions associated with overactive bladder symptoms in women. Can Urol Assoc J 11:E83–E87

Herdman M, Nazir J, Hakimi Z, Siddiqui E, Huang M, Pavesi M, MacDiarmid S, Drake MJ, Devlin N (2017) Assessing preference-based outcome measures for overactive bladder: an evaluation of patient-reported outcome data from the BESIDE clinical trial. Patient. https://doi.org/10.1007/s40271-017-0262-8

Homma Y (2008) Lower urinary tract symptomatology: its definition and confusion. Int J Urol 15:35–43

Kaufmann A, Kirschner-Hermanns R (2016) Therapie der weiblichen OAB. Aktuelle Urol 47:305–309

Kim A, Lee KS, Kim TB, Kim HJ, Yoo ES, Yun JH, Kim DY, Jung SG, Lee JT, Kim JM, Oh CK, Shin JH, Jeon SH, Lee SH, Han CH, Lee DH, Cho HJ, Choo MS (2017) Incidence and risk factors of recurrence of overactive bladder symptoms after discontinuation of successful medical treatment. Investig Clin Urol 58:42–47

Lua LL, Pathak P, Dandolu V (2017) Comparing anticholinergic persistence and adherence profiles in overactive bladder patients based on gender, obesity, and major anticholinergic agents. Neurourol Urodyn. https://doi.org/10.1002/nau.23256

Madhu C, Enki D, Drake MJ, Hashim H (2015) The functional effects of cigarette smoking in women on the lower urinary tract. Urol Int 95:478–482

Marcelissen TA, Rahnama'i MS, Snijkers A, Schurch B, De Vries P (2017) Long-term follow-up of intravesical botulinum toxin-A injections in women with idiopathic overactive bladder symptoms. World J Urol 35:307–311

Pannek J, Janek S, Noldus J (2010) Neurogene oder idiopathische Detrusorüberaktivität nach erfolgloser antimuskarinerger Therapie. Klinische Wertigkeit der externen temporären Elektrostimulation. Urologe A 49:530–535

Robinson D, Hanna-Mitchell A, Rantell A, Thiagamoorthy G, Cardozo L (2017) Are we justified in suggesting change to caffeine, alcohol, and carbonated drink intake in lower urinary tract disease? Report from the ICI-RS 2015. Neurourol Urodyn 36:876–881

Rovner ES, Raymond K, Andruczyk E, Juul KV (2017) Low-dose Desmopressin and Tolterodine combination therapy for treating nocturia in women with overactive bladder: a double-blind, randomized, controlled study. Low Urin Tract Symptoms. https://doi.org/10.1111/luts.12169

Shafik A, Shafik IA (2003) Overactive bladder inhibition in response to pelvic floor muscle exercises. World J Urol 20:374–377

Shin JH, Kim A, Choo MS (2017) Additional low-dose antimuscarinics can improve overactive bladder symptoms in patients with suboptimal response to beta 3 agonist monotherapy. Investig Clin Urol 58:261–266

Siegel S, Noblett K, Mangel J, Bennett J, Griebling TL, Sutherland SE, Bird ET, Comiter C, Culkin D, Zylstra S, Kan F, Berg KC (2017) Five year follow-up results of a prospective, multicenter study in overactive bladder subjects treated with sacral neuromodulation. J Urol 5347(17):77099–77091. https://doi.org/10.1016/j.juro.2017.07.010

Staskin D, Herschorn S, Fialkov J, Tu LM, Walsh T, Schermer CR (2017) A prospective, double-blind, randomized, two-period crossover, multicenter study to evaluate tolerability and patient preference between mirabegron and tolterodine in patients with overactive bladder (PREFER study). Int Urogynecol J. https://doi.org/10.1007/s00192-017-3377-5

Stewart F, Gameiro LF, El Dib R, Gameiro MO, Kapoor A, Amaro JL (2016) Electrical stimulation with non-implanted electrodes for overactive bladder in adults. Cochrane Database Syst Rev 12:CD10098

Sukhu T, Kennelly MJ, Kurpad R (2016) Sacral neuromodulation in overactive bladder: a review and current perspectives. Res Rep Urol 8:193–199

Tyagi P, Kashyap M, Yoshimura N, Chancellor M, Chermansky CJ (2017) Past, present and future of chemodenervation with botulinum toxin in the treatment of overactive bladder. J Urol 197:982–990

Vijverberg MA, Stortelder E, de Kort LM, Kok ET, de Jong TP (2011) Long-term follow-up of incontinence and urge complaints after intensive urotherapy in childhood (75 patients followed up for 16.2–21.8 years). Urology 78:1391–1396

Wolz-Beck M, Reisenauer C, Kolenic GE, Hahn S, Brucker SY, Huebner M (2017) Physiotherapy and behavior therapy for the treatment of overactive bladder syndrome: a prospective cohort study. Arch Gynecol Obstet 295:1211–1217

Wyman JF, Klutke C, Burgio K, Guan Z, Sun F, Berriman S, Bavendam T (2010) Effects of combined behavioral intervention and tolterodine on patient-reported outcomes. Can J Urol 17:5283–5290
Ethics declarations
Interessenkonflikt
J. Pannek gibt an, dass kein Interessenkonflikt besteht.
Dieser Beitrag beinhaltet keine von den Autoren durchgeführten Studien an Menschen oder Tieren.
About this article
Cite this article
Pannek, J. Überaktive Blase – wann welche Therapie?. Urologe 56, 1532–1538 (2017). https://doi.org/10.1007/s00120-017-0522-1
Published:

Issue Date:

DOI: https://doi.org/10.1007/s00120-017-0522-1
Schlüsselwörter
Keywords