Zusammenfassung
Kürzlich wurde die PSMA-RGS ("prostate-specific membrane antigen radioguided surgery") zur gezielten Resektion beim lokalisierten Prostatakarzinomrezidiv eingeführt. Erste Untersuchungen zeigen, dass die PSMA-RGS sehr sensitiv und spezifisch suspekte Läsionen aufspüren kann. Indiziert wird die PSMA-RGS durch eine 68Ga-PSMA- Positronenemissionstomographie (‑PET), die ein Weichteil- oder Lymphknotenrezidiv zeigt. Die ersten 63 Patienten, die mit PSMA-RGS behandelt wurden, wurden ausgewertet. Dabei zeigte bei insgesamt 277 Geweberesektaten die extrakorporale Messung der Resektate mit der Gammasonde in Hinblick auf das Vorhandensein von Karzinomgewebe folgende Testgütekriterien: Sensitivität 86,2 %, Spezifität 96,4 %, positiver prädiktiver Wert 94 %, negativer prädiktiver Wert 91,5 %. Es konnten 59 Patienten hinsichtlich ihres onkologischen Follow-up ausgewertet werden. Es zeigte sich ein PSA-Abfall (prostataspezifisches Antigen) <0,2 ng/ml bei 38 Patienten (67 %) Von diesen 38 Patienten sind 17 (45 %) nach einem Zeitraum von median 12,3 (6,7–31,9) Monaten frei von einem biochemischen Rezidiv. Bei 6 von 63 Patienten (9,5 %) kam es zu einer Clavien-Dindo-Grad-III-Komplikation der RGS. Zusammenfassend zeigte sich die PSMA-RGS mittels intraoperativer und Ex-vivo-Gammasondenmessung im Hinblick auf die intraoperative Detektion und Resektion der oft kleinen metastatischen Läsionen als eine hilfreiche und praktikable Methode. Zudem scheint die PSMA-RGS einen positiven Einfluss auf den weiteren Erkrankungsverlauf zu haben. Um gute Operationsergebnisse zu erzielen, ist allerdings eine kritische Patientenauswahl, die sowohl klinische Parameter als auch die Ergebnisse der präoperativen 68Ga-PSMA-PET umfasst, von entscheidender Bedeutung.
Abstract
Recently, prostate-specific membrane antigen radioguided surgery (PSMA-RGS) was introduced for targeted resection of localised prostate cancer recurrence. Preliminary results show that PSMA-RGS is very sensitive and specific in tracking suspicious lesions intraoperatively. Prerequisite for PSMA-RGS is a positive 68Ga-PSMA positron emission tomography (PET) scan with a preferably singular soft tissue or lymph node recurrence. The first 63 patients treated with PSMA-RGS were analyzed. The extracorporal analysis of a total of 277 tissue specimens yielded the following test quality criteria regarding the presence of malignant tissue: sensitivity 86.2%, specificity 96.4%, positive predictive value 94%, negative predictive value 91.5%. Oncological follow-up data was available from 59 patients. There was a drop in PSA (prostate specific antigen) below 0.2 ng/ml in 38 patients (67%). Of these 38 patients, 17 (45%) are free of biochemical recurrence after a median follow-up of 12.3 months (6.7–31.9 months). Clavien–Dindo grade III complications occurred in 6 of 63 patients (9.5%). In summary, PSMA-RGS proved to be of high value in patients with localised prostate cancer recurrence for exact localisation and resection of oftentimes small metastatic tissue using intraoperative and ex vivo gamma-probe measurements. Furthermore, PSMA-RGS has the potential to positively influence oncological outcomes. However, patient identification on the basis of 68Ga-PSMA PET imaging and clinical parameters is crucial to obtain satisfactory results.
Access options
Buy single article
Instant access to the full article PDF.
US$ 39.95
Tax calculation will be finalised during checkout.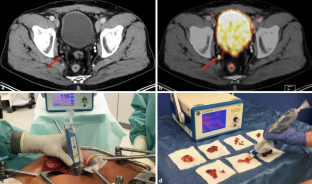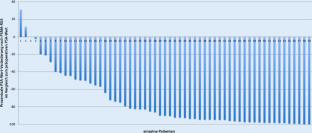 Abbreviations
CT:

Computertomographie

HIFU:

Hochintensiver fokussierter Ultraschall

MRT:

Magnetresonanztomographie

PCa:

Prostatakarzinom

PET:

Positronenemissionstomographie

PSA:

Prostataspezifisches Antigen

PSMA:

Prostataspezifisches Membranantigen

PSMA-RGS:

"Prostate-specific membrane antigen radioguided surgery"

RP:

Radikale Prostatektomie

SPECT:

"Single photon emission computed tomography"

111In-PSMA-I&T:

Indium-111-markierter PSMA-Ligand "investigation and treatment"

99mTc-PSMA-I&S:

Technetium-99m-markierter PSMA-Ligand "investigation and surgery"
Literatur
1.

Siegel R, Ma J, Zou Z, Jemal A (2014) Cancer statistics, 2014. CA Cancer J Clin 64(1):29–29. https://doi.org/10.3322/caac.21208

2.

Boorjian SA, Thompson RH, Tollefson MK, Rangel LJ, Bergstralh EJ, Blute ML et al (2011) Long-term risk of clinical progression after biochemical recurrence following radical prostatectomy: the impact of time from surgery to recurrence. Eur Urol 59(6):893–899. https://doi.org/10.1016/j.eururo.2011.02.026

3.

Umbehr MH, Muntener M, Hany T, Sulser T, Bachmann LM (2013) The role of 11 C-choline and 18 F-fluorocholine positron emission tomography (PET) and PET/CT in prostate cancer: a systematic review and meta-analysis. Eur Urol 64(1):106–117. https://doi.org/10.1016/j.eururo.2013.04.019

4.

Eder M, Schafer M, Bauder-Wust U, Hull WE, Wangler C, Mier W et al (2012) 68 Ga-complex lipophilicity and the targeting property of a urea-based PSMA inhibitor for PET imaging. Bioconjug Chem 23(4):688–697. https://doi.org/10.1021/bc200279b

5.

Afshar-Oromieh A, Zechmann CM, Malcher A, Eder M, Eisenhut M, Linhart HG et al (2014) Comparison of PET imaging with a (68)Ga-labelled PSMA ligand and (18)F-choline-based PET/CT for the diagnosis of recurrent prostate cancer. Eur J Nucl Med Mol Imaging 41(1):11–20. https://doi.org/10.1007/s00259-013-2525-5

6.

Eiber M, Maurer T, Souvatzoglou M, Beer AJ, Ruffani A, Haller B et al (2015) Evaluation of hybrid (6)(8)Ga-PSMA Ligand PET/CT in 248 patients with biochemical recurrence after radical prostatectomy. J Nucl Med 56(5):668–674. https://doi.org/10.2967/jnumed.115.154153

7.

Morigi JJ, Stricker PD, van Leeuwen PJ, Tang R, Ho B, Nguyen Q et al (2015) Prospective comparison of 18 F-Fluoromethylcholine versus 68 Ga-PSMA PET/CT in prostate cancer patients who have rising PSA after curative treatment and are being considered for targeted therapy. J Nucl Med 56(8):1185–1190. https://doi.org/10.2967/jnumed.115.160382

8.

Schottelius M, Wirtz M, Eiber M, Maurer T, Wester HJ (2015) [(111)In]PSMA-I&T: expanding the spectrum of PSMA-I&T applications towards SPECT and radioguided surgery. Ejnmmi Res 5(1):68. https://doi.org/10.1186/s13550-015-0147-6

9.

Maurer T, Weirich G, Schottelius M, Weineisen M, Frisch B, Okur A et al (2015) Prostate-specific membrane antigen-radioguided surgery for metastatic lymph nodes in prostate cancer. Eur Urol 68(3):530–534. https://doi.org/10.1016/j.eururo.2015.04.034

10.

Robu S, Schottelius M, Eiber M, Maurer T, Gschwend J, Schwaiger M et al (2017) Preclinical Evaluation and First Patient Application of 99mTc-PSMA-I&S for SPECT Imaging and Radioguided Surgery in Prostate Cancer. J Nucl Med 58(2):235–242. https://doi.org/10.2967/jnumed.116.178939

11.

Maurer T, Schwamborn K, Schottelius M, Wester HJ, Schwaiger M, Gschwend JE et al (2016) PSMA Theranostics using PET and subsequent radioguided surgery in recurrent prostate cancer. Clin Genitourin Cancer 14(5):e549–e552. https://doi.org/10.1016/j.clgc.2016.05.020

12.

Rauscher I, Maurer T, Souvatzoglou M, Beer AJ, Vag T, Wirtz M et al (2016) Intrapatient comparison of 111In-PSMA I&T SPECT/CT and hybrid 68 Ga-HBED-CC PSMA PET in patients with early recurrent prostate cancer. Clin Nucl Med 41(9):e397–e402

13.

Rauscher I, Duwel C, Wirtz M, Schottelius M, Wester HJ, Schwamborn K et al (2017) Value of 111 In-prostate-specific membrane antigen (PSMA)-radioguided surgery for salvage lymphadenectomy in recurrent prostate cancer: correlation with histopathology and clinical follow-up. BJU Int 120(1):40–47. https://doi.org/10.1111/bju.13713

14.

Suardi N, Gandaglia G, Gallina A, Di Trapani E, Scattoni V, Vizziello D et al (2015) Long-term outcomes of salvage lymph node dissection for clinically recurrent prostate cancer: results of a single-institution series with a minimum follow-up of 5 years. Eur Urol 67(2):299–309. https://doi.org/10.1016/j.eururo.2014.02.011

15.

Jilg CA, Rischke HC, Reske SN, Henne K, Grosu AL, Weber W et al (2012) Salvage lymph node dissection with adjuvant radiotherapy for nodal recurrence of prostate cancer. J Urol 188(6):2190–2197. https://doi.org/10.1016/j.juro.2012.08.041

16.

Rischke HC, Schultze-Seemann W, Wieser G, Kronig M, Drendel V, Stegmaier P et al (2015) Adjuvant radiotherapy after salvage lymph node dissection because of nodal relapse of prostate cancer versus salvage lymph node dissection only. Strahlenther Onkol 191(4):310–320. https://doi.org/10.1007/s00066-014-0763-5
Ethics declarations
Interessenkonflikt
T. Horn, I. Rauscher, M. Eiber, J. E. Gschwend und T. Maurer geben an, dass kein Interessenkonflikt besteht.
Dieser Beitrag beinhaltet keine von den Autoren durchgeführten Studien an Menschen oder Tieren. Alle beschriebenen Untersuchungen am Menschen wurden mit Zustimmung der zuständigen Ethik-Kommission, im Einklang mit nationalem Recht sowie gemäß der Deklaration von Helsinki von 1975 (in der aktuellen, überarbeiteten Fassung) durchgeführt. Von allen beteiligten Patienten liegt eine Einverständniserklärung vor. Für die aufgeführten Studien gelten die jeweils dort angegebenen ethischen Richtlinien.
About this article
Cite this article
Horn, T., Rauscher, I., Eiber, M. et al. "PSMA-radioguided surgery" beim lokalisierten Prostatakarzinomrezidiv. Urologe 56, 1417–1423 (2017). https://doi.org/10.1007/s00120-017-0516-z
Schlüsselwörter
Salvageoperation

Positronenemissionstomographie

Gammasondenmessung

Prostataspezifisches Membranantigen

Prostataspezifisches Antigen
Keywords
Salvage surgery

Positron emission tomography

Gamma probe measurement

Prostate-specific membrane antigen

Prostate-specific antigen