Zusammenfassung
Fragestellung
Die S3-Leitlinie (Version Oktober 2014) gibt Empfehlungen zur Prostatakrebsfrüherkennung. Wir untersuchten ihre Umsetzung in niedergelassenen urologischen Praxen im Regierungsbezirk Münster.
Methoden
Zur Datenerhebung wurde ausgehend von der COREQ-Checkliste ("consolidated criteria for reporting qualitative research") für Fokusgruppen eine teilstandardisierte, qualitative Befragung mit 22 niedergelassenen Urologen aus dem Regierungsbezirk Münster in vier Fokusgruppen mit je 5–6 Befragten durchgeführt. Zu 12 Aussagen der Leitlinie im Abschnitt "Früherkennung und Biopsie" wurden 23 Fragen gestellt. Bei den Aussagen handelt es sich um 9 "starke Empfehlungen", eine "offene Empfehlung" und 2 "Statements". Nach dem Mixed-methods-Design wurde mittels Häufigkeitsanalysen und Berechnung von Lage- und Streumaßen ein Summenscore gebildet, um die Adhärenz zur Leitlinie zu ermitteln. Die qualitative Inhaltsanalyse nach Mayring wurde zur qualitativen Auswertung genutzt.
Ergebnisse
Die befragten Urologen befolgen 6 der 9 "starken Empfehlungen", in 3 weichen sie ab. Inhaltlich beziehen sich diese Abweichungen auf: Aufklärung über die Vor- und Nachteile der Früherkennungsmaßnahmen, Empfehlung einer Prostatabiopsie bei kontrolliertem PSA-Wert ≥4 ng/ml, Indikation zur Wiederholungsbiopsie. Weitere Abweichungen ergeben sich für die "offene Empfehlung" und die beiden "Statements".
Schlussfolgerung
Dem Großteil der "starken Empfehlungen" wird von den befragten Urologen im Regierungsbezirk Münster Folge geleistet. Inhaltlich relevante Abweichungen werden begründet, so z. B. die nur bedingte Übertragbarkeit des PSA-Grenzwertes von 4 ng/ml aus populationsbezogenen Reihenuntersuchungen asymptomatischer Männer auf die Klientel einer urologischen Praxis.
Abstract
Objectives
The German S3 guideline on prostate cancer gives recommendations on early detection of prostate cancer. In this study we analyzed the adherence of urologists in private practice from the administrative district of Münster, Germany to this guideline.
Methods
Data were collected through a semistructured survey of 22 urologists based on the COREQ checklist (Consolidated criteria for reporting qualitative research) in four focus groups consisting of five or six urologists in private practice. We developed 23 questions relating to 12 recommendations of the paragraphs of the S3 guidelines dealing with early detection of prostate cancer and prostate biopsy. The recommendations of the guideline are subdivided in nine "strong", one "optional recommendation" and two "statements". The adherence to the guideline was investigated by using frequency and qualitative content analysis (Mayring) based on a mixed methods design.
Results
The urologists follow six of the nine "strong recommendations" of the guideline and deviate from three. Reasons for deviations from "strong recommendations" are the following: information about advantages and disadvantages of early detection for prostate cancer, recommendation of a prostate biopsy in case of PSA level ≥4 ng/ml, and indication for repeat biopsy.
Conclusion
Most of the "strong recommendations" are followed by the interviewed urologists of the administrative district of Münster. Contextually relevant deviations from "strong recommendations" are justified, e. g., the only limited transferability of the PSA threshold of 4 ng/ml derived from population-based studies of asymptomatic men to men presenting in a urologist's office.
Access options
Buy single article
Instant access to the full article PDF.
USD 39.95
Price excludes VAT (USA)
Tax calculation will be finalised during checkout.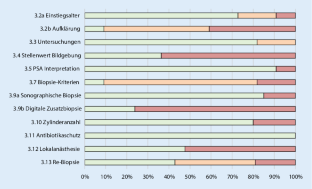 Notes
Entscheidungsunterstützung und Prozessqualität bei der Früherkennung des Prostatakarzinoms – Ein Modellprojekt in der Region Münster. DRKS-ID: *DRKS00007687*,gefördert durch die Deutsche Krebshilfe e. V.
Literatur
Ament SM, De Groot JJ, Maessen JM et al (2015) Sustainability of professionals' adherence to clinical practice guidelines in medical care: a systematic review. BMJ Open 5:e008073

Catalona WJ, Richie JP, Ahmann FR et al (1994) Comparison of digital rectal examination and serum prostate specific antigen in the early detection of prostate cancer: results of a multicenter clinical trial of 6,630 men. J Urol 151:1283–1290

Deutsche Gesellschaft für Urologie e. V. (2014) Interdisziplinäre Leitlinie der Qualität S3 zur Früherkennung, Diagnose und Therapie der verschiedenen Stadien des Prostatakarzinoms. Version 3.1.–2. Aktualisierung 2014. http://www.awmf.org/leitlinien/detail/ll/043-022OL.html. Zugegriffen: 2. Nov 2016 (gültig vom 30. Sept 2014. AWMF, Düsseldorf)

Fröhner M, Khan C, Koch R et al (2014) Implementierung der S3-Leitlinie Prostatakarzinom im klinischen Alltag. Urologe 53:1500–1503

Hugosson J, Carlsson S, Aus G et al (2010) Mortality results from the Goteborg randomised population-based prostate-cancer screening trial. Lancet Oncol 11:725–732

Krueger RA, Casey MA (2015) Focus groups: a practical guide for applied research. SAGE, Thousand Oaks

Mayring P (2015) Qualitative Inhaltsanalyse – Grundlagen und Techniken. Beltz, Weinheim

SWOP Prostate Cancer Research Foundation (2016) Prostate cancer risk calculator. http://www.prostatecancer-riskcalculator.com/. Zugegriffen: 18. Jan 2017 (University and Medical Centre of Rotterdam)

Tiedje D (2012) Qualitätsmanagement in der prähospitalen Notfallmedizin: Umsetzung internationaler Leitlinien durch Notärzte. http://ub-ed.ub.uni-greifswald.de/opus/frontdoor.php?source_opus=1956. Zugegriffen: 18. Jan 2017 (Dissertation)

Tong A, Sainsbury P, Craig J (2007) Consolidated criteria for reporting qualitative research (COREQ): a 32-item checklist for interviews and focus groups. Int J Qual Health Care 19:349–357
Danksagung
Wir danken der Deutsche Krebshilfe für die Förderung der PSAInForm-Studie und den Urologinnen und Urologen für Ihre Teilnahme: Dr. med. Christian Baucks, Dr. med. Ulrich Bauer, Anja Benninghoff, Cornelius Bertels, Dr. med. Thilo Eggert, Olaf Esser, Dr. med. Sebastian Kemper, Dr. med. Jens König, Dr. med. Monika Leiße-Stankoweit, Dr. med. Hermann Liedtke, Dr. med. Gitta Nitsche, Dr. med. Tim Peters, Dr. med. Karl-Heinz Rauer, Dr. med. Volker Rembrink, Bernward Rupert Sacha, Dr. med. Evangelos Saliveros, Dr. med. Jörg Schewe, Dr. med. Hermann Schomacher, Dr. med. Ulrich Schoppmann, Gerhard Schubert, Dr. med. Dirk Spelmeyer, Dr. med. Jan Wieland.
Ethics declarations
Interessenkonflikt
D. Tiedje, O. Quer, B. Breil, A. J. Schrader, C. Bothe, K. Kruse, M. Bögemann, N. Donner-Banzhoff und A. Semjonow geben an, dass kein Interessenkonflikt besteht.
Dieser Beitrag beinhaltet keine von den Autoren durchgeführten Studien an Menschen oder Tieren.
About this article
Cite this article
Tiedje, D., Quer, O., Breil, B. et al. Anwendung der S3-Leitlinie zur Prostatakrebsfrüherkennung in urologischen Praxen. Urologe 56, 910–916 (2017). https://doi.org/10.1007/s00120-017-0352-1
Published:

Issue Date:

DOI: https://doi.org/10.1007/s00120-017-0352-1
Schlüsselwörter
Interview

Prostatakrebs

Adhärenz

Fokusgruppe

Prostatabiopsie
Keywords
Interview

Prostate cancer

Adherence

Focus groups

Prostate biopsy