Zusammenfassung
Hintergrund
Die Versorgung mit urologischen Hilfsmitteln ist für Patienten mit neurogenen Harnblasenfunktionsstörungen (NBFS) essentiell. Die bisherigen Richtwerte zur Abschätzung des monatlichen Bedarfs beruhen ausschließlich auf Schätzungen.
Fragestellung
Das Ziel der Arbeit war die Ermittlung des objektiven und subjektiven Bedarfs an urologischen Hilfsmitteln auf wissenschaftlicher Basis.
Material und Methoden
Daten zum Blasenmanagement und zum täglichen Verbrauch an urologischen Hilfsmitteln bei Patienten mit NBFS wurden mittels eines Fragebogens an 6 verschiedenen Zentren in Deutschland im Zeitraum Oktober bis Dezember 2014 erfasst und statistisch ausgewertet.
Ergebnisse
Die Datensätze von 767 Patienten wurden analysiert, darunter von 543 Männern und 221 Frauen (k. A. = 3). Der tägliche Verbrauch an Einmalkathetern der 577 Patienten, die sich ausschließlich intermittierend katheterisierten, betrug 5,13. Patienten, die neben dem Einmalkatheterismus noch andere Formen der Blasenentleerung nutzten (n = 31), verbrauchten im Mittel 3,17 Einmalkatheter. Bei Kindern war die Schwankungsbreite größer. Von den 608 Patienten, die sich katheterisierten, benötigten 94 (15,5 %) zusätzlich Vorlagen als aufsaugende Hilfsmittel (im Durchschnitt 2,29 Vorlagen pro Tag). 34 Patienten (5,6 %) benutzen zusätzlich Pants (2,55 pro Tag) und 46 Patienten (7,6 %) nutzen zwischen den Katheterisierungen Kondomurinale (3,81 pro Tag). Unter allen befragten Patienten verwendeten 126 Patienten (16,4 %) Vorlagen, durchschnittlich 5,03 Vorlagen pro Tag und 51 Patienten (6,6 %) Pants (3,03 pro Tag). 82 aller männlichen Befragten (15,1 %) wendeten Kondomurinale an (im Mittel 2,80 Kondomurinale pro Tag).
Diskussion
Unter der Annahme der doppelten Standardabweichung vom Mittelwert als Maß für den objektiven Hilfsmittelbedarf lassen sich für erwachsene Patienten mit NBFS folgende Grenzwerte definieren: 1–9 Einmalkatheter, 0–7 Kondomurinale, 1–9 Vorlagen und 0–7 Pants pro Tag. Diese Werte können als Grundlage zur Abschätzung des subjektiven Bedarfs dienen und erlauben eine wissenschaftlich fundierte Festlegung von Richtwerten für eine bedarfsgerechte und wirtschaftliche Versorgung mit urologischen Hilfsmitteln. Die individuell notwendige Versorgung mit verschiedenartigen Hilfsmitteln ist ebenfalls anzuerkennen. Qualitätsstandards müssen entwickelt werden und überprüfbar sein.
Abstract
Background
The provision of urological appliances for patients with neurogenic lower urinary tract dysfunction (NLUTD) is essential. Hitherto existing standard guidelines for the estimation of monthly material requirements are based solely on estimates.
Objective
The goal of this work was to define the objective and subsequently subjective requirements for urological appliances on a scientifically validated basis.
Materials and methods
Data concerning bladder management and daily consumption of urological appliances for patients with NLUTD were collected through a standardized survey at six different centers in Germany during the period of October to December 2014 and statistically evaluated.
Results
In all, 767 patient records were analyzed: 543 men and 221 woman (N/A = 3). The daily disposable catheter consumption of 577 patients who exclusively used intermittent catheterization was 5.13. Patients who used other means of bladder emptying (n = 31) in addition to catheterization consumed on average 3.17 catheters. The margin of deviation was larger for children. Of the 608 patients with intermittent catheterization, 94 (15.5 %) required additional paddings as absorbent aids (on average 2.29 paddings per day), 34 patients (5.6 %) additionally used pants (2.55 per day) and 46 patients (7.6 %) utilized condom catheters (3.81 per day) between catheterization. Among all surveyed patients, 126 (16.4 %) used paddings (5.03 per day) and 51 patients (6.6 %) pants (3.03 per day). Of all male respondents 82 (15.1 %) used condom catheters (2.80 urinary sheaths per day).
Conclusion
Applying twice the standard deviation of the mean as a measure of assessing the objective requirement of urological appliances and aids for adult patients with NLUTD allows the following daily thresholds to be defined: 1–9 disposable catheters, 0–7 urinary sheaths, 1–9 paddings and 0–7 pants. These thresholds can serve as a basis for estimating the subjective need. They allow for a scientifically validated benchmark for an economically feasible and patient-tailored supply with urological aids and appliances. Individually required appliances and aids have to be recognized. Verifiable quality standards need to be developed.
This is a preview of subscription content, log in to check access.
Access options
Buy single article
Instant access to the full article PDF.
US$ 39.95
Price includes VAT for USA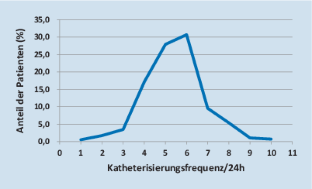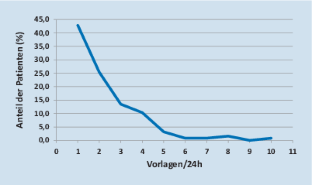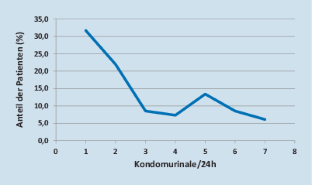 Literatur
1.

Deutscher Bundestag (2015) Kleine Anfrage der Abgeordneten Maria Klein-Schmeink, Elisabeth Scharfenberg, Corinna Rüffer, Britta Haßelmann, Kordula Schulz-Asche, Dr. Harald Terpe, Dr. Franziska Brantner, Katja Dörner, Kai Gehring, Ulle Schauws, Tabea Rößner, Doris Wagner,Beate Walter-Rosenheimer und der Fraktion BÜNDNIS 90/DIE GRÜNEN. Auswirkungen der Hilfsmittelausschreibung durch die Krankenkassen nach § 127 des SGB V, Deutscher Bundestag, Drucksache 18/5311. http://dip21.bundestag.de/dip21/btd/18/053/1805311.pdf. Zugegriffen: 3. Juli 2016

2.

Landessozialgericht Berlin-Brandenburg L 1 KR 263/11, Urteil vom 15.11.2012, https://sozialgerichtsbarkeit.de/sgb/esgb/export.php?modul=esgb&id=160104&exportformat=PDF Zugegriffen: 3. Juli 2016

3.

SG Dresden (2015) Urteil v. 09.10.2015, S 47 KR 105/13. https://www.justiz.sachsen.de/sgdd/content/995.php. Zugegriffen: 3. Juli 2016

4.

Bundesverband Medizintechnologie e. V (2015) Aufsaugende Inkontinenzhilfsmittel. Zahlen, Daten, Fakten. https://www.bvmed.de/de/versorgung/hilfsmittel/hilfsmittel-aufsaugende-inkontinenz. Zugegriffen: 31. Mai 2016

5.

Unabhängige Patientenberatung Deutschland – UPD gGmbH (2015) Monitor Patientenberatung. https://www.patientenberatung.de/dokumente/2015_upd_monitor_patientenberatung.pdf. Zugegriffen: 3. Juli 2016

6.

Beauftragter der Bundesregierung für die Belange der Patientinnen und Patienten sowie Bevollmächtigter für Pflege (2016) Positionspapier desPatientenbeauftragten und Pflegebevollmächtigten der Bundesregierung, Berlin, Pressemitteilung, Nr. 2. http://www.bmg.bund.de/fileadmin/dateien/Pressemitteilungen/2016/2016_1/160315-02_PM_Hilfsmittelverzeichnis.pdf. Zugegriffen: 3. Juli 2016

7.

Schwartz FW, Wille E, Fischer G, Kuhlmey A, Lauterbach KW, Rosenbrock R, Scriba PC (2001) Gutachten 2000/2001 des Sachverständigenrates für die Konzertierte Aktion im Gesundheitswesen. Bedarfsgerechtigkeit und Wirtschaftlichkeit, Deutscher Bundestag Drucksache 14/6871 Band III Über-, Unter- und Fehlversorgung. S. 29. http://dip21.bundestag.de/dip21/btd/14/068/1406871.pdf. Zugegriffen: 3. Juli 2016

8.

Doll M, Rößlein R, v. Zastrow C, Bucher H (2005) Versorgung mit Inkontinenzhilfen. Abschätzung des medizinisch begründbaren monatlichen Bedarfs. MDK Medizinischer Dienst der Krankenkassen, AG SEG 5 Hilfsmittel und Medizinprodukte. http://www.urosax.de/userfiles/file/mdkGutachten.pdf. Zugegriffen: 3. Juli 2016

9.

Sk-Leitlinie AWMF (2009) Neuro-urologische Versorgung querschnittgelähmter Patienten. http://www.awmf.org/uploads/tx_szleitlinien/179-001l_S2k_Neurourologische_Versorgung_Querschnittsgelaehmter_2016-05.pdf. Zugegriffen: 30. August 2016

10.

Vertrag gemäß § 127 Abs. 2 SGB V über die Versorgung der Versicherten der AOK Baden-Württemberg mit ableitenden Inkontinenzhilfsmitteln der Produktgruppe 15 vom 01.05.2015 http://www.aok-gesundheitspartner.de/imperia/md/gpp/bw/hilfsmittel/vertraege/homecare/bw_himi_inko_ableit_vertrag_verband.pdf Zugegriffen: 28. September 2016

11.

Institute of Medicine and Food and Nutrition Board (2004) Dietary reference intakes for water, potassium, sodium, chloride, and sulfate. National Academic Press, Washington, DC

12.

Parker D, Gallagher SK. Distribution of human waste samples in relation to sizing waste processing in space. NASA Conference Publication 3166, 1992, p. 563 www.nss.org/settlement/moon/library/LB2-611-WasteProcessing.pdf. Zugegriffen: 3. Juli 2016

13.

Schoen T, Blum J, Paccaud F, Burnier M, Bochud M, Conen D (2013) Factors associated with 24-hour urinary volume: the Swiss salt survey. BMC Nephrol 14:246

14.

Fitzgerald MP, Stablein U, Brubaker L (2002) Urinary habits among asymptomatic women. Am J Obstet Gynecol 187:1384–1388

15.

Latini JM, Mueller E, Lux MM, Fitzgerald MP, Kreder KJ (2004) Voiding frequency in a sample of asymptomatic American men. J Urol 172:980–984

16.

Consortium for Spinal Cord Medicine Bladder Management for Adults with Spinal Cord Injury (2006) A clinical practice guideline for health-care providers. J Spinal Cord Med 29:527–573

17.

Perrouin-Verbe B, Labat JJ, Richard I, de la Greve IM, Buzelin M, Mathe F (1995) Clean intermittent catheterisation from the acute period in spinal cord injury patients. Long term evaluation of urethral and genital tolerance. Paraplegia 3:619–624

18.

Chua HC, Tow A, Tan ES (1996) The neurological bladder in spinal cord injury: pattern and management. Ann Acad Med (Singapore) 25:553–557

19.

Hagen EM, Rekand T (2014) Management of bladder dysfunction and satisfaction of life after spinal cord injury in Norway. J Spinal Cord Med 37:310–316

20.

Doherty W (1999) Indications for and principles of intermittent self-catheterization. Br J Nurs 8:73–76

21.

Kuhn W, Rist M, Zaech GE (1991) Intermittent urethral self-catheterisation: long lerm results (bacteriological evolution, continence, acceptance, complications). Paraplegia 29:222–232

22.

Hinman F (1977) Intermittent catheterization and vesical defenses. J Urol 117:57–60

23.

Abrams P, Agarwal M, Drake M, El-Masri W, Fulford S, Reid S, Sing G, Tophill P (2008) A proposed guideline for the urological management of patients with spinal cord injury. BJU Int 101:989–994

24.

di Benedetto P (2011) Clean intermittent self catheterization in neuro-urology. Eur J Phys Rehabil Med 47:651–659

25.

Sillén U, Hjälmås K (2004) Bladder function in preterm and full-term infants--free voidings during four-hour voiding observation. Scand J Urol Nephrol 215(Suppl):63–68

26.

Akbal C, Genc Y, Burgu B, Ozden E, Tekgul S (2005) Dysfunctional voiding and incontinence scoring system: quantitative evaluation of incontinence symptoms in pediatric population. J Urol 173:969–973

27.

Jansson UB, Hanson M, Sillén U, Hellström AL (2005) Voiding pattern and acquisition of bladder control from birth to age 6 years – a longitudinal study. J Urol 174:289–293

28.

Mota DM, Victora CG, Hallal PC (2005) Investigation of voiding dysfunction in a population-based sample of children aged 3 to 9 years. J Pediatr (Rio J) 81:225–232

29.

Jansson UB, Hanson M, Sillén U, Hellström AL (2005) Voiding pattern and acquisition of bladder control from birth to age 6 years – a longitudinal study. J Urol 174:289–293

30.

Scott JE, Deegan S (1982) Management of neuropathic urinary incontinence in children by intermittent catheterisation. Arch Dis Child 57:253–258
Ethics declarations
Interessenkonflikt
J. Bremer, R. Böthig, B. Domurath, J. Kutzenberger, A. Kaufmann, J. Pretzer, J.P. Klask, V. Geng, W. Vance und I. Kurze geben an, dass kein Interessenkonflikt besteht.
Dieser Beitrag beinhaltet keine von den Autoren durchgeführten Studien an Menschen oder Tieren.
Additional information
J. Bremer und R. Böthig sind gleichberechtigte Erstautoren.
About this article
Cite this article
Bremer, J., Böthig, R., Domurath, B. et al. Objektiver und subjektiver Hilfsmittelbedarf bei Patienten mit neurogenen Harnblasenfunktionsstörungen. Urologe 55, 1553–1563 (2016). https://doi.org/10.1007/s00120-016-0250-y
Schlüsselwörter
Hilfsmittelversorgung

Versorgungsforschung

Blasenmanagement

Einmalkatheter

Inkontinenz
Keywords
Aids and appliances

Medical supply research

Urinary bladder management

Urinary catheters, disposable

Incontinence