Zusammenfassung
Bei einer 47-jährigen Patientin mit Spina bifida und seit der Kindheit bestehender Harnableitung mittels Ileumconduit wurde bei linksseitigen Flankenschmerzen, Harnstauungsnieren beidseits und Oligurie ein narbiges Rezidiv einer Ureterimplantationsstenose vermutet. Anamnestisch bestand eine aktuell gesteigerte hochdosierte Opiattherapie aufgrund neurogener Schmerzen. Nach primärer urologischer Versorgung mittels perkutaner Nierenfistel links und Nachweis einer Ablaufstörung der Harnleiter in das Conduit wurde bereits eine Neuimplantation diskutiert. Die Abflussstörung entwickelte sich nach dem Ausschleichen der Opiate zurück, sodass ursächlich eine opiatinduzierte Darmspastik angenommen werden muss.
Abstract
A 47-year-old woman with spina bifida and an ileal conduit since childhood presented with left-sided flank pain, bilateral hydronephrosis and oliguria suspicious for a recurrent stenosis at the ureteral implantation site. Her history revealed a recent increase in her pain medication with opioids for treatment of neuropathic pain. After insertion of percutaneous nephrostomy on the left side and confirmation of the stenosis, open reimplantation of the ureter was already discussed with the patient. However after dose reduction of the opioid therapy hydronephrosis resolved. Thus opioid-induced bowel spasm was probably the cause for the obstruction.
We're sorry, something doesn't seem to be working properly.
Please try refreshing the page. If that doesn't work, please contact support so we can address the problem.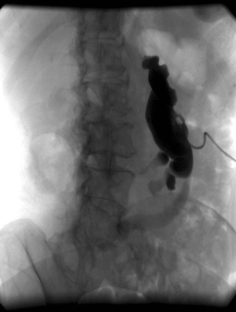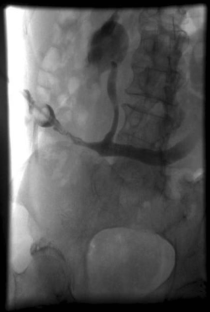 Literatur
1.

Holzer P (2007) Treatment of opioid-induced gut dysfunction. Expert Opin Investig Drugs 16:181–194

2.

Koo KC, Yoon YE, Chung BH, Hong SJ, Rha KH (2014) Analgesic opioid dose is an important indicator of postoperative ileus following radical cystectomy with ileal conduit: experience in the robotic surgery era. Yonsei Med J 55:1359–1365

3.

Leppert W (2015) Emerging therapies for patients with symptoms of opioid-induced bowel dysfunction. Drug Des Devel Ther 9:2215–2231

4.

Liu JS, Dong C, Casey JT, Greiman A, Mukherjee S, Kielb SJ (2015) Quality of life related to urinary continence in adult spina bifida patients. Cent European J Urol 68:61–67

5.

Madersbacher S, Schmidt J, Eberle JM, Thoeny HC, Burkhard F, Hochreiter W, Studer UE (2003) Long-term outcome of ileal conduit diversion. J Urol 169:985–990

6.

Roghmann F, Gockel M, Schmidt J, Hanske J, von Landenberg N, Loppenberg B, Braun K, von Bodman C, Pastor J, Palisaar J, Noldus J, Brock M (2015) Complications after ileal conduit: Urinary diversion-associated complications after radical cystectomy. Urologe A 54:533–541

7.

van Hemelrijck M, Thorstenson A, Smith P, Adolfsson J, Akre O (2013) Risk of in-hospital complications after radical cystectomy for urinary bladder carcinoma: population-based follow-up study of 7608 patients. BJU Int 112:1113–1120
Ethics declarations
Interessenkonflikt
F. Girtler, K. Rödder und M. Fisch geben an, dass kein Interessenkonflikt besteht.
Alle Patienten, die über Bildmaterial oder anderweitige Angaben innerhalb des Manuskripts zu identifizieren sind, haben hierzu ihre schriftliche Einwilligung gegeben.
About this article
Cite this article
Girtler, F., Rödder, K. & Fisch, M. Harnstauungsnieren beidseits infolge opiatinduzierter Darmspastik bei einer Patientin mit Ileumconduit. Urologe 55, 1347–1349 (2016). https://doi.org/10.1007/s00120-016-0096-3
Schlüsselwörter
Harnstauung

Harnableitung

Ileumconduit

Darmspastik

Opiate
Keywords
Urinary retention

Urinary diversion

Ileal conduit

Bowel spasms

Opiates