Zusammenfassung
Hintergrund
Der "Acute Cystitis Symptom Score (ACSS)" wurde in usbekischer Sprache als Fragebogen für Patientinnen mit akuter Zystitis (AZ) als Diagnostik- und Therapiehilfe entwickelt und soll jetzt in deutscher Sprache validiert werden.
Material und Methoden
Der ACSS besteht aus 18 Fragen in 4 Kategorien: typische Symptome, Differentialdiagnose, Lebensqualität und Begleitumstände. Die deutsche Übersetzung erfolgte nach international akzeptierten Leitlinien, die Validierung an 36 deutschsprachigen Teilnehmerinnen mit und ohne Symptome einer AZ. Das Vorliegen von typischen zystitischen Beschwerden und einer signifikanten Bakteriurie (≥ 103 KBE/ml) entschied über die Zuordnung in die Patienten- oder Kontrollgruppe. Statistisch wurde die Zuverlässigkeit, Validität und Vorhersagegenauigkeit und mittels ROC-Kurvenanalyse ("receiver operation characteristics") die Sensitivität und Spezifität verschiedener Faktoren des ACSS-Fragebogens ermittelt. Gruppenvergleiche wurden mit dem t-Test bzw. Mann-Whitney-U-Test durchgeführt.
Ergebnisse
Von den 36 Teilnehmerinnen (Alter: 40 ± 19 Jahre) hatten 19 Patientinnen eine AZ, 17 bildeten die Kontrollgruppe. Für den deutschen ACSS ergab sich ein Cronbachs α-Wert von 0,87. Eine Punktzahl von ≥ 6 Punkten in der Kategorie 1 (typische Symptome) war hochsignifikant mit einer AZ assoziiert (Sensitivität 94,7 %, Spezifität 82,4 %). Es ergaben sich keine signifikanten Unterschiede in der Punktzahl der jeweiligen Gruppen zwischen der deutschen und usbekischen Originalversion.
Diskussion
Der ACSS verfügt auch in der deutschen Version über eine hohe Zuverlässigkeit, Validität und Vorhersagegenauigkeit. Damit kann er für die tägliche Praxis als auch für klinische Studien zur Diagnose einer akuten Zystitis bei deutschsprachigen Patientinnen verwendet werden.
Abstract
Background
The Uzbek version of the Acute Cystitis Symptom Score (ACSS) was developed as a simple self-reporting questionnaire to improve diagnosis and therapy of women with acute cystitis (AC). The purpose of this work was to validate the ACSS in the German language.
Materials and methods
The ACSS consists of 18 questions in four subscales: (1) typical symptoms, (2) differential diagnosis, (3) quality of life, and (4) additional circumstances. Translation of the ACSS into German was performed according to international guidelines. For the validation process 36 German-speaking women (age: 18–90 years), with and without symptoms of AC, were included in the study. Classification of participants into two groups (patients or controls) was based on the presence or absence of typical symptoms and significant bacteriuria (≥ 103 CFU/ml). Statistical evaluations of reliability, validity, and predictive ability were performed. ROC curve analysis was performed to assess sensitivity and specificity of ACSS and its subscales. The Mann–Whitney's U test and t-test were used to compare the scores of the groups.
Results
Of the 36 German-speaking women (age: 40 ± 19 years), 19 were diagnosed with AC (patient group), while 17 women served as controls. Cronbach's α for the German ACSS total scale was 0.87. A threshold score of ≥ 6 points in category 1 (typical symptoms) significantly predicted AC (sensitivity 94.7 %, specificity 82.4 %). There were no significant differences in ACSS scores in patients and controls compared to the original Uzbek version of the ACSS.
Conclusion
The German version of the ACSS showed a high reliability and validity. Therefore, the German version of the ACSS can be reliably used in clinical practice and research for diagnosis and therapeutic monitoring of patients suffering from AC.
Access options
Buy single article
Instant access to the full article PDF.
USD 39.95
Price excludes VAT (USA)
Tax calculation will be finalised during checkout.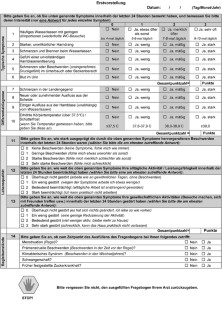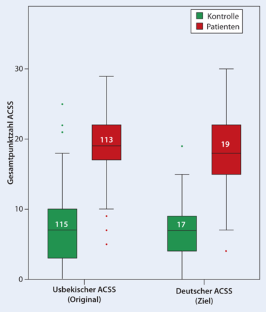 Literatur
Acquadro C, Conray K, Giroudet C et al (2004) Linguistic Validation Manual for Patient-Reported Outcomes (PRO) Instruments. Mapi Research Institute, Lyon, France

Alidjanov J, Wolf J, Schuppe HC et al (2014) Validation of the German version of the 'Hypogonadism Related Symptom Scale' (HRS) in andrological patients with infertility, HIV infection and metabolic syndrome. Andrologia 46(10):1189–1197

Alidjanov JF, Abdufattaev UA, Makhsudov SA et al (2014) New self-reporting questionnaire to assess urinary tract infections and differential diagnosis: acute cystitis symptom score. Urol Int 92:230–236

Barry HC, Hickner J, Ebell MH et al (2001) A randomized controlled trial of telephone management of suspected urinary tract infections in women. J Fam Pract 50:589–594

Bent S, Nallamothu BK, Simel DL et al (2002) Does this woman have an acute uncomplicated urinary tract infection? JAMA 287:2701–2710

Brumfitt W, Hamilton-Miller JM (1990) Prophylactic antibiotics for recurrent urinary tract infections. J Antimicrob Chemother 25:505–512

Clayson D, Wild D, Doll H et al (2005) Validation of a patient-administered questionnaire to measure the severity and bothersomeness of lower urinary tract symptoms in uncomplicated urinary tract infection (UTI): the UTI Symptom Assessment questionnaire. BJU Int 96:350–359

Cronbach L (1946) A case study of the split-half reliability coefficient. J Educ Psychol 37:473–480

Cronbach L (1947) Test reliability; its meaning and determination. Psychometrika 12:1–16

Ellis AK, Verma S (2000) Quality of life in women with urinary tract infections: is benign disease a misnomer? J Am Board Fam Pract 13:392–397

FDA (2015) Complicated urinary tract infections: Developing drugs for treatment guidance for industry. U.S. Department of Health and Human Services Food and Drug Administration. FDA, Silver Spring, MD, USA. http://www.fda.gov

Fenwick EA, Briggs AH, Hawke CI (2000) Management of urinary tract infection in general practice: a cost-effectiveness analysis. Br J Gen Pract 50:635–639

Foxman B (2002) Epidemiology of urinary tract infections: incidence, morbidity, and economic costs. Am J Med 113(Suppl 1A):5–13

Foxman B, Barlow R, D'arcy H et al (2000) Urinary tract infection: self-reported incidence and associated costs. Ann Epidemiol 10:509–515

Foxman B, Frerichs RR (1985) Epidemiology of urinary tract infection: I. Diaphragm use and sexual intercourse. Am J Public Health 75:1308–1313

Gopal M, Northington G, Arya L (2007) Clinical symptoms predictive of recurrent urinary tract infections. Am J Obstet Gynecol 197:71–74

Hochreiter W, Ludwig M, Weidner W et al (2001) National Institutes of Health (NIH) chronic prostatitis symptom index. The German version. Urologe A 40:16–17

Hooton TM, Scholes D, Hughes JP et al (1996) A prospective study of risk factors for symptomatic urinary tract infection in young women. N Engl J Med 335:468–474

Knottnerus BJ, Geerlings SE, Moll Van Charante EP et al (2013) Women with symptoms of uncomplicated urinary tract infection are often willing to delay antibiotic treatment: a prospective cohort study. BMC Fam Pract 14:71

Komaroff AL (1984) Acute dysuria in women. N Engl J Med 310:368–375

Little P, Merriman R, Turner S et al (2010) Presentation, pattern, and natural course of severe symptoms, and role of antibiotics and antibiotic resistance among patients presenting with suspected uncomplicated urinary tract infection in primary care: observational study. BMJ 340:b5633

Ronald AR, Nicolle LE, Stamm E et al (2001) Urinary tract infection in adults: research priorities and strategies. Int J Antimicrob Agents 17:343–348

Rosen RC, Cappelleri JC, Smith MD et al (1999) Development and evaluation of an abridged, 5-item version of the International Index of Erectile Function (IIEF-5) as a diagnostic tool for erectile dysfunction. Int J Impot Res 11:319–326

Spilker B (1996) Quality of life and pharmacoeconomics in clinical trials. Lippincott-Raven, Philadelphia

Stamm WE, Hooton TM (1993) Management of urinary tract infections in adults. N Engl J Med 329:1328–1334

Staquet M, Hays R, Fayers P (1998) Quality of life assessment in clinical trials: methods and practice. Oxford University Press, Oxford

Wild D, Eremenco S, Mear I et al (2009) Multinational trials-recommendations on the translations required, approaches to using the same language in different countries, and the approaches to support pooling the data: the ISPOR Patient-Reported Outcomes Translation and Linguistic Validation Good Research Practices Task Force report. Value Health 12:430–440

Wild DJ, Clayson DJ, Keating K et al (2005) Validation of a patient-administered questionnaire to measure the activity impairment experienced by women with uncomplicated urinary tract infection: the Activity Impairment Assessment (AIA). Health Qual Life Outcomes 3:42

Wiltink J, Hauck EW, Phadayanon M et al (2003) Validation of the German version of the International Index of Erectile Function (IIEF) in patients with erectile dysfunction, Peyronie's disease and controls. Int J Impot Res 15:192–197

Zigmond AS, Snaith RP (1983) The hospital anxiety and depression scale. Acta Psychiatr Scand 67:361–370
Danksagung
Die Autoren bedanken sich bei Prof. Dmitrii L. Aroustamov, ehemaliger Direktor des Republican Specialized Center of Urology (RSCU) in Taschkent, Usbekistan, der diese Untersuchung initiiert hat.
Jakhongir F Alidjanov wurde mit einem Auslands-Stipendium der European Urological Scholarship Program (EUSP) zur Durchführung der Studie im Rahmen eines Aufenthaltes an der Klinik für Urologie, Kinderurologie und Andrologie der Justus-Liebig-Universität in Gießen gefördert.
Einhaltung ethischer Richtlinien
Interessenkonflikt. J.F. Alidjanov, A. Pilatz, U.A. Abdufattaev, J. Wiltink, W. Weidner, K.G. Naber und F. Wagenlehner geben an, dass kein Interessenkonflikt besteht. Alle im vorliegenden Manuskript beschriebenen Untersuchungen am Menschen wurden mit Zustimmung der zuständigen Ethik-Kommission, im Einklang mit nationalem Recht sowie gemäß der Deklaration von Helsinki von 1975 (in der aktuellen, überarbeiteten Fassung) durchgeführt. Von allen beteiligten Patienten liegt eine Einverständniserklärung vor.
Additional information
Die Studie wurde im Rahmen des European Urological Scholarship Programms mit einem Stipendium für J.F. Alidjanov unterstützt.
About this article
Cite this article
Alidjanov, J., Pilatz, A., Abdufattaev, U. et al. Deutsche Validierung des "Acute Cystitis Symptom Score". Urologe 54, 1269–1276 (2015). https://doi.org/10.1007/s00120-015-3873-5
Published:

Issue Date:

DOI: https://doi.org/10.1007/s00120-015-3873-5
Schlüsselwörter
Keywords