Zusammenfassung
Das Prostatakarzinom (PCa) ist der häufigste maligne Tumor und die dritthäufigste Krebstodesursache bei Männern in Deutschland. Die Funktion der Prostata wird durch Testosteron bzw. dessen Metabolit Dihydrotestosteron maßgeblich beeinflusst. Über die Bedeutung von Testosteron beim metastasierten kastrationsresistenten Prostatakarzinom (mCRPC) besteht jedoch vielfach Unklarheit. Lange Zeit wurde die Korrelation des Testosteronspiegels mit der Entstehung oder der Progredienz des PCa über die Androgenhypothese erklärt. Neuere Daten haben die Androgenhypothese jedoch infrage gestellt. Ein hoher Testosteronspiegel begünstigt die Entstehung oder Progredienz eines Prostatakarzinoms nicht und ein niedriger Testosteronspiegel wirkt nicht protektiv. Die Relevanz des Testosteronspiegels beim mCRPC zeigen u. a. die Ergebnisse aus den klinischen Zulassungsstudien mit neuen Substanzen wie Abirateronacetat und Enzalutamid. Die Hinweise auf einen prognostischen Charakter des Testosteronspiegels mehren sich.
Abstract
Background
Among all cancer types, prostate cancer (PCa) is the most prevalent cancer and is the third-leading cause of cancer-related death in men. The biologic function of the prostate is decisively influenced by testosterone and its metabolic product dihydrotestosterone. However, there is general uncertainty about the role of testosterone in metastatic castration-resistant prostate cancer (mCRPC). For many years, the androgen hypothesis had been accepted to explain the correlation between testosterone levels and the development or progression of PCa. However, extensive study analyses revealed contradictory results, leading to a reconsideration of the androgen hypothesis. High serum testosterone levels do not predispose to PCa development and low serum testosterone levels are not protective. The importance of testosterone levels in patients with mCRPC has been shown in several registration studies with new drugs, such as abiraterone acetate and enzalutamide. There is growing evidence suggesting a prognostic role of testosterone levels in mCRPC.
Access options
Buy single article
Instant access to the full article PDF.
US$ 39.95
Tax calculation will be finalised during checkout.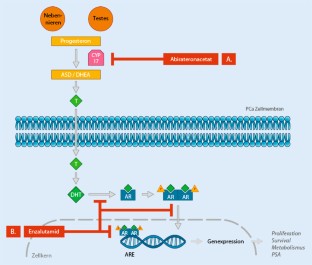 Literatur
1.

Attard G, Reid AH, A'Hern R et al (2009) Selective inhibition of CYP17 with abiraterone acetate is highly active in the treatment of castration-resistant prostate cancer. J Clin Oncol 27:3742–3748

2.

Barrie SE, Haynes BP, Potter GA et al (1997) Biochemistry and pharmacokinetics of potent non-steroidal cytochrome P450(17alpha) inhibitors. J Steroid Biochem Mol Biol 60:347–351

3.

Calof OM, Singh AB, Lee ML et al (2005) Adverse events associated with testosterone replacement in middle-aged and older men: a meta-analysis of randomized, placebo-controlled trials. J Gerontol A Biol Sci Med Sci 60:1451–1457

4.

Chen CD, Welsbie DS, Tran C et al (2004) Molecular determinants of resistance to antiandrogen therapy. Nat Med 10:33–39

5.

Cooper CS, Perry PJ, Sparks AE et al (1998) Effect of exogenous testosterone on prostate volume, serum and semen prostate specific antigen levels in healthy young men. J Urol 159:441–443

6.

Crawford ED, Eisenberger MA, McLeod DG et al (1989) A controlled trial of leuprolide with and without flutamide in prostatic carcinoma. N Engl J Med 321:419–424

7.

Efstathiou E, Titus M, Wen S et al (2014) Molecular characterization of enzalutamide-treated bone metastatic castration-resistant prostate cancer. Eur Urol

8.

Fizazi K, Scher HI, Molina A et al (2012) Abiraterone acetate for treatment of metastatic castration-resistant prostate cancer: final overall survival analysis of the COU-AA-301 randomised, double-blind, placebo-controlled phase 3 study. Lancet Oncol 13:983–992

9.

Geller J, Albert JD, Nachtsheim DA, Loza D (1984) Comparison of prostatic cancer tissue dihydrotestosterone levels at the time of relapse following orchiectomy or estrogen therapy. J Urol 132:693–696

10.

Halabi S, Small EJ, Kantoff PW et al (2003) Prognostic model for predicting survival in men with hormone- refractory metastatic prostate cancer. J Clin Oncol 21:1232–1237

11.

Holzbeierlein J, Lal P, LaTulippe E et al (2004) Gene expression analysis of human prostate carcinoma during hormonal therapy identifies androgen-responsive genes and mechanisms of therapy resistance. Am J Pathol 164:217–227

12.

Huggins C, Stevens RE, Hodges CV (1941) Studies on prostatic cancer II. The effects of castration on advanced carcinoma of the prostate. Arch Surg 43:209–223

13.

Isbarn H, Pinthus JH, Marks LS et al (2009) Testosterone and prostate cancer: revisiting old paradigms. Eur Urol 56:48–56

14.

Jarman M, Barrie SE, Llera JM (1998) The 16,17-double bond is needed for irreversible inhibition of human cytochrome p45017alpha by abiraterone (17-(3-pyridyl)androsta-5, 16- dien-3beta-ol) and related steroidal inhibitors. J Med Chem 41:5375–5381

15.

Jastrzebska S, Walczak-Jedrzejowska R, Kramek E et al (2014) Relationship between sexual function, body mass index and levels of sex steroid hormones in young men. Endokrynol Pol 65:203–209

16.

Khera M, Crawford D, Morales A et al (2014) A new era of testosterone and prostate cancer: from physiology to clinical implications. Eur Urol 65:115–123

17.

Kim J, Coetzee GA (2004) Prostate specific antigen gene regulation by androgen receptor. J Cell Biochem 93:233–241

18.

Klotz L, Nabid A, Higano C et al (2014) Effect of dutasteride in men receiving intermittent androgen ablation therapy: the AVIAS trial. Can Urol Assoc J 8:E789–E794

19.

Klotz L, O'Callaghan C, Dearnaley D et al (2014) Nadir testosterone (T) on ADT predicts for time to castrate resistant progression: a secondary analysis of the PR-7 intermittent vs continuous ADT trial. In: 29th Annual European Association of Urology (EAU) Congress. Stockholm

20.

Leitlinienprogramm Onkologie (Deutsche Krebsgesellschaft DK, AWMF) (2014) Konsultationsfassung: Interdisziplinäre Leitlinie der Qualität S3 zur Früherkennung, Diagnose und Therapie der verschiedenen Stadien des Prostatakarzinoms, Langversion 2.2; AWMF Registernummer: 034/022OL. http://leitlinienprogramm-onklogie.de/Leitlinien.7.0.html

21.

Miyatake A, Morimoto Y, Oishi T et al (1980) Circadian rhythm of serum testosterone and its relation to sleep: comparison with the variation in serum luteinizing hormone, prolactin, and cortisol in normal men. J Clin Endocrinol Metab 51:1365–1371

22.

Molina A, Belldegrun A (2011) Novel therapeutic strategies for castration resistant prostate cancer: inhibition of persistent androgen production and androgen receptor mediated signaling. J Urol 185:787–794

23.

Morgentaler A (2006) Testosterone and prostate cancer: an historical perspective on a modern myth. Eur Urol 50:935–939

24.

Morgentaler A, Traish AM (2009) Shifting the paradigm of testosterone and prostate cancer: the saturation model and the limits of androgen-dependent growth. Eur Urol 55:310–320

25.

Mostaghel EA, Page ST, Lin DW et al (2007) Intraprostatic androgens and androgen-regulated gene expression persist after testosterone suppression: therapeutic implications for castration-resistant prostate cancer. Cancer Res 67:5033–5041

26.

Mottet N, Bastian PJ, Bellmunt J et al (2014) EAU guidelines on prostate cancer. http://www.uroweb.org

27.

Muller RL, Gerber L, Moreira DM et al (2012) Serum testosterone and dihydrotestosterone and prostate cancer risk in the placebo arm of the reduction by dutasteride of prostate cancer events trial. Eur Urol 62:757–764

28.

Rathkopf DE, Smith MR, Bono JS de et al (2014) Updated interim efficacy analysis and long-term safety of abiraterone acetate in metastatic castration-resistant prostate cancer patients without prior chemotherapy (COU-AA-302). Eur Urol 66(5):815–825

29.

Roder MA, Christensen IJ, Berg KD et al (2012) Serum testosterone level as a predictor of biochemical failure after radical prostatectomy for localized prostate cancer. BJU Int 109:520–524

30.

Rosner W, Auchus RJ, Azziz R et al (2007) Position statement: utility, limitations, and pitfalls in measuring testosterone: an Endocrine Society position statement. J Clin Endocrinol Metab 92:405–413

31.

Rosner W, Vesper H (2008) Preface. CDC workshop report improving steroid hormone measurements in patient care and research translation. Steroids 73:1285

32.

Rosner W, Vesper H (2010) Toward excellence in testosterone testing: a consensus statement. J Clin Endocrinol Metab 95:4542–4548

33.

Ryan CJ (2014) Final analysis of phase 3 COU-AA-302 study. In: European Society for Medical Oncology (ESMO). Madrid, p abstract 753O

34.

Ryan CJ, Cheng ML (2013) Abiraterone acetate for the treatment of prostate cancer. Expert Opin Pharmacother 14:91–96

35.

Ryan CJ, Molina A, Li J et al (2013) Serum androgens as prognostic biomarkers in castration-resistant prostate cancer: results from an analysis of a randomized phase III trial. J Clin Oncol 31:2791–2798

36.

Ryan CJ, Peng W, Kheoh T et al (2014) Androgen dynamics and serum PSA in patients treated with abiraterone acetate. Prostate Cancer Prostatic Dis 17:192–198

37.

Ryan CJ, Smith MR, Bono JS de et al (2013) Abiraterone in metastatic prostate cancer without previous chemotherapy. N Engl J Med 368:138–148

38.

Scher HI, Halabi S, Tannock I et al (2008) Design and end points of clinical trials for patients with progressive prostate cancer and castrate levels of testosterone: recommendations of the Prostate Cancer Clinical Trials Working Group. J Clin Oncol 26:1148–1159

39.

Shaneyfelt T, Husein R, Bubley G, Mantzoros CS (2000) Hormonal predictors of prostate cancer: a meta-analysis. J Clin Oncol 18:847–853

40.

Tindall DJ, Rittmaster RS (2008) The rationale for inhibiting 5alpha-reductase isoenzymes in the prevention and treatment of prostate cancer. J Urol 179:1235–1242

41.

Titus MA, Schell MJ, Lih FB et al (2005) Testosterone and dihydrotestosterone tissue levels in recurrent prostate cancer. Clin Cancer Res 11:4653–4657

42.

Traish AM, Miner MM, Morgentaler A, Zitzmann M (2011) Testosterone deficiency. Am J Med 124:578–587

43.

Wang C, Catlin DH, Demers LM et al (2004) Measurement of total serum testosterone in adult men: comparison of current laboratory methods versus liquid chromatography-tandem mass spectrometry. J Clin Endocrinol Metab 89:534–543

44.

Wilson EM (2014) More evidence intratumoral DHT synthesis drives castration-resistant prostate cancer. Asian J Androl 16:99–100
Danksagung
Die Autoren danken Dr. M. Esser und Dr. J. Schreier (co.faktor GmbH, Berlin) für die Unterstützung bei der Manuskripterstellung.
Einhaltung ethischer Richtlinien
Interessenkonflikt
J. M. Wolff: Referenten- und Beratertätigkeit für die Firmen Amgen, Apogepha, Astellas, AstraZeneca, Bayer, Ferring, Hexal, Ipsen, Janssen, Sanofi und Takeda. P.-P. Schmid: Beratertätigkeit für Astellas, Janssen, Sanofi und Takeda.
Dieser Beitrag beinhaltet keine Studien an Menschen oder Tieren.
About this article
Cite this article
Wolff, J., Schmid, H. Testosteron im Management des metastasierten Prostatakarzinoms. Urologe 54, 1578–1583 (2015). https://doi.org/10.1007/s00120-015-3813-4
Schlüsselwörter
Prostatakarzinom

Testosteronspiegel

Androgenentzugstherapie (ADT)

Sättigungshypothese

Kastrationsniveaus
Keywords
Prostate cancer

Testosterone levels

Androgen deprivation therapy (ADT)

Saturation model

Castration levels