Zusammenfassung
Hintergrund
Die Androgendeprivationstherapie (ADT) ist die tragende Säule der Behandlung des metastasierten Prostatakarzinoms (mPCa), wird aber auch mit dem Auftreten kardiovaskulärer Ereignisse in Verbindung gebracht. Bisher existieren nur wenige Studien, die LHRH-Agonisten und GnRH-Antagonisten in Bezug auf das kardiovaskuläre Risiko direkt miteinander vergleichen.
Ziel der Arbeit
Dieser Artikel vergleicht das kardiovaskuläre Risiko von LHRH-Agonisten und GnRH-Antagonisten basierend auf der aktuellen Fachliteratur.
Methoden
Eine Literaturrecherche wurde durchgeführt, in der Vollpublikationen und Abstracts, die bis zum 10. Dezember 2014 erschienen, berücksichtigt wurden. Evidenzbedingt wurde die Literaturrecherche auf Metaanalysen und gepoolte Studiendaten beschränkt.
Ergebnisse
Vier Arbeiten untersuchten das kardiovaskuläre Risiko unter einer Therapie mit LHRH-Agonisten und/oder GnRH-Antagonisten, aber nur eine Arbeit stellte einen direkten Vergleich des kardiovaskulären Risikos unter LHRH-Agonisten und GnRH-Antagonisten an. Aus dieser Metaanalyse ergibt sich ein signifikant geringeres Risiko für Patienten unter einem GnRH-Antagonisten im Vergleich zu einem LHRH-Agonisten (HR: 0,597; 95 % CI: 0,380–0,938; p = 0,0253). Subgruppenanalysen zeigen, dass vor allem Patienten mit kardiovaskulärer Vorerkrankung ein deutlich vermindertes Risiko für das Auftreten eines kardiovaskulären Ereignisses haben, wenn sie mit GnRH-Antagonisten und nicht mit LHRH-Agonisten behandelt werden (HR: 0,44; 95 % CI: 0,26–0,74; p = 0,002).
Schlussfolgerungen
Das Risiko für ein kardiovaskuläres Ereignis unter ADT mit GnRH-Antagonisten ist im Vergleich zu LHRH-Agonisten, insbesondere für PCa-Patienten mit kardiovaskulären Vorerkrankungen, geringer. Daher empfehlen wir, diese Patienten mit GnRH-Antagonisten zu behandeln.
Abstract
Background
Androgen deprivation therapy (ADT) with gonadotropin-releasing hormone (GnRH) agonists or GnRH antagonists is the mainstay of treatment for metastatic prostate cancer (mCaP). However, ADT is associated with serious cardiovascular events. Only a few studies that directly compare the cardiovascular risk of LHRH agonists versus GnRH antagonists have been published.
Objectives
This review aims to compare the cardiovascular risk of LHRH agonists versus GnRH antagonists based on the literature.
Methods
A literature search that considered full publications and abstracts published before December 10, 2014 was performed. Due to their high evidence quality, only meta-analyses and pooled studies were included in this review.
Results
Four studies were included. These investigated the cardiovascular risk of patients receiving an ADT with LHRH agonists and/or GnRH antagonists. However, only one of these directly compared the cardiovascular risk of ADT with LHRH agonists versus GnRH antagonists. This meta-analysis showed a significant reduction in cardiovascular risk for patients receiving a GnRH antagonist compared to those patients receiving a LHRH agonist (HR: 0.597; 95 % CI: 0.380–0.938; P = 0.0253). Subgroup analyses showed that, in particular, patients with pre-existing cardiovascular diseases who were treated with a GnRH antagonist have a significantly lower risk of experiencing a cardiovascular event when compared with patients receiving a GnRH agonist (HR: 0.44; 95 % CI: 0.26–0.74; P = 0.002).
Conclusion
In conclusion, GnRH antagonists are associated with a lower risk of cardiovascular events, compared with LHRH agonists, when administered as ADT in CaP patients, and particularly in patients with a history of cardiovascular disease. Thus, patients with a history of cardiovascular disease may benefit from ADT with a GnRH antagonist.
Access options
Buy single article
Instant access to the full article PDF.
US$ 39.95
Tax calculation will be finalised during checkout.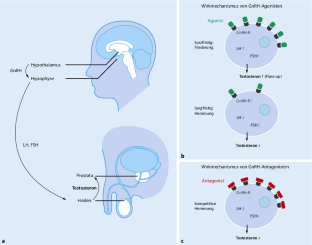 Literatur
1.

Abdollah F, Sammon JD, Reznor G et al (2015) Medical androgen deprivation therapy and increased non-cancer mortality in non-metastatic prostate cancer patients aged ≥ 66 years. Eur J Surg Oncol 41:1529–1539

2.

Albertsen PC, Klotz L, Tombal B et al (2014) Cardiovascular morbidity associated with gonadotropin releasing hormone agonists and an antagonist. Eur Urol 65:565–573

3.

Ammar EM, Said SA, Hassan MS (2004) Enhanced vasoconstriction and reduced vasorelaxation induced by testosterone and nandrolone in hypercholesterolemic rabbits. Pharmacol Res 50:253–259

4.

Bai CX, Kurokawa J, Tamagawa M et al (2005) Nontranscriptional regulation of cardiac repolarization currents by testosterone. Circulation 112:1701–1710

5.

Blankfield RP (2012) Androgen deprivation therapy for prostate cancer and cardiovascular death. JAMA 307:1252–1253

6.

Bosco C, Bosnyak Z, Malmberg A et al (2014) Quantifying observational evidence for risk of fatal and nonfatal cardiovascular disease following androgen deprivation therapy for prostate cancer: a meta-analysis. Eur Urol 3:386–396

7.

Brouillette J, Rivard K, Lizotte E et al (2005) Sex and strain differences in adult mouse cardiac repolarization: importance of androgens. Cardiovasc Res 65:148–157

8.

Cavasin MA, Tao ZY, Yu AL et al (2006) Testosterone enhances early cardiac remodeling after myocardial infarction, causing rupture and degrading cardiac function. Am J Physiol Heart Circ Physiol 290:2043–2050

9.

Chen HF, Jeung EB, Stephenson M et al (1999) Human peripheral blood mononuclear cells express gonadotropin-releasing hormone (GnRH), GnRH receptor, and interleukin-2 receptor gamma-chain messenger ribonucleic acids that are regulated by GnRH in vitro. J Clin Endocrinol Metab 84:743–750

10.

Dong F, Skinner DC, Wu TJ et al (2011) The heart: a novel gonadotrophin-releasing hormone target. J Neuroendocrinol 23:456–463

11.

Edelman S, Butler J, Hershatter BW et al (2014) The effects of androgen deprivation therapy on cardiac function and heart failure: implications for management of prostate cancer. Clin Genitourin Cancer 12:399–407

12.

Er F, Michels G, Gassanov N et al (2004) Testosterone induces cytoprotection by activating ATP-sensitive K+ channels in the cardiac mitochondrial inner membrane. Circulation 110:3100–3107

13.

Ferring GmbH (2014) FIRMAGON 80 mg Pulver und Lösungsmittel zur Herstellung einer Injektionslösung. Fachinformation (Stand: November 2014) http://www.pharmazie.com/graphic/A/41/0-91441.pdf. Zugegriffen: 1. Oktober 2015

14.

Hanke H, Lenz C, Hess B et al (2001) Effect of testosterone on plaque development and androgen receptor expression in the arterial vessel wall. Circulation 103:1382–1385

15.

Herring MJ, Oskui PM, Hale SL et al (2013) Testosterone and the cardiovascular system: a comprehensive review of the basic science literature. J Am Heart Assoc 2:e000271

16.

Keating NL, O'Malley AJ, Smith MR (2006) Diabetes and cardiovascular disease during androgen deprivation therapy for prostate cancer. J Clin Oncol 24:4448–4456

17.

Klotz L, Miller K, Crawford ED et al (2014) Disease control outcomes from analysis of pooled individual patient data from five comparative randomised clinical trials of degarelix versus luteinising hormone-releasing hormone agonists. Eur Urol 66:1101–1108

18.

Knutsson A, Hsiung S, Celik S et al (2015) Treatment with an LRHR agonist, but not the LHRH antagonist degarelix, induces atherosclerotic plaque instability in ApoE-/- mice. In: EAU 2015. Madrid (Poster 559)

19.

Loprinzi, Kohli M (2013) Effect of physical activity and sedentary behavior on serum prostate-specific antigen concentrations: results from the National Health and Nutrition Examination Survey (NHANES), 2003–2006. Mayo Clin Proc 88:11–21

20.

Ng MK, Quinn CM, Mccrohon JA et al (2003) Androgens up-regulate atherosclerosis-related genes in macrophages from males but not females: molecular insights into gender differences in atherosclerosis. J Am Coll Cardiol 42:1306–1313

21.

Nguyen PL, Je Y, Schutz FA et al (2011) Association of androgen deprivation therapy with cardiovascular death in patients with prostate cancer: a meta-analysis of randomized trials. JAMA 306:2359–2366

22.

Pham TV, Sosunov EA, Anyukhovsky EP et al (2002) Testosterone diminishes the proarrhythmic effects of dofetilide in normal female rabbits. Circulation 106:2132–2136

23.

Rettew JA, Huet-Hudson YM, Marriott I (2008) Testosterone reduces macrophage expression in the mouse of toll-like receptor 4, a trigger for inflammation and innate immunity. Biol Reprod 78:432–437

24.

Schmid M, Sammon JD, Reznor G et al (2015) Dose-dependent effect of androgen deprivation therapy for localized prostate cancer on adverse cardiac events. Br J Urol Int. doi:10.1111/bju.13203

25.

Shore ND (2013) Experience with degarelix in the treatment of prostate cancer. Ther Adv Urol 5:11–24

26.

Smith MR, Klotz L, Van Der ME et al (2011) Association of baseline risk factors with cardiovascular (CV) events during long-term degarelix therapy in men with prostate cancer. J Clin Oncol 29(suppl 7):190

27.

Tombal B, Miller K, De Reijke TM et al (2013) Degarelix versus luteinising hormone-releasing hormone (LHRH) agonists: Safety outcomes from six comparative randomised clinical trials. Eur J Cancer Suppl 2:681

28.

Tsang S, Wu S, Liu J et al (2008) Testosterone protects rat hearts against ischaemic insults by enhancing the effects of alpha(1)-adrenoceptor stimulation. Br J Pharmacol 153:693–709

29.

Zhao J, Zhu S, Sun L et al (2014) Androgen deprivation therapy for prostate cancer is associated with cardiovascular morbidity and mortality: a meta-analysis of population-based observational studies. PLOS One 9:e107516
Danksagung
Die Autoren danken Dr. Juliane Schreier und Dr. Marc Esser (co.faktor GmbH, Berlin) für die Unterstützung bei der Manuskripterstellung.
Ethics declarations
Interessenkonflikt
A.S. Merseburger: Referenten-, Berater-, Studientätigkeit für Ipsen, Bayer, Pfizer, Novartis, Astellas, Hexal, Ferring, Janssen Cilag, Roche, Wyeth, TEVA, Oncogenex, Medivation. D. Sedding: Referenten-, Berater-, Studientätigkeit für Bayer, Pfizer, Novartis, Ferring, Boehringer Ingelheim, Lilly, Servier, AstraZeneca, Biotronic, Medtronic, Abbott, Berlin Pharma. K. Hüter gibt an, dass kein Interessenkonflikt besteht.
Dieser Beitrag beinhaltet keine Studien an Menschen oder Tieren.
About this article
Cite this article
Merseburger, A.S., Sedding, D. & Hüter, K. Kardiovaskuläre Risikopatienten unter Androgenentzugstherapie. Urologe 55, 218–225 (2016). https://doi.org/10.1007/s00120-015-0013-1
Schlüsselwörter
Prostatakarzinom

Androgendeprivationstherapie (ADT)

LHRH-Agonisten/GnRH-Antagonisten

Kardiovaskuläre Ereignisse
Keywords
Prostate cancer

Androgen deprivation therapy (ADT)

LHRH agonists/GnRH antagonists

Cardiovascular events