Zusammenfassung
Hintergrund
Derzeit existieren unterschiedliche Behandlungskonzepte von Prostatakrebspatienten in der niedergelassenen Praxis in Deutschland.
Fragestellung/Ziel der Arbeit
Die unterschiedliche Behandlungspraxis von Prostatakarzinompatienten in urologischen IQUO-Partnerpraxen (Interessenverband zur Qualitätssicherung der Arbeit niedergelassener Uroonkologen in Deutschland e. V.) soll abhängig von Tumorstadien und Risikofaktoren dargestellt werden. Die Analyse konzentriert sich auf Patienten im T1/T2- und T3/T4-Stadium, die angewandten Therapien werden ebenfalls nach Risikogruppen analysiert.
Material und Methoden
In dieser retrospektiven Querschnittsanalyse wurden 1000 Prostatakrebspatienten ausgewertet, deren Behandlungsverlauf mindestens 12 Monate in der OnkoDataMed (ODM)-Datenbank zwischen Februar 2008 und Mai 2012 dokumentiert war. Einbezogen wurde eine nach dem Zufallsprinzip gewählte Stichprobe von 122 IQUO-Praxen, wobei maximal 50 Patienten pro Praxis in die Auswertung aufgenommen wurden. Die Datenbank wurde hinsichtlich der lokal begrenzten Tumore im Stadium T1/2 und der fortgeschrittenen Tumoren im Stadium T3/4 analysiert. Für die Bildung der Risikogruppen waren PSA-Werte, Tumorstadium und der Gleason-Score der Erstdiagnose entscheidend. Die Analyse der Parameter wurde mittels deskriptiver Statistik durchgeführt.
Ergebnisse und Diskussion
Der PSA-Wert (prostataspezifisches Antigen) erwies sich erwartungsgemäß als der entscheidende Parameter für die Verlaufs- und Therapiekontrolle. Neuere Therapieoptionen wurden nur zurückhaltend eingesetzt. Die differenzierte Risikoeinordnung wurde nicht ausreichend angewendet, bietet aber eine gute Möglichkeit, in Zukunft individueller zu therapieren.
Abstract
Background
Different practices for the treatment of prostate cancer patients exist in Germany.
Objectives
The aim of this analysis was to investigate current practice for the treatment of patients with prostate cancer in urological IQUO partner practices (Interest Group for Quality Assurance in the Work of Office-based Uro-oncologists in Germany) dependent on tumor stage and risk factors. The analysis focused on T1/T2 and T3/T4 patients. In addition, applied therapies were analyzed based on risk group classification (CAPRIS, cancer of the prostate identification screening).
Materials and methods
This retrospective cross-sectional analysis includes 1000 patients with prostate cancer with at least 12 months of documentation from the OnkoDataMed (ODM) database between February 2008 and May 2012. The 122 IQUO medical practices included were randomly selected; maximally 50 patients per practice were included in the analysis. The database was analyzed in terms of localized T1/T2 tumors and advanced T3/T4 tumors. Risk groups were formed according to parameters of the initial diagnosis including PSA value, tumor stage, and Gleason score. Descriptive statistics were performed to analyze all parameters.
Results and conclusions
As expected, PSA is the critical parameter for follow-up and therapy monitoring. Newer therapeutic options have only been initiated to a limited extent. Differentiated risk assessment has not been sufficiently used; however, it does provide a good opportunity for more individualized therapy in the future.
This is a preview of subscription content, log in to check access.
Access options
Buy single article
Instant access to the full article PDF.
US$ 39.95
Price includes VAT for USA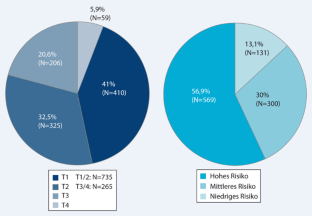 Literatur
1.

Adler G, Seufferlein T, Bischoff SC et al (2007) S3-Guidelines "Exocrine pancreatic cancer" 2007. Z Gastroenterol 45:487–523

2.

Börgermann C, Rübben H (2006) Früherkennung des Prostatakarzinoms. Dtsch Ärztebl 103:2399–2406

3.

Breslow N, Chan CW, Dhom G et al (1977) Latent carcinoma of prostate at autopsy in seven areas. The International Agency for Research on Cancer, Lyons, France. Int J Cancer 20:680–688

4.

Bundesministerium für Bildung und Forschung (BMBF) (2013) Versorgungsforschung. BMBF, Berlin. http://www.gesundheitsforschung-bmbf.de

5.

D'Amico AV, Moul J, Carroll PR et al (2003) Cancer-specific mortality after surgery or radiation for patients with clinically localized prostate cancer managed during the prostate-specific antigen era. J Clin Oncol 21:2163–2172

6.

Deb S, Chin MY, Adomat H, Guns ES (2013) Abiraterone inhibits 1alpha, 25-dihydroxyvitamin D metabolism by CYP3A4 in human liver and intestine in vitro. J Steroid Biochem Mol Biol (Epub ahead of print). doi: 10.1016/j.jsbmb.2013.10.027.

7.

Heidenreich A, Bastian P, Bellmunt J et al (2013) Guidelines on prostate cancer. Eur Assoc Urol 65(1):124–137

8.

Merseburger AS, Kuczyk MA, Wolff JM (2012) Pathophysiologie und Androgendeprivationstherapie des kastrationsresistenten Prostatakarzinoms. Urologe 52: 219–225

9.

Robert-Koch-Institut (RKI) (2012) Prostatakrebs (Prostatakarzinom). Krebs in Deutschland. RKI, Berlin. http://www.rki.de

10.

Robert-Koch-Institut (RKI) (2010) Verbreitung von Krebserkrankungen in Deutschland. Entwicklung der Prävalenzen zwischen 1990 und 2010. Beiträge zur Gesundheitsberichterstattung des Bundes. RKI, Berlin

11.

Ryan CJ, Cheng ML (2013) Abiraterone acetate for the treatment of prostate cancer. Expert Opin Pharmacother 14:91–96

12.

S3-Leitlinie der Deutschen Gesellschaft für Urologie (DGU) (Stand 2011) Prostatakarzinom: Früherkennung, Diagnose und Therapie der verschiedenen Stadien. AWMF, Düsseldorf, online

13.

Schön H, Schnell D, Weißbach L (2011) HAROW: Versorgungsstudie zum lokal begrenzten Prostatakarzinom. Monitor Versorgungsforschung (MVF) 32 ff

14.

Shepherd FA, Rodrigues Pereira J, Ciuleanu T et al (2005) Erlotinib in previously treated non-small-cell lung cancer. N Engl J Med 353:123–132

15.

Steinberg GD, Carter BS, Beaty TH et al (1990) Family history and the risk of prostate cancer. Prostate 17:337–347

16.

Thompson IM, Pauler DK, Goodman PJ et al (2004) Prevalence of prostate cancer among men with a prostate-specific antigen level < or =4.0 ng per milliliter. N Engl J Med 350:2239–2246

17.

Wittekind C, Meyer H-J (2010) TNM Klassifikation maligner Tumoren. Wiley-VCH, Weinheim
Danksagung
Die Autoren danken Dr. M. Esser und Dr. J. Schreier (co.faktor GmbH, Berlin) für die Hilfe beim Erstellen des Manuskriptes und der grafischen Umsetzung der Abbildungen.
Einhaltung ethischer Richtlinien
Interessenkonflikt. Dr. Matthias Schulze: Vorstandsmitglied des IQUO; Heribert Stiegler: Mitarbeiter der Firma OnkoDataMed (Projekt Manager); Clemens Thielecke: Mitarbeiter der Firma OnkoDataMed (Statistiker); Dr. Christiane Colling: Mitarbeiterin der Firma Ipsen Pharma (Scientific Manager Uro-Oncology, Medical & Regulatory Department); Professor Axel S. Merseburger: Referenten-, Berater-, Studientätigkeit für Ipsen, Bayer, Pfizer, Novartis, Astellas, Janssen Cilag, Roche, Wyeth, TEVA, Oncogenex, Medivation. Dieser Beitrag beinhaltet keine Studien an Menschen oder Tieren.
About this article
Cite this article
Schulze, M., Stiegler, H., Thielecke, C. et al. Querschnittsanalyse zur Routinebehandlung von Prostatakrebspatienten. Urologe 53, 865–870 (2014). https://doi.org/10.1007/s00120-014-3530-4
Schlüsselwörter
Versorgungsforschung

Antigen, prostataspezifisches

Hormontherapie

Androgendeprivationstherapie

Subgruppenanalyse
Keywords
Healthcare research

Antigen, prostate-specific

Hormone therapy

Androgen-deprivation therapy

Subgroup analysis