Zusammenfassung
Das fortgeschrittene Prostatakarzinom, das unter Androgendeprivationstherapie ein erneutes Wachstum aufweist, ist lange für hormonrefraktär gehalten worden. Die Identifizierung der Anpassungsmechanismen der Tumorzellen hat dieses Verständnis revolutioniert. Heute weiß man, dass das kastrationsresistente Prostatakarzinom (CRPC) seine Wachstumssignale immer noch über die Transduktionswege des Androgenrezeptors erhält und weiterhin sensibel für hormonelle Therapien ist. Neue Medikamente wie Abirateronacetat, Enzalutamide (MDV3100) und TAK 700 setzten an den Mechanismen der Resistenzentwicklung von Karzinomzellen an, blockieren die Testosteronbiosynthese und zeigen neben besserer Verträglichkeit eine effektive Antitumorwirkung. Ausgehend von einer Heterogenität der Tumoren mit Zellen unterschiedlicher Differenzierungsgrade, bleibt die Behandlung des CRPC mit der Androgendeprivationstherapie weiterhin ein wichtiger Teil des Krankheitsmanagements. Inwieweit der Forschungsstand und die Empfehlungen der Fachgesellschaften in der Praxis umgesetzt werden, zeigt ein Survey, der das therapeutische Management von CRPC-Patienten untersucht.
Abstract
Advanced prostate cancer that progresses under androgen deprivation therapy has long been thought to be refractory to further hormonal treatment. The identification of the mechanism of cancer cells has revolutionized this understanding. Today it is known that castration-resistant prostate cancer (CRPC) still receives signals through the androgen receptor transduction pathways and furthermore is sensitive to hormone therapy. New substances, such as abiraterone, enzalutamide (MDV3100) and TAK 700 target these mechanisms of resistance of cancer cells, stop testosterone production and show not only better tolerance but also effective antitumor activity. Due to the heterogeneity of tumors with cells in varying states of differentiation, the treatment of CRPC with androgen deprivation therapy remains a cornerstone of disease management. To what extent the experimental findings and the recommendations in the guidelines are put into practice was the subject of a survey among urologists analyzing their treatment strategies with CRPC patients.
This is a preview of subscription content, log in to check access.
Access options
Buy single article
Instant access to the full article PDF.
US$ 39.95
Price includes VAT for USA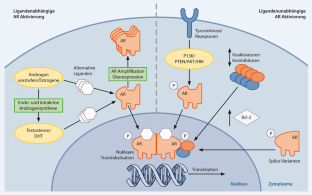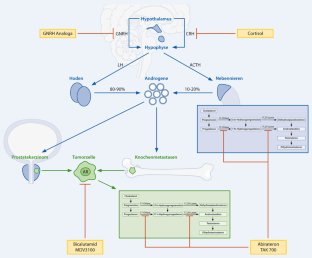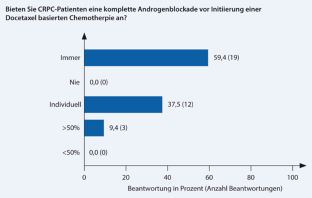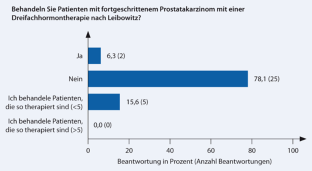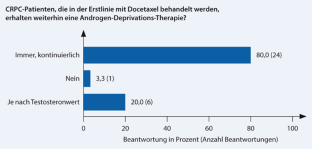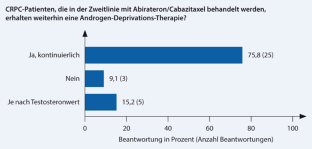 Literatur
1.

Bono JS de, Logothetis CJ, Molina A et al (2011) Abiraterone and increased survival in metastatic prostate cancer. N Engl J Med 364:1995–2005

2.

Gelmann EP (2002) Molecular biology of the androgen receptor. J Clin Oncol 20(16):3001–3015

3.

Gregory CW, He B, Johnson RT et al (2001) A mechanism for androgen receptor-mediated prostate cancer recurrence after androgen deprivation therapy. Cancer Res 61:4315–4319

4.

Harris WP, Mostaghel EA, Nelson PS (2009) Androgen deprivation therapy: progress in understanding mechanisms of resistance and optimizing androgen depletion. Nat Clin Prac Urol 6(2):76–85

5.

Heidenreich A, Bastian PJ, Bellmunt J et al (2012) Guidelines on prostate cancer. European Association of Urology, Arnheim, The Netherlands, pp 142–162

6.

Kelly WK, Scher HI (1993), Prostate specific antigen decline after antiandrogen withdrawal: the flutamide withdrawal syndrome. J Urol 149:607–609

7.

Maluf FC, Smaletz O, Herchenhorn D (2012) Castration-resistant prostate cancer: systemic therapy in 2012. Clinics 67(4):389–394

8.

Manni A, Bartholomew M, Caplan R et al (1988) Androgen priming and chemotherapy in advanced prostate cancer: evaluation of determinants of clinical outcome. J Clin Oncol 6(9):1456–1466

9.

Ngan ESW, Hashimoto Y, Ma ZQ et al (2003) Overexpression of Cdc25B, an androgen receptor coactivator, in prostate cancer. Oncogen 22:734–739

10.

O'Donnel A, Judson I, Dowsett M et al (2004) Hormonal impact of the 17a-hydroxylase/C17,20-lyase inhibitor abiraterone acetate (CB7630) in patients with prostate cancer Br J Cancer 90:2317–2325

11.

Robert Koch Institut (2012) Zentrum für Krebsregisterdaten, Prostatakrebs. RKI, Berlin

12.

Ryan CJ, Smith MR, De Bono JS, et al (2012) Interim analysis (IA) results of COU-AA-302, a randomized, phase III study of abiraterone acetate (AA) in chemotherapy-naive patients (pts) with metastatic castration-resistant prostate cancer (mCRPC). J Clin Oncol 30(Suppl)

13.

Sartor O (2011) Progression of metastatic castrate-resistant prostate cancer: impact of therapeutic intervention in the post- docetaxel space. J Hematol Oncol 4:18

14.

Scher HI, Beer TM, Higano CS et al (2010) Antitumor activity of MDV3100 in ca stration-resistant prostate cancer: a phase 1–2 study. Lancet 375:1437–1446

15.

Scher HI, Fizazi K, Saad F et al (2012) Effect of MDV3100, an androgen receptor signaling inhibitor (ARSI), on overall survival in patients with prostate cancer postdocetaxel: Results from the phase III AFFIRM study. J Clin Oncol 30(Suppl 5):1

16.

Taylor CD, Elson P, Trump DL (1993) Importance of continued testicular suppression in hormone-refractory prostate cancer. J Clin Oncol 11:2167

17.

Tsao CK, Small AC, Galsky MD et al (2012) Overcoming castration resistance in prostate cancer. Curr Opin Urol 22:167–174

18.

Wörmann B, Wolff JM (2010) Systemic treatment of metastatic prostate cancer. Urologe 49:221–227

19.

Zhu ML, Horbinski C, Garzotto M et al (2010) Tubulin-targeting chemotherapy impairs androgen receptor activity in prostate cancer. Cancer Res 70(20):7992–8002
Danksagung
Wir danken für die freundliche Unterstützung bei der Erstellung der Abbildungen und des Manuskriptes durch Herrn Dr. Marc Esser (co.faktor GmbH, Berlin).
Interessenkonflikt
Der korrespondierende Autor weist für sich und seine Koautoren auf folgende Beziehung/en hin: Die Erstellung des Manuskripts erfolgte mit finanzieller Unterstützung der Astellas Pharma GmbH.
About this article
Cite this article
Merseburger, A., Kuczyk, M. & Wolff, J. Pathophysiologie und Androgendeprivationstherapie des kastrationsresistenten Prostatakarzinoms. Urologe 52, 219–225 (2013). https://doi.org/10.1007/s00120-012-3054-8
Schlüsselwörter
Krankheitsmanagement

Androgenrezeptor

Hormontherapie

Enzalutamide

Abirateronacetat
Keywords
Disease management

Androgen receptor

Hormone therapy

Abiraterone

Enzalutamide