Zusammenfassung
Die Geburt eines Kindes mit uneindeutigem äußeren Genitale stellt für die Eltern eine extreme psychische Belastung dar. Daher ist es wichtig, dass von ärztlicher Seite rasch die richtige Diagnose gestellt wird. Bereits die Inspektion des Genitale kann hier richtungsweisende Hinweise geben. Laborchemische und molekulargenetische Untersuchungen führen in der Regel zur richtigen Diagnose. Obligatorisch ist zudem eine Chromosomenanalyse.
Um sich die unterschiedlichen Erscheinungsformen besser ableiten zu können, geht der Artikel zunächst auf die normale embryologische sexuelle Differenzierung ein. Im Weiteren werden dann die äußeren Aspekte des vermännlichten äußeren Genitale bei chromosomal weiblichem Geschlecht bzw. des verweiblichten Genitale bei chromosomal männlichem Geschlecht beschrieben und Unterschiede herausgestellt. Neben Nennung der wichtigsten Ursachen wird kurz auf die Diagnostik und Therapieplanung eingegangen.
Abstract
Birth of a child with intersexual external genitalia poses a severe psychological burden for the parents. Therefore, it is of utmost importance to find the correct diagnosis quickly. Inspection of the genitalia might already give important hints. Serological and molecular genetic examinations can verify the diagnosis in the majority of cases. Chromosomal analysis is obligatory.
To understand the different appearances of intersexual genitalia, first the normal embryological sexual differentiation is explained in the article. Then the aspects of virilized genitalia in cases of a chromosomal 46,XX child and of female appearing genitalia in cases of a chromosomal 46,XY child are described. Differences are analysed. Besides mentioning the main causes of disorders in sexual differentiation a brief summary of diagnostics and therapeutic considerations is given.
This is a preview of subscription content,
to check access.
Access this article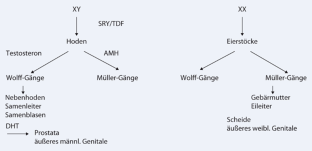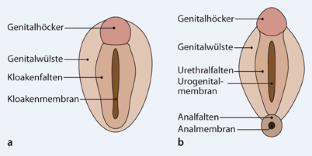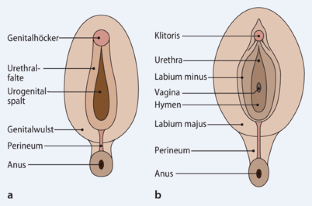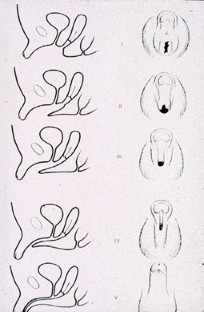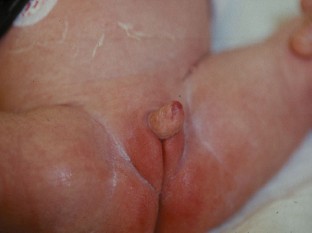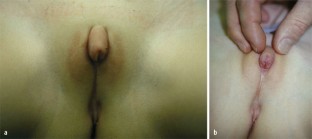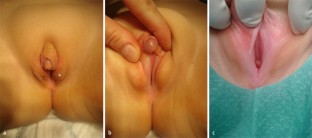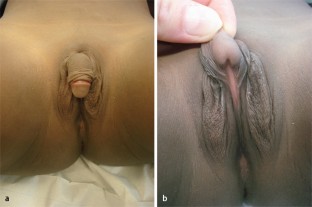 Literatur
Grumbach MM, Hughes IA, Conte FA (2003) Disorders of sex differentiation. In: Larsen PR, Kronenberg HM, Melmed S, Polonsky KS (eds) Williams textbook of endocrinology, 10. edn. Saunders, Philadelphia, pp 842–1002

MacLaughlin DT, Donahoe PK (2004) Sex determination and differentiation. N Engl J Med 350:367–378

Hughes IA (2002) Intersex. BJU Int 90:769–776

Hughes IA, Houk C, Ahmed SF et al (2006) Consensus statement on management of intersex disorders. J Pediatr Urol 2:148–162

Hughes IA (1998) Congenital adrenal hyperplasia: A continuum of disorders. Lancet 352:752–754

American Academy of Pediatrics; Committee on Genetics (2000) Evaluation of the newborn with developmental anomalies of the external genitalia. Pediatrics 106:138–144

Brown J, Warne G (2005) Practical management of the intersex infant. J Pediatr Endocrionol Metab 18:3–23

Dessens AB, Slijper SM, Drop SL (2005) Gender dysphoria and gender change in chromosomal females with congenital adrenal hyperplasia. Arch Sex Behav 32:389–397

Lee PA, Witchel SF (2002) Genital surgery among females with congenital adrenal hyperplasia: changes over the past five decades. J Pediatr Endocrinol 15:1473–1477

Alizai N, Thomas DFM, Lilford RJ et al (1999) Feminizing genitoplasty for congenital adrenal hyperplasia: what happens at puberty? J Urol 161:1588–1591

Migeon CJ, Wisniewski AB, Gearhart JP et al (2002) Ambiguous genitalia with perineoscrotal hypospadias in 46,XY indviduals: long-term medical, surgical, and psychosexual outcome. Pediatrics 110:31

Wisniewski AB, Migeon CJ, Meyer-Bahlburg HF et al (2000) Complete androgen insensitivity syndrome: long-term medical, surgical, and psychosexual outcome. J Clin Endocrinol Metab 85:2664–2669

Morel Y, Rey R, Teinturier C et al (2002) Aetiological diagnosis of male sex ambiguity: a collaborative study. Eur J Pediatr 161:49–59

Ahmed SF, Cheng A, Dovey L et al (2000) Phenotypic features, androgen receptor binding, and mutational analysis in 278 clinical cases reported as androgen insensitivity syndrome. J Clin Endocrinol Metab 85:658–665

Reiner WG, Kropp BP (2004) A 7-year experience of genetic males with severe phallic inadequacy assigned female. J Urol 172:2395–2398

Meyer-Bahlburg HF (2005) Gender identity outcome in female-raised 46,XY persons with penile agenesis, cloacal exstrophy of the bladder, or penile ablation. Arch Sex Behav 34:423–4378

Meyer-Bahlburg HFL, Migeon CJ, Berkovitz GD et al (2004) Attitudes of adult 46,XY intersex persons to clinical management policies. J Urol 171:165–1619
Interessenkonflikt
Der korrespondierende Autor gibt an, dass kein Interessenkonflikt besteht.
About this article
Cite this article
Krege, S. Pathologische Befunde am äußeren Genitale/Intersex. Urologe 49, 1490–1495 (2010). https://doi.org/10.1007/s00120-010-2405-6
Published:

Issue Date:

DOI: https://doi.org/10.1007/s00120-010-2405-6
Schlüsselwörter
Keywords