Zusammenfassung
Das Prostatakarzinom ist das häufigste Malignom des Mannes mit insgesamt rund 32.000 Neuerkrankungen und 11.000 an dieser Erkrankung verstorbenen Patienten pro Jahr in Deutschland. Zur Früherkennung des Prostatakarzinoms wird überwiegend der PSA-Test eingesetzt, wobei ein generelles Screening derzeit wegen des nicht eindeutig belegten medizinischen und ökonomischen Nutzens nicht empfohlen wird. Unter den bildgebenden Verfahren sind neben der Ultraschalldiagnostik, die derzeit um die Elastographie und das HistoScanning® erweitert worden ist, die Magnetresonanztomographie unter Verwendung der Endorektalspule sowie die Positronenemissionstomographie in Kombination mit der Computertomographie (PET-CT) die Methoden der Wahl. Neben der Differenzierung zwischen einer Prostatitis und einem Prostatakarzinom und der Möglichkeit der Stadieneinteilung eines Malignoms ist mit den bildgebenden Methoden mit unterschiedlicher Sensitivität und Spezifität die Beurteilung der "dominanten intraprostatischen Läsion" (DIL) möglich, deren Definition für die Anwendung minimal-invasiver Therapieverfahren von hoher Bedeutung ist.
Abstract
Prostate cancer is the most common malignancy of men with approximately 32,000 new cases of prostate cancer in Germany and approximately 11,000 men who would die of the disease each year. For early diagnosis of prostate cancer PSA testing is used, whereas at present screening cannot be recommended due to the lack of confirmed medical and economic benefits. Regarding the imaging modalities, ultrasound of the prostate, currently performed in combination with elastography and histoscanning, magnetic resonance imaging of the prostate in combination with endorectal coils and positron emission tomography combined with computed tomography (PET-CT) are the methods of choice. Using these methods benign prostatitis can be differentiated from prostate cancer and staging of the tumor can be accomplished. On the other hand using these imaging methods it is possible to define the dominant intraprostatic lesion with different sensitivities and specificities, which is important for minimally invasive therapeutic strategies.
This is a preview of subscription content,
to check access.
Access this article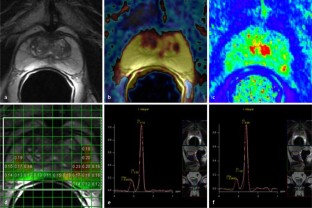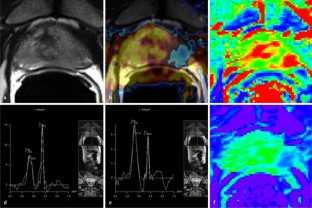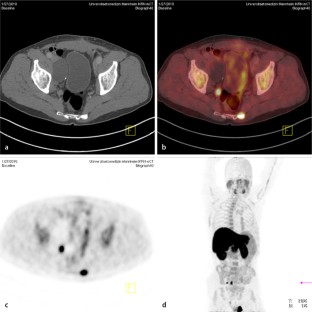 Literatur
Sakr WA, Haas GP, Cassin BF et al (1993) The frequency of carcinoma and intraepithelial neoplasia of the prostate in young male patients. J Urol 150:379–385

Marks LS, Fradet Y, Deras IL et al (2007) PCA3 molecular urine assay for prostate cancer in men undergoing repeat biopsy. Urology 69:532–535

Carter HB, Hamper UM, Sheth S et al (1989) Evaluation of transrectal ultrasound in the early detection of prostate cancer. J Urol 142:1008–1010

Rifkin MD, Sudakoff GS, Alexander AA (1993) Prostate: techniques, results, and potential applications of color Doppler US scanning. Radiology 186:509–513

Pelzer A, Bektic J, Berger AP et al (2005) Prostate cancer detection in men with prostate specific antigen 4 to 10 ng/ml using a combined approach of contrast enhanced color Doppler targeted and systematic biopsy. J Urol 173:1926–1929

Pallwein L, Mitterberger M, Struve P et al (2007) Real-time elastography for detecting prostate cancer: preliminary experience. BJU Int 100:42–46

Salomon G, Kollerman J, Thederan I et al (2008) Evaluation of prostate cancer detection with ultrasound real-time elastography: a comparison with step section pathological analysis after radical prostatectomy. Eur Urol 54:1354–1362

Hricak H, Choyke PL, Eberhardt SC et al (2007) Imaging prostate cancer: a multidisciplinary perspective. Radiology 243:28–53

Kim CK, Park BK (2008) Update of prostate magnetic resonance imaging at 3 T. J Comput Assist Tomogr 32:163–172

Qayyum A, Coakley FV, Lu Y et al (2004) Organ-confined prostate cancer: effect of prior transrectal biopsy on endorectal MRI and MR spectroscopic imaging. AJR Am J Roentgenol 183:1079–1083

Shimizu T, Nishie A, Ro T et al (2009) Prostate cancer detection: the value of performing an MRI before a biopsy. Acta Radiol 50:1080–1088

Beyersdorff D, Taupitz M, Winkelmann B et al (2002) Patients with a history of elevated prostate-specific antigen levels and negative transrectal US-guided quadrant or sextant biopsy results: value of MR imaging. Radiology 224:701–706

Vilanova JC, Comet J, Barcelo-Vidal C et al (2009) Peripheral zone prostate cancer in patients with elevated PSA levels and low free-to-total PSA ratio: detection with MR imaging and MR spectroscopy. Radiology 253:135–143

Futterer JJ, Barentsz J, Heijmijnk ST (2009) Imaging modalities for prostate cancer. Expert Rev Anticancer Ther 9:923–937

Cohen RJ, Shannon BA, Phillips M et al (2008) Central zone carcinoma of the prostate gland: a distinct tumor type with poor prognostic features. J Urol 179:1762–1767; discussion 1767

Riches SF, Payne GS, Morgan VA et al (2009) MRI in the detection of prostate cancer: combined apparent diffusion coefficient, metabolite ratio, and vascular parameters. AJR Am J Roentgenol 193:1583–1591

Kim CK, Park BK, Kim B (2010) High-b-value diffusion-weighted imaging at 3 T to detect prostate cancer: comparisons between b values of 1,000 and 2,000 s/mm2. AJR Am J Roentgenol 194:W33–37

Heijmink SW, Futterer JJ, Hambrock T et al (2007) Prostate cancer: body-array versus endorectal coil MR imaging at 3 T–comparison of image quality, localization, and staging performance. Radiology 244:184–195

Shukla-Dave A, Hricak H, Moskowitz C et al (2007) Detection of prostate cancer with MR spectroscopic imaging: an expanded paradigm incorporating polyamines. Radiology 245:499–506

Zakian KL, Sircar K, Hricak H et al (2005) Correlation of proton MR spectroscopic imaging with gleason score based on step-section pathologic analysis after radical prostatectomy. Radiology 234:804–814

Futterer JJ, Scheenen TW, Heijmink SW et al (2007) Standardized threshold approach using three-dimensional proton magnetic resonance spectroscopic imaging in prostate cancer localization of the entire prostate. Invest Radiol 42:116–122

Franiel T, Ludemann L, Rudolph B et al (2008) Evaluation of normal prostate tissue, chronic prostatitis, and prostate cancer by quantitative perfusion analysis using a dynamic contrast-enhanced inversion-prepared dual-contrast gradient echo sequence. Invest Radiol 43:481–487

Barentsz JO, Futterer JJ, Takahashi S (2007) Use of ultrasmall superparamagnetic iron oxide in lymph node MR imaging in prostate cancer patients. Eur J Radiol 63:369–372

Jong IJ de, Pruim J, Elsinga PH et al (2002) Visualization of prostate cancer with 11C-choline positron emission tomography. Eur Urol 42:18–23

Jong IJ de, Pruim J, Elsinga PH et al (2003) Preoperative staging of pelvic lymph nodes in prostate cancer by 11C-choline PET. J Nucl Med 44:331–335

Farsad M, Schiavina R, Castellucci P et al (2005) Detection and localization of prostate cancer: correlation of (11)C-choline PET/CT with histopathologic step-section analysis. J Nucl Med 46:1642–1649

Martorana G, Schiavina R, Corti B et al (2006) 11C-choline positron emission tomography/computerized tomography for tumor localization of primary prostate cancer in comparison with 12-core biopsy. J Urol 176:954–960; discussion 960

Reske SN, Blumstein NM, Neumaier B et al (2006) Imaging prostate cancer with 11C-choline PET/CT. J Nucl Med 47:1249–1254

Heinisch M, Dirisamer A, Loidl W et al (2006) Positron emission tomography/computed tomography with F-18-fluorocholine for restaging of prostate cancer patients: meaningful at PSA <5 ng/ml? Mol Imaging Biol 8:43–48

Giovacchini G, Picchio M, Coradeschi E et al (2010) Predictive factors of [(11)C]choline PET/CT in patients with biochemical failure after radical prostatectomy. Eur J Nucl Med Mol Imaging 37:301–309

Rinnab L, Simon J, Hautmann RE et al (2009) [(11)C]choline PET/CT in prostate cancer patients with biochemical recurrence after radical prostatectomy. World J Urol 27:619–625
Interessenkonflikt
Der korrespondierende Autor weist auf folgende Beziehungen hin: Referententätigkeit für Novartis Pharma, Lilly Pharma, Siemens Healthcare, Guerbet AG.
About this article
Cite this article
Dinter, D., Weidner, A., Wenz, F. et al. Bildgebung der Prostata. Urologe 49, 963–975 (2010). https://doi.org/10.1007/s00120-010-2338-0
Published:

Issue Date:

DOI: https://doi.org/10.1007/s00120-010-2338-0
Schlüsselwörter
Keywords