Zusammenfassung
Leitliniengemäß werden bei klinischem Verdacht auf ein Prostatakarzinom transrektal ultraschallgesteuerte systematische Mehrfachbiopsien (sMbx) als Standard eingesetzt. Heute sollten nach den neuen S3-Leitlinien zum Prostatakarzinom zwischen 10–12 Gewebeentnahmen pro Patient und Sitzung entnommen werden. Sind diese primär negativ, wird in der Regel die Anzahl der sMbx bei der zweiten Sitzung erhöht, um durch mehr Biopsien die diagnostische Treffsicherheit zu erhöhen. Spätestens bei der zweiten Stanzbiopsie mit steigendem PSA wird dann versucht, durch eine weitere Erhöhung der Anzahl der sMbx im Sinne einer Saturation das Risiko des Übersehens eines Prostatakarzinoms zu minimieren. Hier reicht die Zahl von 6–143 Gewebeentnahmen pro Sitzung.
Durch Studien ist belegt, dass man nach zwei systematischen Zufallsbiopsien durch weitere Zufallsbiopsien in der gleichen Anzahl keine wesentliche Erhöhung der diagnostischen Treffsicherheit erreicht. In der Literatur gibt es kaum Studien, die sich mit der Rolle der Bildgebung nach negativen Prostatabiopsien beschäftigen. In einer prospektiven klinischen Studie konnte bei 132 Patienten mit im Mittel 12 negativen Vorbiopsien durch innovative Bildgebung (1–6 gezielte Stanzen) noch eine dramatisch hohe Anzahl an Prostatakarzinomen (66 von 132) erkannt werden. Dies wirft die Frage auf, wie zuverlässig systematische Mehrfachbiopsien tatsächlich ein Karzinom ausschließen können. Deshalb erscheint (insbesondere nach negativen Serien von sMbx) die Anwendung von spezifischer Bildgebung angebracht, um durch Qualität die diagnostische Treffsicherheit zu erhöhen. Wichtig scheint hier jedoch die prospektive klinische Validierung der vielfältigen innovativen Methoden vor Anwendung in der Breite.
Abstract
In compliance with guidelines in cases of suspected prostate cancer, the standard approach involves transrectal ultrasound-guided systematic biopsies. Currently, according to the new S3 guideline for prostate cancer, 10–12 tissue samples should be collected per patient and session. If these primary specimens are negative, the number of multiple biopsies is generally increased in the second session to improve the diagnostic certainty with more biopsies. At the latest when the second core needle biopsy is performed in the presence of rising prostate-specific antigen (PSA) level, an attempt is made to minimize the risk of overlooking prostate cancer by further increasing the number of multiple biopsies in the sense of achieving saturation. In this instance, the number ranges from 6 to 143 tissue samples per session.
Studies have provided evidence that after two systematic random biopsies the same number of additional random biopsies does not accomplish any essential improvement of diagnostic certainty. There are hardly any studies in the literature dealing with the role of imaging procedures after negative prostate biopsies. In a prospective clinical trial including 132 patients with an average of 12 negative previous biopsies, a dramatically high number of prostate carcinomas (66 of 132) could be detected with innovative imaging (1–6 targeted biopsies). This raises the question of how reliably multiple systematic biopsies can in fact exclude the presence of cancer. Thus, particularly after a negative series of multiple biopsies, it appears to be expedient to use specific imaging to enhance diagnostic certainty through quality. However, prospective clinical validation of the diverse innovative methods seems to be important before broad application.
This is a preview of subscription content, log in to check access.
Access options
Buy single article
Instant access to the full article PDF.
US$ 39.95
Price includes VAT for USA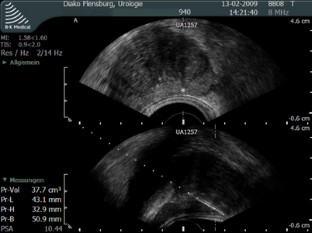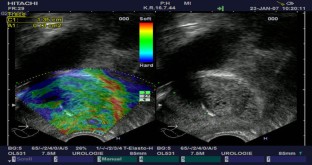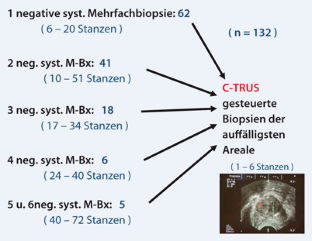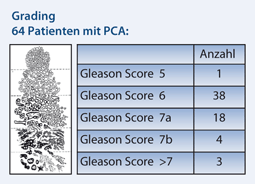 Literatur
1.

Potosky AL, Miller BA, Albertson PC, Kramer BS (1995) The role of increasing detection in the rising incidence of prostate cancer. JAMA 273:548–552

2.

Cooner WH, Mosley BR, Rutherford C et al (1990) Prostate cancer detection in a clinical urological practice by ultrasonography, digital rectal examination and prostate specific antigen. J Urol 143:1146–1154

3.

Oesterling JE (1991) Prostate specific antigen: a critical assessment of the most useful tumormarker for adenocarcinoma of the prostate. J Urol 145:907–923

4.

Stamey TA, Yang N, Hay AR et al (1987) Prostate-specific antigen as a serum marker for adenocarcinoma of the prostate. N Engl J Med 317:909–916

5.

Noldus J, Stamey TA (1996) Histological characteristics of radical prostatectomy specimens in men with a serum prostate specific antigen of 4 ng/ml or less. J Urol 155:441–443

6.

Rabbani F, Stroumbakis N, Kava BR et al (1998) Incidence and clinical significance of false-negative sextant prostate biopsies. J Urol 159(4):1247–1250

7.

Simon J, Kuefer R, Bartsch G Jr et al (2008) Intensifying the saturation biopsy technique for detecting prostate cancer after previous negative biopsies: a step in the wrong direction. BJU Int 102(4):459–462

8.

Ashley RA, Inman BA, Routh JC et al (2008) Reassessing the diagnostic yield of saturation biopsy of the prostate. Eur Urol 53(5):976–981

9.

Djavan B, Fong YK, Ravery V et al (2005) Are repeat biopsies required in men with PSA levels <or =4 ng/ml? A multiinstitutional prospective European study. Eur Urol 47(1):38–44

10.

Loch T, Eppelmann U, Lehmann J et al (2004) Transrectal ultrasound guided biopsy of the prostate: random sextant versus biopsies of sono-morphologically suspicious lesions. World J Urol 22(5):357–360

11.

Lorenz A, Ermert H, Sommerfeld HJ et al (2000) Ultrasound elastography of the prostate. A new technique for tumor detection. Ultraschall Med 21(1):8–15

12.

Sommerfeld HJ, Garcia-Schürmann JM, Schewe J et al (2003) Prostate cancer diagnosis using ultrasound elastography. Introduction of a novel technique and first clinical results. Urologe A 42(7):941–945

13.

Eggert T, Khaled W, Wenske S et al (2008) Impact of elastography in clinical diagnosis of prostate cancer. A comparison of cancer detection between B-mode sonography and elastography-guided 10-core biopsies. Urologe A 47(9):1212–1217

14.

Salomon G, Köllerman J, Thederan I et al (2008) Evaluation of prostate cancer detection with ultrasound real-time elastography: a comparison with step section pathological analysis after radical prostatectomy. Eur Urol 54(6):1354–1362

15.

Salomon G, Graefen M, Heinzer H et al (2009) The value of real-time elastography in the diagnosis of prostate cancer. Urologe A 48(6):628–636

16.

Loch T, Gettys T, Cochran JS et al (1990) Computer-aided image-analysis in transrectal ultrasound of the prostate. World J Urol 8:150–153

17.

Braeckman J, Autier P, Soviany C et al (2008) The accuracy of transrectal ultrasonography supplemented with computer-aided ultrasonography for detecting small prostate cancers. BJU Int 102(11):1560–1565

18.

Loch T, Leuschner I, Genberg C et al (1999) Artificial neural network analysis (ANNA) of prostatic transrectal ultrasound. Prostate 39:198–204

19.

Loch T, Leuschner I, Genberg C et al (2000) Weiterentwicklung des Transrektalen Ultraschalls: Artifizielle Neuronale Netzwerk-Analyse (ANNA) in der Erkennung und Stadieneinteilung des Prostatakarzinoms. Urologe A 39:341–347

20.

Zacharias M, Jenderka KV, Heynemann H, Fornara P (2002). Transrectal ultrasound of the prostate. Current status and prospects. Urologe A 41(6):559–568

21.

Wink M, Frauscher F, Cosgrove D et al (2008) Contrast-enhanced ultrasound and prostate cancer; a multicentre European research coordination project. Eur Urol 54(5):982–992

22.

Beyersdorff D, Taupitz M, Winkelmann B et al (2002) Patients with a history of elevated prostate-specific antigen levels and negative transrectal US-guided quadrant or sextant biopsy results: value of MR imaging. Radiology 224(3):701–706

23.

Lawrentschuk N, Fleshner N (2009) The role of magnetic resonance imaging intargeting prostate cancer in patients with previous negative biopsies and elevated prostate-specific antigen levels. BJU Int 103(6):730–733

24.

Loch T (2007) Computerized transrectal ultrasound (C-TRUS) of the prostate: detection of cancer in patients with multiple negative systematic random biopsies. World J Urol 25(4):375–380

25.

Loch T (2004) Computerized supported transrectal ultrasound (C-TRUS) in the diagnosis of prostate cancer. Urologe A 43(11):1377–1384

26.

Aigner F, Pallwein L, Mitterberger M et al (2009) Contrast-enhanced ultrasonography using cadence-contrast pulse sequencing technology for targeted biopsy of the prostate. BJU Int 103(4):458–463

27.

Singh H, Canto EI, Shariat SF et al (2004) Improved detection of clinically significant, curable prostate cancer with systematic 12-core biopsy. J Urol 171:1089–1092

28.

Vashi AR, Wojno KJ, Gillespie B, Oesterling JE (1997) Patient age and prostate gland size determine the appropriate number of cores per prostate biopsy. J Urol 157:365

29.

Catalona WJ, Smith DS, Ratliff TL, Basler JW (1993) Detection of organ-confined prostate cancer is increased through prostate-specific antigen-based screening. JAMA 270:948–954
Interessenkonflikt
Der korrespondierende Autor weist auf folgende Beziehung hin: Beratervertrag Fa. Fresenius-Kabi. Trotz des möglichen Interessenkonflikts ist der Beitrag unabhängig und produktneutral.
About this article
Cite this article
Loch, T. Zweimal negative Stanzbiopsie bei steigendem PSA. Urologe 49, 369–375 (2010). https://doi.org/10.1007/s00120-010-2245-4
Schlüsselwörter
Prostatakarzinom

Mehrfachbiopsien

Stanzbiopsie

Prostatadiagnostik

Prostataspezifisches Antigen
Keywords
Prostate cancer

Multiple biopsies

Core needle biopsy

Prostate diagnostics

Prostate-specific antigen