Zusammenfassung
Trotz verbesserter Operationstechnik leidet auch heute noch eine nicht zu vernachlässigende Anzahl von Patienten an einer Harninkontinenz nach radikaler Prostatektomie. Zur Therapie wird zunächst ein konservativer Therapieversuch in den ersten 6–12 Monaten nach radikaler Prostatektomie empfohlen. Kommt es zu keiner Besserung der Inkontinenz, wird ein operatives Vorgehen empfohlen. Der artifizielle Sphinkter, ein über Jahrzehnte erprobtes System, weißt zwar gute Langzeitergebnisse auf, ist aber auch mit diversen Problemen behaftet. In den letzten Jahren wurden diverse minimal-invasive Systeme zur Therapie der männlichen Belastungsinkontinenz eingeführt, welche entweder mittels Kompression oder funktionell wirken.
Abstract
Despite improved operative techniques the number of patients suffering from urinary incontinence after radical prostatectomy cannot be ignored. The recommended therapy after radical prostatectomy is initially to attempt conservative therapy during the first 6–12 months. If there is no improvement in the incontinence an operative procedure is recommended. An artificial sphincter which has been established over decades has good long-term results but is also beset by diverse problems. Recently diverse minimally invasive procedures have been introduced for therapy of male stress incontinence which are effective due to compression or have a functional therapeutical approach.
Access options
Buy single article
Instant access to the full article PDF.
US$ 39.95
Tax calculation will be finalised during checkout.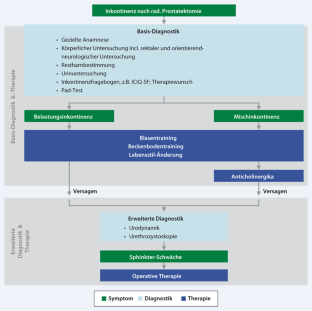 Literatur
1.

Kleinhans B, Gerharz E, Melekos M et al (1999) Changes of urodynamic findings after radical retropubic prostatectomy. Eur Urol 35:217–222

2.

Porena M, Mearini E, Mearini L et al (2007) Voiding dysfunction after radical retropubic prostatectomy: more than external urethral sphincter deficiency. Eur Urol 52:38–45

3.

Hammerer P, Huland H (1997) Urodynamic evaluation of changes in urinary control after radical retropubic prostatectomy. J Urol 157:233–236

4.

Bauer RM, Bastian PJ, Gozzi C, Stief CG (2009) Postprostatectomy incontinence: All about diagnosis and management. Eur Urol 55:322–333

5.

Schroeder A, Abrams P, Andersson KE et al (2009) Guidelines on urinary incontinence. European Association of Urology, Arnheim, pp 28–34

6.

Petero VG Jr, Diokno AC (2006) Comparison of the long-term outcomes between incontinent men and women treated with artificial urinary sphincter. J Urol 175:605–609

7.

Trigo Rocha F, Gomes CM, Mitre AI (2008) A prospective study evaluating the efficacy of the artificial sphincter AMS 800 for the treatment of postradical prostatectomy urinary incontinence and the correlation between preoperative urodynamic and surgical outcomes. Urology 71:85–89

8.

Kumar A, Litt ER, Ballert KN, Nitti VW (2009) Artificial urinary sphincter versus male sling for post-prostatectomy incontinence–what do patients choose? J Urol 181:1231–1235

9.

Hubner WA, Schlarp OM (2007) Adjustable continence therapy (ProACT): evolution of the surgical technique and comparison of the original 50 patients with the most recent 50 patients at a single centre. Eur Urol 52:680–686

10.

Romano SV, Metrebian SE, Vaz F et al (2009) Long-term results of a phase III multicentre trial of the adjustable male sling for treating urinary incontinence after prostatectomy: minimum 3 years. Actas Urol Esp 33:309–314

11.

Sousa-Escandon A, Cabrera J, Mantovani F et al (2007) Adjustable suburethral sling (male remeex system) in the treatment of male stress urinary incontinence: a multicentric European study. Eur Urol 52:1473–1479

12.

Giberti C, Gallo F, Schenone M, Cortese P (2008) The bone-anchor sub-urethral sling for the treatment of iatrogenic male incontinence: subjective and objective assessment after 41 months of mean follow-up. World J Urol 26:173–178

13.

Rehder P, Gozzi C (2007) Transobturator sling suspension for male urinary incontinence including post-radical prostatectomy. Eur Urol 52:860–866

14.

Bauer RM, Mayer ME, Soljanik I et al (2009) AdVance sling: results after 12 months. Eur Urol (Suppl 8):336
Interessenkonflikt
Der korrespondierende Autor weist auf folgende Beziehungen hin: Christian Gozzi besitzt als einer der Erfinder das geistige Eigentum an dem Produkt "AdVance®-Schlinge". Christian Gozzi und Ricarda M. Bauer sind für die Fa. AMS beratend tätig und halten Vorträge für diese. Außerdem nimmt Christian Gozzi an klinischen Studien der Fa. AMS teil. Trotz des möglichen Interessenkonflikts ist der Beitrag unabhängig und produktneutral.
About this article
Cite this article
Bauer, R., Mayer, M., Gratzke, C. et al. Harninkontinenz nach radikaler Prostatektomie. Urologe 48, 1044–1049 (2009). https://doi.org/10.1007/s00120-009-2081-6
Schlüsselwörter
Harninkontinenz

Radikale Prostatektomie

Männliche Schlinge

Artifizieller Sphinkter

Funktionelle Schlinge
Keywords
Urinary incontinence

Radical prostatectomy

Male sling

Artificial sphincter

Functional sling