Zusammenfassung
Die Schwellkörperrehabilitation ist integraler Bestandteil moderner, lebensqualitätsorientierter uroonkologischer Therapiekonzepte und damit Aufgabe der fachspezifischen urologischen Rehabilitation. Diese basiert auf 3 therapeutischen Optionen: der Verwendung von PDE-5-Inhibitoren, dem Einsatz der Schwellkörperinjektionstherapie und der Anwendung des Vakuumtherapiesystems. Abhängig von den operationstechnischen Gegebenheiten werden die verschiedenen Verfahren indikationsgerecht eingesetzt und ermöglichen somit ein zeitnahes Wiedererlangen der erektilen Funktion.
Abstract
Corpus cavernosum rehabilitation is an integral part of modern, quality-of-life-oriented urooncological concepts and therefore a basic task of specific urological rehabilitation. Sexual rehabilitation is based on three different therapeutic options: PDE-5 inhibitors, use of corpus cavernosum injection therapy, and use of a therapeutic vacuum device. The indication depends on the status of nerve protection. Close recovery of erectile function is possible.
Access options
Buy single article
Instant access to the full article PDF.
US$ 39.95
Tax calculation will be finalised during checkout.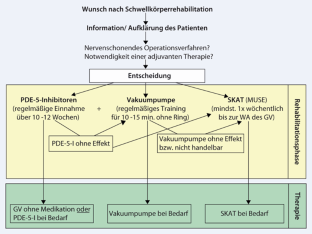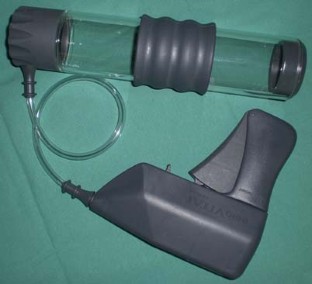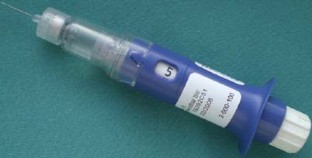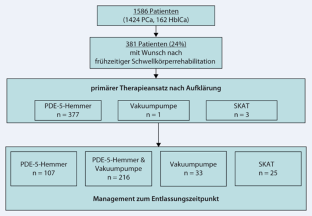 Literatur
1.

Briganti A, Salonia A, Gallina A et al. (2007) F. Management of erectile dysfunction after radical prostatectomy in 2007. World J Urol 25: 143–148

2.

Ciancio SJ, Kim ED (2000) Penile fibrotic changes after radical retropubic prostatectomy. BJU Int 85: 101–6

3.

Davison BJ, Elliott S, Ekland M et al. (2005) Development and evaluation of a prostate sexual rehabilitation clinic: a pilot project. BJU Int 96: 1360–1364

4.

Ferrini MG, Davila HH, Kovanecz I et al. (2006) Vardenafil prevents fibrosis and loss of corporal smooth muscle that occurs after bilateral cavernosal nerve resection in the rat. Urology 68: 429–35

5.

Davison BJ, Alan I, So S (2007) Larry Goldenberg: Quality of life, sexual function and decisional regret at 1 year after surgical treatment for localized prostate cancer. BJU Intern 100: 780–785

6.

Klein LT, Miller MI, Buttyan R et al. (1997) Apoptosis in the rat penis after penile denervation. J Urol 158: 626–630

7.

Köhler TS, Pedro R, Hendlin K et al. (2007) A pilot study on the early use of the vacuum erection device after radical retropubic prostatectomy. BJU Int 100: 858–862

8.

Kovanecz I, Rambhatla A, Ferrini M et al. (2007) Long-term continuous sildenafil treatment ameliorates corporal veno-occlusive dysfunction (CVOD) induced by cavernosal nerve resection in rats. Int J Impot Res 20

9.

Kovanecz I, Rambhatla A, Ferrini MG et al. (2008) Chronic daily tadalafil prevents the corporal fibrosis and veno-occlusive dysfunction that occurs after cavernosal nerve resection. BJU Int 101(2): 203–210

10.

Montorsi F, Nathan HP, McCullough A et al. (2004) Tadalafil in the treatment of erectile dysfunction following bilateral nerve sparing radical retropubic prostatectomy: a randomized, double-blind, placebo controlled trial. J Urol 172: 1036–1041

11.

Montorsi F, McCullough A (2005) Efficacy of sildenafil citrate in men with erectile dysfunction following radical prostatectomy: a systematic review of clinical data. J Sex Med 2: 658–667

12.

Nandipati KC, Raina R, Agarwal A, Zippe CD (2006) Erectile dysfunction following radical retropubic prostatectomy: epidemiology, pathophysiology and pharmacological management. Drugs Aging 23: 101–117

13.

Nehra A, Grantmyre J, Nadel A, Thibonnier M, Brock G (2005) Vardenafil improved patient satisfaction with erectile hardness, orgasmic function and sexual experience in men with erectile dysfunction following nerve sparing radical prostatectomy. J Urol 173: 2067–2071

14.

Robert-Koch-Institut (Hrsg) und die Gesellschaft der epidemiologischen Krebsregister in Deutschalnd e.V. (Hrsg) (2008) Krebs in Deutschland 2003–2004. Häufigkeiten und Trends. 6,, überarbeitete Auflage. RKI, Berlin

15.

User HM, Hairston JH, Zelner DJ et al. (1983) Penile weight and cell subtype specific changes in a post-radical prostatectomy model of erectile dysfunction. J Urol 169: 1175–1179

16.

Walsh PC, Lepor H, Eggleston JC (1983) Radical prostatectomy with preservation of sexual function: anatomical and pathological considerations. Prostate 4: 473–485

17.

Zermann DH (2006) Rehabilitationsziele in der Anschlußheilbehandlung (AHB) nach radikaler Prostatektomie. Physik Med 16

18.

Zermann DH (2007) Early corpus cavernosus rehabilitation (ECCR) after radical prostatectomy –results and patient's preference. Europ Urol 6(Suppl): 209

19.

Zippe CD, Pahlajani G (2007) Penile rehabilitation following radical prostatectomy: role of early intervention and chronic therapy. Urol Clin North Am 34: 601–618
Interessenkonflikt
Der korrespondierende Autor gibt an, dass kein Interessenkonflikt besteht.
About this article
Cite this article
Zermann, DH. Rehabilitation der Schwellkörperfunktion nach radikalen uroonkologischen Eingriffen. Urologe 47, 693–698 (2008). https://doi.org/10.1007/s00120-008-1665-x
Schlüsselwörter
Prostatakarzinom

Prostatektomie

Lebensqualität

Erektile Dysfunktion

Rehabilitation
Keywords
Prostate cancer

Prostatectomy

Quality of life

Erectile dysfunction

Rehabilitation