Zusammenfassung
Seit der Entwicklung uringebundener Testverfahren (Fluoreszenzbildanalyse, Immunzytologie, Fibrindegrationsprodukte, Nuklearmatrixproteinbestimmung u. a.) wird die Bedeutung der Urinzytologie in der Betreuung der Patienten mit einem Blasentumor infrage gestellt.
Zahlreiche Untersuchungen vergleichen den Stellenwert und die Aussagekraft der Zytologie mit den uringebundenen Testsystemen. Die Urinzytologie ist bei gut differenzierten Urotheltumoren weniger verlässlich als die Blasenspiegelung oder einige der neuen Techniken. Andererseits ist die Urinzytologie extrem wertvoll für die Diagnose schlecht differenzierter Blasenkarzinome und insbesondere des Carcinoma in situ.
Der Nachweis hochmaligner Zellen durch die Zytologie bei einem histologischen Resektionsergebnis eines gut differenzierten Tumors legt die Vermutung nahe, dass ein Carcinoma in situ oder ein Tumor in den oberen Harnwegen bzw. der Urethra übersehen wurde. Die Urinzytologie ist mit ihrer hohen Spezifität weiterhin der sicherste "Marker" in der Diagnostik und Nachsorge von Blasentumorpatienten.
Abstract
Is urinary cytology still a useful method in cases of bladder cancer since additional methods (fluorescence image analysis, monoclonal antibody immunocytology, fibrin degradation products, nuclear matrix protein measurement and others) are under investigation?
The literature has been reviewed and compared with classical and new cytology statistics: urinary cytology is less useful than cystoscopy and some of the urine bound tests for the diagnosis of low grade tumors. On the other hand, cytology is extremely valuable for the diagnosis of high grade transitional cell cancers (TCC) and especially carcinomas in situ.
The presence of high-grade TCC in the cytology specimen from a patient with low grade papillary TCC suggests either an unrecognised carcinoma in situ or high grade disease in the upper urinary tract or urethra. Urinary cytology is still indispensable in the management of patients with transitional cancer.
Access options
Buy single article
Instant access to the full article PDF.
USD 39.95
Price excludes VAT (USA)
Tax calculation will be finalised during checkout.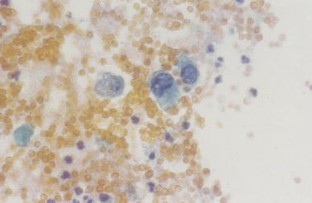 Literatur
Ali-El-Dein B, El-Tabey N, Abdel-Latif M, Abdel-Rahim M, El-Bahnasawy MS (2002) Late Uroileal cancer after incorporation of ileum into the urinary tract. J Urol 167: 84–88

Althausen AF, Prout GRJ, Dal JJ (1976) Noninvasive papillary carcinoma of the bladder associated with carcinoma in situ. J Urol 116: 575–580

Bastacky S, Ibrahim S, Wilczynski SP, Murphy WM (1999) The accuracy of urinary cytology in daily practice. Cancer 87: 118–128

Boman H, Hedelin H, Holmang S (2002) Four bladder tumor markers have a disappointingly low sensitivity for small size and low grade recurrence. J Urol 167: 80–83

Brandt H, Rathert P (1997) Diagnostik der malignen Tumore der Harnblase. Onkologe 3: 236–242

Brown FM (2000) Urine cytology. Is it still the gold standard for screening? Urol Clin North Am 27: 25–37

Ellwein L, Farrow G (1988) Urinary cytology screening: the decision facing the asymptomatic patient. Med Decis Making 8: 100–119

Epstein JI, Amin MB, Reuter VR, Mostofi FK, Bladder consensus conference committee (1998) The World Health Organization/International Society of Urological Pathology Consensus Classification of Urothellial (Transitional Cell) Neoplasms of the Urinary Bladder. Am J Surg Pathol 22: 1435–1448

Grossfeld GD, Litwin MS, Wolf JS, Hricak H, Shuler CL, Agerter DC, Carroll PR (2001) Evaluation of asymptomatic microscopic hematuria in adults: The American Urological Association best practice policy, Part I: Definition, detection, prevalence, and etiology. Part II: Patient evaluation, cytology, voided markers, imaging, cystoscopy, nephrology evaluation, and follow-up. Urology 57: 599–610

Kausch J, Böhle A (2001) Bladder cancer. II. Molecular aspects and diagnosis. Eur Urol 39: 498–506

Konety BR, Getzenberg RH (2001) Urine based markers of urological malignancy. J Urol 165: 600–611

Lambl WD (1856) Über Harnblasenkrebs: Ein Beitrag zur mikroskopischen Diagnostik am Krankenbette. Prager Viertelj Schrift Prakt Heilk 49: 1–32

Lokeshwar VB, Soloway MS (2001) Current bladder tumor tests: does their projected utility fulfill clinical necessitiy? J Urol 165: 1067–1077

Murphy WM, Rivera-Ramirez J, Medina CA, Wright NJ, Wajsman Z (1997) The bladder tumor antigen (BTA) Test compared to voided urine cytology in the detection of bladder neoplasms. J Urol 158: 2102–2106

Dr. med. N. N. (1997) "Der Kranke ist Nebensache". Der Spiegel, Heft 26: 66–71

Oosterlinck W (2001) The management of superficial bladder cancer. BJU International 87: 135–140

Papanicolaou GN, Marshall VF (1945) Urine sediment smears as a diagnostic procedure in cancers of the urinary tract. Science 101: 519–520

Rathert P, Roth S (1995) Urinzytologie. Praxis und Atlas, 3. Aufl. Springer, Berlin Heidelberg New York Tokio (ISBN: 3-540-59248-2)

Retz M, Lehmann J, Wullich B, Stöckle M (2001) Nachsorge des Harnblasenkarzinoms. Urologe A 40: 480–484

Rübben H, Otto T (2000) Molekularbiologische Diagnostik des Harnblasenkarzinom. Urologe A 39: 178–181

Saad A, Hanbury DC, Mc Nicholas TA, Boustead G-B, Woodman AC (2001) The early detection and diagnosis of bladder cancer: A critical review of the options. Eur Urol 39: 619–633

Schmitz-Dräger BJ, Goebell PJ, Ebert T, Fradet Y (2000) p53 Immunochemistry as a prognostic marker in bladder cancer. Eur Urol 38: 691–700

Schwalb DM, Herr HW, Fair WR (1993) The management of clinically unconfirmed positive urinary cytology. J Urol 150: 1751–1756

Soloway MS, Murphy WM, Johnson DE, Farrow GM, Paulson DF, Garnick MB (1990) Initial evaluation and response criteria for patients with superficial bladder cander. Br J Urol 66: 380–385

Wawroschek F, Rathert P (1995) Urinzytologie. Urologe A 34: 69–75

Wawroschek F, Stockhausen D, Rathert P (1996) Standardurinzytologie vs. Teststreifendiagnostik: Eine vergleichende prospektive Untersuchung zur Sensitivität und Spezifität in der Detektion urothelialer Karzinome. Urologe B 36: 283–286

Wiener HG (2001) Cytomorphology in urinary cancer care. Past Presence Future, CIP-Gegevens Koninkliyke Bibliothek, den Haag, p 48 (ISBN 90-9014853-1)
Additional information
Im Namen der Sektion Urinzytologie (Leiter: Prof. Dr. P. Rathert, Düren) des Arbeitskreises Onkologie (Vorsitzender: Prof. Dr. M. Wirth, Dresden) der Fort- und Weiterbildungskommission der Deutschen Urologen: M. Böhm (Magdeburg), F. vom Dorp (Essen), P.L. Fehrmann-Zumpe (Greifswald), R. Friedrichs (Hamburg), J.O. Grosse (Murnau/Staffelsee), O. Hakenberg (Dresden), F. Hofstädter (Regensburg), J.D. Hoppe (Düren), R. Knüchel-Clarke (Regensburg), S. Möllhoff (Dorsten), P. Rathert (Düren), V. Rembrink (Hamm), R. Röttger (Düren), S. Roth (Wuppertal), H. Rübben (Essen), H.J. Scholmann (Berlin), F. Wawroschek (Augsburg).
About this article
Cite this article
Rathert, P. Urinzytologie beim Harnblasenkarzinom. Urologe [A] 42, 908–911 (2003). https://doi.org/10.1007/s00120-003-0311-x
Published:

Issue Date:

DOI: https://doi.org/10.1007/s00120-003-0311-x
Schlüsselwörter
Keywords