Zusammenfassung
Hintergrund
Das multiple Myelom (MM) ist eine der häufigsten hämatologischen Neoplasien und macht etwa 1 % aller Krebserkrankungen aus.
Ziel der Arbeit
Darstellung der aktuellen Diagnostik und Klassifikation des MM und verwandter Plasmazellneoplasien aus Sicht der Pathologie.
Material und Methoden
Erläuterung des aktuellen Wissensstands zur Pathologie und Genetik des MM sowie Darstellung der gewebebasierten Diagnostik unter Berücksichtigung der internationalen Konsensusklassifikationen und der aktuellen S3-Leitlinie.
Ergebnisse
Das MM und verwandte Neoplasien bestehen aus maligne entarteten Plasmazellen, die meist ein monoklonales Immunglobulin sezernieren, das einen wichtigen Parameter der Krankheitsaktivität darstellt. Das MM zeigt eine stadienhafte Entwicklung. Nahezu alle Fälle gehen aus einer klinisch inapparenten Vorläuferläsion, der monoklonalen Gammopathie unbestimmter Signifikanz (MGUS) hervor, an die sich ein sog. "smoldering" Myelom anschließen kann. Vom MM müssen die lokalisierten Formen, das solitäre ossäre und das primäre extramedulläre Plasmozytom abgegrenzt werden. Das MM ist genetisch sehr heterogen und kann grob in 2 zytogenetische Gruppen unterteilt werden: Fälle mit primären IGH-Translokationen und Fälle mit Hyperdiploidie. Das Ausmaß der oft ausgeprägten intratumoralen genetischen Heterogenität korreliert mit der Größe fokaler Läsionen in der Bildgebung.
Schlussfolgerung
Die Diagnose von Plasmazellneoplasien nach den Kriterien der International Myeloma Working Group (IMWG) erfolgt interdisziplinär unter Einbeziehung klinischer, serologischer, pathologischer und radiologischer Befunde. Neben konventionellen klinischen Parametern sind molekulare Marker, insbesondere zytogenetische Aberrationen von großer prognostischer Relevanz.
Abstract
Background
Multiple myeloma (MM) is one of the most common hematological neoplasms and accounts for approximately 1% of human cancers.
Objectives
Description of current diagnostics and classification of MM and related plasma cell neoplasms from the pathology viewpoint.
Materials and methods
Current knowledge regarding pathology and genetics of MM is summarized and tissue-based diagnostics following international consensus classifications and the current S3 guideline are described.
Results
MM and related neoplasms are composed of malignant plasma cells that secrete a monoclonal immunoglobulin, which is an important parameter of disease activity. MM shows a multistage development. Almost all cases are preceded by a clinically inapparent precursor lesion, monoclonal gammopathy of undetermined significance (MGUS), which can progress to smoldering myeloma with a higher tumor burden, but absence of organ damage. Systemic MM needs to be discerned from the localized forms, solitary osseous and primary extramedullary plasmacytoma. MM is genetically very heterogeneous and can be broadly subdivided into two cytogenetic groups, cases with primary IGH translocations and cases with hyperdiploidy. Intratumoral genetic heterogeneity is frequently pronounced and correlates with the size of focal lesions in imaging.
Conclusions
Diagnosis of plasma cell neoplasms is done according to the criteria of the International Myeloma Working Group (IWMG) and requires interdisciplinary evaluation of clinical, serological, pathological and radiological features. In addition to clinical parameters, molecular markers, especially cytogenetic aberrations, are of great prognostic relevance.
Access options
Buy single article
Instant access to the full article PDF.
USD 39.95
Price includes VAT (USA)
Tax calculation will be finalised during checkout.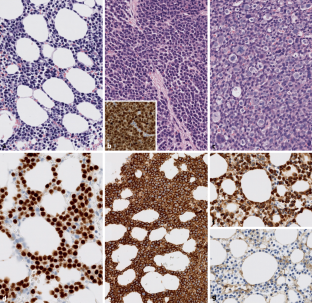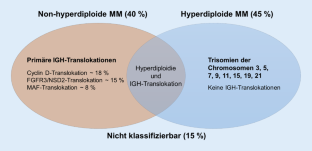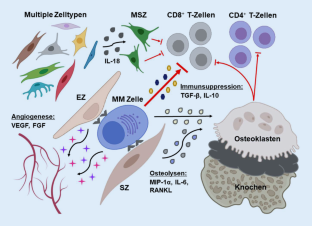 Literatur
1.

Anderson KC, Carrasco RD (2011) Pathogenesis of myeloma. Annu Rev Pathol 6:249–274

2.

Andrulis M, Bäuerle T, Goldschmidt H et al (2014) Infiltration patterns in monoclonal plasma cell disorders: correlation of magnetic resonance imaging with matched bone marrow histology. Eur J Radiol 83:970–974

3.

Barwick BG, Gupta VA, Vertino PM et al (2019) Cell of origin and genetic alterations in the pathogenesis of multiple myeloma. Front Immunol. https://doi.org/10.3389/fimmu.2019.01121

4.

Bergsagel PL, Chesi M (2013) V. Molecular classification and risk stratification of myeloma. Hematol Oncol 31(Suppl 1):38–41

5.

Chawla SS, Kumar SK, Dispenzieri A et al (2015) Clinical course and prognosis of non-secretory multiple myeloma. Eur J Haematol. https://doi.org/10.1111/ejh.12534

6.

Fermand J‑P, Bridoux F, Dispenzieri A et al (2018) Monoclonal gammopathy of clinical significance: a novel concept with therapeutic implications. Blood 132:1478–1485

7.

Ho M, Goh CY, Patel A et al (2020) Role of the bone marrow milieu in multiple myeloma progression and therapeutic resistance. Clin Lymphoma Myeloma Leuk 20:e752–e768

8.

Ho M, Patel A, Goh CY et al (2020) Changing paradigms in diagnosis and treatment of monoclonal gammopathy of undetermined significance (MGUS) and smoldering multiple myeloma (SMM). Leukemia 34:3111–3125

9.

Kawano Y, Moschetta M, Manier S et al (2015) Targeting the bone marrow microenvironment in multiple myeloma. Immunol Rev 263:160–172

10.

Kuehl WM, Bergsagel PL (2012) Molecular pathogenesis of multiple myeloma and its premalignant precursor. J Clin Invest 122:3456–3463

11.

Leitlinienprogramm Onkologie (Deutsche Krebsgesellschaft, Deutsche Krebshilfe, AWMF Diagnostik, Therapie und Nachsorge für Patienten mit monoklonaler Gammopathie unklarer Signifikanz (MGUS) oder Multiplen Myelom, Langversion 1.01 (Konsultationsfassung, 2021, AWMF Registernummer: 018/035OL. https://www.Leitlinienprogramm-Onkologie.De/Leitlinien/Multiples-Myelom/. Zugegriffen: 12. Sept. 2021

12.

Leung N, Bridoux F, Batuman V et al (2019) The evaluation of monoclonal gammopathy of renal significance: a consensus report of the International Kidney and Monoclonal Gammopathy Research Group. Nat Rev Nephrol 15:45–59

13.

Mikhael JR, Dingli D, Roy V et al (2013) Management of newly diagnosed symptomatic multiple myeloma: updated Mayo Stratification of Myeloma and Risk-Adapted Therapy (mSMART) consensus guidelines 2013. Mayo Clin Proc 88:360–376

14.

Mithraprabhu S, Khong T, Ramachandran M et al (2017) Circulating tumour DNA analysis demonstrates spatial mutational heterogeneity that coincides with disease relapse in myeloma. Leukemia 31:1695–1705

15.

Palumbo A, Avet-Loiseau H, Oliva S et al (2015) Revised international staging system for multiple myeloma: a report from international myeloma working group. J Clin Oncol 33:2863–2869

16.

Pawlyn C, Morgan GJ (2017) Evolutionary biology of high-risk multiple myeloma. Nat Rev Cancer 17:543–556

17.

Perrot A, Lauwers-Cances V, Tournay E et al (2019) Development and validation of a cytogenetic prognostic index predicting survival in multiple myeloma. J Clin Oncol 37:1657–1665

18.

Rajkumar SV, Dimopoulos MA, Palumbo A et al (2014) International myeloma working group updated criteria for the diagnosis of multiple myeloma. Lancet Oncol 15:e538–e548

19.

Rasche L, Angtuaco EJ, Alpe TL et al (2018) The presence of large focal lesions is a strong independent prognostic factor in multiple myeloma. Blood 132:59–66

20.

Rasche L, Chavan SS, Stephens OW et al (2017) Spatial genomic heterogeneity in multiple myeloma revealed by multi-region sequencing. Nat Commun 8:268

21.

Rosiñol L, Beksac M, Zamagni E et al (2021) Expert review on soft-tissue plasmacytomas in multiple myeloma: definition, disease assessment and treatment considerations. Br J Haematol 194:496–507

22.

Schürch CM, Rasche L, Frauenfeld L et al (2019) A review on tumor heterogeneity and evolution in multiple myeloma: pathological, radiological, molecular genetics, and clinical integration. Virchows Arch. https://doi.org/10.1007/s00428-019-02725-3

23.

Seegmiller AC, Xu Y, Mckenna RW et al (2007) Immunophenotypic differentiation between neoplastic plasma cells in mature B‑cell lymphoma vs plasma cell myeloma. Am J Clin Pathol 127:176–181

24.

Shaughnessy JD Jr., Zhan F, Burington BE et al (2007) A validated gene expression model of high-risk multiple myeloma is defined by deregulated expression of genes mapping to chromosome 1. Blood 109:2276–2284

25.

Swerdlow-Sh CE, Harris N, Jaffe E (2017) WHO classification of tumours of haematopoietic and lymphoid tissues, 4. Aufl. IARC, Lyon

26.

Walker BA, Boyle EM, Wardell CP et al (2015) Mutational spectrum, copy number changes, and outcome: results of a sequencing study of patients with newly diagnosed myeloma. J Clin Oncol 33:3911–3920

27.

Wasser K, Moehler T, Nosas-Garcia S et al (2005) Correlation of MRI and histopathology of bone marrow in patients with multiple myeloma. RoFo 177:1116–1122
Ethics declarations
Interessenkonflikt
A. Vogelsberg, C.M. Schürch und F. Fend geben an, dass kein Interessenkonflikt besteht.
Für diesen Beitrag wurden von den Autoren keine Studien an Menschen oder Tieren durchgeführt. Für die aufgeführten Studien gelten die jeweils dort angegebenen ethischen Richtlinien.
Additional information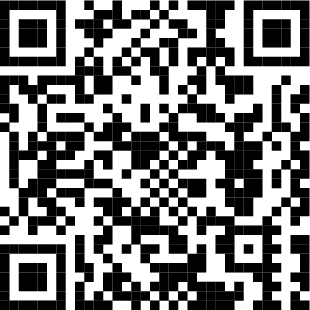 QR-Code scannen & Beitrag online lesen
About this article
Cite this article
Vogelsberg, A., Schürch, C.M. & Fend, F. Multiples Myelom aus Sicht der Pathologie. Radiologe (2021). https://doi.org/10.1007/s00117-021-00926-z
Schlüsselwörter
Plasmazellneoplasien

Tumorheterogenität

Risikostratifizierung

Mikromilieu

Zytogenetische Aberrationen
Keywords
Plasma cell neoplasms

Tumor heterogeneity

Risk stratification

Microenvironment

Cytogenetic aberrations