Zusammenfassung
Spinale Neoplasien gehören im Allgemeinen zu den seltenen Erkrankungen, spielen allerdings in der Differenzialdiagnose von "Raumforderungen" der spinalen Achse eine wichtige Rolle. Obwohl es grundsätzlich unterschiedliche Klassifikationskriterien (histologischer Ursprung, Dignität und Lagebeziehung zur Wirbelsäule) gibt, erfolgt die standardmäßige Einteilung der spinalen Neoplasien anhand des Lagebezugs zur Dura mater in extraspinal, intraspinal-extramedullär und intraspinal-intramedullär. Die Magnetresonanztomographie stellt den Goldstandard in der bildmorphologischen Diagnostik von spinalen Tumoren dar, gefolgt von der Computertomographie. Wichtig in der Diagnosestellung hinsichtlich der möglichen Tumorentität sind neben Lokalisation und Symptomatik auch das Patientenalter.
Abstract
Spinal neoplasms are generally rare disorders but play an important role in the differential diagnosis of space-occupying masses of the spinal axis. Although there are several different classification criteria (histological origin, dignity, positional relationship to the spine), the standard classification of spinal neoplasms based on the relationship to the dura mater into extraspinal, intraspinal extramedullary and intraspinal intramedullary is used. Magnetic resonance imaging is the gold standard for the morphological imaging of spinal neoplasms, followed by computed tomography. In addition to localization and symptoms, the patient's age is essential with respect to the diagnosis of the possible tumor entity.
Access options
Buy single article
Instant access to the full article PDF.
USD 39.95
Price includes VAT (USA)
Tax calculation will be finalised during checkout.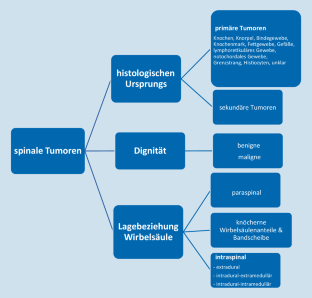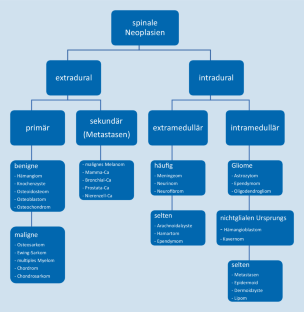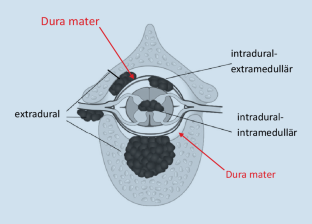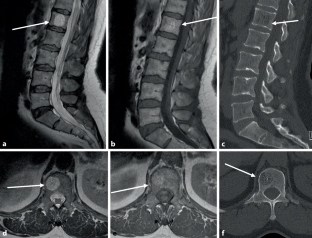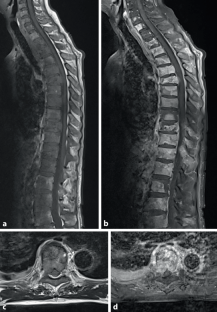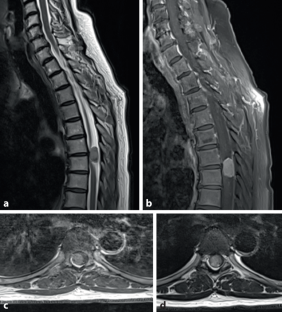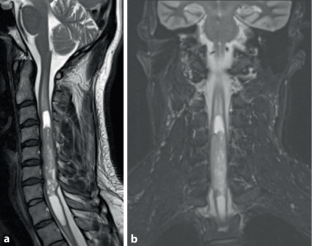 Literatur
1.

Koeller KK, Shih RY (2019) Intradural extramedullary spinal neoplasms: radiologic-pathologic correlation. Radiographics 39:468–490

2.

Klekamp J (2018) Spinale Tumoren. Klinische Neurologie, S 1–25

3.

Reilmann R, Henningsen H (2006) Spinale Tumoren. In: Berlit P (Hrsg) Klinische Neurologie. Springer, Berlin, S 510–525

4.

Ahlhelm F, Schulte-Altedornburg G, Naumann N, Nabhan A, Reith W (2006) Bildgebung extraduraler Raumforderungen. Radiologe 46:1035–1043

5.

Dahnert WF (2011) Neurofibroma. Radiology review manual. Lippinocott & Wilkins, Philadelphia, S 216–217

6.

Mohme M, Mende KC, Krätzig T, Plaetke R, Beseoglu K, Hagedorn J, Steiger H‑J, Floethe FW, Eicer SO (2017) Impact of spinal cord compression from intradural and epidural spinal tumors on perioperative symptoms—implications for surgical decision making. Neurosurg Rev 40(3):377–387. https://doi.org/10.1007/s10143-016-0790-z

7.

Rickert M, Meurer A (2017) Hämangiome des Knochens. Orthopade 46:457–470

8.

Morales KA, Arevalo-Perez J, Peck KK, Holodny AI, Lis E, Karimi S (2018) Differentiating atypical hemangiomas and metastatic vertebral lesions: the role of T1-weighted dynamic contrast-enhancement MRT. AJNR Am J Neuroradiol 39:968–973

9.

Nigro L, Donnarumma P (2017) Vertebral hemangiomas: common lesions with still many unknown aspects. J Spine Surg 3:309–311

10.

Walcott BP, Nahed BV, Mohyeldin A, Coumans J‑V, Kahle KT, Ferreira MJ (2012) Chordoma: current concepts, management, and future directions. Lancet Oncol 13:69–76

11.

Sasaki T, Moritani T, Belay A, Capizzano AA, Sato SP, Sato Y, Kirby P, Ishitoya S, Oya A, Toda M, Takahashi K (2018) Role of the apparent diffusion coefficient as a predictor of tumor progression in patientes with chordoma. AJNR Am J Neuroradiol 39:1316–1321

12.

Rodallec MH, Feydy A, Larousserie F, Anract P, Campagna R, Babinet A, Zins M, Drapé J‑L (2008) Diagnostic imaging of solitary tumors of the spine: what to do and say. Radiographics 28:1019–1041

13.

Santegoeds RGC, Temel Y, Beckervordersandforth JC, Van Overbeeke JJ, Hoeberigs C (2018) State-of the art imaging in human chordoma of the skull base. Curr Radiol Rep 6:4–12

14.

Prince EA, Ahn SH (2013) Interventional management of vertebral body metastases. Semin intervent Radiol 30:278–281

15.

Kim DH, Kim J‑H, Choi SH, Sohn C‑H, Yun TJ, Kim CH, Chang K‑H (2014) Differentiation between intramedullary spinal ependymoma and astrocytoma: comparative MRI analysis. Clin Radiol 69:29–35

16.

Svoboda N, Bradac O, de Lacy P, Benes V (2017) Intramedullary ependymoma: long-term outcome after surgery. Acta Neurochir 160:439–447

17.

Kobayashi K, Ando K, Kato F, Kanemura T, Imagma S, Sato K, Kamiya M, Ito K, Tsushima M, Matusumoto A, Morozumi M, Tanaka S, Machino M, Ishiguro N (2018) MRI characteristics of spinal ependymoma in WHO grad II. Spine 43:525–530

18.

Shih RY, Koeller KK (2020) Intramedullary masses of the spinal cord: radiologic-pathologic correlation. Radiographics 40:1125–1145

19.

Yuh EL, Barkovich AJ, Gupta N (2009) Imaging of ependymomas: MRI and CT. Childs Nerv Syst 25:1203–1213

20.

Dahnert WF (2011) Astrozytoma of spinal Cord. Radiology review manual. Lippinocott & Wilkins, Philadelphia, S 213

21.

Dahnert WF (2011) Haemangioblastoma. Radiology review manual. Lippinocott & Wilkins, Philadelphia, S 214

22.

Baker KB, Moran CJ, Wippold FJ II, Smirniotopoulos JG, Rodriguez FJ, Meyers SP, Siegal TL (2000) MR imaging of spinal hemangioblastoma. AJNR Am J Neuroradiol 174:377–382
Ethics declarations
Interessenkonflikt
Gemäß den Richtlinien des Springer Medizin Verlags werden Autoren und Wissenschaftliche Leitung im Rahmen der Manuskripterstellung und Manuskriptfreigabe aufgefordert, eine vollständige Erklärung zu ihren finanziellen und nichtfinanziellen Interessen abzugeben.
Autoren
A. Haußmann: A. Finanzielle Interessen: A. Haußmann gibt an, dass kein finanzieller Interessenkonflikt besteht. – B. Nichtfinanzielle Interessen: Assistenzärztin, Diagnostische und Interventionelle Neuroradiologie, Universitätsklinikum des Saarlandes, Homburg/Saar | Mitgliedschaften: Deutsche Gesellschaft für Neuroradiologie (DGNR), Deutsche Röntgengesellschaft.
Wissenschaftliche Leitung
Die vollständige Erklärung zum Interessenkonflikt der Wissenschaftlichen Leitung finden Sie am Kurs der zertifizierten Fortbildung auf www.springermedizin.de/cme.
Der Verlag
erklärt, dass für die Publikation dieser CME-Fortbildung keine Sponsorengelder an den Verlag fließen.
Für diesen Beitrag wurden von den Autoren keine Studien an Menschen oder Tieren durchgeführt. Für die aufgeführten Studien gelten die jeweils dort angegebenen ethischen Richtlinien.
Additional information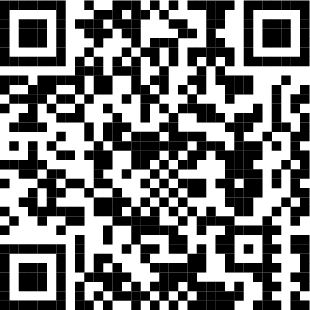 QR-Code scannen & Beitrag online lesen
Wissenschaftliche Leitung
S. Delorme, Heidelberg (Leitung)
P. Reimer, Karlsruhe
W. Reith, Homburg/Saar
C. Weidekamm, Wien
M. Uhl, Freiburg
J. Vogel-Claussen, Hannover
CME-Fragebogen
CME-Fragebogen
Welches ist keine Möglichkeit zur Klassifikation spinaler Tumoren?
Alter des Patienten
Lagebeziehung zur Wirbelsäule
Dignität
Histologischer Ursprung
Bezug zur Dura mater
Welches ist kein typisches Charakteristikum von Wirbelkörperhämangiomen?
"Polka-dot sign"
Primär extraduraler spinaler Tumor
Sie gehören zu den am häufigsten vorkommenden Wirbelsäulenneoplasien und sind meist asymptomatisch.
Sie kommen im zervikalen Abschnitt der Wirbelsäule gehäuft vor.
Sie sind im Magnetresonanztomogramm nativ T1 und T2 hyperintens.
Über die neurologische Notaufnahme wird Ihnen eine 67-jährige Patientin mit einer seit einigen Wochen zunehmenden Querschnittsymptomatik ab dem 10. Thorakalsegment (Th10) vorgestellt. In der MRT(Magnetresonanztomographie)-Untersuchung der gesamten Wirbelsäule zeigen sich multiple Läsionen, betont der Brust- und der Lendenwirbelsäule, mit Wachstum einzelner Läsionen nach intraspinal mit hochgradiger Spinalkanalstenose auf Höhe von Th11. Manche Läsionen zeigen ein in Bezug auf die Wirbelkörper hypointenses Signalverhalten in der T1- und in der T2-gewichteten Sequenz, andere zeigen ein hyperintenses Signalverhalten in der T2-gewichteten und in der STIR("short-tau inversion recovery")-Sequenz mit vorwiegend kräftigem Kontrastmittel-Enhancement. Nach mehrfachem Befragen der Patientin ist kein Tumor in der Anamnese bekannt. Welche Diagnose ist am wahrscheinlichsten?
Osteolytische Metastasen eines Bronchialkarzinoms
Unbehandeltes Lymphom
Osteoplastische Metastasen eines Schilddrüsenkarzinoms
Osteoplastische Metastasen eines Protstatakarzinoms
Gemischt osteolytische/-plastische Metastasen eines Mammakarzinoms
Mit welcher Erkrankung können spinale Hämangioblastome assoziiert sein?
Gliomatose
Neurofibromatose Typ I
Von-Hippel-Lindau
Neurofibromatose Typ II
Multiple endokrine Neoplasie Typ II
Wie kann man spinale Tumoren in Bezug auf die Dura einteilen?
Extradural ossär, intradural duraständig, intramedullär
Epidural, subdural extramedullär, subdural intramedullär
Extradural, intradural extramedullär, intradural intramedullär
Extradural, intradural extramedullär, intradural intramedullär
Ossär, extraossär extradural, intradural
In der neurologischen Notaufnahme stellt sich eine 70-jährige Patientin mit zunehmenden lumbalen Schmerzen und einer progredienten Mastdarmstörung vor. Die Symptomatik hat vor ca. 3 Wochen begonnen. In der klinisch-neurologischen Untersuchung zeigt sich neben der beschriebenen Symptomatik eine Reithosenanästhesie ohne manifeste Paresen. Im Anschluss erfolgt eine notfallmäßige MRT(Magnetresonanztomographie)-Untersuchung der Lendenwirbelsäule. Der Neuroradiologe beschreibt einen Tumor am lumbosakralen Übergang mit ausgeprägtem Weichteilanteil mit Infiltration des gesamten dorsal angrenzenden Spinalkanals und beginnender Infiltration des Beckens. Die CT(Computertomographie)-Untersuchung zeigt endotumorale Verkalkungen und eine ausgeprägte knöcherne Destruktion. Welche Diagnose ist am wahrscheinlichsten?
Sinus pilonidalis
Metastase
Chordom
Rektumkarzinom
Primärer Knochentumor
Die Neurofibromatose Typ I zeigt eine Assoziation mit …
Meningeomen und Neurofibromen.
Neurofibromen und Astrozytomen.
Ependymomen und Neurofibromen.
Astrozytomen und Meningeomen.
Meningeomen und Ependymomen.
In wie viel Prozent der Fälle tritt ein intramedulläres Hämangioblastom im Rahmen einer Von-Hippel-Lindau-Erkrankung auf?
50 %
20 %
45 %
33 %
10 %
Zu wie viel Prozent sind die spinalen Neoplasien an den gesamten Tumoren des zentralen Nervensystems beteiligt?
2–4 %
5–10 %
6–9 %
15 %
30 %
Welche Entitäten gehören zu den häufigsten intraduralen extramedullären Tumoren?
Metastasen, Meningeom, Chordom
Meningeom, Ependymom, Neurinom
Chordom, Neurofibrom, Meningeom
Metastasen, Astrozytom, Hämangioblastom
Neurinom, Neurofibrom, Meningeom
About this article
Cite this article
Haußmann, A. Spinale Neoplasien. Radiologe 61, 1031–1042 (2021). https://doi.org/10.1007/s00117-021-00922-3
Accepted:

Published:

Issue Date:
Schlüsselwörter
Klassifikationskriterien

Dura mater

Magnetresonanztomographie

Computertomographie

Tumorentität
Keywords
Classification criteria

Dura mater

Magnetic resonance imaging

Computed tomography

Tumor entity