Zusammenfassung
Jährlich ereignen sich hierzulande etwa 270.000 Schlaganfälle. In der gesamten DACH-Region (Deutschland, Österreich, Schweiz) werden über 310.000 Fälle im Jahr gemeldet. Zwei Drittel der überlebenden Patienten sind nach dem Schlaganfall auf fremde Hilfe angewiesen. Zunehmend rücken bildgebende Daten in den Mittelpunkt der Behandlungsentscheidung. Diese Daten liefern die entscheidenden Informationen über den Ort und das Ausmaß des Gefäßverschlusses, die Infarktgröße, das Volumen des rettbaren Hirngewebes und den Grad der Kollateralisation. Zertifizierte Stroke Units und Schlaganfallnetzwerke haben sich bereits auf modernste Therapiemöglichkeiten spezialisiert, benötigen jedoch zusätzlich informationstechnische Werkzeuge, um die richtige Therapie möglichst schnell beim richtigen Patientenkollektiv durchzuführen. Für die multidisziplinäre, lückenlose Unterstützung bei der Schlaganfallversorgung müssen sowohl präklinische wie auch innerklinische Prozesse optimiert werden. In diesem Artikel wird ein Konzept zur überregionalen Schlaganfallversorgung mittels Vernetzung aller beteiligten Akteure im prä- sowie innerklinischen Bereich vorgestellt. Weitere Bedarfsanalysen sollen die Implementierung als auch die Generalisierbarkeit in unterschiedlichen Regionen sicherstellen.
Abstract
Every year, about 270,000 strokes occur in Germany. In the entire DACH region (Germany, Austria, Switzerland), more than 310,000 cases are reported each year. Two thirds of the surviving patients are dependent on external assistance after the stroke. Increasingly, imaging data are becoming the focus of treatment decisions. These data provide critical information about the location and extent of vessel occlusion, infarct size, volume of salvageable brain tissue, and degree of collateralization. Certified stroke units and stroke networks already specialize in state-of-the-art therapeutic options, but they need additional information technology tools to deliver the right therapy to the right patient population as quickly as possible. For multidisciplinary, seamless support in stroke care, both prehospital and in-hospital processes need to be optimized. This article presents a concept for supraregional stroke care by means of networking all involved actors in the prehospital as well as in the in-hospital area. Further needs analyses should ensure the implementation as well as the generalizability to different regions.
Access options
Buy single article
Instant access to the full article PDF.
US$ 39.95
Tax calculation will be finalised during checkout.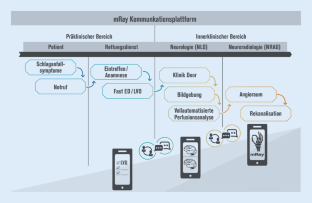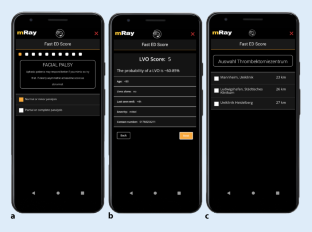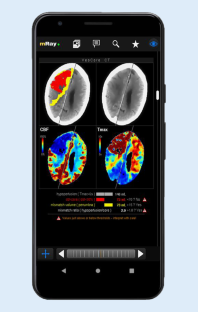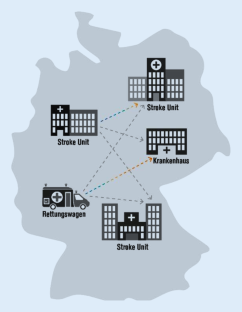 Literatur
1.

Braun J, Preuss R (Hrsg) (2019) Klinikleitfaden Intensivmedizin. Elsevier, München

2.

Brossmann J, Müller-Hülsbeck S, Heller M (1998) Perkutane Thrombektomie und mechanische Thrombolyse. RoFo 169(10):344–354

3.

Campbell BC, Mitchell PJ, Kleinig TJ, Dewey HM, Churilov L, Yassi N, Yan B, Dowling RJ, Parsons MW, Oxley TJ, Wu TY, Brooks M, Simpson MA, Miteff F, Levi CR, Krause M, Harrington TJ, Faulder KC, Steinfort BS, Priglinger M, Ang T, Scroop R, Barber PA, McGuinness B, Wijeratne T, Phan TG, Chong W, Chandra RV, Bladin CF, Badve M, Rice H, de Villiers L, Ma H, Desmond PM, Donnan GA, Davis SM (2015) Endovascular therapy for ischemic stroke with perfusion-imaging selection. N Engl J Med 372(11):1009–1018. https://doi.org/10.1056/NEJMoa1414792

4.

Hartmann A, Heiss WD (Hrsg) (2013) Der Schlaganfall: Pathogenese, Klinik, Diagnostik und Therapie akuter zerebrovaskulärer Erkrankungen. Springer, Berlin, Heidelberg

5.

Bundesamt für Soziale Sicherung (2020) Schulungsplattform zur Förderung aus dem Krankenhauszukunftsfonds (KHZF). https://www.krankenhauszukunftsfonds.de/Redaktion/Schulung/. Zugegriffen: 2. Febr. 2021

6.

Kellner E, Reisert M, Kiselev VG, Maurer CJ, Beume LA, Urbach H, Egger K (2017) Automated infarct core volumetry within the hypoperfused tissue: technical implementation and evaluation. J Comput Assist Tomogr 41(4):515–520

7.

Nogueira RG, Silva GS, Lima FO, Yeh YC, Fleming C, Branco D, Yancey AH, Ratcliff JJ, Wages RK, Doss E, Bouslama M, Grossberg JA, Haussen DC, Sakano T, Frankel MR (2017) The FAST-ED app: a smartphone platform for the field triage of patients with stroke. Stroke 48(5):1278–1284. https://doi.org/10.1161/STROKEAHA.116.016026

8.

Puig J, Shankar J, Liebeskind D, Terceño M, Nael K, Demchuk AM, Menon B, Dowlatshahi D, Leiva-Salinas C, Wintermark M, Thomalla G, Silva Y, Serena J, Pedraza S, Essig M (2020) From "time is brain" to "imaging is brain": a paradigm shift in the management of acute ischemic stroke. J Neuroimaging 30(5):562–571. https://doi.org/10.1111/jon.12693

9.

Turc G, Bhogal P, Fischer U, Khatri P, Lobotesis K, Mazighi M, Schellinger PD, Toni D, de Vries J, White P, Fiehler J (2019) European Stroke Organisation (ESO) - European Society for Minimally Invasive Neurological Therapy (ESMINT) guidelines on mechanical thrombectomy in acute ischaemic stroke. Endorsed by Stroke Alliance for Europe (SAFE). Eur Stroke J 4(1):6–12. https://doi.org/10.1177/2396987319832140

10.

Urbach H, Kellner E, Egger K (2019) Acute stroke imaging in the era of the DAWN, DEFUSE 3 and WAKE-UP study findings. Eur Neurol Rev 14(1):24–27
Ethics declarations
Interessenkonflikt
K. Egger erhält ein Beraterhonorar von der Firma mbits imaging GmbH, Heidelberg. I. Gergel und H. Syrek sind Mitarbeiter der Firma mbits imaging GmbH, Heidelberg.
Für diesen Beitrag wurden von den Autoren keine Studien an Menschen oder Tieren durchgeführt. Für die aufgeführten Studien gelten die jeweils dort angegebenen ethischen Richtlinien.
About this article
Cite this article
Egger, K., Gergel, I. & Syrek, H. Mittels interdisziplinärer Vernetzung zur optimalen Therapieentscheidung. Radiologe 61, 752–757 (2021). https://doi.org/10.1007/s00117-021-00876-6
Accepted:

Published:

Issue Date:
Schlüsselwörter
Multidisziplinäre Schlaganfallversorgung

Stroke Triage

Digitale Vernetzung

MRay

Automatisierte Perfusionsanalyse
Keywords
Multidisciplinary stroke care

Stroke triage

Digital network

MRay

Fully automated perfusion analysis