Zusammenfassung
Klinisches/methodisches Problem
Nierentumoren im Kindesalter werden nach Vorgaben der Renal Tumor Study Group der Internationalen Gesellschaft für pädiatrische Onkologie (RTSG-SIOP) behandelt. Der häufigste renale Tumor im Kindesalter ist das Nephroblastom.
Radiologische Standardverfahren
Die Magnetresonanztomographie (MRT) ist nach der Sonographie die bevorzugte bildgebende Methode. Die Aufgabe der Bildgebung umfasst die Differenzialdiagnose renaler Tumoren im Kindesalter anhand epidemiologischer und morphologischer Kriterien. Neu ist die Einführung der Thorax-Computertomographie (CT) in der initialen Diagnostik.
Methodische Innovationen
Neue Studien zu Nephroblastomsubtypen mit Diffusionsbildgebung (DWI) zeigen, dass durch Auswertungen des ADC("apparent diffusion coefficient")-Histogramms blastemreiche und anaplastische High-risk-Tumoren zu differenzieren sind. Bildgebende Kriterien zur nierenerhaltenden chirurgischen Therapie sind aktuell festgelegt und erlauben eine individuelle Therapie bei unilateralen, aber insbesondere bei bilateralen Tumoren.
Leistungsfähigkeit
Differenzialdiagnosen sind neben dem kongenitalen mesoblastischen Nephrom, der Rhabdoidtumor, das Klarzellsarkom und das Nierenzellkarzinom. Herausfordernd ist die Diagnose nephrogener Reste und der Nephroblastomatose.
Bewertung
Durch standardisierte Bildgebung verbessert sich Diagnostik und Therapie renaler Tumoren im Kindesalter, und neue prognostische Marker können zukünftig in der Bildgebung etabliert werden.
Abstract
Clinical/methodological issue
Renal tumors in children are treated according to the guidelines of the Renal Tumor Study Group of the International Society of Pediatric Oncology (SIOP-RTSG). Nephroblastoma is the most frequent renal tumor in children.
Standard radiological methods
After sonography, magnetic resonance imaging (MRI) is the preferred imaging modality. The task of imaging includes differential diagnosis with the help of morphological and epidemiological criteria. Thorax computed tomography (CT) is introduced for initial staging.
Methodological innovations
Current studies of diffusion-weighted imaging (DWI)-MRI with analysis of the apparent diffusion coefficient (ADC) histogram indicate the potential to differentiate blastemal or anaplastic high-risk histology nephroblatoma subtypes. Imaging criteria for nephron-sparing surgery are defined and allow an individual therapy option in unilateral and especially in bilateral renal nephroblastoma.
Performance
In addition to nephroblastoma, the differential diagnosis includes congenital mesoblastic nephroma, malignant rhabdoid tumor of the kidney, clear cell sarcoma and renal cell carcinoma. The diagnosis of nephrogenic rests and nephroblastomatosis is challenging.
Achievements
Diagnostic standardization improves diagnosis and therapy of renal childhood tumors, and new prognostic markers may be introduced in the near future.
Access options
Buy single article
Instant access to the full article PDF.
USD 39.95
Price includes VAT (USA)
Tax calculation will be finalised during checkout.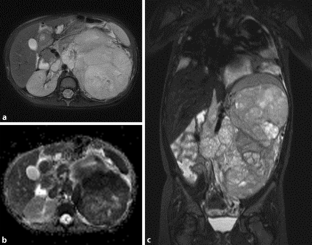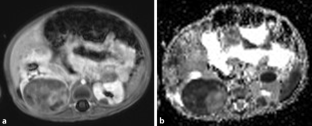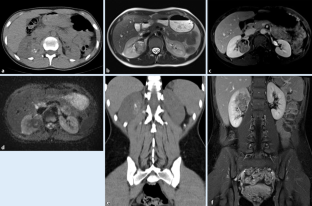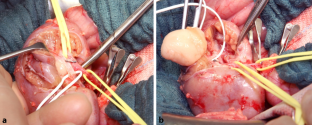 Literatur
1.

Kayo N, Colombet M, Stiller CA, Pritchard-Jones K, Steliarova-Foucher E et al (2020) Incidence of childhood renal tumours: an international population-based study. Int J Cancer 147(12):3313–3327

2.

van der Heuvel-Eibrink MM, Hol JA, Pritchard-Jones K, van Tinteren H, Furtwängler R et al (2017) Rationale for the treatment of Wilmtumour in the Umbrella Siop-RTSG 2016 protocol. Nat Rev Urol 14:713–752

3.

Hol JA, Lopez-Yuda MI, van Tinteren H, van Grotel M, Godzinzki J et al (2019) Prognostic significance of age in 5631 patients with wilms tumour prospectively registered in International Society of Paediatric Oncology (SIOP) 93-01 and 2001. PLoS ONE 14(8):e221373

4.

Godzinski J, Graf N, Audry G (2014) Current concepts in surgery for Wilms tumours—the risk and function-adapted strategy. Eur J Pediatr Surg 24:457–460

5.

Gooskens SL, Segers H, Pritchard-Jones K, Graf N et al (2016) The clinical relevance of age at presentation in nephroblastoma. In: Wilms tumor. Codon, Brisbane (Chapter 2)

6.

Watson T, Oostveen M, Rogers H, Pritchard-Jones K, Olsen Ø (2020) The role of imaging in the investigation of paediatric renal tumours. Lancet Child Adolesc Health 4:232–241

7.

Irtan S, Van Tinteren H, Graf N et al (2019) Evaluation of needle biopsy as a potential risk factor for local recurrence of Wilms tumour in the SIOP WT 2001 trial. Eur J Cancer 116:13–20

8.

Schenk JP, Schrader C, Zieger B, Furtwängler R, Leuschner I, Ley S, Graf N, Troeger J (2006) Reference radiology in nephroblastoma: accuracy and relevance for preoperative chemotherapy. RöFo 178:38–45

9.

Schenk JP, Graf N, Günther P, Ley S, Göppl M, Kulozik A, Rohrschneider WK, Tröger J (2008) Role of MRI in the management of patients with nephroblastoma. Eur Radiol 18(4):683–691

10.

Brisse HJ, Smets AM, Kaste SC, Owens CM (2008) Imaging in unilateral Wilms tumour. Pediatr Radiol 38:18–29

11.

Günther P, Ley S, Tröger J, Witt O, Autschbach F, Holland-Cunz S, Schenk JP (2008) 3D perfusion and virtual surgical planning in the treatment of pediatric embryonal abdominal tumors. Eur J Pediatr Surg 18(1):7–12

12.

Perlman E, Dijoud F, Boccon-Gibod L (2004) Nephrogenic rests and nephroblastomatosis. Ann Pathol 24(6):510–515

13.

Vicens J, Iotti A, Lombardi MG, Iotti R, Garcia de Davila MT (2009) Diffuse hyperplastic perilobar nephroblastomatosis. Pediatr Dev Pathol 12:237–238

14.

Witt O, Hämmerling S, Stockklausner C, Schenk JP, Günther P, Behnisch W, Hamad B, Al Mulla NA, Kulozik A (2009) 13-cis retinoic acid treatment of a patient with chemotherapy refractory nephroblastomatosis. J Pediatr Hematol Oncol 31(4):296–299

15.

Dzhuma K, Le Pointe HD, Coulomb A, Tabone MD, Bergeron C, Audry G, Irtan S (2020) Wilms tumors and their precursors: radiological diagnosis versus histology. Pediatr Blood Cancer. https://doi.org/10.1002/pbc.28414

16.

Sandberg JK, Chi YY, Smith EA, Servaes S, Hoffer FA et al (2020) Imaging characteristics of nephrogenic rests versus small Wilms tumors: a report from the children's oncology group study AREN03B2. AJR Am J Roentgenol 214:987–994

17.

Lubahn JD, Cost NG, Kwon J et al (2012) Correlation between preoperative staging computerized tomography and pathological findings after nodal sampling in children with Wilmstumor. J Urol 188:1500–1504

18.

Kieran K, Ehrlich PF (2016) Current surgical standards of care in Wilms tumor. Urol Oncol 34:13–23

19.

Gold SA, Sabarwal VK, Gordhan C, Hale GR, Winer A (2018) Lymph node imaging of pediatric renal and suprarenal malignancies. Transl Androl Urol 7(5):774–782

20.

Brok J, Lopez-Yurda M, Van Tinteren H, Treger TD, Furtwängler R, Graf N, Bergeron C, van der Heuvel-Eibrink MM, Pritchard-Jones K, Olsen ØE, de Camargo B, Verschuur A, Spreafico F (2018) Relapse of wilm's tumour and detection methods: a retrospective analysis of the 2001 Renal Tumour Study Goup—International Society of Pediatric Oncology Wilms' tumour protocol database. Lancet Oncol 19(8):1072–1081

21.

Furtwängler R, Reinhard H, Leuschner I, Schenk JP, Goebel U, Claviez A, Kulozik A, Zoubek A, von Schweinitz D, Graf N (2006) Mesoblastic nephroma—a report from the Gesellschaft für pädiatrische Radiologie und Hämatologie (GPOH). Cancer 106:2275–2283

22.

Schenk JP, Schrader C, Furtwängler R, Ko HS, Leuschner I, Graf N, Troeger J (2005) MRI-morphology and staging of congenital mesoblastic nephroma: evaluation of a collection of 20 patients. Röfo 177:1373–1379

23.

Chen Y, Zhou L, Liao N, Gao P, Chen L, Li X, Fan M (2018) Specific computed tomography imaging characteristics of congenital mesoblastic nephroma and correlation with ultrasound and pathology. J Pediatr Urol 14(6):571.e1–571.e6

24.

van der Hoek J, de Krijger R, van de Ven K, Lequin M, van den Heuvel-Eibrink MM (2009) Cystic nephroma, cystic partially differentiated nephoblastoma and cystic Wilms' tumor in children: a spectrum with therapeutic dilemmas. Urol Int 82(1):65–70

25.

Schenk JP, Engelmann D, Rohrschneider W, Zieger B, Semler O, Graf N, Tröger J (2004) Rhabdoid tumors of the kidney in childhood. RöFo 176(7):965–971

26.

Brisse HJ, de la Monneraye Y, Cardoen L, Schleiermacher G (2020) From Wilms to kidney tumors: which ones require a biopsy? Pediatr Radiol 50:1049–1051

27.

Godzinski J, Graf N, Audrey G (2014) Current concepts in surgery for Wilms tumor—the risk and function-adapted strategy. Eur J Pediatr Surg 24(6):457–460

28.

Mrad C, Coulomb-Lhermine A, Tabone M‑D, Ulinski T, Audry G, Irtan S (2020) Evaluation of the nephron-sparing surgery formula in Wilms tumors. Pediatr Blood Cancer 67(12):e28661

29.

Cozzi DA, Ceccanti S, Cozzi F (2018) Renal function up to the 5th decade of life after nephrectomy in childhood: a literature review. Nephrology 23(5):397–404

30.

Liu EK, Suson KD (2020) Syndromic Wilms tumor: a review of predisposing conditions, surveillance and treatment. Transl Androl Urol 9(5):2370–2381

31.

Wilde JCH, Aronson DC, Sznajder B, Van Tinteren H, Powis M, Okoye B, Cecchetto G, Audry G, Fuchs J, Von Schweinitz D, Graf N, Bergeron C, Pritchard-Jones K, Van Den Heuvel-Eibrink M, Carli M, Oldenburger F, Sandstedt B, De Kraker J, Godzinski J (2014) Nephron sparing surgery (NSS) for unilateral wilms tumor (UWT): the SIOP 2001 experience. Pediatr Blood Cancer 61(12):2175–2179

32.

Fuchs J, Szavay P, Seitz G, Handgretinger R, Schäfer JF, Warmann SW (2011) Nephron sparing surgery for synchronous bilateral nephroblastoma involving the renal hilus. J Urol 186(4):1430–1436

33.

Davidoff AM, Interiano RB, Wynn L, Delos Santos N, Dome JS, Green DM, Brennan RC, McCarville MB, Krasin MJ, Kieran K, Williams MA (2015) Overall survival and renal function of patients with synchronous bilateral Wilms tumor undergoing surgery at a single institution. Ann Surg 262(4):570–576

34.

Aslan M, Aslan A, Arıöz Habibi H, Kalyoncu Uçar A, Özmen E, Bakan S et al (2017) Diffusion-weighted MRI for differentiating Wilms tumor from neuroblastoma. Diagn Interv Radiol 23(5):403–406

35.

Meeus EM, Zarinabad N, Manias KA, Novak J, Rose HEL, Dehghani H et al (2018) Diffusion-weighted MRI and intravoxel incoherent motion model for diagnosis of pediatric solid abdominal tumors. J Magn Reson Imaging 47(6):1475–1486

36.

Hales PW, Olsen OE, Sebire NJ, Pritchard-Jones K, Clark CA (2015) A multi-Gaussian model for apparent diffusion coefficient histogram analysis of Wilms' tumour subtype and response to chemotherapy. NMR Biomed 28(8):948–957

37.

Hötker AM, Lollert A, Mazaheri Y, Müller S, Schenk J‑P, Mildenberger PC et al (2020) Diffusion-weighted MRI in the assessment of nephroblastoma: results of a multi-center trial. Abdom Radiol 45(10):3202–3212

38.

Littooij AS, Nikkels PG, Hulsbergen-van de Kaa CA, van de Ven CP, van den Heuvel-Eibrink MM, Olsen ØE (2017) Apparent diffusion coefficient as it relates to histopathology findings in post-chemotherapy nephroblastoma: a feasibility study. Pediatr Radiol 47(12):1608–1614

39.

Littooij AS, Sebire NJ, Olsen ØE (2017) Whole-tumor apparent diffusion coefficient measurements in nephroblastoma. Can it identify blastemal predominance? J Magn Reson Imaging 45(5):1316–1324

40.

McDonald K, Sebie NJ, Anderson J et al (2011) Pattern of shift in ADC distributions in abdominal tumours during chemotherapy—feasibility study. Pediatr Radiol 41:99–109

41.

Littooij AS, Humphries PD, Olsen ØE (2015) Intra- and interobserver variability of whole-tumour apparent diffusion coefficient measurements in nephroblastoma. A pilot study. Pediatr Radiol 45(11):1651–1660

42.

www.siop-rtsg.eu. Zugegriffen: 11. Juni 2021.
Ethics declarations
Interessenkonflikt
J.-P. Schenk, A. Hötker, R. Furtwängler, J. Fuchs, S.W. Warmann und N. Graf geben an, dass kein Interessenkonflikt besteht.
Für diesen Beitrag wurden von den Autoren keine Studien an Menschen oder Tieren durchgeführt. Für die aufgeführten Studien gelten die jeweils dort angegebenen ethischen Richtlinien.
Additional information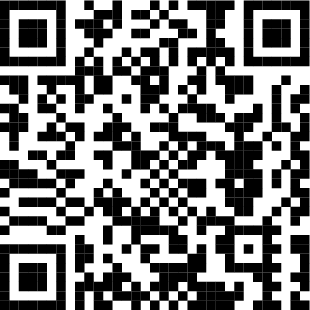 QR-Code scannen & Beitrag online lesen
About this article
Cite this article
Schenk, JP., Hötker, A., Furtwängler, R. et al. Bildgebung renaler Tumoren im Kindesalter. Radiologe 61, 619–628 (2021). https://doi.org/10.1007/s00117-021-00864-w
Accepted:

Published:

Issue Date:
Schlüsselwörter
Nephroblastom

Nierentumoren

Wilms

Diffusionsbildgebung

Magnetresonanztomographie
Keywords
Nephroblastoma

Kidney neoplasms

Wilms

Diffusion-weighted imaging

Magnetic resonance imaging